Meet the Johnsons: Andy Cuthbert '18 Meet Andy Cuthbert '18, a pre-med neuroscience major with a serious love of the outdoors.
"I was already very academically driven, but being a recipient of the Johnson Scholarship is a constant reminder of the goals I set for myself before college, and has helped push me even closer to these goals, whether they be academic in nature or not."
Q: How did you first hear about the Johnson Scholarship?
I first heard about the Johnson Scholarship through my high school college counselors. I was really lucky to have some great college counselors as resources during my college search, and they did a great job matching up students with different universities based on interests.
Q: Were you considering any other colleges when you applied for the scholarship?
U.Va., Princeton, Yale, Vanderbilt and Dartmouth, among others. Being from Virginia, U.Va. was a great option for me due to its fantastic academic reputation and in-state tuition. I have family who have gone to Yale, Princeton, or Vanderbilt and so it made sense to put these three on my list.
Q: Why did you ultimately choose W&L?
I chose W&L mostly due to the school size as well as its academics. I found the small class sizes to be extremely attractive; it offers students the chance to connect with professors in a more intimate setting rather than force them to sit through a lecture in which they might be taught by a TA, which sometimes happens at bigger schools such as U.Va. In addition to that, the small school size does, in fact, offer students opportunities they might not get at bigger schools, such as research positions or grants.
Q: How has Johnson affected your views on leadership and integrity or on academics?
Coming into college, I was already very academically driven, but being a recipient of the Johnson Scholarship is a constant reminder of the goals I set for myself before college, and has helped push me even closer to these goals, whether they be academic in nature or not. Additionally, I think being a Johnson has pushed me to be an example for others here on campus.
Q: What is your favorite story about your W&L experience — if you had to pick one?
My favorite "story," or experience, was spending the summer doing research here in Lexington with a group of close friends. One weekend, we went camping on the Appalachian Trail near the James River and spent the following day kayaking through the Class I, II and III rapids on the river. One of my friends flipped five times – it was hilarious. By the end of the trip, he had managed to lose a flip flop, a water bottle and his fishing rod.
Q: Do you have a mentor on campus? Faculty, staff, or another student?
I don't think I can say I have one single mentor on campus, though I definitely know some faculty and other students that I look up to and admire. I know that at any time I could go to these people with any issue and could receive guidance on how to overcome it.
Q: What extracurricular are you involved in right now that you are extra-passionate about?  
Right now, I'm extremely busy with my ski patrol training. I'm in the middle of the Outdoor Emergency Care course – it's a first-responder course very similar to an EMT course. I grew up skiing quite a bit and always admired the patrollers, so to have the opportunity to be a member of National Ski Patrol is really cool to me. It also enables me to combine my interest in public health with my passion for skiing.
Q: What is your favorite campus tradition or piece of history?
My favorite story is one I frequently tell on tours. The Colonnade at W&L is a national historic landmark and has a statue of George Washington on top of the central building, Washington Hall. The story goes that during the Civil War, the Union Army was marching through Lexington and saw a statue on top of Washington Hall. The Union soldiers assumed the statue to be Jefferson Davis, president of the south at the time. These soldiers wanted to burn down the Colonnade; however, their general stated correctly that the statute was not Jefferson Davis, but rather George Washington. Thus the Colonnade was saved, and the Union soldiers instead burned down VMI.
Q: If you could travel back in time, what advice would you give to "first day on campus" you?
I knew what I wanted to study coming into college, so I took classes that put me on track for some science major. I wish I had taken more classes outside of the sciences, although because I'm close to completing my major I will have that opportunity my senior year. My advice to me (and other incoming first years) would be to take a variety of classes early on in your time at school. You'll have plenty of time to complete a major, and could potentially find an interest that surprises you.
Q: If someone asked you "why choose W&L," what is the one reason you would tell them?
I feel like a broken record saying this, but I'll say it again anyway. I really like the small size of the school and its location in the Blue Ridge Mountains. The size allows me to get to know professors very well and have a wide range of friends. The location allows me to get away from whatever is stressing me out at the time and simply enjoy the beautiful views and surrounding nature.
Thinking about W&L for college? Why not apply for the Johnson Scholarship? 
If you know a W&L student who would be a great profile subject, tell us about it! Nominate them for a web profile.
A little more about Andy
Hometown:
Petersburg, VA
Major:
Neuroscience
Extracurricular involvement:
Outing Club, Student Recruitment Committee, Alpha Epsilon Delta Pre-med Honor Society
Off-campus activities/involvement:
Ski Patroller at Wintergreen Resorts
Why did you choose your major?
The neuroscience major is a combination of studies in biology, chemistry, psychology and physics. While it encompasses a broad range of studies, I found that the major required me to integrate what I had learned in one area of study with another. As I took courses throughout my first and sophomore years, I found that I was more interested in tying together studies from these areas rather than focusing more specifically on one subject. Additionally, the major dovetails quite nicely with the pre-med requirements.
What professor has inspired you?
Dr. Greg Pask. Unfortunately, he is leaving Washington and Lee following this academic year. I have taken two courses with him, and in those courses, I found the passion for his work quite admirable. I think he truly follows the mantra "choose a job that you love, and you will never work a day in your life" as closely as possible, something that seems to be increasingly difficult in this day and age.
What's your personal motto?
Live your life to the fullest
What's your favorite song right now?
"Flexicution" by Logic
Best place to eat in Lexington? What do you order?
Sweet Treats. Sunday morning brunch there is the best. I order blueberry pancakes or an omelet.
What do you wish you'd known before you came to campus?
What I didn't realize (and I don't think many people do) is that every other incoming first year is worried about the same trivial matters and everyone is on an even playing field. It's what you do at college, not what you've done before college, that matters most.
Post-graduation plans:
I am planning to take a gap year and work as a ski patroller or ski instructor for a season in Colorado. Then off to med school!
Favorite W&L memory:
Leading an Appalachian Adventure pre-orientation trip this past September. I had a blast getting to know some incoming first-year students while hiking the Appalachian Trail
Favorite class:
So far, probably a history class I took sophomore year on American history prior to 1864. I've taken a lot of science classes and not as many humanities courses, so this class was a welcome break from that. It was also very interesting and well-taught.
Favorite W&L event:
Young Alumni Weekend. Getting to see my friends who have graduated and reminisce with them is something I look forward to every year.
Favorite campus landmark:
Lee Chapel. On a clear day, the historic chapel is beautiful.
What's your passion?
I really enjoy being outdoors, whether I'm skiing, hunting, fishing or hiking. Being out in nature helps me clear my mind and forget whatever I'm stressed out about at that time.
What's something people wouldn't guess about you?
I'm pretty musical. Growing up, I learned to play four instruments: cello, piano, upright bass and bass guitar.
W&L's Colón Weighs in on Use of Graphic Photos of Ambassador's Murder
"Why is showing the dead body of the Russian ambassador in Turkey helping me, as a viewer, understand the significance of this act better?"
Aly Colón, Knight Professor of Ethics in Journalism at Washington and Lee University, recently shared his expertise in a piece exploring how news sites handled graphic photos of a Russian ambassador's murder.
In an interview with the Christian Science Monitor, Colón points to the key questions that must be asked in a situation such as this one, when determining if the graphic nature of a photograph outweighs its journalistic importance.
"Why is showing the dead body of the Russian ambassador in Turkey helping me, as a viewer, understand the significance of this act better?" asks Colón. "That's in addition to the knowledge you're bringing to me in a narrative format. And will I understand the circumstances of this assassination better because of it?"
You can read the full piece in the Christian Science Monitor online.
Jonathan Holloway, Historian and Dean of Yale College, to Speak at W&L Founders Day/ODK Convocation
"Particularly at a time when the relations between institutions and their histories is under scrutiny, Holloway's is a voice of reason and inquiry and value."
Jonathan Holloway, historian of post-emancipation American history and black intellectualism and dean of Yale College, will be the featured speaker at Washington and Lee University's Founders Day/Omicron Delta Kappa Convocation, on Jan. 19, at 5 p.m. in Lee Chapel.
Holloway will speak on "The Price of Recognition: Race and the Making of the Modern University." He will be signing copies of his book, "Jim Crow Wisdom: Memory and Identity in Black America Since 1940," on the museum level of Lee Chapel from 4:00 to 4:30 p.m. Visitors attending the book signing are asked to use the side entrance.
The talk is free and open to the public. The program will also be broadcast live online.
Holloway's address will precede the induction of 22 undergraduate students, 16 law students and 6 honorary initiates into membership in Omicron Delta Kappa, the national leadership honor society for college students, faculty, staff and administrators, founded in 1914 at Washington and Lee. The University Singers will perform.
Holloway is dean of Yale College and Edmund S. Morgan Professor of African American Studies, History, and American Studies. He specializes in post-emancipation United States history, with a focus on social and intellectual history. He is the author of "Confronting the Veil: Abram Harris Jr., E. Franklin Frazier, and Ralph Bunche, 1919–1941" (2002) and "Jim Crow Wisdom: Memory and Identity in Black America Since 1940" (2013), both published by the University of North Carolina Press. He edited Ralph Bunche's "A Brief and Tentative Analysis of Negro Leadership" (NYU Press, 2005) and co-edited "Black Scholars on the Line: Race, Social Science, and American Thought in the 20th Century" (Notre Dame University Press, 2007). He has written an introduction for a new edition of W.E.B. Du Bois's "Souls of Black Folk," published by Yale University Press in 2015, and is working on a new book, "A History of Absence: Public Narratives, Race, and the Making of the Modern World."
Holloway won the William Clyde DeVane Award for Distinguished Scholarship and Teaching in Yale College in 2009 and the Before Columbus Foundation's American Book Award in 2014. He served as the master of Calhoun College from 2005 to 2014 and was chair of the Council of Masters from 2009 to 2013. He began a three-year term as chair of the Department of African American Studies in 2013. That term was abbreviated when he became dean of Yale College in July 2014.
Holloway has held fellowships from the W.E.B. Du Bois Research Institute at Harvard University, the Stanford Humanities Center and the Ford Foundation. He was an Alphonse Fletcher Sr. Fellow from 2011 to 2012. Currently, he is a Distinguished Lecturer for the Organization of American Historians.
Holloway received a bachelor's degree with honors in American studies from Stanford University. He earned three advanced degrees in history from Yale: an M.A., an M.Phil. and a Ph.D. He began his academic career at the University of California, San Diego, before joining the faculty at Yale in 1999 and becoming a full professor in 2004. He will become the provost of Northwestern University in July 2017.
Marc Conner, interim provost at Washington and Lee, describes Holloway as "one of the leading intellectual figures in African American studies."
"His work on leadership and race is especially influential," Conner said. "Particularly at a time when the relations between institutions and their histories is under scrutiny, Holloway's is a voice of reason and inquiry and value. I'm very excited to hear his remarks at our Founders Day event."
ODK has more than 285 active circles, or chapters, at colleges and universities across the country. Headquartered in Lexington, Virginia, ODK awards annual scholarships and leadership-development initiative grants and holds a national day of service each April. Individual circles conduct additional leadership-development activities.
Alexander Named Inaugural Dean of the Bucknell University College of Management
Raquel Alexander, associate dean and Ehrlick Kilner Haight Sr. Term Professor of Accounting at Washington and Lee University's Williams School of Commerce, Economics, and Politics, has been named the first Kenneth W. Freeman Professor and Dean of the College of Management at Bucknell University. She will begin her new role on July 1.
Robert Straughan, the Crawford Family Dean of the Williams School, said Alexander will remain in the W&L associate dean's position through the current academic year.
"Raquel is the quintessential teacher/scholar," said Straughan. "Her teaching has been innovative in its approaches and in its interdisciplinary nature. Her scholarship and professional accomplishments have shaped accounting and tax policy in both the US and abroad. In her most recent role as Associate Dean of the Williams School, she has proven herself a leader on strategic planning, operations, accreditation, and more. I can't imagine a more qualified candidate to serve as the inaugural dean of Bucknell's College of Management."
Alexander worked for KPMG as a tax consultant in Dallas, Texas, and Phoenix, Arizona, before earning her Ph.D. from the University of Texas at Austin. She joined the faculty at W&L in 2012, teaching courses in taxation and the business of art. She was named associate dean in 2015.
"It has been an honor to be a part of the Washington and Lee family these past five years," she said. "With its historic campus and storied tradition, W&L has felt like home from the beginning. I will miss all the wonderful students, alumni and faculty who make this university such a remarkable place."
More information about Alexander's appointment is available on the Bucknell University website.
Career Paths: Chi Ewusi '17L 3L Chi Ewusi spent the summer working for the Pillsbury law firm in their Washington, D.C. office.
Chi Ewusi is a graduate of the University of Phoenix from Moorestown, NJ. At W&L Law, she serves as a Law Ambassador and as the executive editor of the German Law Journal. This summer, she worked for the Pillsbury law firm in their Washington, D.C. office.
How did you find/get this position?
I attended a Black Law Students Association (BLSA) job fair. BLSA-affiliated students get to attend members-only job fairs that take place across the country. I interviewed with Pillsbury at one in Washington, D.C. I received a callback and then accepted an offer for summer employment early on in my 2L year.
Describe your work experience.
My work experience was varied and fast-paced. Summer associates initially received assignments from a database but, as the summer continued, we began to solicit work more organically. This more "free market" approach taught us to develop relationships, pursue our individual interests, and practice time management. Most of my assignments came from the following sections: Global sourcing (think technology transactions and licensing agreements), corporate and securities, and nuclear energy. Pillsbury's D.C. office performs litigation, transactional, and regulatory work, so I received a healthy dose of all three. Beyond assignments, our program was packed with summer associate events—think fancy meals and shows throughout the city.
What were some skills you developed this summer?
I learned time management and people management skills. I really learned to balance expectations, find allies and mentors in the workplace, and practice making the lives of the associates and partners around me as easy as possible.
What classes or experiences were useful in preparing you for the summer work?
My journal experience helped prepare me for summer work—both the practice of being detail-oriented and the handling of large volumes of documents without feeling overwhelmed. Class-wise, international business transactions, securities regulation, and American Public Law Process (APLP) were especially helpful.
What surprised you about the work you did this summer?
The variety and scope of my assignments was surprising. My 1L summer, I mostly just wrote legal memos and did some minor document review. At Pillsbury, I worked on business development matters, prepared regulatory filings, participated in deal closings, drafted sections of contracts, and even went to Capitol Hill to meet with representatives about a new construction project.
What was your favorite aspect of this summer work experience?
The first week of my program, the White House announced sanctions against Vietnam were being lifted (in conjunction with President Obama visiting the country). The international trade group at Pillsbury contacted me to write a blog about the legal ramifications of the lift. The firm published my work and even put my name in the byline.
Has this experience helped you figure out post graduate plans, and if so, how?
My summer at Pillsbury helped me figure out what type of legal work I like and prepared me for the pace of a large law firm. I was able to use my experience and contacts at Pillsbury, as well as my experience with a "free market"/open assignment environment, to secure a position at Kirkland & Ellis in Houston, TX, which is where I'll be after graduation.
How do you think this experience will shape the rest of your time at W&L Law?
Working at Pillsbury has taught me to think beyond legal theory and hypotheticals. I am increasingly focused on being client-oriented and practical. It has tied in nicely with the third-year experience here at W&L Law.
Complexions Contemporary Ballet Celebrates the Diversity of Dance
The Lenfest Center for the Arts at Washington and Lee University presents Complexions Contemporary Ballet. Influenced by a wide range of distinct dance styles, rhythms and periods, Complexions Contemporary Ballet reflects the rich diversity present in our world, through its exciting range of mixed dance cultures and forms.
Complexions comes to the Lenfest Center for a one-night engagement on Jan. 11, 2017, at 7:30 p.m. in the Keller Theatre.
Hailed as "two of the greatest virtuosos ever to emerge from 'Ailey land'' by The New York Times, founders Desmond Richardson and Dwight Rhoden have created over 90 ballets for Complexions using a wide array of classical, modern and contemporary dance. Combining the best of physical athleticism and dancing grace, Complexions captivates audiences with striking athletics, stirring movement and magnificent delivery.
Complexions is a multicultural ballet, comprised of 16 dancers of different ethnic and dance backgrounds and it but incorporates all dancing techniques into their shows.
Order your tickets online today at wlu.edu/lenfest-center. The Lenfest Box Office will reopen after the holidays on Jan. 9, 2017. The box office number is (540) 458-8000, and hours are Monday through Friday, 9-11 a.m. and 1-3 p.m. and will be open 2 hours prior to the performance time. Complexions is sponsored in part by the Class of '64 Performing Arts Fund.
W&L Chanoyu Tea Society to Host Tea Ceremony in Memory of Martin Luther King Jr.
The Washington and Lee University Chanoyu Tea Society will host a Martin Luther King Jr. tea ceremony on Jan. 16, 2017 in the Senshin'an Tea Room, Watson Pavilion. Everyone is invited for sweets and a bowl of whisked green tea to commemorate this special day.
There will be free tickets available for each of the three seatings: 2 p.m., 2:30 p.m. and 3 p.m. The free tickets will be available beginning Jan. 3 and must be picked up at the Reeves Center between 9 a.m. and 4 p.m., Monday through Friday. Space is limited, so please pick up your tickets early.
Contact Cassie Ivey for the tickets at (540) 458-8034 or email reevescenter@wlu.edu. For other information: contact Janet Ikeda at ikedaj@wlu.edu, or visit http://tearoom.wlu.edu on W&L's website.
The Chanoyu Tea Society is a W&L student organization comprised of students who express an interest in the art of the Japanese tea ceremony and wish to pursue their study of the ceremony in the Senshin'an (Clearing-the-Mind Abode) Tea Room.
Chanoyu, or the Japanese tea ceremony, is a prescribed art form that dates back to 16th- century Japan. The group aims to build on its knowledge of the way of tea, which includes but is not limited to the procedure of preparing tea, the architecture of the tea room, the culinary arts of tea sweets and the kaiseki meal, and the history and philosophy of tea.
In addition, the group aims to increase exposure of the Japanese tea ceremony and Japanese culture to the W&L community and the surrounding Rockbridge area by hosting public tea demonstrations.
W&L Team Headed to National Finals of NYC Bar Moot Court Competition Third year law students Max Gottlieb, Bo Mahr and Jenna Lorence will represent W&L Law at the national finals of the NYC Bar Moot Court Competition.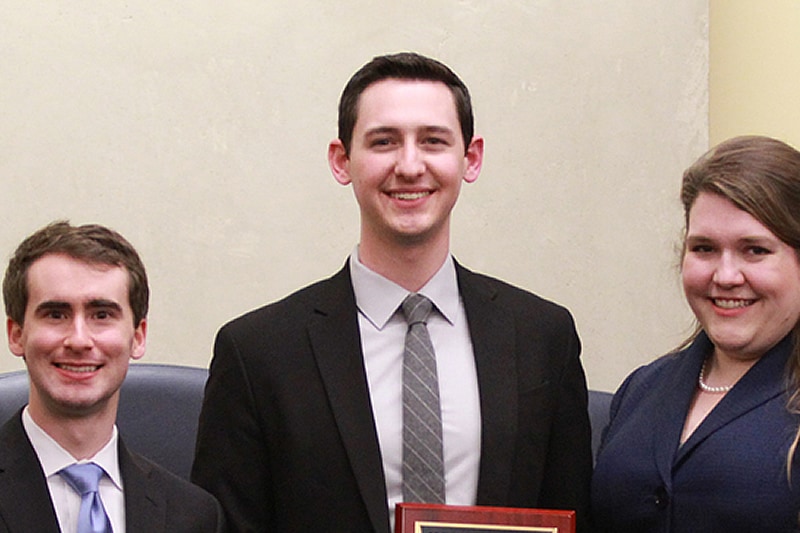 Third year law students Max Gottlieb, Bo Mahr and Jenna Lorence placed second at the New York City Bar Association's regional moot court competition this fall. Lorence was also named best oralist in the final round. The team will represent W&L Law at the national finals in January. Congrats and good luck!
W&L Law Students Organize International Anti-Corruption Conference The students are participating in an innovative practice-based course that engages them in research and analysis of international acts pertaining to good governance and corruption.
Six Washington and Lee law students traveled to Albania this semester for an anti-corruption conference they helped organize as part of an innovative practicum course.
The course, titled "Anti-corruption Law and Global Good Governance," engages students in problem-based learning concerning the United Nations Convention Against Corruption (UNCAC), the United States Foreign Corrupt Practices Act (FCPA) and UK Bribery Act. It is taught jointly with students from University of Tirana Law School in Albania using facilities and remote technology available at W&L Law.
As part of the course, the W&L students undertook extensive legal and factual analysis on corruption and good governance issues in the Caribbean and Pacific Islands and then presented those findings at the conference in Albania.
The students partnered with the United Nations Office on Drugs and Crime; the Rule of Law and Anti-Corruption Center in Doha, Qatar; the Public Affairs Section of the U.S. Embassy in Albania and the University of Tirana Law Faculty in planning and executing the conference, which brought together about 50 European professors who teach anti-corruption law in their universities. The W&L students spoke at the conference and also served as rapporteurs, or official reporters, on different sessions. The students who participated are Thomas DeMatteo '17L, Tacho Fernandez Sanchez '17L, Solomon Gonzalez '17L, Andrew Smeltzer '17L, Hollie Webb '18L, and John Fluharty '17L. Katie Sheild '18L also traveled with the group, providing administrative support for the conference.
During their stay in Albania, the students met with the Chief Justice of Albanian Supreme Court and discussed the prospect and challenges of judicial reform in the country.  They also shared their experience from Washington and Lee Law's clinical legal education with students and faculties at Tirana University's newly established criminal law clinic.
Disclaimer: This event is partially funded by the Public Affairs Section of the US Embassy in Tirana. The opinions, findings and conclusions or recommendations expressed herein are those of the author/s and do not necessarily represent those of the Department of State.
'A Good Place to Spend a Career': Ken Ruscio Reflects
On Dec. 31, after 10 years as Washington and Lee's president, Ken Ruscio leaves office.
Before he was president, he was, of course, a professor of politics, associate dean of the Williams School, and dean of freshmen, from 1987 to 2002. Before that, he was a student, from 1972 to 1976.
The W&L community recently honored the Ruscios and their legacy in the video above, featuring excerpts from many of Ken's speeches over the years.
Earlier this fall, President Ruscio sat down with us in his Washington Hall office for a conversation, which appeared in the fall issue of W&L: The Washington and Lee Alumni Magazine.
Q: In a 2011 Q&A for this magazine, you said you take seriously the leadership principle that we are all obligated to leave things better than we found them. You are leaving W&L a better place. Of what are you the most proud?
Being able to change while also respecting history and tradition is very important for an institution like Washington and Lee, so with all that we have been able to accomplish, I think we've also held very true to our traditions and our history. And as I have said — on too many occasions, probably — in order to keep things the same, sometimes you have to make some changes. Preserving what matters sometimes means changing some things along the way. That seems contradictory and paradoxical, but Washington and Lee demonstrates the truth of that proposition. So if there's something that I feel best about, it's being able to remain true to the institution's character even as we prepare ourselves for a very different kind of future.
Q: These days in particular, colleges and universities must work to communicate the qualities that distinguish them from the rest of the pack. How has W&L distinguished itself while you've been president?
We are not very good at self-promotion at Washington and Lee, and that's one of the things that I like about the institution; we just do what we're supposed to do. We don't engage in constant navel-gazing about what makes us unique and what makes us distinctive. Having said that, we are a category of one. We are so unlike any other college. We have such a depth and breadth of curriculum, and such a unique relationship between professional and liberal arts educations, and also such a deep understanding that education goes beyond the formal classroom setting. We think about education in a comprehensive, broad way.
During their time here, our students learn a great deal about themselves in their everyday interactions with faculty, staff and students. The combination of that breadth of experience, and at the same time a very intensive academic experience, happens at W&L unlike any other place I am familiar with. There is an institutional ethos here that is hard to adequately explain or articulate, but it is real and shapes the lives of our graduates in ways they don't fully appreciate until they get some distance from the university.
Q: During your presidency, how have we used data to inform decisions about changes
that needed to be made at W&L?
This university is both a left brain and a right brain university. We have an intuitive understanding of the culture that is not quantifiable. But we are also very good at using information and data, keeping up with trends, and understanding the external environment in which we find ourselves. For example, with the capital campaign, which ended last year, Dennis Cross (vice president for advancement) and his staff exceptionally used extensive research to assess the institution's potential to raise funds.
But at the same time, they knew that for any W&L capital campaign to be successful, it would have to be based on relationships and commitments of individuals who cared about the university. That was a great example of the use of information, the use of data, an understanding of our alumni base, but it was combined with an understanding that success requires more than data.
There are many other instances of that. You look at how Steve McAllister (vice president for administration and treasurer) has managed our finances. A lot of analysis goes into projecting our revenues and expenditures, managing our endowment, and making specific decisions such as whether we could develop additional campus housing. Over in the admissions area, we are increasingly aware of demographic changes in the population, and how we can best communicate with 18-year-olds who acquire their information differently than prospective students did 30, 20 or even 10 years ago.
Q: In your conversations with alumni, you hear so many examples of how W&L has made a difference in their lives. Can you share one of your favorite success stories?
It's very hard, because I can think of so many alumni Washington and Lee can be so very proud of. Surely one of the most recent ones is Mike Missal '78, who was confirmed in April as inspector general of the Department of Veterans Affairs. It came at a stage in his life where he could kick back and just enjoy things, but he decided to take on one of the nation's most challenging problems at the moment: the treatment of veterans. And he did it out of a real ethic of service, of duty, of obligation — for all the reasons that we hope our students take from here. He took on a challenge that most of us would have run from in a heartbeat.
So I think of him, but frankly, mostly because he is the most recent example, and I spoke with him just the other day. Call me tomorrow, and I will probably have just been thinking about another alum who is doing something incredible, maybe one of our graduates conducting medical research, like Dr. Erika Proko Hamilton '03. This summer she became the director of the breast and gynecologic cancer research program at the Sarah Cannon Research Institute, in Tennessee, and she is a member of our Athletic Hall of Fame for her admirable career here as a student-athlete.
Or call me the next day, and I may have just had the privilege to talk with one of our legendary public servants, such as Senator John Warner '49, or Governor Linwood Holton '44, or journalist Roger Mudd '50, or philanthropists Gerry Lenfest '53, '55L and Rupert Johnson '62, all of whom are alumni who love what they are doing or who have had careers based not on self-gratification but on the impacts that they have on others and on society.
Q: What is the most valuable lesson you have learned at W&L, whether as a student, a professor or the president?
Whenever I have made a decision about whether to take a job or not, it has always come down to whether I will be surrounded by good people. That consideration brought me to Washington and Lee in three different capacities — as a student, as a faculty member and now as president. I've learned that institutions that care about relationships and the quality of relationships are a good place to spend a career.
Washington and Lee has the capacity to enhance and nurture relationships, and it's across the board. It's student-faculty relationships, of course, but it's also staff and students, students and students, students and alumni, and faculty and alumni. There's just something about Washington and Lee that leads to relationships of very high quality and very high character. So if I've learned one lesson — and it's a lesson that I hope our students take away — it's that as you go through life, look for settings and opportunities where relationships can develop, where you can be surrounded by good people, where you can learn from them, and where you can grow as an individual even as you feel a part of a close-knit, supportive community.
Q: What is your hope for the future of our endowment?
We crossed a major milestone about a year or two ago, when we became one of the few institutions in the country where, on an annual basis, more of our revenue comes from philanthropy than from tuition. A lot of colleges are trying to focus on what they need to do to get through the next year. We can focus on things that we want to do because we have, for the most part, taken care of the things we
need to take care of. We can focus on the quality of the educational experience here, not our survival year to year. So endowment growth is critical for our success in the future. It makes the institution more stable, it makes our future less uncertain, and it puts so many things under our control. The sum of all of that means that we can indeed focus on quality and innovation in ways that other places can't.
Specifically, the capital campaign has enabled us to do three important things through the endowment. First, our financial aid has increased more than any other part of our budget, and we were able to do that not by putting pressure on tuition but rather by increasing endowment dedicated to that purpose.
Another problem we addressed at the beginning of the strategic plan was a shortfall in faculty compensation. How do you improve faculty compensation, where we lagged far behind our peers, without putting pressure on tuition or without taking away from other priorities? By increasing endowment dedicated to supporting faculty.
The third set of initiatives was the growth of innovative interdisciplinary programs. The Shepherd Poverty Program is now endowed, and the recently created Roger Mudd Center for Ethics (2010) and the J. Lawrence Connolly Center for Entrepreneurship (2013) are both supported through endowments. Those are among the most exciting and innovative academic developments of the last few years. Without support from an endowment, they would have been impossible to develop and sustain in the long run.
Q: If you had to choose only one quality with which to imbue graduates of W&L, what would it be?
One of the definitions that I have of leadership is that leadership is not about you as a leader, it's about understanding the needs and interests of those you serve. The leadership we teach here at Washington and Lee starts with a perspective, and that perspective is, "How can I make the community better? How can I help others who are in that community?"
So there is an awareness among our graduates of the needs and interests of others around them. We appropriately reference a number of virtues such as integrity, trust, honor, duty, obligation and respect for others. All of those matter greatly, but when you put them all together, living a life of consequence, of honor, is a rejection of self-interest, and instead a focus on the needs and interests of others. And Washington and Lee does have a way of making that almost instinctive in its graduates. Yes, there's the Honor System. Yes, there is student self-governance. Yes, it's the relatively small size of our community.
All of those are means, though, to the end, which is to develop a commitment to something greater than the self.
Q: You've made it clear over the years that you believe strongly in civilized debate. Do you think it is endangered?
I do, I really do. It's always been endangered to some degree. It's in our human nature to simply spout off, to not think before you speak. And we go through these periods where, remarkably, speaking your mind is mistakenly equated to saying whatever is on your mind without reflection and without letting any kind of judgment or discernment serve as a filter. Well, there is something to be said for being candid and direct, but there is also a lot to be said for thinking before you shoot your mouth off.
And it goes back to what I was saying before: If Washington and Lee teaches respect for others, then understand that some of that respect has to be respect for the opinions of others and the perspectives of others. It's easy to be around people you agree with; it's a lot harder to live in a community where people have different views and different opinions, but that's life in a democracy. Civility is always a fragile virtue in society, but it's important for places like Washington and Lee to remain committed to that during the tough times and to send the signals that educated, broad-minded people ought to practice the virtue of civility and respect the views of others.
Q: The working group that you established to study the history of African-Americans at Washington and Lee continues to explore that history as race relations in America seem to be eroding. What advice would you give this group?
Clearly we have thought so much about that, and in the broadest context imaginable. Washington and Lee is an institution with a long and rich history. It's a complex history, and it is a history that reflects the arc of our country's history. We were here before the founding, we were here during the founding. We were here during the Civil War, obviously; we were here in the aftermath of the Civil War. We were here during the civil rights era, when Washington and Lee integrated its student body. We rightly embrace the history of this institution in all of its complexity. In many ways, we are in a position here at Washington and Lee to lead the very difficult conversations about the nation's history. Why not take advantage of that opportunity and tell our history in its fullest? We try to understand the history of our country and the history of our institution in order to become better, and the only way we are going to become better is to understand the difficult choices that people made in the past and how that is going to inform the difficult choices that we are going to make in the future. So if any institution ought to embrace the complexity of history, it ought to be Washington and Lee.
So I would advise the working group to keep telling the story and learning the lessons from it. So many people have made contributions to this university in so many different ways, and when we look back at the contributions of African-Americans over time, those contributions have also come in so many different ways. What we have not looked at until this point are the contributions of those 84 enslaved Americans who were part of this institution from 1826 to 1857. They are part of our history, and that ought to be acknowledged, and their contributions ought to be acknowledged as well.
Q: You've made some decisions during your tenure that some people considered controversial. How did you prepare yourself for potential backlash?
When there are hard decisions to be made, you talk to as many people as possible, and you do as much research as possible. You really try to understand the issue and understand the perspectives of so many different people. But in the end, if you know you are going to get criticized no matter what you decide, that can be liberating. You might as well do what you think is right, and then you can at least live with yourself when it's all over. That doesn't make it easy when the criticism comes, because you know it's coming from people who also care very much about the university.
I don't minimize the commitment that individuals have to the institution who may disagree with things that we've done. So I'm not saying that makes it easy, but I am saying it enables you to be confident in the decision that you've made, knowing that you are looking at the best interest of Washington and Lee. We don't want to be an institution that's frozen in time. We are an academic institution, not a museum. For an institution that is always going to be moving forward, always going to be engaging with hard decisions, always trying to improve itself, you can't sit still. You have to be out there trying to determine how we can constantly make ourselves better.
Q: Is there anything you wish you'd done differently?
The answer is yes, sure, there are always things you would do differently if you knew then what you know now. If there is one frustration —and I don't know how I would have fixed this — it's that there just wasn't enough time to spend with the people I wanted to be with and keep track of. At the end of every year, I would say to myself, "Gosh, I wish I had spent more time with the faculty and gotten to more of their events and presentations." The next day, I'd say, "I wish I could have spent more time with the students." Then I'd be headed off to an alumni trip, which I love to do, and I'd say, "I'd like more time for this." So I wish I had been fully aware at the beginning of just how difficult it is to spread your time among all the people you really want to get to know.
Q: During your tenure, the university has lost students, esteemed faculty members, former presidents. How did you stay strong for the community at those times?
When Kim and I talked in 2006 about coming back to Washington and Lee, one of the things we understood was that it was entirely possible we would be here when some of the true legends of W&L would be leaving us. So many of them have had such an impact on the institution. As we have gone through those periods of loss, we have tried to use that time to remind ourselves of some of the fundamental values and principles that those individuals represent, and how those dedicated individuals have helped shape the university into what it is today. So those are sad times, but they are also times to reaffirm the fundamental underlying values of the institution those individuals personified.
The loss of students is a very different matter, and there is just no way to ever anticipate that or be prepared for the impact that has on you as an individual or on the community. I am deeply aware of the feeling of loss that students have when one of their classmates has been taken from them tragically, and I'm also very much aware of the impact on the faculty and staff who knew that student. Because of the closeness of this community, any loss has a real and genuine effect on the place, and those are hard times to get through, to be sure. During those difficult times, I take some consolation and draw strength from seeing some of W&L's finest qualities on display — the caring, mutual support that members of our community provide so naturally to each other.
Q: What advice are you going to give your successor, Will Dudley?
Well, the standard response to that is, that will be between me and Will Dudley [laughs]. We are very, very fortunate to have someone of his experience and background and understanding of Washington and Lee to lead the university, at this time of challenge, but also a time of great opportunity. He is going to be a wonderful president, and he already has made connections and shows a deep understanding of the institution. I think I am going to have my advice be between us, in part because he is not going to need advice from me. He is going to be fine.
Q: In what ways have your wife, Kim, and your son, Matthew, helped you do your job?
You can't do it without support. Kim has come to know Washington and Lee and come to love and understand this place as much as anybody. In those moments when I needed somebody to say, "Get over yourself," she has never failed to deliver that kind of message. And of course through her own involvement in campus life, she has helped set the tone and spirit during our time here. It has not escaped my notice that I don't hear too many people telling me that I'll be missed, while hearing many, many people say they will miss Kim.
Matthew has also helped me keep things real. He went through his college years while I was a college president, so some afternoons I would go from delivering messages to W&L parents about how to work with sons and daughters during this important time in their lives, to getting in the car and driving up to his college to be a parent. And he would remind me to take the advice that I so easily dished out to the parents of Washington and Lee students. Seeing him make his college decision while I was a college president, then go through the four years as a student (and student-athlete), and then graduate and embark on his career, was a constant reminder that the students at Washington and Lee are young men and women going through the real ups and downs of college life. I would see it every day in my own family.
So the two of them played a lot of roles, but probably the most important role was to keep me grounded, and not to always be thinking of myself as the college president, but as a father and a husband at the same time.
Q: What has been your favorite part of living in Lee House?
We could write a whole different article about living in Lee House. Kim and I have so enjoyed our time there. It's an adjustment because it's not the real world, you are right in the middle of everything. It's a place where you live, and you have to make it your house, but you're always aware that that so much of the history of the university has gone through those doors. And so many prominent individuals — not just the people who have lived there, like Robert E. Lee, but the people who have been there for dinner and receptions — have graced our campus. We keep track of the number of people who come through on an annual basis, and it's typically anywhere from 5,500 to 6,000 people per year. That always surprises us because it doesn't feel like crowds have gone through, it just seems like there is a lot of activity and a lot of events. It includes people who are coming back to campus for the first time in 50 years, as well as new students who have been on the campus for only two or three days and are seeing Lee House for the first time.
Q: Is there any particular feature of Lee House that you wish you could take with you?
You know, in truth, we probably spend more time in the kitchen than any other room. It's where we go in and out, it's where we converge at the end of the day or at the end of a meeting or a reception. It's where Kim and I finally settle down at the end of the day, over dinner on those rare days when we have no late commitments. It's where the public and the personal side of the house intersect, at least for Kim and me. I'm sure that's not an answer that people would expect to hear, but it is a place where for us, as residents, we both rest at times and at other times prepare for the receptions, dinners and other events we hold at the house.
I do remember my first night in Lee House. I hadn't yet been installed as president, but I was preparing for the transition. I was visiting for a couple of days, and the Lee House was not occupied at the time. And I was determined that it was going to be just a matter-of-fact evening, nothing special, this is where I'm going to live for however long, so I'm just going to go to bed like I usually do and do a little reading before I nod off and go to sleep. I figured, I'll get into the routine, nothing special. But I just couldn't get to sleep. It wasn't noise or anything like that, it was the realization that I was in the Lee House. Finally, about 1 or 2 a.m., I just got up and wandered around. [I was thinking] Robert E. Lee lived here, this is the room where his wife taught his daughters how to play the piano, this was Mrs. Lee's bedroom, and this was Robert E. Lee's bedroom, and this was the room in which he died, and you just realize that yes, this is a house, but it's much more than a house.
If you asked Kim that question, she'd probably have a very different answer. She has spent much more time with the décor in Lee House and making sure it was right for its character. One of her projects was restoring some historical integrity to the rooms. My job was to stay out of the way.
Q: When you come back to visit Lexington, what spots are you most likely to visit?
Gosh, we'll have to make the rounds. When I talk to the alumni and new students — so people who are very familiar with the place and some who aren't — I tell them that this is a place where the whole becomes much greater than the sum of the parts. For a new student, the footbridge to Wilson Field is just a cement structure that gets you from one place on campus to another. For someone who has been here longer, that becomes a kind of landmark that conjures up certain memories. The Colonnade is not just a bunch of bricks and columns and a nice front lawn, it's a place where a lot of things have happened that are in your store of memories.
So I don't know that I'm going to have one place. I'm going to see the Colonnade and think of all kinds of things, I'm going to see Doremus Gym and think of a lot of things. I'm going to see the library and the Elrod Commons and think of a lot of things. I'm going to see the landmarks in town — the shops and the restaurants — and think of people I've seen there and stories we have. So it'll never be one place, because this is a university where truly the whole becomes much greater than the sum of its parts.
Q: You are moving on to serve as president of the Virginia Foundation for Independent
Colleges. What appeals to you about that job?
It was not planned. This was the first time in my life where I stepped down from a job not knowing what I was going to do, but thinking that I wanted to finally get some time to write, to maybe go back and do some teaching, and I was very happy and prepared to do that. And I hope in some ways to still be able to do that. I knew I didn't want to do another college presidency; this was the only college presidency that would ever be right for me. So I made the decision to step down, intending to determine the next step down the road, not immediately.
I was contacted by the VFIC unexpectedly. I didn't know that their president was planning to step down; that had not been publicly announced. I have enjoyed working with the other college presidents in Virginia, and I have enjoyed making the case for independent higher education. I really do believe higher education is at a critical point in its history in our society, and the VFIC presidency sounded like an intriguing opportunity to make the case for independent higher education in a state where independent higher education has played a vital role. So it was one of those decisions that just felt right at the right time, and they were kind enough to wait until April 1, 2017, to let me start. I ran out of reasons to say no. But I'm looking forward to it. I think it'll be exciting. And I can still maintain contact with Washington and Lee. We will be living in Richmond, which is close enough to Lexington that we're going to be back and forth a lot. It's the best of both worlds for us.
Q: What will you miss most about W&L?
Boy, I could say a lot of things, but there is something about the quality of the relationships around here. Walking into Washington Hall this morning, I ran into Kathy Wallace, who is the custodian here. Kathy had been working since 2 a.m., and here I come strolling in at what is for most of us the start of the work day — 8:30 or 9 o'clock. She and I were talking downstairs for a few minutes about everything from the weather to how the summer has gone to what we've been up to. And just before that, I crossed paths with one of the Facilities Management workers who was out with the leaf blower cleaning off the sidewalks. You know, I just never take for granted that we are at a place where people understand that what we do matters. They take great pride in Washington and Lee and their own individual contributions to the university, and I don't think there are many places around where that happens to the extent that it happens here.
The setting in which we find ourselves contributes to the formation of that community. We are surrounded by the Blue Ridge Mountains and the Allegheny Mountains. We are in the Shenandoah Valley. We are in a town that has a lot of character itself, so that fosters highly personalized interaction. Things happen here at a certain pace. There is time for reflection and there's time for action, but the setting in which we find ourselves contributes to that as well. People walk on the campus who are tourists, and they say, "My God, you work here every day?" And I never take that privilege for granted. It really is a special place and a special setting.