Geological Scientist Piotr Krzywiec to Lecture at W&L on Geology in Central Europe Piotr Krzywiec will give a lecture on "Geology in Central Europe – How It All Started: The Early (XVI – XVII Cent.) Development of Earth Sciences in Central Europe."
The Geology and History Departments at Washington and Lee University will host geological scientist Piotr Krzywiec on Nov. 14 at 5:30 p.m. in the Science Center Room A214. Krzywiec will give a lecture on "Geology in Central Europe – How It All Started: The Early (XVI – XVII Cent.) Development of Earth Sciences in Central Europe."
The event is free and open to the public.
Krzywiec spent 16 years at the Polish Geological Survey in Warsaw before joining the Institute of Geological Sciences of the Polish Academy of Sciences as an associate professor.
He has also been an external lecturer in geophysics/seismic methods at various universities around the world. His main research interests include integrated analysis of geophysical and geologic data basin analysis and application of geophysical methods in exploration for conventional and unconventional hydrocarbons.
Krzywiec has authored and co-authored more than 300 conference abstracts, papers and book chapters published in Poland and abroad. He holds an M.S. in geology and an M.S. and Ph.D. in exploration geophysics, and studied at Jagiellonian University and the AGH University of Science and Technology, both in Kraków, Poland, and at Imperial College, London, U.K.
Georgetown Professor Continues Equality and Difference Series with Research on Pregnant Women Maggie Little, director of the Kennedy Institute of Ethics (KIE) at Georgetown University, will speak on "Research With Pregnant Women: A Moral Imperative."
"We are very excited to bring a speaker to campus who can address issues of Equality and Difference in the clinical research context."
Maggie Little, professor of philosophy and director of the Kennedy Institute of Ethics (KIE) at Georgetown University, is the fourth speaker in the 2017-18 Equality and Difference series, sponsored by the Roger Mudd Center for Ethics at Washington and Lee University. Little's talk will be held on Nov. 8 at 5 p.m. in Hillel Multipurpose Room.
Little will speak on "Research With Pregnant Women: A Moral Imperative." The talk is free and open to the public.
"We are very excited to bring a speaker to campus who can address issues of Equality and Difference in the clinical research context," said Angela Smith, Mudd Center director. "Professor Little is an expert in the area of bioethics, and has written extensively about a variety of issues in reproductive health and clinical research ethics."
As director of KIE, Little has overseen many initiatives, including the launch of the world's first Introduction to Bioethics MOOC in April 2014; the inauguration of Conversations in Bioethics, an annual campus-wide event focused on a critical issue in bioethics; the deployment of a series of experimental undergraduate courses utilizing project-based learning and design studio methods; and the founding of EthicsLab, a social innovation lab at Georgetown.
Little's research interests include issues in reproduction clinical research ethics and the structure of moral theory. A Rhodes scholar and fellow of the Hastings Center, she has twice served as visiting scholar in residence at the National Institutes of Health Department of Bioethics and was appointed to the Ethics Committee of the American College of Obstetrics and Gynecology.
She is a founding member of The Ob-Gyn Risk Research Group, which brings together experts for research encompassing a wide variety of issues in reproductive health and clinical research ethics. She also co-founded The Second Wave Initiative, which works to promote responsible research into the health needs of pregnant women.
The Mudd Center was established in 2010 through a gift to the university from award-winning journalist Roger Mudd, a 1950 graduate of W&L. When he made his gift, Mudd said that "given the state of ethics in our current culture, this seems a fitting time to endow a center for the study of ethics, and my university is the fitting home."
For full details on this series, visit: https://www.wlu.edu/mudd-center.
Slideshow: Pumpkin Carving Good gourd! See W&L administrative assistants transform pumpkins into works of Halloween art.
Washington and Lee University's administrative assistants gathered Monday for a pumpkin-carving contest at Lee-Jackson House. "Celebrity" judges included President Will Dudley, Provost Marc Conner, Dean Suzanne Keen, Dean Rob Straughan, Dean Sidney Evans and EC President Mason Grist.
The winners of the contest were:
First place: Ann Murchison, coordinator of presidential correspondence
Second place: Lisa Gearheart, Law Review
Third place: Michelle Rothenberger, Lee-Jackson House
Check out the slideshow to see their creative creations. Happy Halloween from Washington and Lee!
This slideshow requires JavaScript.
Five Distinguished Alumni Received Awards at the 2017 Five-Star Festival
Washington and Lee University is proud to announce this year's Distinguished Five-Star Alumni Award winners. The recipients received their awards during the Five-Star Festival, November 2 – 4, 2017.
John Alford '57, '59L
A member of Phi Gamma Delta, John graduated ODK, was a Class Officer, a member of the Scabbard & Blade and a Commissioned 2nd Lt. He served in the JAG Corps for three years in Germany, where he tried general courts-martial. John was a member for eight years and chairman for two years of the Virginia Judicial Inquiry Review Commission. He was a Fellow of the American College of Trial Lawyers and a past board member and volunteer of Jubilee Family Development Center. He is also a prior owner and supporter of the Lynchburg Hillcats minor league baseball team.
John has stayed involved with W&L by volunteering with his reunion class committees, as a law class agent for the Annual Fund, a member of the Law Council, and president of the Law School Alumni Association.
Warren Welsh '57, '61L
Warren was a member of Delta Tau Delta, a Class Officer and on the Calyx. After graduating from W&L, he joined the FBI and worked as a Special Agent in Missouri, Florida and Mississippi for almost eight years. In 1969, Warren was named Administrator in the Compliances and Practices Department for NBC in New York. In November of that year, he moved to California as Manager of NBC's Compliance and Practices Department. In 1974- 75, he was Security Coordinator for ITT's world headquarters in New York City.
In 1975, Warren was named Director of Security for Playboy Enterprises, Inc. in Chicago. He was appointed Director of Corporate Security for the American Can Co. in Greenwich, CT in 1978. In 1980, NFL Commissioner Pete Rozelle announced Warren's appointment as Director of Security for the NFL, the job he held until 1996. From 1996 – 2007, Warren was a consultant to the NFL's drug testing program. He retired in 2007.
Warren has been an undergraduate class agent and law class agent for the Annual Fund and he served on his undergraduate and law reunion class committees.
Peter Agelasto, III '62
A commerce major, Peter was a member of Phi Kappa Psi, served on the University Media Board as business manager of the Ring Tum-phi and on the Calyx. Peter married his wife, Betsy, in 1969 and they have two sons, Peter IV and Parker. He obtained a LLB (now JD) from UVA and practiced law in Tidewater for twenty-five years. Peter has devoted much of his energy to the nonprofit sector, initially in the areas of education and the arts and more recently in land conservation and historic preservation. His interest in the eleemosynary world began at W&L where he was involved in service organizations, including as the president of the organization that invited Martin Luther King, Jr. to speak at W&L. Peter served as Class Agent, Vice Chairman of the Annual Fund and President of the W&L Alumni Association during the coed question review.
Peter is a life member of the Virginia Beach Rescue Squad and, among many roles, served as chair of its Foundation. He was president of the Norfolk Botanical Garden Board and is a Master Gardener and a Master Naturalist. Currently Peter serves on the Boards of the Charlottesville Area Community Foundation, the Nelson County Community Fund, and the Virginia Conservation Network, an umbrella organization of the environmental groups in Virginia. Peter's focus today is the Rockfish Valley Foundation (RVF) that he founded in 2005 of which he serves as President and Chairman. He leads opposition to the Atlantic coast pipeline against its damage to culture and history in Nelson County. He credits his success to the liberal arts education at W&L.
John Poynor '62
A pre-med major, John was a member of Phi Kappa Psi, the Concert Guild, worked on the Calyx and Ring-tum Phi. He went on to The University of Alabama – School of Medicine for medical school. John joined a fellow classmate and a single practitioner in 1971 and they have continued to practice together for 41 years. He left the practice late in 1971 for two years serving in the U.S. Air Force being stationed in Plattsburgh, New York. John married his wife, Nancy, in the last year of residency and shortly after left for Plattsburgh.
Upon returning to Birmingham from serving in the Air Force, John starting writing a check to W&L and the Alabama School of Medicine every month as he wrote a check to the mortgage company and utility companies. Looking back, he sees this as a reminder of what those institutions prepared him for and how indebted he is. John has remained very active with W&L, serving as a reunion class committee member, a board member of the George Washington Society, director of the Alumni Board and president of the Birmingham Alumni chapter. John served on the Vestry and as a Junior Warden at the Cathedral Church of the Advent. His outside interests focus on education and art – from reading to first grade students to serving on the board at Highlands School; alumni boards at Indian Springs School and W&L, and the Admissions Committee to the University of Alabama School of Medicine. He has donated art to: Highlands School, The Altamont School, Mountan Brook Library, W&L, UVA, Sweet Briar College, U of Alabama at Birmingham, Auburn U and The Eye Foundation Hospital.
James S. Sagner '62
James is a treasury and corporate finance consultant and a former banker with the First National Bank of Chicago (now JP Morgan Chase). He has managed over 250 financial studies and credit analyses for companies worldwide. He has been a university professor teaching MBA (various NY and CT universities) and executive education (University of North Carolina-Chapel Hill) in finance. He has written 12 books and some 60 articles and papers, and is the series editor and principal author of Fast-Track business textbooks.
He was an accounting major at W&L, a member of Zeta Beta Tau fraternity, a member of the Concert Guild and the Washington Lit Society. He earned an MBA from the Wharton School at the University of Pennsylvania in 1964, and a Ph.D. from American University in 1970. James was honored as a Rockefeller Fellow, and is a CCM, a CMC, and a member of Beta Gamma Sigma. He assisted in the development of the Hillel House at W&L, has endowed a scholarship, and has made various other gifts to the University.
Prelude to Reformation Four Martin Luther tracts housed in W&L's Special Collections were fully restored in time for the 500th anniversary of the start of the Protestant Reformation.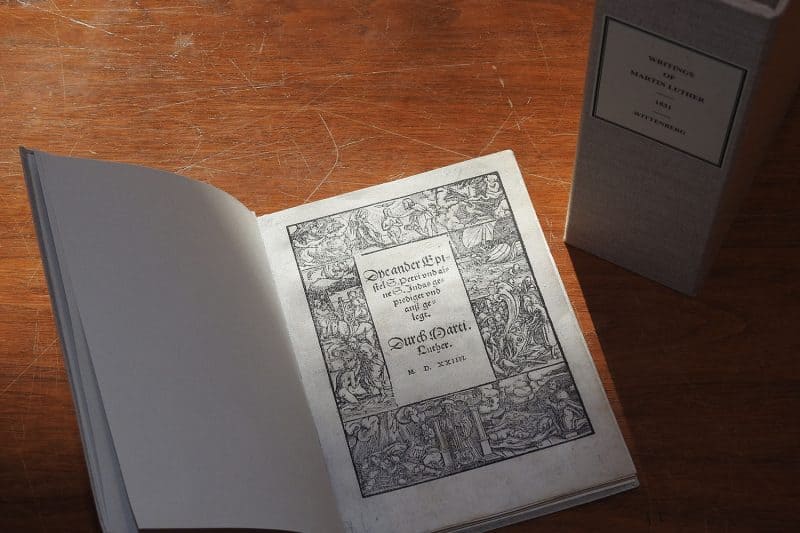 Four years ago, one of my freshmen work-study students dropped by my office to ask if he could look at the Martin Luther pieces housed in the Special Collections vault. He had found them listed in the library catalog.
Of course, I encouraged him to pull the items for viewing, with one caveat: He had to show them to me first, since I had not seen them and was not aware that Washington and Lee owned early Martin Luther items. What we discovered was nothing short of sensational.
Exactly 500 years ago, on October 31, 1517, Martin Luther, a German theology professor, composer, priest and monk, nailed his "Ninety-five Theses" to a church door at Wittenberg, Germany, effectively launching a period of history known today as the Protestant Reformation.
On that fateful day, Luther had written to his bishop, Albrecht von Brandenburg, protesting the sale of indulgences. He enclosed in his letter a copy of his "Disputation of Martin Luther on the Power and Efficacy of Indulgences," which came to be known as the "Ninety-five Theses." The Latin theses were printed in several locations in Germany in 1517.
A few months later, supporters of Luther translated the "Ninety-five Theses" from Latin into German. Within two weeks, copies of the "Theses" had spread throughout Germany; within two months, they had spread throughout Europe. Luther's writings circulated widely, reaching France, England and Italy as early as 1519. Students thronged Wittenberg to hear Luther speak, and this early part of his career was one of his most creative and productive. He made effective use of Johannes Gutenberg's printing press to spread his views, switching from Latin to German to appeal to a broader audience.  In fact, between 1500 and 1530, Luther's works represented one-fifth of all materials printed in Germany.
At some point in the latter part of the 19th century, Washington and Lee was given four early Luther tracts by Dr. Samuel Rolfe Millar. Millar, a Virginia native, had been appointed United States Consul at Leipsic, Germany by President Cleveland in March 1886. From the handwritten inscription made by Millar, it is apparent that he acquired the tracts while in Leipsic. Millar was guest lecturer at Washington and Lee University during the 1891-92 academic year, so the gift may have been made during that period. Dr. Millar's son, Samuel Rolfe Millar Jr., graduated from Washington and Lee in 1911.
The earliest of Washington and Lee's Luther tracts was done in 1523 and, like the other three, was printed in German. The title of the tract translates to "An Order of Worship for the Community," and the tract is graced by an exquisite woodblock paper cover executed by Lucas Cranach the Elder, a staunch financial supporter and ally of Martin Luther.
The other three tracts, one published in 1524 and two in 1531, are sermons. The 1524 publication is a sermon on Peter and Jude, and the 1531 pieces include a sermon on Hebrews and one on angels. All have detailed woodblock covers, possibly done by Cranach, although the 1523 tract is the only documented Cranach woodcut.
After making such a sensational "rediscovery," Special Collections has shared the Luther tracts in numerous classes and special group presentations. In fact, I was able to do some very detailed research on Luther's writing during summer 2017. While in residence at the Huntington Library in San Marino, California, I examined their Luther pieces for comparison purposes.
In light of the 500th anniversary of Luther's "Theses," and taking into account the increased attention to such wonderful rarities, the decision was made in winter 2016 to have full conservation work done on all four pieces. That conservation work, including full treatment of every leaf in each tract and the fabrication of elegant linen protective enclosures, was completed in late spring 2017.
In a fitting tribute to the impact of Luther's simple paper tracts, the full restoration of the pieces was generously paid for by Joshua Duemler '17. It was Josh, my dedicated and inquisitive work-study student, who brought these pieces to my attention nearly four years ago.
Who knew that the timing of this could be so perfect?
Staniar Gallery Features Borderland Collective Artists The show will be on view through Dec. 8.
Staniar Gallery at Washington and Lee University is featuring "Northern Triangle," an exhibition that examines issues around migration and human rights in the context of the Central American countries of El Salvador Guatemala and Honduras. The show will be on view from Nov. 6 through Dec. 8.
Originally commissioned by Blue Star Contemporary in Texas, this installation created by Borderland Collective uses photographs, maps, art objects, personal stories and political documents to foster constructive dialogue and exchange around the current Central American-refugee crisis along the U.S./Mexico border.
Borderland Collective, led by artists Jason Reed and Mark Menjivar and art historian Erina Duganne, is a long-term art and education project that utilizes collaboration between artists, educators, youth and community members to engage in complex issues and build space for diverse perspectives through meaningful dialogue and modes of creation and reflection.
Reed is co-founder and director of Borderland Collective and associate professor of photography at Texas State University. He has created gallery and public space exhibitions of collaborative work across the United States. His individual work has been exhibited around the world, including Co-Lab Gallery in Austin; Texas Vanderbilt University in Nashville, Tennessee; and Galerie Reinthaler in Austria. Reed holds a B.A. in geography from the University of Texas and an M.F.A. in photography from Illinois State University.
Menjivar is an artist and photographer based in San Antonio, Texas. His work has been included in multiple exhibitions, including at The Houston Center for Photography and The San Antonio Museum of Art. He earned his B.A. in social work at Baylor University and his M.F.A. in art and social practice at Portland State University.
Staniar Gallery is located on the second floor of Wilson Hall, in Washington and Lee University's Lenfest Center for the Arts. Gallery hours are Monday through Friday, 9 a.m. to 5 p.m. For more information call 540 458-8861.
W&L's Department of Music Presents the Bluegrass Ensemble's Fall Concert The ensemble has two electric bass players and will offer the world debut of "Dueling Basses," along with works by Bill Monroe and more recent bluegrass bands.
"We have had fun learning together and hope to convey that fun in our upcoming performance."
Under new direction by Burr Datz '75, Washington and Lee University Bluegrass Ensemble presents its fall concert Nov. 11 at 8 p.m. in Wilson Concert Hall in the Lenfest Center for the Arts. The concert is free and open to the public.
Datz has performed bluegrass guitar and mandolin for over 40 years with a variety of local bluegrass bands.
"I'm excited for the five Washington and Lee students and two employees who have worked hard putting together a diverse mix of traditional and modern bluegrass tunes," said Datz. "We have had fun learning together and hope to convey that fun in our upcoming performance."
The ensemble has two electric bass players and will offer the world debut of "Dueling Basses," along with works by Bill Monroe and more recent bluegrass bands.
The concert will be streamed live online at https://livestream.com/wlu/fall-bluegrass-2017.
Down By the River Over the summer, students worked with Professor Robert Humston to examine the potential effects of smallmouth bass on native brook trout populations in the Virginia watershed.
Spencer Alascio '19: Grafton, Wisconsin; Biology/Environmental Studies
Taylor Dockery '19: Montgomery, Alabama; Economics
Hashim Syed '19: Atlanta; Biology
Kurt Waibel '19: Hickory, North Carolina; Chemical Engineering and Geology
Q: What is your summer research project?
Our group is looking into the potential effects of smallmouth bass on native brook trout populations in the Virginia watershed. We collected fin clips from brook trout and smallmouth, along with a complete assortment of non-game fish species. In addition to fin clips, we collected aquatic invertebrates and the gut contents of captured smallmouth and brook trout. This was all to create complete food webs of our sample streams and to analyze shifts in trophic positions.
Q: What did an average day for you look like?
We loaded up our research truck with waders, boots, electro-fishers, nets, buckets, measuring equipment, storage containers and coolers. We then drove about one hour away to reach our target stream sites. Once there, we put on our waders and set up a processing station near the stream bed. After this we roamed up and down the section of river, stunning fish with the electro-fisher and collecting them or capturing aquatic invertebrates with sein nets. Once sufficient specimens were gathered, we processed them — recorded the species name, weight, clipped their fin and performed gastric lavage to gather gut contents (make them regurgitate). Once every fish was processed and released, we packed up our equipment and headed back to the lab to store the samples in the freezer. On our in-lab days we filed away the notes taken in the field and crushed the collected invertebrate samples and fish-fin clips for future SI analysis.
Q: What was the most interesting thing you have learned while working on this project?
Dockery: "I was drawn to this project because of my interest in fishing and conservation. I now have a better understanding of how stream ecosystems function and how certain species of fish fit into that ecosystem. I gained a greater appreciation for field biology and stream ecology."
Syed: "Prior to beginning research, I had no idea how intricate river ecosystems and food webs were. I found it quite interesting to see how smallmouth bass and brook trout have come to occupy different niches and predatory roles, despite existing concurrently within the same river systems. I also found the degree of species diversity that existed within a relatively shallow stream to be remarkable. Identifying the several different species of macro-invertebrates and comparing the diets between bass and trout has only made me more interested in our project and the conclusions we can draw once we finish."
Alascio: "I have learned that in research the potential outcomes and conclusions you can draw are constantly shifting. How our paper is written and what it focuses on has undergone an exceptional amount of morphing as we continued to collect data and analyze the information. This is not to say that the basic goal of our research has changed, but how we characterize and present the information is continuously evolving."
Waibel: "I now have a much better understanding of what really goes on behind the scenes in order to publish research, and have certainly gained an appreciation for the massive amounts of both time and effort that goes into a study like ours."
Q: What was the biggest challenge you faced?
Alascio: "The incredible amount of variation found in uncontrolled experimental areas. Factors such as rainfall, temperature, time of day and time of year all contribute to a level of unpredictability that is quite different from the conditions other researchers grapple with."
Dockery: "Initially, I was challenged by the amount of biology vocabulary and processes that I did not know at the start of the summer. After awhile, it was no longer an issue."
Syed: "So far we have collected and identified several different species of macro-invertebrates, collected fin clips and gut contents via gastric lavage from several different species of fish, and we have just began drying and crushing our invertebrate samples for mass-spec analysis. All of the different work has required different techniques and methodologies, and initially I found it somewhat overwhelming. Since then, however, I have begun enjoying learning about all the different things we do and am glad to be on such a dynamic project."
Waibel: "This project incorporated many different types of work, and it was integral for me to understand how each part fit into the scope of our research so that I knew exactly what I needed to do in order to answer the questions that we had set out to answer."
Q: Have you had any mentors during this time?
Alascio: "I have been fortunate enough to work directly under Professor Robert Humston during my two years of research. He has been an unwavering source of guidance for me, as well as an excellent example of how one should approach a research project and progress with it at a steady pace, without sacrificing the integrity of the work. Working under him has been one of the most influential experiences during my time here at Washington and Lee."
Syed: "Professor Humston has been a great mentor throughout the duration of this project. He has always been informative and approachable, encouraging me to continue learning and ask questions. Additionally, I found the sheer amount of knowledge he possesses regarding his field extremely motivating for me as a biology major."
Dockery: "As a member of the fly fishing club since freshman year, I have known Professor Humston for a while. Working with him this summer was an incredible learning experience, and I am appreciative of him taking me into this group."
Waibel: "Working with Professor Humston was an exceptional experience, to say the least. Spending so much time with someone who is as passionate about the environment as I am was a blast. He has been a great mentor to me this summer, and I have soaked up as much knowledge as I possibly could. He is someone I know that I can always come to in the future, and I am very grateful that he provided me with such a wonderful opportunity."
Q: Has this experience impacted your studies or future plans in any way?
Alascio: "I came in to W&L with the intention of following the pre-med program, and after a year of research with Professor Humston, I switched from looking at medical school to pursuing a career in environmentally based research."
Syed: "Although I still intend to apply to medical school, doing research at W&L has been quite rewarding. As a result, I have started considering medical research of some sort in the future."
Dockery: "This experience has not specifically changed my career path, but it has improved my stream-ecology knowledge —something that is necessary to become a better outdoorsman."
Waibel: "Even though I am majoring in chemical engineering and geology, this experience has only served to fuel my passion for the environment. I don't know what the future holds, but I certainly would enjoy doing more work like this."
Q: How did W&L prepare you for this experience?
Alascio: "W&L prepared me for this experience by setting a standard for how to approach work and how to handle the responsibility that a job in research requires."
Syed: "As a biology major, I have taken several classes in the science departments. These courses have helped me develop the problem-solving skills and capabilities necessary for research."
Dockery: "Economics is obviously a very different discipline than field biology. However, the quantitative aspects and the problem-solving skills overlap in more ways than many people would assume. W&L pushes you out of your comfort zone every semester, regardless of your major, so I felt right at home in a completely different discipline."
Waibel: "At W&L, one of the skills that I have sharpened the most is my ability to learn on the fly, and this was a skill that was crucial to working on this research project. In other words, W&L has made me better at learning how to learn."
Q: Why is this kind of experience important to W&L students?
Alascio: "I talk to many people who go to different colleges, and, for the most part, they are working part-time jobs at pools or grocery stores to try and make some money, while I am gaining invaluable research experience and exposure to multiple career paths that could be in my future. Summer research in Lexington allows me to be intentional with my time at W&L."
Dockery: "Working with professors in a research setting allows you to develop relationships that you would not make in the typical classroom or advisory setting. Learning happens at all points during the day, with every single experience."
Syed: "The main reason I chose to do research at W&L over the summer was in order to take advantage of the opportunities the biology department has to offer. In doing so, I have found that research is much more interesting than my preconceived notions of students stuck in labs all day long doing repetitive tasks. I've learned a new thing every day."
Waibel: "For W&L students, the opportunity to work closely with professors in a research setting is one that shouldn't be passed up. It is a way to garner skills that one might not learn otherwise, and it is a great way to build a relationship with someone who shares a common interest and can help you further prepare for your future."
W&L Law's Peppers New Book Chronicles Life of Famed Death Penalty Opponent
"My goal in writing the book was not only to shine a spotlight on her sacrifices, but to introduce new readers to the "machinery of death" which continues to grind across our country."
Todd Peppers, a visiting professor of law at Washington and Lee University, has a new book out chronicling the life of Marie Deans, a well-known death penalty abolitionist and activist who worked for prisoner rights in South Carolina and Virginia.
The book, titled "A Courageous Fool:  Marie Deans and Her Struggle against the Death Penalty," is based on the manuscript of a memoir that Deans began before her death from lung cancer in 2011. Working with former student and research assistant Margaret Anderson, Peppers devoted six years to complete the book, which includes archival photography of Deans, death row convicts, prison officials and the prisons where she spent countless hours of her life.
Related Event:
Todd Peppers Book Talk; Wednesday, Nov. 1 at 4:00 p.m. in Classroom B, Lewis Hall
A native of South Carolina, Deans became involved in death penalty work after the murder of her mother-in-law. She soon founded Victims' Families for Alternatives to the Death Penalty and after moving to Richmond in 1983, she started the Virginia Coalition on Jails and Prisons. She ran the organization for 10 years, becoming one of the most vocal advocates for Virginia's death row inmates. Her work included finding lawyers, improving prison conditions, and working on appeals as a mitigation specialist. Deans also became the friend and confidant to many death row inmates, and she stood watch for more than 30 men as they were put to death.
"Marie is one of the unsung heroes in the fight to bring justice and humanity to the condemned men of Virginia's death row," says Peppers. "My goal in writing the book was not only to shine a spotlight on her sacrifices, but to introduce new readers to the "machinery of death" which continues to grind across our country."
As a mitigation specialist, Deans' hard work helped spare over 250 inmates from a sentence of death. Leading scholars and death penalty advocates have praised Peppers' book as "a riveting story" and "a compelling account" of her life and work.
Peppers is a professor of political science in the Department of Public Affairs at Roanoke College in Salem, Virginia as well as a visiting professor of law at Washington and Lee University in Lexington. As a researcher and author, he writes about judicial institutions, legal history, and capital punishment. He is also the author of "Anatomy of an Execution: The Life and Death of Douglas Christopher Thomas." In addition, Peppers has written extensively on the influence of law clerks on the justices of the U.S. Supreme Court, including the book "Courtiers of the Marble Palace: The Rise and Influence of the Supreme Court Law Clerk" and two collections of stories of Supreme Court law clerks and their justices titled "In Chambers."
Related:
Commentary: Marie Deans' struggle against the death penalty (Richmond Times-Dispatch, April 2017)
Article: From the Archives: Roanoke College professor helps to finish book for death penalty activist after her death (Richmond Times-Dispatch, October 2017)
W&L University Jazz Ensemble Presents "Two-Way Street" The University Jazz Ensemble, under the direction of Denny Euprasert, will present interpretations of jazz standards and contemporary works.
Washington and Lee University's Jazz Ensemble will present "Two-Way Street" on Thursday, Nov. 9 at 8 p.m. in the Wilson Concert Hall, Lenfest Center for the Arts.  No tickets are required.
The second annual joint concert with the Vosbein Magee Big Band continues a tradition that began last year. The University Jazz Ensemble, under the direction of Denny Euprasert, will present interpretations of jazz standards and contemporary works. BigBand, co-led by W&L professors Terry Vosbein and Chris Magee, will showcase its many soloists and various arrangements.
Euprasert, a visiting assistant professor of music at W&L, has taught at Rangsit University where he was also the dean of the Conservatory of Music and the director of RSU Jazz Orchestra.
His recording project, "Masterpiece: Asanee-Wason," received the Kom Chad Luek Award for best instrumental album. He is the recipient of the Silpathorn Contemporary Artist Award from the Ministry of Culture of Thailand, one of the country's most prestigious honors in the arts, for his notable contributions to fine arts and culture.
The concert will be streamed live online at https://livestream.com/wlu/two-way-street.