Straughan Addresses Alumni Opening Assembly, ODK Holds Spring Initiation
Robert Straughan, Crawford Family Dean of the Williams School of Commerce, Economics and Politics at Washington and Lee University, gave the keynote talk at the university's annual Alumni Reunion Weekend Opening Assembly on April 26, in Lee Chapel. He spoke on "The Urgency of Liberal Arts in the Professions."
The event kicked off the weekend, which featured reunions for eight classes, including those celebrating their 50th reunion (Class of 1968) and 25th reunion (Class of 1993). It also included the spring induction by W&L's Alpha Circle of Omicron Delta Kappa, the national leadership honor society, of seven new undergraduate members, and the recognition of four honorary initiates.
Straughn described the value of strong connections with the liberal arts for those working in professional fields in general, and in business in particular. "Common learning outcomes of critical and analytical thinking, persuasive communication, moral reasoning, personal empathy, cultural fluency, and creativity and innovation – in no particular order – ought to define the experience of any undergraduate student," he said.
"The course topic or chosen major focal area, whether Latin American literature, classical civilizations, bio-robotics, art preservation and restoration or international marketing, simply provides a context in which to hone these common learning outcomes."
The ODK inductions were held prior to Straughan's keynote. The honorary initiates:
Dr. George J. Dover '68 is the distinguished service professor and former director of the Department of Pediatrics at Johns Hopkins University School of Medicine, as well as the former pediatrician in chief of the Johns Hopkins Hospital. He has a long history of scientific research in the study and treatment of sickle cell disease (SCD), having published over 130 peer-reviewed publications and book chapters in the fields of pediatric hematology and genetics. His laboratory was responsible for many of the initial observations of the biology and genetic control of fetal hemoglobin and was part of the team of physicians at Johns Hopkins responsible for developing the FDA-approved therapy with hydroxyurea for SCD.
A 1968 graduate of Washington and Lee University, Dover received his medical degree in 1972 from Louisiana State University Medical School in New Orleans. He trained in pediatrics and pediatric hematology/oncology at Johns Hopkins Hospital, joined the Hopkins faculty in 1977 and was promoted to professor in 1992. In recent years, he led faculty and staff in the development and design of the David Rubenstein Pediatric Outpatient Center and the new pediatric hospital, the Charlotte R. Bloomberg Children's Center (opened in 2012). He has served as chairman of the medical board of the Johns Hopkins Hospital (2008-2011) and is a recipient of many awards, including Outstanding Clinical Teaching at Johns Hopkins University School of Medicine and the MERIT Research Award from the National Heart, Lung, and Blood Institute of the National Institutes of Health.
Reginald A. Early is a native of Portsmouth, Virginia. He graduated from Norfolk State University in Norfolk with a B.A. degree in journalism and a M.A. degree in communications. He received the M.Div from Morehouse School of Religion at the Interdenominational Theological Center in Atlanta. Rev. Early is a founding member of Mobile Hope, an agency serving the homeless youth population of Loudoun County, Virginia. He also was on the executive board of Mobile Hope. He served as a volunteer for Volunteers of America, where he read to children of the Leesburg Homeless Shelter. He has also been president of the Loudoun County NAACP.
Early is president of the revitalized chapter of the Rockbridge County NAACP. He is a founding member, vice president and spokesperson for CARE (Community Against Racism Education). Currently, he is a member of the Racial Justice Group of 50 Ways Rockbridge and is on the board of directors for Project Horizon. He serves on the board of directors for the Southwest Virginia LGBTQ+ History Project. Having retired from full-time ministry with the United Methodist Church, he now serves as a part-time pastor on the Shenandoah Charge of the UMC.
Steven Grist '86L became the president of CornerStone Bank in 2014, succeeding his brother, T. David Grist. Grist has served on the board of directors of CornerStone Bank since its inception in 2009. Before his role as president, he served as vice chairman of the board, chair of the Asset/Liability Committee, and as a member of the executive committee. Previously, he had a private law practice in Lexington that concentrated in trusts and estates, commercial and corporate law, and real estate. He served as commissioner of accounts for the Circuit Court of Lexington and Rockbridge County.
A lifelong resident of Lexington, Grist graduated from Lexington High School, then earned a B.A. with a double major in economics and English from the University of Virginia and a J.D. from Washington and Lee University School of Law. He is a past president of the Rockbridge-Buena Vista Bar Association and past chair of the Virginia Conference of Commissioners of Accounts. Over the years, he has served in numerous local leadership roles, including director of the Lexington Rotary Club, president of the Rockbridge Area Free Clinic (now the Rockbridge Area Health Center), president of the United Way of Lexington/Rockbridge County, president of the Lexington/Rockbridge County Chamber of Commerce, president of the Lexington/Rockbridge Jaycees, and president of the American Heart Association's Rockbridge Unit. He was named a Paul Harris Fellow by the Rotary Foundation of Rotary International, and he received the prestigious North Star Award from the Boy Scouts of America. He presently serves as a director of The Community Table and the Lexington Golf and Country Club, and as secretary of The Fortnightly Club.
Robyn McCord O'Brien '93 is founder and executive director of the AllergyKids Foundation. She is a bestselling author, public speaker, strategist and mother of four. Her focus is on restoring the health of American families in order to address the burden that disease is placing on our economy. She brings insight and detailed analysis to her research on the health of the American food system as documented in her first book, "The Unhealthy Truth," and has been called "food's Erin Brockovich" by Bloomberg and the New York Times. She earned an M.B.A. on a full scholarship from Rice University, graduating as the top woman in her class before going to work as a financial analyst covering the food industry. She graduated summa cum laude from Washington and Lee, where she was also Phi Beta Kappa.
O'Brien's work has been covered by CNN, CNBC, Bloomberg, the "Today Show," "Good Morning America," FOX News, the Washington Post and numerous other media outlets. She has been named by SHAPE Magazine as a "Woman to Shape the World," by Forbes Woman as one of "20 Inspiring Women to Follow on Twitter," and by The Discovery Channel as one of its 15 Top "Visionaries." Her TEDx talks have been well received, and she recently spoke at Tony Robbins' financial conference, addressing "The New Food Economy." She has served on the board of directors of Healthy Child Healthy World and the Environmental Working Group, based in Washington, D.C. She also serves on advisory boards for startups and has been hired to speak at Target, Compass Food Group and Bloomberg, and to both organic and multinational food companies. She continues to shine a light on the health of our country and statistics that relate to families, farmers and our food economy.
Seven juniors were tapped into membership in ODK: Thomas John Agostini, a neuroscience major with a minor in poverty and human capabilities studies from Elgin, South Carolina; Teresa Aires De Sousa Da Silveira Rodrigues, a business administration and sociology double major from Lisbon, Portugal; Ryder Tobin Babik, an engineering major and mathematics minor from Natick, Massachusetts; Rossella Ivana Gabriele, a double major in physics and global politics from St. Louis, Missouri; Allie DiPietro, a business administration major minoring in Latin American and Caribbean studies from Baltimore, Maryland; Martha Davis Straske, a psychology major and dance minor from Tampa, Florida; and Sutton Paige Travis, a journalism and English double major with a minor in creative writing from Carthage, Texas.
ODK presented the Rupert Latture Award, which recognizes a sophomore who has demonstrated outstanding leadership potential, to Hannah Denham, a journalism major and women's, gender, and sexuality studies minor from Spanish Fort, Alabama. It gave the James G. Leyburn Award for Community Service to the Rockbridge Area Conservation Council (RACC), a local organization whose mission is to promote the wise stewardship and sustainable use of natural and cultural resources through education, advocacy and action in order to protect and enhance the quality of life for present and future inhabitants of Rockbridge.
Earlier Thursday, ODK unveiled an official historical marker at its national headquarters in Lexington. The Virginia Department of Historic Resources recognized ODK as a significant part of the commonwealth's history.
"Omicron Delta Kappa is thankful for the support of the City of Lexington and the Virginia Department of Historic Resources in facilitating the installation of our historical marker, commemorating our organization's 104-year relationship with Washington and Lee University," said Tara Singer, ODK's executive director. "We are also grateful for the financial contribution from John Morgan, executive director emeritus, who made the acquisition of the marker possible."
Speakers at the event included W&L President Will Dudley and W&L senior and ODK Alpha Circle President Angel Vela de la Garza Evia.
Authenticity in Leadership A conversation with W&L trustee Brodie Riordan '03 about leadership, and the importance of diversity on the board and in the student body.
Q: Brodie, you joined the Board of Trustees in February and are one of only a few female members. What does it mean to you to be a woman in a leadership role at W&L?
A: I gave this one a lot of thought, asking myself, "How often have I thought about my gender in these roles?" I was 26 when I joined the Alumni Board, and, at the time, I had the attitude that I needed to adapt my style to fit in with everyone else. We have decades more male alumni we can draw from, so the boards are disproportionately male at this point, but that is changing every year as our alumnae base continues to grow. At first, I tried to think like a man and act like a man. Trying to fit this mold was a short-sighted strategy. To be an effective leader, you need to bring your full, authentic self to the table.
I am delighted that the number of women on the board is increasing. It is an incredible group of women, and I have already learned a lot from them. The increasing diversity of the whole board is exciting. Not just women, but younger alumni and individuals with more diverse backgrounds and experiences. The more we have diverse perspectives, the better we are overall.
Q: What are your goals as a board member? Which committees will you be working with, and what excites you most about the work ahead?
A: W&L is an incredible place, and I think there are little things we can do to make it even better. W&L is positioned to be THE leading institution for developing young adults with integrity, leadership capability, an attitude of service and an entrepreneurial spirit. We need to unleash that potential. I keep hearing this desire to increase diversity on campus, across all categories. I don't think we will ever achieve our full potential until we can fully embrace a diverse community. I am looking forward to helping W&L become not only a more well-rounded institution but also more inclusive. I would love to get to a point where no student at W&L feels as if he or she doesn't belong or is not included.
One of the committees I am serving on is capital projects. As a psychologist, I have become more and more interested in how physical space impacts human behavior. The spaces that we create at W&L have an impact on who students spend time with, how they interact and generally how they experience their lives at W&L.
Q: You have studied leadership extensively. Can you share with me your views on the role of women as leaders?
A: There are traditionally more male and more female styles of leadership. But I think what is more important is authenticity in leadership — when you bring your values to the table. It is important to have leaders whom all members of the community can relate to, see themselves in and look to as role models. In women's leadership in general, I get the sense that in the past, women did not always support other women, but I feel like that has changed, and that the attitude now is if one of us succeeds, all of us succeed.
Q: Tell me about your experience as a founding member of the varsity field hockey team? How did the initiative start and what did the process (and the sport) teach you?
A: As a freshman, I joined the club team at W&L and was fortunate to be part of the transition to a varsity team. I don't think that transition from club to varsity would have been as successful without a great woman, leader Martha Cornbrooks '01, who was our team captain and spearheaded the effort. She energized us all and created a fantastic team environment.
Q: Who have been your mentors?
A: This question made me laugh. If I were to name them all to you, it would take up the entire article. I have had so many mentors, at W&L, in graduate school and in every job I have ever had. Anytime I meet someone whom I admire and can learn from, I latch onto them. I also will ask someone to be my mentor with a clear, intentional request, and no one has ever said no. I would advise others to do this. Don't be shy! People are honored and flattered to be asked. I never see a mentor relationship ending, and every single one of them has served a different purpose in my life and career.
When I joined the Alumni Board, Valerie Gammage '89 and Liz Brown '95 were both on the board in leadership roles. They were such incredible role models and helped me navigate my role on the board. I will never forget when Valerie called me in my second year, and asked me to be vice president the next year. That moment was burned into my brain because it meant so much to me — I couldn't believe I had this incredible opportunity in a group that I so deeply respected. One of the reasons that was so powerful to me is that women, myself included, often suffer from imposter syndrome, meaning they do not credit themselves for achievements and worry they do not have the necessary skills to serve in leadership roles. I have had incredible support from Beau Dudley '74, '79L and Tom Lovell '91 over the years, as well. These mentors and role models have really helped me figure out who I am and what I have to offer.
Q: You have served W&L in many leadership capacities, from president of the W&L Alumni Board and the Cleveland Alumni Chapter to chair of the Science Advisory Board. What do you consider as the most important qualities of a strong leader, and what would you say to encourage more women to pursue leadership roles?
A: For me it has been an evolution. I used to mistake leadership for doing everything myself, which is the exact opposite of leadership. I learned that the hard way. Being a really effective leader means understanding the people you are working with and what they are passionate about. I think one of the best things you can do as an effective leader is empower people to accomplish things that are important to them. A clear vision is also essential. As far as encouraging women to pursue leadership roles, this gets back to my point on authenticity — knowing what is important to you, what you value and what changes you want to make. For women especially, it can be daunting to hear, "Pursue a leadership role." You don't necessarily need to start with leadership. Start with what you care about and go from there. And then if you end up in a leadership role, embrace it!
I never could have imagined the impact my involvement at W&L would have on my life. I had just moved to Akron, Ohio, for my graduate degree. I was interested in the alumni chapter to get to know people in the area. The chapter was somewhat inactive, and when I reached out to the current president, he basically asked me if I wanted to be the new president. My dad had led the alumni association chapter in Maryland, where he lives. Tom and Beau really wanted the Cleveland chapter to succeed and were so helpful. A few years later, I was asked to serve on the Alumni Board. None of it was planned. It just happened.
My roles at W&L have absolutely benefited me in my professional life. I have developed from those volunteer leadership opportunities so much more than in any formal leadership training (and that says a lot, given that my day job is in leadership development). I would encourage women to get involved and see the W&L Alumni Association as a field of opportunity to make connections, take on new roles and develop yourself, while also giving back to our wonderful institution and community.
Q: You have supported W&L generously over the years, both through your service and your philanthropy. Can you share your reasons for choosing to remain deeply engaged with W&L? What is most meaningful to you regarding the positive impact you are making?
A: My initial love for and involvement in W&L started from a very young age. W&L has been very formative in my life. If it weren't for W&L, I wouldn't exist. My parents met there. My academic experiences there prepared me so well for graduate school — the small class sizes, the independent research opportunities, the support and encouragement of the psychology faculty. I even met my Ph.D advisor, a member of the Class of 1984, at W&L when he came to campus to deliver a lecture. I attended his guest lecture on industrial/organizational psychology, and that's when I knew that was the field I wanted to pursue in my graduate studies.
I feel a great responsibility to continue to serve the university, and I want to make sure every student has an even better experience at W&L than I did. The more W&L succeeds, the more we all succeed. It truly raises the value of our degree. I appreciate the role W&L has played in my life, and I just want to help that continue for others to an even greater extent.
Q: What would you like to emphasize to fellow W&L alumni and friends when it comes to giving back to the university?
A: In my roles on the Alumni Board and as a class agent I have learned so much more about how the endowment works and the importance of Annual Fund to the university's operations. Now that I have a better sense of how my gift impacts aspects of the university and specific students, I am more passionate about it than ever. When I know there's a student who might not be able to afford the same experience I had, I want to help enable that student to enjoy all of the wonderful opportunities at W&L. I would encourage people to give at the level at which they are able. Not everyone is able to give at a leadership level, and that's okay. Gifts of all levels are so important — they add up to a really significant impact.
The Defender: Dan Goldman '11L to Lead Northern Virginia Capital Defense Office
It's no secret that law students read a lot. Whether or not they retain every single page is a different story. Ask any attorney, however, and they'll tell you that during their three years of legal training, there were certain gems of judicial brilliance they stumbled across that have stuck with them—providing a reminder of why they wanted to become a lawyer in the first place.
For Daniel Goldman '11L, the first W&L Law alumnus to head one of Virginia's four regional capital defender offices, that inspiration comes from Justice Hugo Black's opinion in Gideon v. Wainwright: "[I]n our adversary system of criminal justice, any person hauled into court, who is too poor to hire a lawyer, cannot be assured a fair trial unless counsel is provided for him. This seems to us to be an obvious truth…"
Goldman began law school with aspirations of pursuing a career in indigent criminal defense. In fact, it was one of the main reasons he decided to attend W&L. "I chose W&L Law primarily for the fantastic criminal defense faculty and for the warm and friendly welcome my wife and I received from admissions staff and faculty when we visited." Goldman certainly took full advantage of W&L's unique combination of some of the nation's leading scholars in the criminal defense and opportunities to put the skills garnered in the classroom into actual practice.
During his 3L year, Goldman was named the recipient of the Oliver White Hill Law Student Pro Bono Award for his commitment to pro bono and public service projects while in law school. The award, named for a Virginia litigator who was instrumental in dismantling racial segregation laws, recognizes a law student's commitment to uncompensated or minimally compensated pro bono work and other public service. It is bestowed by the VSB Committee on Access to Legal Services. Goldman amassed over 100 hours of volunteer service during each of his three years at W&L, including: helping to revive the Southwest Virginia Innocence Project, teaching in Roanoke's Street Law Program, co-founding the W&L chapters of the National Lawyers Guild and the Middle East and North Africa Law Society, and serving as a student attorney in W&Ls Virginia Capital Case Clearinghouse. He also worked for a summer in a clerkship with the Public Defender Service supporting attorneys in felony trials.
All of his hard work has paid dividends in his legal career. Goldman now serves as the lead Capital Defender for the Northern Virginia Capital Defender Office, which represents poor persons charged with capital murder and facing the death penalty throughout Northern Virginia in the state courts. The office delivers capital defense services through a staff of dedicated attorneys, mitigation specialists and investigators, and office manager, as well as contracting with outside fact investigators, mental health professionals, and other experts.
The office emphasizes team-based defense and a holistic approach to questions of culpability and mitigation. While Daniel admits that the work can at times be "emotionally draining and often sad," he finds his role particularly rewarding due to the countless opportunities he has to "build relationships of trust and friendship with my clients and help them find hope in what at first appears to be a completely hopeless situation."
For those thinking about pursuing a career in criminal defense, Goldman has some invaluable words of advice garnered from years of experience at the highest level of practice in the field: "Take all the criminal law courses and clinics you can. Get to know those professors. Intern and volunteer for public/capital defender offices. Read all you can about the criminal justice system and relevant social science research. Reach out to practitioners to get their experience. Find out which jurisdictions most need help and go there."
Great advice indeed—but perhaps even a more important prerequisite for success for any lawyer is a passion for justice and faith in the rule of law—something Goldman obviously has in abundance.
Mission to Monterrey Daniel Rhoades '19 joined a group that traveled to Monterrey, Mexico over Washington Break to continue a STEM program for elementary school students.
"…talking about a country and its language in a classroom doesn't compare to walking the streets of that country and hearing its language being spoken. It is incredibly special to get a glimpse of what life really looks like elsewhere in the globe and to cross a border which, especially in today's political climate, is too often strengthened."

~ Daniel Rhoades '19
Hometown: Gainesville, VA
Major: Physics
During summer 2017, Angel Vela de la Garza Evia '18 used a Davis Projects for Peace grant to implement a program for public school students in his hometown of Monterrey, Mexico. Dubbed "STEMito," the project included experiments and activities to introduce the children to science, technology, engineering and math. It also included some school improvement projects.
During Washington Break this year, Vela de la Garza Evia returned to Monterrey with W&L associate professor Jon Erickson and several classmates to continue the STEMito program. We asked Daniel Rhoades '19 to describe the week's activities and their impact on him.
How did you end up going to Monterrey?
I was in a class (PHYS 295: Applications of Physics to Social Science) with Matthew Lubas, one of the trip coordinators, in fall 2017. I heard about STEMito both from him and via e-mail. It piqued my interest because I was excited to have the opportunity to support childrens' STEM education while practicing my Spanish language skills. I was originally not slated to attend, but the week before the trip, someone decided not to go. I was on the wait list and was offered the open slot. The rest of the group was made up of physics professor Jon Erickson, Angel Vela de la Garza Evia '18, Matthew Lubas '18, Ryder Babik '19, Abigail Hinrichs '20, Anna Soroka '20, Anne Rodgers '20 and Katarina Martin '20.
What was the purpose of this latest trip down there?
The purpose was to help support Angel in continuing the STEMito project. Last summer he was awarded the Davis Projects for Peace Grant to develop STEMito, a STEM-related project for primary school students in Monterrey. In his words, "The goal of STEMito is to expose students at the primary level to a wide variety of STEM topics in a way that they have never experienced them before." The trip involved getting to know students outside the classroom, helping with a few construction projects around the school (e.g. rebuilding and painting their garden fence and painting the front of the stage used for student performances), and preparing for, as well as conducting, STEM-related experiments with 4th, 5th, and 6th grade students in the afternoon.
What specific activities were you involved in?
I was involved in each of the activities listed above (except for painting the stage). Getting to know the students involved sitting with them during lunch and their breaks between classes, asking them questions about their lives, answering their questions about mine, and playing a lot of soccer and basketball.
Regarding construction around the school, I worked mostly with repairing and repainting the school's garden. Both the construction and experiment preparation also involved shopping for supplies around town. I worked with Professor Erickson, Anne and Ryder to conduct experiments with the 5th grade class in the afternoon. Our experiments included:
Anaerobic respiration (Experimento de la Levadura) — combining yeast and sugar in warm water in a plastic bottle and covering the top with a balloon to collect the resulting carbon dioxide
Human anatomy (Mano Articulada_ — tracing hands on foam paper, cutting up straws to act as bones, and feeding string through the straw sections attached to the foam hand in such a way that when the strings (tendons) are pulled, the foam fingers bend similarly to our own hands
The impact of soap on grease/fat (Leche Bailante) — filling a plate with whole milk, placing some drops of food coloring in the center, and dropping some soap in the middle of the food coloring. The food coloring spreads out, and you can observe the milk fleeing from the soap due to the lipids (fats) in the milk.
What was your favorite part of the trip?
My favorite aspect, hands down, was getting to know the students. Hearing their thoughts, interests and aspirations, and answering any questions they had about my life, was a beautiful example of two people from very different backgrounds getting to know each other, learning about each other's cultures, and discovering that beneath it all, we have a lot in common.
How did the trip enrich your educational experience at W&L so far?
Washington and Lee talks about the value of global citizenship and learning about different cultures, but talking about a country and its language in a classroom doesn't compare to walking the streets of that country and hearing its language being spoken. It is incredibly special to get a glimpse of what life really looks like elsewhere in the globe and to cross a border which, especially in today's political climate, is too often strengthened. Rather than alienating those I don't know, I was again encouraged to connect with people who come from different backgrounds while remembering to respect their individual identity.
This slideshow requires JavaScript.
Journalism Students Win SPJ Awards In addition, stories by two students were chosen as finalists in the SPJ Mark of Excellence national competition.
UPDATE 5/21/18:
In addition to winning regional SPJ awards, stories by Hannah Denham '20 and Kinsey Grant '17 were named as finalists in the SPJ's Mark of Excellence national competition.
Denham's piece, "The undocumented general," was a finalist in the In-Depth Reporting, Small School Division, Newspapers category. Grant's work, "Winding Way house fire," was a finalist in Television Breaking News Reporting.
There are only three finalists in each category, including the winner, and Grant's and Denham's work was up against student journalists all over the country.
END UPDATE
Four Washington and Lee journalism students won five Mark of Excellence Awards in Region 2 of the Society of Professional Journalists.
At a ceremony, April 14 in Richmond, Faith Pinho '18, Ellen Kanzinger '18, Hannah Denham '20 and Kinsey Grant '17 were recognized for stories they reported and wrote and photographs they took during 2017.
Their work was produced for the Ring-tum Phi, The Rockbridge Report, and for professional news organizations where they were summer interns. The winning entries now advance to SPJ's national Mark of Excellence competition, which honors the best in student journalism throughout the country.
Pinho received two awards for stories aired on WMRA public radio. A story about local musician Jonathan Chapman Cook won in the radio feature category. Her coverage of the name change by R.E. Lee Episcopal Church won for radio news reporting. A third piece, published on The Rockbridge Report, was a finalist.
Kanzinger was honored for feature photography for work produced at her summer internship at The GroundTruth Project, a non-profit online news organization. The piece examined the debate over a marine national monument off the coast of Massachusetts. She was a finalist in the same category for photos that accompanied a story about I-81 produced in a journalism course, "Multimedia Storytelling Design."
A story written by Denham about Washington and Lee students affected by Deferred Action for Childhood Arrivals (DACA) won in the In-Depth News category.  The article was published in The Ring-tum Phi.
Kinsey Grant, who graduated last May and now works for the business news website TheStreet.com, won in the Television Breaking News category for coverage of a house fire on Winding Way, which aired on The Rockbridge Report.
The Rockbridge Report, a live broadcast and news website overseen by the Department of Journalism and Mass Communications, was a finalist in the "Best Independent Online Student Publication" category.
Region 2 comprises Virginia, North Carolina, Maryland, Delaware and the District of Columbia.  It is one of 12 SPJ regions.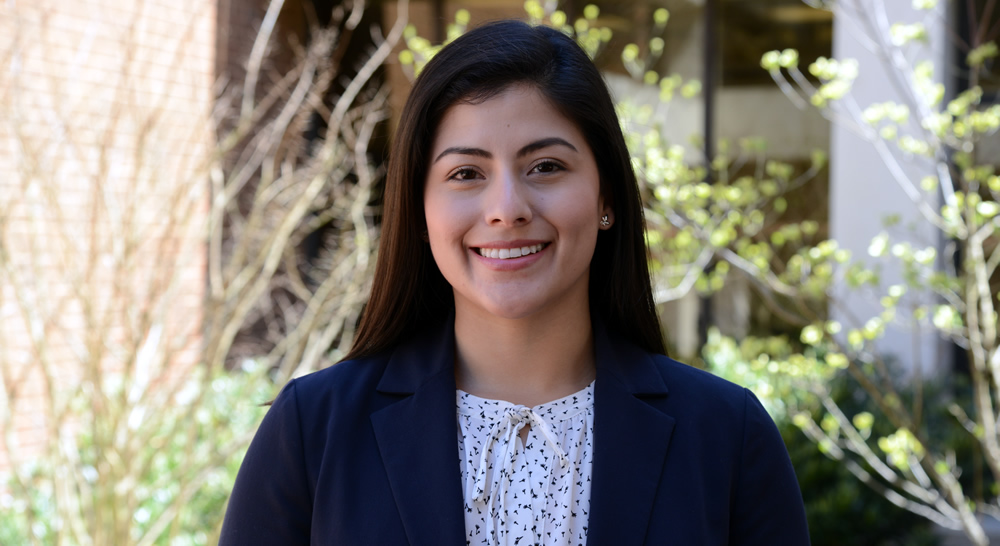 Career Paths: Fiorella Herrera '18L
Fiorella Herrera '18L, was born in Lima, Peru. Her family immigrated to Boca Raton, Florida, when she was nine years old. She graduated from Amherst College in Massachusetts with degrees in Political Science and French. After graduation, she worked at the City Bar Justice Center in New York City assisting seniors, the homeless population, and cancer patients and survivors. While at W&L, she represented immigrants through the Immigrant Rights Clinic, externed at the Immigration Legal Services within Catholic Charities of Baltimore through the DC Program, was a board member of the Public Interest Law Students Association (PILSA), and participated in the NYU Law Immigration moot court competition. 
Who will you be clerking for, and what will your responsibilities be?
I will be clerking for the York, Pennsylvania Immigration Court as part of the Department of Justice Honors Program. In Immigration Courts, law clerks are not usually assigned to one judge. Typically the law clerks within one court rotate through judges and are assigned to cases depending on their deadlines. Duties of law clerks may vary by judge, but generally include research and writing on legal issues pending before the judge, drafting legal opinions, and acting as a liason between the judge and attorneys.
Why are you interested in clerking after graduation?
I wanted to clerk within an Immigration Court to immerse myself in immigration law, observe the inner workings of an Immigration Court, understand a judge's decision making process, and hone my research and writing skills.
How did you secure this clerkship?
I discovered this position after I interned with the Immigration Court in Baltimore during my 2L summer. I worked alongside the Baltimore clerks and learned more about their experiences and their job application process.
The Department of Justice Honors Program has a centralized application for various components within the government. This application is quite extensive and is usually due in early September, so it is very important to start early.  After I submitted my application, I interviewed with an attorney within the Office of the Chief Immigration Judge. I received a job offer the first week of December.
Which W&L classes and/or experiences do you think were most helpful in preparing you for clerking?
I think my legal writing courses were essential. I secured my internships by using writing samples I produced in those classes. Also, administrative law was very helpful to understand the immigration system. Constitutional law was also very important. I did not take immigration law, but I would recommend it to whoever is interested in the area.
If you are interested in immigration, the Immigrant Rights Clinic is amazing. I learned a lot during my year at the clinic. Further, the moot competitions LALSA participates in usually deal with immigration and are amazing researching, writing, and oral advocacy opportunities. Through LALSA, I competed in the NYU Law Immigration Competition.
What are you most looking forward to about this clerkship position?
I am looking forward to challenging myself in my research and writing. Also, I am very excited about my placement in the York Immigration Court because the docket there deals heavily with criminal law and how it intersects with  immigration law– also known as "crimmigration." The York Court is housed in the same building as a detention facility, so I am looking forward to exploring issues specific to detainees.
Radulescu to Present Inaugural Lecture The title of Radulescu's talk is: "Dream in a Suitcase: How Literature Saves/Changes Lives."
Domnica Radulescu, the Edwin A. Morris Professor of Comparative Literature, will present an inaugural public lecture to celebrate her endowed professorship on May 3 at 5:30 p.m. in Washington and Lee University's Stackhouse Theater.
The title of Radulescu's talk, which is free and open to the public, is: "Dream in a Suitcase: How Literature Saves/Changes Lives." A book signing will follow the lecture.
Radulescu, who has written extensively on East European theater and narrative, said, "I'm very happy to have this new professorship. I travel in so many directions artistically and intellectually, that this provides a grounding from which I can continue to grow. It will also fill a niche in the university curriculum. It is time for the area of comparative literature to be refreshed and taught with a more modern edge. It's a synergistic field that I hope will encourage faculty from other disciplines to also offer courses that connect literature with philosophy, psychology, religion, classics and social sciences."
In addition to reading from her works, Radulescu has invited several students to perform dramatic readings from her most recent plays. "It's important for students to see that their professors create knowledge, art and scholarship and that they don't just teach what others have produced. Everything I do, I bring back to the classroom."
Radulescu is the author, editor or co-editor of 10 scholarly books and three novels, as well as book chapters, articles and plays. She joined W&L in 1992, and as well as teaching courses in French language and literature and in Italian Renaissance literature, Radulescu was the co-founding chair of W&L's Women's and Gender Studies Program and is the founding organizer and director of the National Symposium of Theater in Academe. She is the recipient of the 2011 Outstanding Faculty Award and has received two Fulbrights to work and do research in Romania.
Shely Awarded Fulbright Grant to Colombia  Jared Shely '18 will use the grant to continue his work teaching English to students in Latin America.
Washington and Lee University senior Jared Shely has been awarded a Fulbright grant for an English teaching assistantship in Colombia.
In 2012, as a high school student, Shely spent time in Honduras, and it was that experience that inspired him to apply for the Fulbright grant and continue his work teaching English to students in Latin America.
"The Fulbright ETA award to Colombia will allow me to work alongside students, as I learn about Colombia and its culture while teaching them about my own," said Shely. "By incorporating U.S. music and television in lessons, I hope to improve listening skills and expose students to U.S. culture."
With a double major in Spanish and history, and a minor in Latin American and Caribbean studies, Shely has devoted his time at W&L to immersing himself in the Latin-American culture. In addition, Shely has also taught English as a second language to fifth graders.
"Jared has a demonstrated commitment to learning about Latin-American cultures and societies, and is very well poised to contribute meaningfully to cultural exchange during his time as a Fulbrighter in Colombia," said Jonathan Eastwood, Laurent Boetsch Term Professor of Sociology and Fulbright Program adviser.
"Spanish language skills allowed me to travel abroad, engage in historical research using primary resources, teach English, and build relationships with lifelong friends in communities outside my own," said Shely. "I recognize the value of speaking another language, and I want to assist Colombian students in English language acquisition so that they can share in those experiences."
While abroad, Shely also plans to volunteer as a tutor and mentor to secondary school students as they prepare for their next steps in life.
"I want to assist [in any way I can] as those students prepare for the new opportunities that exist in a unified Colombia," said Shely.
As his time at W&L nears completion, Shely said he is left with two passions: education and Spanish.
"I relish the opportunity to help students in Colombia gain access to the English language and all the opportunities it can offer," said Shely. "I do not simply want to teach skills or facts. Through cross-cultural learning, I want to cultivate mutual understanding and linguistic skills that can open doors to new people, ideas and places."
Starting a Lending Library Edwin Castellanos '20 created a system that allows students to save money by borrowing donated textbooks.
"FLIP has been a constant reminder of the outcome and positive effect that taking initiative on the issues that matter most to every student can have on others."

~ Edwin Castellanos '20
Hometown: Aurora, Illinois
Majors: Accounting and Spanish
Minor: Latin American and Caribbean Studies
Shortly after our  Volunteer Venture trip to Baltimore, Kiki Spiezio '18 and I walked through every aisle in the University Store. She instructed me to check the school's prices and those online simultaneously. I noticed how much the prices varied from book to book, and was surprised by how much cheaper some books could be online compared to the store. Kiki emphasized that although some of my scholarship money is allotted for books, I could save money by purchasing them online or renting them from Amazon.
Days later, I spoke with other Quest Scholars and was taken back to hear how much money they had paid for their books. Many did not realize that they could save money by purchasing their books online or renting them for the semester. The scholarship money they had spent on books could have been used for a flight home for school break or for their necessities while on campus.
I was on social media later that semester when I came across the efforts of several students at universities with lending libraries. Kiki and I had conversations about what we could do on the W&L campus to help students, and she encouraged me to take the initiative on the issue. I learned more about how other schools handle the process and began to contact different people to see if they would be willing to donate books. First, I asked friends, and they sent messages on their GroupMes, posted on social media accounts, and sent emails to the head RA and CA for their halls.
I figured I would only receive a few book donations, so I began storing them in my dorm room in Graham-Lees. To my surprise, by the end of my first year, I had many books stored in bins in my room. My parents were surprised to see my room filed with books and didn't know what to do with them when they came to pick me up.
Over the summer, I worked on an Excel spreadsheet that could be accessed by everyone identifying as a first-generation or low-income student. Kiki then contacted me and asked if I would be interested in joining a new campus group called the First-Generation Low-Income Partnership (FLIP) with her and Taylor Reese '19. I agreed and made the lending library a part of FLIP.
Once I moved back for sophomore year, the books were stored in a bookshelf that my room had in La Casa Hispanica. I shared the spreadsheet with students we knew identified as first-generation or low-income, and I had some students come to the house or meet up with me to get the books they needed.
The lending library has now been expanded, organized and moved outside of my bedroom to FLIP's designated space on the third floor of Elrod Commons. Currently, the lending library has more than 150 books and is being used by first-year students and seniors alike.
FLIP has been a constant reminder of the outcome and positive effect that taking initiative on the issues that matter most to every student can have on others. One might not always find what they're looking for, but it doesn't mean they can't create the resources, environment and space they would desire to have for themselves and others.
If you know a W&L student who would be a great profile subject, tell us about it! Nominate them for a web profile.
More about Edwin
Extracurricular involvement:
I am president of the Latino Student Organization (LSO), co-founder of the First-Generation Low Income Partnership (FLIP), communication and events chair for the QuestBridge Scholar Chapter, interpretations chair for English for Speakers of Other Languages (ESOL), and am involved in club tennis and Rotaract. I am also a Volunteer Venture Pre-Orientation trip leader.
Has anyone on campus inspired you?
Professor David Baluarte at the law school and Professor Seth Michelson have been the most inspirational to me during my time at W&L. Working with Proffessor Baluarte at the Immigrant Rights Clinic has allowed me to see how passionate he remains for his work with the local immigrant community and beyond. Professor Michelson's work in a detention facility and publication of "Dreaming America: Voices of Undocumented Youth in Maximum-Security Detention" captures his desire to provide a voice for those who often go unheard. They're both examples of the impact one can have when pursuing what you're most passionate about.
What's your personal motto?
"Se agradecido por lo que se te ha dado, y da de regreso," which translates to "Be thankful for what you have been given and give in return." That's what my mom has always taught me. I wouldn't be here if it weren't for everyone's help in many aspect of my life.
Best place to eat in Lexington? What do you order?
Napa Thai is the place to go when in Lexington. You can't go wrong with chicken pad Thai.
What one film/book do you recommend to everyone?
I recently read "Stranger: The Challenge of a Latino Immigrant in the Trump Era" by Jorge Ramos, and I recommend it to everyone. I felt understood and represented in a book, which I don't seem to find often. It's relevant and helpful to understand the many difficulties and challenges that exist today for Latinx immigrants.
Favorite class:
My favorite class is the capstone course for my Latin American and Caribbean Studies minor. It's usually a class that's offered for juniors and seniors, but I was able to take it as a sophomore thanks to Professor Michelson. I was able to work on research for detention facilities and its effects on immigrants in the United States.
Why did you choose W&L?
I came from a high school with more than 3,500 students and wanted to attend a smaller university that allowed me to form close relationships with my professors and classmates. I was able to visit campus through a fly-in opportunity and experience this with my host student and beyond. As a Quest Scholar at W&L, I am able to attend and be a part of the close-knit community without putting a financial burden on my family or myself.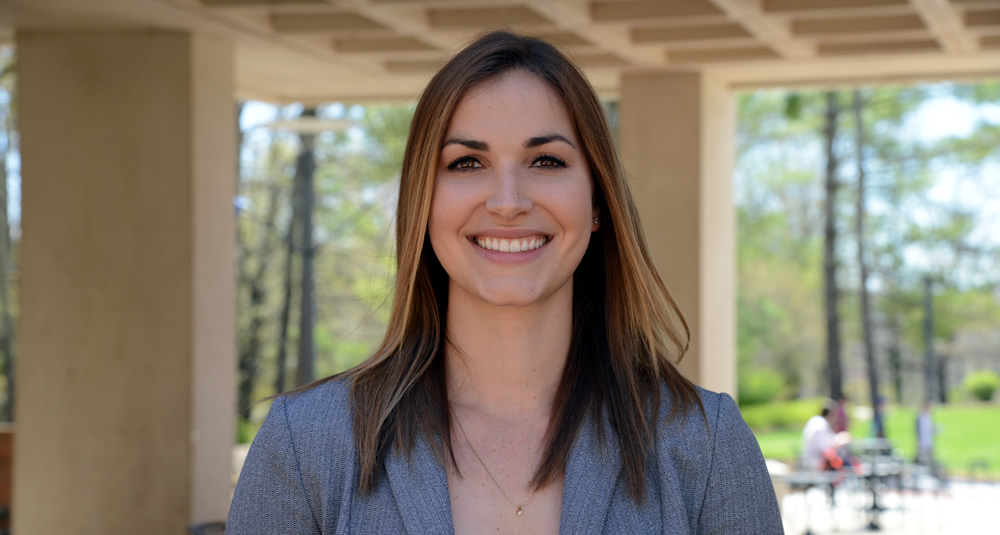 Career Paths: Sara Lamneck '18L
Sara Lamneck '18L, is from Swoope, Virginia. She received her bachelor's degree from Eastern Mennonite University. While at W&L, she was a Law Ambassador and participated in internal and external moot court competitions. After graduation, Sara will enter the Army JAG Corps.
Why did you decide to pursue a career in JAG? Have you had any externships or experiences at law school that pointed you in that direction?
At the beginning of my law school career, I thought I might be interested in joining the JAG Corps. My father served in the Air Force, and I have other family members who have also served, so I was familiar with the military. Even though the Army did not have a formal 1L internship program, I wanted to extern with them to confirm that it was the path I wanted to pursue after graduation.
Between participating in PT, conducting legal research, and assisting trial counsel, I really enjoyed my 1L summer at Fort Campbell. Professor MacDonnell has also been influential and extremely helpful in this process. He spoke to the Judge Advocate Recruiting Office and officers at Fort Campbell on my behalf and has always been willing to answer any questions I have had throughout this process.
Describe the application and interview process for JAG. What was most interesting or surprising about that experience? 
The application and interview process was more thorough than expected. The application took a significant amount of time to complete. Multiple people also told me that the interview with the Field Screening Officer was the most important part of the application so I needed to take it seriously. I was most surprised that the interview was not as formal and rigid as I was expecting. The FSO was very cordial and asked a lot of questions, but he also wanted to make sure all of my questions and concerns were addressed too.
Do you know where you will be placed and what sort of work you will be doing? If not, what do you hope for?
I will not find out where I will be placed until later on in the process. I hope to be placed at a bigger installation so that I have the opportunity to see and interact with a wider variety of issues. Generally, most JAG officers get the opportunity to work in legal assistance, admin law, operational law, and military justice. During my externship, I really enjoyed working in legal assistance and military justice.
In what ways has your experience at W&L Law prepared you for JAG? 
W&L has a great legal research program that has helped me prepare for my legal career. Having the opportunity to work collaboratively with my peers and also participating in moot court activities has helped me become more comfortable and confident in speaking in front of others, which will be invaluable as a JAG officer.