Novak, Berrached Win Global Impact Award W&L students Graham Novak '19 and Mourad Berrached '20 won a $15,000 prize at the 2018 Schulze Entrepreneurship Challenge.
Washington and Lee University students Graham Novak '19 and Mourad Berrached '20 won the Global Impact Award at the 2018 Schulze Entrepreneurship Challenge for their work on Novak's start-up company, NomadX. The award comes with a $15,000 prize.
More than 145 student business plans were submitted to the conference, but only 25 teams were invited to attend. The conference took place in April at The University of St. Thomas in Minneapolis, Minnesota.
The conference included collaborative sessions, with students paired together across universities. Professors were able to work together to help each other improve programs and explore alternative models for promoting entrepreneurship at their respective schools.
NomadX is a tech startup co-founded by Graham Novak and Steven Allen '18. It seeks to empower remote-capable workers to travel the world easily, seamlessly and inexpensively while providing career-changing professional development. Berrached worked with the company as a strategic marketing analyst to market their services to corporate clients, improve their social media brand and help NomadX develop their programs based on customer feedback.
"We have plans to continue encouraging W&L students to submit their ideas as well as branching out to other competitions," said Gavin Fox, associate professor of business administration at W&L and the team's adviser.
In November, NomadX was accepted as an Alpha company at the Lisbon Web Summit, the largest digital conference in the world with over 60,000 attendees. The company was also recently accepted by government-funded and supported Startup Lisboa, the number one startup incubator and accelerator in Portugal.
At Washington and Lee, Novak majors in business administration and economics, while Berrached is a business administration major.
Strong Op-Ed Discusses the Term 'Tabloid Presidency' In the Roanoke Times piece, Strong investigates the meaning behind the term "tabloid presidency."
Robert Strong, Wilson Professor of Politics at Washington and Lee, explains presidential adjectives and those associated with President Trump in the Roanoke Times. In the piece, Strong discusses the meaning behind the term "tabloid presidency" and the implications the name carries. 
Read the full article here.
Informed by Child's Play This summer, Davis Straske '19 is researching children's play in psychology professor Megan Fulcher's Gender Development Lab.
Davis Straske '19
Hometown: Tampa, Florida
Major: Psychology
Minor: Dance
Q: You are assisting psychology professor Megan Fulcher this summer with research for her ongoing project titled "Can you build a dad?" Please tell us more about this project.
A: The "Can you build a dad?" project investigates the styles of scripts children use when they play with building block toys like LEGOs. These toys foster children's development of spatial skills, but when paired with more domestic accessories, perhaps their scripts change.
Children, ages 3 to 10, are given a LEGO mini-figure of their same gender to play with, as well as an accessory, like a baby and a stroller, a lawnmower, or a hot dog cart. We are interested to see if the pairing of the accessory impacts how children play with that building toy.
Q: What made you want to be part of this work?
I've been interested in developmental psychology since high school; serving as a babysitter, camp counselor and dance instructor for preschool and early school-age children has fostered a love of working with children. Psychology was a field that instantly clicked with me, because I was learning the facts and theories behind the behaviors of children. Researching developmental psychology is the science behind what makes children so great and so interesting.
Q: What does an average day for you look like on this project?
Typically, my days involve a couple of different tasks. As the participant coordinator of Dr. Fulcher's lab, I contact and schedule families to come in for a research session. I prepare materials for these meetings, setting up LEGO sets, recording devices and prizes for participants. I spend about an hour a day with families who come in for a research session, which involves greeting families, walking them through paperwork, and ultimately giving the child the broad instructions for the study.
A normal day usually involves some data entry and interpretation, as well, using statistics and coding programs like SPSS and ELAN to analyze data. Some days involve community events at places like the Rockbridge Regional Library or the Lexington Office on Youth, to teach psychology lessons and meet families that may be interested in our work.
Q: What is the most interesting knowledge you've picked up while doing this work?
Through working with Dr. Fulcher, I have been able to fine tune my personal academic and research interests. The lab's studies on toy play have truly been the kick start to my own honors thesis project, which looks at how toys may impact the development of preschool children's empathy. Not only have I found a research interest of my own, but my work experiences in the lab have prepared me to develop, recruit for and run this student-run research project.
Q: How has this experience changed your working relationship with Professor Fulcher, and how does that relate to your wider experiences at W&L in terms of student-faculty relationships?
I am fortunate enough to have worked in Dr. Fulcher's Gender Development Lab since the winter of my freshman year. Since that time, my responsibility within the lab has increased, moving from a research assistant, to a community liaison, to now the participant coordinator for the lab. This student-faculty relationship has been a key part of my W&L experience, and I really am grateful to attend a university where these relationships are fostered and encouraged.
Q: How did W&L prepare you for this experience?
Since the beginning of my freshman year I have been encouraged and challenged academically by the entire psychology faculty through introductory classes and research methods classes, developing skills that I now use on a daily basis as a summer research assistant. Being matched with Dr. Fulcher as my first-year advisor allowed me to study and get involved with developmental psychology almost immediately, maximizing my time and experiences in the field. I have assisted with eight research projects in the lab, doing anything from data entry and analysis to running the studies myself. This research experience, paired with each semester's seminar classes, have given me a well-rounded understanding of the academic field of psychology.
Q: Why is this kind of experience important to W&L students?
I have developed an incredible relationship with my advisor, I have made connections with individuals of the Lexington community, and I have been able to work with psychology students of all class years in our research lab. Working in this lab has allowed me to develop relationships with students, faculty and members of the community I may not have met otherwise. I'm grateful for the opportunity to have worked for Dr. Fulcher for so long, but I imagine that any research experience like this is important and beneficial for W&L students.
If you know a W&L student who would be a great profile subject, tell us about it! Nominate them for a web profile.
More about Davis
What extracurricular activities do you do?
I dance, choreograph with, and serve as the co-president for the W&L Repertory Dance Company. I'm the vice president of recruitment for the Panhellenic Council, and I teach creative movement classes for kindergarten and first graders at Halestone Dance Studio.
Why did you choose your major?
I've been interested in psychology since high school, and each of the introductory psych courses at W&L confirmed that it is what I love to study and what I hope to continue to learn about.
Post-graduation plan?
Continue my passion for developmental psychology research on socio-emotional development, either in graduate school or through a research center.
What is your favorite W&L memory?
When my younger sister (class of 2021) decided to come to W&L!
Favorite class?
Dance 202, Dance Europe (Spring Term 2018): studying the history of modern dance in Britain. The abroad course involved seeing shows, taking master classes in modern and aerial dance, and engaging in the critical response process every day for three weeks in London.
Favorite W&L event?
The dance company's Fall Term performance, W&L Dancers Create
From the Heart Mary Celeste Beall '99 combines traditions of Southern hospitality with locally sourced foods.
"Hospitality is about showing genuine care for people, and it's a privilege for me to continue sharing it."
~ Mary Celeste Beall '99
As a student at Washington and Lee University, Mary Celeste Beall '99 had no idea that her life — and livelihood — would someday be so steeped in the principles of Southern hospitality.
Sure, she grew up in Mobile, Alabama, with a grandmother and mom who knew how to spin quality ingredients into delicious home-cooked meals, such as seafood gumbo with freshly baked bread. But it wasn't until she met her husband, Sam Beall, and joined him in operating Blackberry Farm, an award-winning resort hotel in the Great Smoky Mountains of Tennessee, that she found herself so concerned with food sourcing, preparation and service.
When Sam Beall passed, suddenly and tragically, in a skiing accident in February 2016, his wife was left to carry on as sole parent to their five children, but also as proprietor of the much-celebrated business he had loved so much. Almost three years later, we chatted with Mary Celeste about her time at W&L, Blackberry Farm's connection to the local food movement, and her careful and loving perpetuation of Sam's legacy in hospitality.
Q: What made you decide to attend Washington and Lee?
My father graduated from Washington and Lee in 1961. I am the youngest of four, so Washington and Lee was top on my parents' list of schools to tour as soon as they had a high schooler. My father, who has one son and three daughters, was excited that his girls could go to the school he loved.
I will never forget being about 10 years old riding around Lexington and stopping in front of the SAE house. My father was full of stories. My eldest sister was a junior at the time and was hesitant about being [in] one of the first classes to accept women. I am not sure what changed her mind, but a few years later I was the middle school little sister visiting charming Lexington and having a great time.
As I started looking at schools, no other school had the same feeling. Strong academics was, of course, important to me, and a great reputation, as well. I also knew that I wanted to stay in the South, would enjoy a small town, and looked forward to meeting people from all over. Then, there was the look and feel of the campus. I have always appreciated architecture, so being on a beautiful campus surrounded by historical buildings was a natural fit for me.
I remember my dad walking me down the Colonnade and into Lee Chapel for the first time, and then watching my sister graduate on the lawn. Washington and Lee and Lexington just felt like home to me despite being 12 hours from my hometown of Mobile, Alabama.
Q: What are some of your fondest memories from your time in Lexington?
What I love about Lexington is that it is quaint and full of history and tradition, yet such a source of learning and growth for all those involved in both W&L and VMI. I love the school spirit, despite being a small, Division III school. I played on the women's tennis team, and seeing the athletes, spectators and parents walking over the footbridge to cheer on the football team, lacrosse team, or watch our tennis matches was always a highlight.
I've always been drawn to the different seasons. Especially coming from Alabama, I have really great memories of snowy days which turned into those glorious, sunny spring days on the lawn or out on the river.
For me, though, it truly is all about connections — and still is. When I think about my time in Lexington, I so fondly remember the friendships I forged, not only with my class and other underclassmen, but with my professors and coaches. Washington and Lee is a unique community that has been very influential in my life. It's where I learned invaluable lessons and created lifetime friendships.
Q: What was your relationship to food back then? Did you have any inkling that you would someday work in the food and beverage industry?
I had no idea, but I have always loved good food. My mother was a great cook, as was my grandmother, so we grew up with delicious, homemade meals – great breads, seafood gumbo, and once I was a little older, vegetables from our small garden. But our family did not dine out a lot; Mobile did not have much of a food scene. I have great memories of our family dinners at home, though. Growing up, we didn't have junk food and my mom was always on some health kick. I'll never forget when she got really into blueberries in the early '90s. I think she put them in everything for weeks.
Q: Were you and your late husband, Sam, committed to sourcing high-quality, local ingredients before the local food movement really took hold in America?

Sam always had a passion for great food and quality ingredients, and that enthusiasm was contagious. Early in our marriage we spent some time in California, and when we moved back Sam was struck by the disconnect between fine dining and local farms in the South. Blackberry had a small garden then, but upon our return we made the commitment to focus more on our sourcing and expand our garden on the Farm. His eye for quality and love of regional, fresh food helped encourage the Blackberry Farm team to always cherish and respect the local ingredients we work with. We know where our food is from, and we get to share the story of bringing it from the seed to the plate for our guests. We have always loved creating and experiencing that special connection to the food. It's wonderful to see sourcing local continue to grow as a trend within the food community.
Q: Why do you feel it is important that the ingredients used at Blackberry Farm are as local as possible?

We are creating a full experience for our guests. We want to share the history and culture of East Tennessee, as well as the beautiful scenery. We are fortunate to live in an area that produces a beautiful variety of vegetables, fruits and herbs, and sharing that with our guests is a fun and delicious part of being on the Farm. I also believe that the benefits of local ingredients go beyond supporting the local farmers, to tasting the region — the minerals from our soil and the eating from your local ecosystem is good for us all. Whenever we were traveling, Sam always tried to eat the local honey to get an extra dose of that environment.
Q: What percentage of those ingredients come from the property or the surrounding area?

We create as much of our food as possible using our own garden produce and foraged ingredients. Beyond that, we work with a great community of local farmers, gardeners and foragers to supplement any other ingredients we might need.
Q: What are the most enduring lessons Sam taught you about hospitality?

Sam taught me that every moment, from the largest ideas to the smallest details, matters in sharing impactful Southern hospitality. He was a great example of dreaming big — like envisioning an underground wine tunnel — and turning those dreams into reality. He also knew how big of an impact a very small gesture can make, whether it's remembering a certain wine a guest enjoyed last time and having a glass brought to them at dinner, or placing a few heirloom tomato seeds on the nightstand because a guest enjoyed an experience in the garden. Hospitality is about showing genuine care for people, and it's a privilege for me to continue sharing it.
Q: What details do you feel are important when hosting guests, whether at Blackberry Farm or in a private home, besides the food itself?

Southern hospitality is about making your guest feel welcome. It's important to greet with a smile and always be genuine. I want guests at Blackberry Farm and guests in my home to feel comfortable and relaxed. I like paying attention to details and finding those small moments to make an extra effort for the guest.
Q: Do you enjoy cooking yourself? What is your favorite thing to prepare for your family?

Yes! I love being in the kitchen with my kids. Although my approach to cooking is different than Sam's – he was such a natural and could whip up something amazing out of nothing. I have to be more thoughtful and focused than he was. Being in the kitchen has always been a big part of their lives, and time spent around the stove together has created some of my most precious memories with my children. We even stage our own little family cooking competitions! I love making breakfast – with our family of five children, making a big batch of waffles or pancakes is fun and works well for a big crew. We always have seasonal fruit which adds a nice touch. While we have lots of blackberries, we also have blueberries in our yard which remind me of my childhood and are the perfect addition! Fresh farm eggs simply scrambled are really hard to beat, as well.
Q: What advice would you give a W&L graduate who wants to open a food- or beverage-related establishment and make a real living at it?
Follow your dreams! The food and beverage world is exciting and full of incredible people. There is a wealth of knowledge to soak up from peers in this industry. Take advantage of every opportunity to further your knowledge and skills. It's a commitment, but if you are passionate about the industry, you will love it, because there is something truly magical about creating memorable experiences for others through service.
Q: Why did you create the Blackberry Farm foundation, and what has it accomplished?

Supporting our community has always been a priority for the Beall family and the Blackberry Farm team. The Blackberry Farm Foundation is dedicated to supporting children and foodways charitable causes, and I am so proud to be part of team that takes these causes to heart and works to make a positive impact. Some highlights of our donations include the Girls and Boys Club of Blount County building a garden; Café le Reve, an initiative of Maryville City Schools to teach kitchen and life skills to high schoolers, including helping fund a new facility with state-of-the-art kitchen equipment; and soon, the inaugural class of our Sam Beall Fellows Program (see below).
Q: What do you look forward to in the future at Blackberry Farm?
One of the greatest things about Blackberry Farm is that something is always happening! We are a 40-year-old family business that continues to evolve. Right now, my heart is so full thinking about the start of the Sam Beall Fellows Program. Sam was fortunate to spend time at some of the world's best restaurants, hotels and wineries as he shaped his career. In his honor, we have created the Sam Beall Fellows Program to offer similar once-in-a-lifetime hospitality experiences to professionals early in their career. We will announce our first fellows in August, and I can't wait to follow their journeys!
I am also extremely excited to launch our new property, Blackberry Mountain. This is a huge undertaking, and it has been incredible to watch the team work together and create this incredible place where we will have an opportunity to share not only our love of hospitality, but our love of adventure and connecting with the Great Smoky Mountains. It's a dream come true, and I cannot wait to share the Mountain with our guests.
'Many Different Perspectives' Students in the Cape Town Summer Internship Program gain professional experience and a better understanding of South Africa's culture.
Thirteen W&L students traveled to Cape Town this summer to get experience in professional fields and learn more about South Africa's culture, climate and history.
The Cape Town Summer Internship Program is an eight-week program offered by the Business Administration and Politics departments that combines in-class learning with field work. Students from different major disciplines engage their readings and navigate their field work through class meetings, a paper, journaling, blogging and a final poster.
Participating students work 30 hours a week in various fields that match their professional interests, such as advertising, education, finance, human rights and web development. They get practical experience, but also enjoy the opportunity to give back to the community.
"This experience has helped me refine the career I am interested in pursuing in the future," said Sam Pumphrey '20, who worked at the Centre for Rural Legal Studies. "It gave me a deeper understanding of the organization's activities and the political climate within South Africa."
From visiting the Cape of Good Hope to doing service on Mandela Day, the students immersed themselves in the local community. Their internships, along with other site-based and classroom learning opportunities, foster a deeper understanding of South Africa's post‐apartheid political system and societal landscape.
While interning at Workers World Media Production, Tate Mikkelsen '20 attended the protest on Refugee Day in the city of Cape Town and interviewed the people present there.
"I felt very lucky to have witnessed something like that and to be able to gain so many different perspectives of it," Mikkelsen said. "I also realized that I want to get more involved in improving the global community, and I want to work more with NGOs to help people in need gain access."
Through this internship, students have gained invaluable insight into their future careers— as well as their role in the global work force.
"I was given an opportunity to pursue a line of work that was not only fulfilling and aligned to my skills," said Jonathan Pezzi '19, one of the two SHECP interns in South Africa, "but also had the potential to make a positive contribution to people's lives."
Find out more about students' #wlusummer18 experiences on Facebook, Twitter and Instagram — @wlunews.
All photos in the following slideshow are courtesy of Connect-123.
This slideshow requires JavaScript.
'Let's Imagine' As the incoming EC president, Elizabeth Mugo '19 wants to make all students feel that they, too, have a place at W&L.
In spring 2018, W&L's student body elected Elizabeth Mugo '19 as Executive Committee president. It has been 28 years since an African-American has served in the role, and it is the first time an African-American female has been elected to preside in one of the university's most prominent positions.
"Let's imagine a place," Mugo said in her March 18 campaign speech, "where diversity and inclusion are not words that we throw around but rather values of our community."
Mugo, a junior from Irmo, South Carolina, noted there is a dichotomy between her dreams of today and her initial impressions of W&L. She recalled taking in the composition of the student body on her first visit to campus through the Questbridge Program, a full-ride scholarship program for high-achieving, low-income students.
She stood out. "I waited for the cameras to come out and for people to say, 'I gotcha,'" she said.
Today, Mugo has clearly found her place at W&L, and she wants to ensure that others have the same positive experience.
Mugo sees diversity as a job of the Admissions Office, which can recruit diverse students to campus. Inclusion, however, is the student body's job — to help retain those who are already here.
She shared one of her favorite quotes from a Ted Talk: "Diversity is inviting someone to the party. Inclusion is asking them to dance."
Mugo considered transferring after her first year, when she felt unhappy and out of place. Only her scholarship kept her here.
As the incoming president, she aims to implement initiatives from the EC to make all students feel that they, too, have a place at W&L.
One idea Mugo hopes to implement is an Orientation Week event, where current students encourage incoming students to "wrestle" with race relations and other related, sometimes uncomfortable topics, as soon as they step on campus.
She also looks to have EC representatives attend ODI campus events to spur interest from more than one section of the student body.
But she said that changing things on a larger scale will take the student body becoming "unclique-ish." 
Mugo commended the work of her opponent in the EC presidential race, Heeth Varnedoe '19, on his efforts to reach out to students. In his campaign, he also focused on improving the campus experience for under-represented students and independents.
Mugo is excited about these positive strides across campus.
"It feels like, for the first time in a really long time, things are starting to change."
Elizabeth's Campaign Speech
I want you to imagine a place. A place where every individual feels ownership of the space. A place where people treat each other with not just civility but also dignity. A place where diversity and inclusion are not words that we throw around but rather values of our community. Let's imagine that place here at Washington and Lee.
My name is Elizabeth Mugo, and I'd like to be your next EC President. I know for a fact that our university has the potential to be this place because I see it almost every day. I see it in the way that students say hello to one another as they pass by, not only as a greeting, but as a way of acknowledging each others' existence. I see it in the way that we come together to speak out on issues that matter to our campus community and our nation. I see it in the fact that a place that used to feel so unfamiliar and uncomfortable now feels like home. We continue to make progress, but we have a long way to go.
In my first semester at W&L, I struggled to adjust and find community in a place that clearly felt like it was not meant for me. I am not unique in this.
As I walked around every day, I was forced to reconcile the ways in which my body did not fit in here both physically, in the lack of diversity on our campus, and historically, in our entangled history with slavery and race relations. Although recognizing the vast amount of work that needs to be done, I have come to believe in the potential of this university to get there.
I've made it my goal over the past few years to unlock this potential as a leader in the Student Association for Black Unity, as a member of the University Committee for Inclusiveness and Campus Climate, and over the past year as your vice president. Over the past year alone, I worked to enhance our sense of community through reform in the budget policy consultations with student leaders and the amplification of student voices in various committees to make sure that our university is a home for everyone.
I promise you, my peers and friends, that I will bring that same passion to the position of president. I will work with the Office of Diversity and Inclusion, the Interfraternity Council, and Panhellenic to bring together Greek and non-Greek students. I will have business meetings in other spaces, such as the Moot Courtroom, Third-Year Housing and the Gaines Rotunda, to ensure that the EC is able to hear from a variety of students on what issues matter to them on campus. I will continue to reform within the budget process to ensure that student organizations are receiving full support from the EC.
I am committed to the Honor System and representing all students in our process and deliberations. Having presided in the absence of the president, I feel confident to serve all of you and will make all students feel like they have complete ownership of a system that exists for them.
As your president, I plan to commit myself to continuing this work and ensuring that ALL students are part of our community of trust. I ask for your vote on Tuesday to strengthen our Honor System, student self-governance, and our community.
Thank you.
Rahl Receives NSF Grant for Geological Research Jeffrey Rahl, professor of geology at Washington and Lee University, has received a grant from the National Science Foundation.
Jeffrey Rahl, professor of geology at Washington and Lee University, has received a grant from the National Science Foundation (NSF) that supports fieldwork in the Western United States, mainly in Colorado, Utah, Texas and New Mexico.
Rahl and several students from the university's Advanced Research Cohort program will study sediment deposited in basins in the mid-continent to understand how the North American continental-scale river network evolved over the past 350 million years. The grant will also enable the team to travel to a laboratory at the University of Houston to conduct chemical analyses.
"Our goal is to understand how continental-scale river systems respond to the formation of mountains or basins along their path," said Rahl. "I became interested in this type of work as a graduate student, when some of my work unexpectedly suggested that much of the sediment out west originated far to the east, here in the Appalachians."
Rahl says he has always been fascinated with very large-scale geologic problems, "I am grateful for the opportunity to research these questions with my students and colleagues."
Where Math Meets Art Xinxian Wang '21 was able to marry two interests in an internship with The Visual Arts Center in Richmond.
Xinxian Wang '21
Hometown: Shenyang, China
Major: Mathematics
Minor: Studio Art
Xinxian is spending eight weeks at The Visual Arts Center in Richmond through a Career and Professional Development summer internship offered in conjunction with W&L's Office of Community-Based Learning. It included a stipend made possible by the generous support of the Suhor-Graham Foundation. Xinxian's advisor throughout her internship is Dr. Kevin Beanland, professor of mathematics. We asked Xinxian to tell us more about her experience:
What is the Visual Arts Center in Richmond, and what does it offer the community?
Founded in 1963 as the Hand Workshop, The Visual Arts Center of Richmond (VisArts) is a nonprofit community arts center that offers more than 800 visual and creative arts classes each year. Each year, the organization serves more than 40,000 people through its classes, exhibitions, community outreach programs, camps, workshops and special events.
What W&L courses and prior experience made you a good fit for this internship?
VisArts was looking for students with experience in mathematics and an interest in art because they wanted someone who could analyze the organization's data and make recommendations to improve their scheduling. At W&L, I have taken several math major requirements as well as INTR courses. These courses offered me necessary analytical skills and approaches to data optimization. What's more, as a studio art minor, I've always had a passion for art and had previous experience working in the studio setting at the Lenfest Center. Therefore, I am also able to help with art exhibition setups at VisArts.
What projects have you been working on for VisArts this summer?
For the first half of the summer, W&L mathematics professor Kevin Beanland taught me how to solve scheduling problems using a software called GLPK. Then, with his assistance and the cooperation of VisArts' education team, I worked on two projects: analyzing VisArts' wait lists and canceled courses, paying special attention to all age groups during the past year, and comparing adult and youth course feedback in order to make recommendations to optimize the center's course schedule and studio arrangements.
What will be the final product of your work?
The final product will be a report and presentation to the staff as well as the fulfillment of the requirements of a CPD 451 internship for credit.
What are the greatest lessons you have learned at VisArts?
Be ready to make mistakes and never be afraid of asking questions. It was a little bit scary at first. I was facing 1000+ data points and had zero background knowledge on how VisArts' course system worked. It became extremely important to always prepare questions to ask and gather as much information as possible. When I got results that seemed somehow surprising, I would always turn to my adviser, Professor Beanland, for help. Sometimes, he would point out a miscalculation that had skewed the data. I learned something new from almost every mistake I made.
Have you met anyone who inspires you? If so, who and why?
Almost everyone working here inspires me in a certain way. Rachel Beanland, the deputy director, is always energetic about her work and cheers on the whole team with her passion. Jordan Brown, the director of education and programs, also has a background in painting and printmaking. She never gave up on her love of art. People here are brought together by passion and love, and they inspire me with their devotion to art as well as the whole community.
 Did you get to take any art classes yourself?
Yes! I took a frame weaving class. This is my first time taking a fiber class and it was so much fun.
How do you think this experience will improve your overall education at W&L?
This experience encourages me to explore a more diverse range of courses and take full advantage of the liberal arts education at W&L. Without this experience, I wouldn't have known how much fun it can be to do math at an arts center. Without taking the frame weaving class at VisArts, I would not have discovered something I like as much as photography. I'm learning to step out of my comfort zone and embrace the well-rounded education W&L offers to its students.
S L Kopald '43, Former W&L Trustee, Dies at 96 The Memphis native served on the board from 1976-1988.
S L Kopald Jr., a member of the Washington and Lee University Board of Trustees from 1976 – 1988, died July 9, 2018. He was 96. He graduated from W&L in 1943 with a B.S in business.
A lifelong Memphian, "Kopie" attended Central High School. After graduating from W&L, he attended Harvard Business School until World War II interrupted his schooling. He served in the Army Quartermaster Corps and in three major campaigns in the European Theater.
"W&L has lost a true friend of the university, and we are very grateful for Mr. Kopald's service," said President Will Dudley. "Our thoughts are with his family at this time of loss."
Farris Hotchkiss '58, former secretary of the university and vice president for Advancement, added, "Kopie was a loyal and generous volunteer for Washington and Lee, widely admired for his humility and his ability to bring out the best in others."
After the war, Kopald worked at the HumKo Sheffield Chemical Co., founded by his father, S L Kopald Sr., and Herb Humphries. He stayed with the company and its successor companies, Kraft and Witco, for his entire career before retiring at the age of 65 as group vice president.
Besides his financial generosity to numerous charities, Kopald served on boards and in offices for many organizations. He was chair of SUN and United Way campaigns, a board member of the Memphis Branch of the Federal Reserve and the Tennessee Department of Education, a member of the Memphis-Shelby County planning commission, chair of the Tennessee Republican Party (1971 to 1975) and chair of the board of Hebrew Union College.
"S L Kopald Jr. was always a gentleman and was always an advocate for a better Memphis," noted Rep. Steve Cohen (D-TN) in a press release. "Mr. Kopald was a leader for years in business and banking but also in our community. Mr. Kopald was a generous supporter of many Memphis cultural organizations and was a very involved member of Temple Israel, where he served as president. Mr. Kopald will be remembered for his support of Rabbi James Wax when he stood for civil rights during the 1986 Sanitation Workers strike. My condolences to his family and to his many friends. His was a life well lived."
As well as serving as a trustee for W&L, Kopald was chair of the Alumni Board, chair of the Development Council, and served on the Memphis-area capital campaigns and on his 50th reunion class committee. Kopald generously supported the Annual Fund and W&L's Hillel House. He became an honorary inductee of ODK in 1964 and received the Distinguished Alumnus Award in 1975.
Kopald is survived by his wife, Amelia "Mimi"; daughter, Nancy, and sons, Stephen, Jack '78L, and David; grandchildren Hunter, Seth, Laura, Hallie, Reece, Troy and Dana; and great-grandchild Jack.
Meaning, Culture and Survival A new book by Harvey Markowitz, associate professor of anthropology, examines Native Americans and Catholic missionaries.
"It's an interesting human story of change and adaptation and survival under sometimes the worst of circumstances."
Q: The cover of "Converting the Rosebud" is an eye-catching photograph of residents of the Saint Francis Mission, taken in 1931: Six Lakota adults and one child, clad in traditional dress of fringed buckskin and feathered headdresses, and seven Catholic nuns wearing their own traditional garb of habits, coifs and wimples. Which came first, the photo or the dissertation? 
A: It's a fantastic image. When I started seriously contemplating about transforming my dissertation into a book — 25, 30 years ago — I immediately thought of this photograph for its cover. I guess you could say that this was putting the cart way before the horse. The photo was taken by one of the mission's priests — Father Eugene Buechel — and is housed at the Marquette University archives in Milwaukee.
Q: Did you choose the topic, or did it choose you?
A: A little of both. When I finished my qualifying exams in anthropology at Indiana University, my advisor at the time, Raymond DeMallie, asked me if I would be open to doing my fieldwork with, and dissertation on, a Lakota community, just as he had. The Saint Francis Mission on the Rosebud Lakota Reservation, he told me, was interested in finding a student who could translate some diaries that had been kept by the German Jesuit missionaries who had been stationed at the mission in the late 19th century. The mission was offering six months of room, board and a tiny stipend as payment for this service. I immediately volunteered, thinking that I could do my own fieldwork — which, as I remember, was on contemporary Lakota ethics — when not translating the diaries.
As it turned out, however, the more work I did on the diaries, the more I got interested in how these Jesuits from Germany ended up at a mission in Lakota country U.S.A. The root of this unusual staffing, I soon discovered, could be traced in part to German chancellor Otto von Bismarck's anti-Catholic policy known as the Kulturkampf,which resulted in the emigration of hundreds of Catholic religious. As it turned out, just at the time that many of these Jesuits were fleeing their homeland for the United States, Catholic Indian missions and boarding schools needing clergy and teachers were cropping up on reservations in the United States, including Dakota Territory. One of these, established in 1886, was the Saint Francis Mission among the Sicangu Lakotas of the Rosebud Reservation; the other, Holy Rosary Mission, among the Oglala Lakotas, opened a year later, on the Pine Ridge Reservation. I ultimately decided that constructing my dissertation around the diaries was a more interesting and potentially useful project than the one I had planned to do before arriving at the mission.
Q: What did you find in these diaries? 
A: The most fascinating findings concerned the thoughts and interactions of these missionaries with the Lakotas they encountered, as agents of both religious and social conversion. The Lakotas hadn't been on Rosebud for that long and were still living in their traditional communities and as closely as they could to customary lifeways. The primary goal of the Catholic priests was to save the Lakotas' souls by converting them to Catholicism. However, they were also working hand-in-hand with the federal government to wipe out the Lakotas' culture so that they could be integrated into the country's social mainstream.
The missionaries also wrote about much of the anti-Catholicism, nativism, they encountered while working with the Protestant-dominated U.S. Indian Office. These battles waged on high at a national level eventually filtered down to the local level and often influenced what materials the missionaries at Saint Francis could use in their school. It also eventually made the issue of government-supported sectarian schools on Indian reservations a hot-button topic.
Even though they were supposed to be working together, the conflicts that sometimes erupted between Rosebud's government agents and the Catholic missionaries were so raw that it's hard to believe that they actually viewed themselves as partners. By contrast, there was never even a sham of cooperation between Rosebud's Catholic and Protestant missionaries, who were always at each other's throats. The scandal of this fierce competition was not often lost on the Lakotas. 
Q: Why were the Catholics so invested in assimilating the Lakotas? 
A: What was at stake for the Catholic missionaries was the founding of communities in which the church and its sacraments could serve as spiritual hubs. Assimilating or "civilizing" Lakotas, it was thought, would transform them from "savage" buffalo-hunting nomads to settled, "civilized" agriculturalists, thereby establishing the framework for Catholic villages. Natural and supernatural salvation went hand-in-hand, so to speak, in line with the Thomist maxim that "faith builds upon nature."
Even with all its problems, this close relationship between the federal government and Catholic and Protestant churches in Indian affairs sometimes strikes modern readers as breaching the separation of church and state. This partnership reached its height under President Ulysses S. Grant and his so-called Peace Policy, in which the U.S. Indian Office divided up the 73 Indian reservations among the mainline Christian denominations. Each church was given exclusive rights over the secular and religious affairs of the reservations to which it was assigned. Though Grant and his advisers had designed the policy as a way to regenerate the scandal-riddled Indian Office, the Peace Policy was soon plagued by interdenominational squabbles of its own, which eventually led to its self-destruction. Despite this failure, assimilation policy itself survived into the first decades of the 20th century. 
Q: You tell two intertwined stories, of the Catholic missionaries and the Lakotas. How did those stories unfold as you did the research? 
A: For many years, the story of federal Indian relations was told as if American Indians were merely passive recipients of the policies being flung out from Washington, D.C. They were therefore reduced to satellites orbiting around what was considered the really important story of government administration. It is now recognized that this perspective radically shortchanged and devalued what was actually going on in Indian communities. Following this line of thought, it struck me that a comprehensive presentation of the early history of Saint Francis Mission would not only describe the relationship between the U.S. government and the St. Francis religious, but also attempt to understand Lakota perspectives on mission and the missionizing process: how they understood the tenets and practices of Catholicism; how they filtered what the missionaries said and taught through the traditional categories of Lakota thought; how they attempted to use the spiritual and material resources of the Catholic Church to their own advantage; and most importantly, how they looked for and worked fissures in the dominating federal and religious structures to try to achieve their own ends.    
Q: You had these incredible primary sources, the Jesuits' diaries, that told you what the missionaries were thinking and doing. How did you learn about the Lakotas' thoughts and actions? 
A: One of the best sources for Native understandings of Catholicism was, ironically, a Jesuit source. Father Florentine Digmann kept a journal, a history of the mission for the nearly 40 years he was its superior. Of course, Father Digmann recorded events from the perspective of a Jesuit of his times. And because of this, much of what he writes — especially his observations about Lakota religion and culture — could simply be dismissed as outdated and ethnocentric. In fact, however, by using an anthropological concept of culture, one can get at the often-unstated assumptions about the nature and goals of mission as well as what Lakotas valued about their own world and the various ways they responded to the changes that were being demanded of them.
Other sources included missionary journals of all kinds, both in English and in German. Many of these were fundraising organs and, as such, had to be read in view of the audience to whom they were appealing: how did they portray Lakotas, missionaries, the mission's schoolchildren, to win donations.
Q: How did the Lakota perspective emerge from the puzzle? 
A: This was one of the most enjoyable parts of writing the book. American Indians, including Lakotas, were and are very reverential toward sacred power, that found in their own and other religions. They were therefore dumbfounded when they encountered representatives of Christian traditions, all of whom demanded that they must give up their own sacred practices in order to join their churches. Lakotas strategized about how to deal with this new kind of message. Some followed missionaries' demands and abandoned their traditional ceremonies; others refused to have anything to do with these new "prayers." The majority, however, commenced consciously and unconsciously blending the two religions in ways that approximated as closely as possible conventional Lakota ways of thinking, believing and acting.
One of the more amusing aspects of the process of Lakota missionization was how some of the missionaries' own practices actually encouraged the survival of beliefs and ceremonies they sought to eradicate. For example, in their preaching, priests regularly used the Lakota terms by which Sicangus referred to their sacred beings and processes. By so doing, their sermons actually served as a bridge through which the Lakotas' sacred worldview was given new life.
Q: It seems that this incorporation enabled the Lakotas to retain control over their spiritual beliefs and practices. How were they able to do that? 
Lakotas interpreted the holy water and blessed oils used in the Catholic sacraments as sacred in and of themselves, instead of being vehicles containing God's holy spirit.  Given this, it is not surprising that they should equate them and other Catholic paraphernalia with the wonder-working items that were used in their own ceremonies. The primary goal of Lakota rituals was to achieve health and a good life here on earth, not to secure a place in an otherworldly paradise. It thus made perfect sense to them to call a priest to pray over and administer "sacred" water and oils to a person suffering very common ailments.
Q: You write in detail of the relationship between these two groups of people, European Catholic missionaries and Native Americans. What other stories did you find? 
A: Those "other stories" fill most of the 300 pages of the book. For Lakotas, they generally relate to the explicit and implicit modes of resistance they mounted to upend or slow down the changes that the missionaries and government agents were forcing upon them. They loved their traditional ways because they filled their lives with meaning and purpose, something that "white" customs could not do.
It is amazing that in this clash of cultures, Sicangus and other Lakotas were able to rescue so much of their pre-reservation culture. In a way, the book relates a very contemporary message that there are ways of living and relating to others that are worth struggling to understand.
If you know a W&L faculty member who would be a great profile subject, tell us about it! Nominate them for a web profile.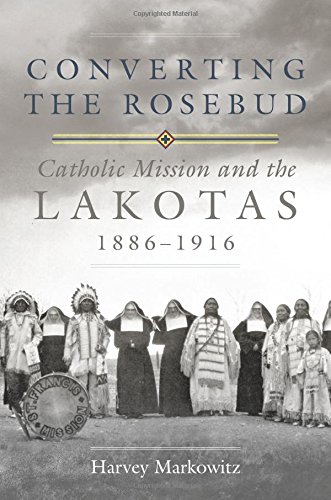 "Converting the Rosebud: Catholic Mission and the Lakotas, 1886-1916" (University of Oklahoma Press, 2018) is the new book by Harvey Markowitz, associate professor of anthropology at Washington and Lee University. He shaped it from his doctoral dissertation, which he wrote for his 2002 Ph.D. in American church history from the University of Chicago. 
Markowitz examines the Saint Francis Indian Mission on the Sicangu Lakota Rosebud Reservation, in South Dakota, from 1886 and its founding to 1916 and its destruction by fire. The complex story blends Lakota culture, Catholic mission work, and federal Indian policy. The missionaries were Jesuit priests from Germany and Franciscan nuns from the Netherlands. The Sicangu Lakotas were wards of the federal government and had a recent new name: the Rosebud Sioux. 
Markowitz earned an M.A. in anthropology from Indiana University Bloomington in 1975. After beginning his doctoral studies at the University of Chicago in 1985, he made a couple of fruitful detours. First came nine years as associate and acting director at the D'Arcy McNickle Center for American Indian and Indigenous Studies at the Newberry Library, in Chicago. Then he logged three years at the Smithsonian Institution's National Museum of the American Indian, from 1999 to 2002. He arrived at W&L in 2003. 
His other books are "American Indian Biographies" (as a co-editor) and "Seeing Red— Hollywood's Pixeled Skin: American and Film" (Michigan State University Press, 2013) (co-edited with LeAnne Howe).