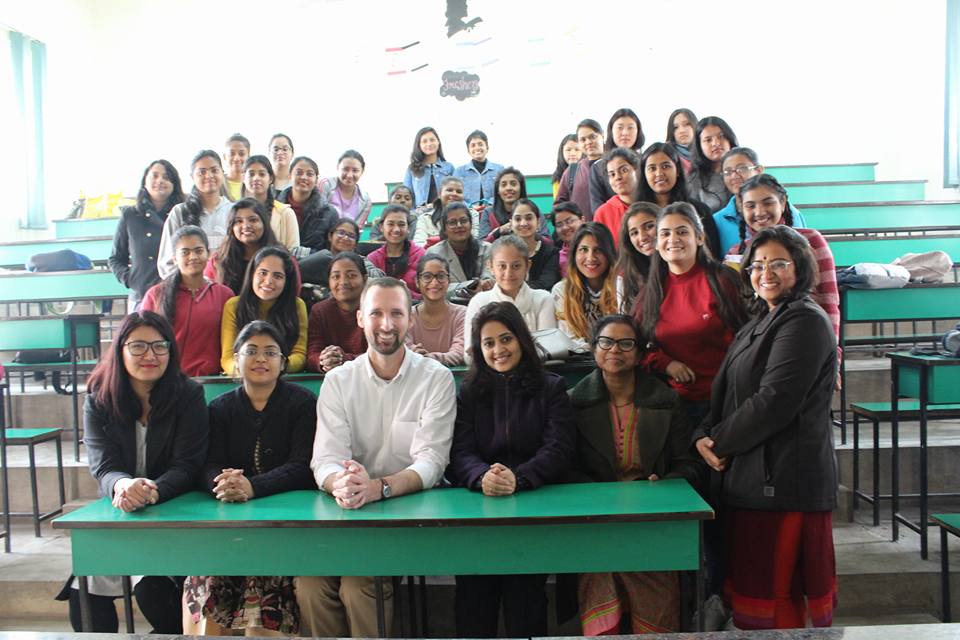 Ancient Text, Modern Strife Professor Stuart Gray examines the Mahabharata with fresh eyes.
"The Mahabharata is not just an ancient text; it's very much a live one, with serious implications in the political thought and lives of modern-day Indians."

~ Professor Stuart Gray
"Think of the Mahabharata like the Old Testament, New Testament and Homer's 'The Iliad' rolled into one," explained Stuart Gray, assistant professor of politics and a scholar of the 2,000-year old text and Indian political theory. Not only is the Mahabharata massive —  it contains almost 100,000 couplets — it's complex, layered and full of fascinating tales and morals.
But it's not "just an ancient text," he added; it's very much a live one, with serious implications in the political thought and lives of modern-day Indians. Like the Bible, certain sections have been co-opted by political parties to promote their interests or justify policies. In the case of the Mahabharata, which is perceived by some as patriarchal and masculinist, it's been a political tool of the Indian right — those who advocate Hindu supremacy, Indian nationalism and preserving the caste system, for example.
Gray's work seeks to examine the controversial, sometimes polarizing, tome from a fresh and more nuanced perspective. "The text is understudied and misunderstood by many, particularly in the fields of political theory and philosophy," he explained. This is the message he brought with him this past winter on a lecture series in Delhi on older sacred texts, the Vedas, and the Mahabharata, where it was received with a mixture of appreciation, skepticism and sometimes fear — but always a willingness to listen.
"I knew it would be intense," Gray said of his lecture experience, "but maybe not so intense." He recalled lecturing at a left-leaning Jawaharlal Nehru University. "One young woman took me aside after and said, 'I wanted to say some positive things [about your lecture] but I knew I would be marked on campus and possibly put myself in a position of significant social reprieve or stigma.' "
During the same trip, Gray made a last-minute visit to Daulat Ram Women's College at Delhi University, where he participated in a round table on the text. "That was my favorite experience," he recalled. "The Mahabharata can be viewed as a very patriarchal text, so I was very interested in what these young women thought." He was not disappointed: "Their comments came from a deeply personal place — they put into flesh what I had been studying in a much dryer, analytical and scholarly way."
Gray explained the origin of the challenging climate. "In the early 20th century, post-Independence, Indian nationalists were trying to prove that 'Hey, we have a great political-philosophical tradition too, just like the Greeks and the West,' and they used these texts to highlight content that supported their nationalist views. So most of the existing scholarly work on the Mahabharata in political theory and history of political thought, which was written during this time, is shot through with these political intentions. There is a lot of ground-clearing to do."
In addition to his second book project on the Mahabharata (the trip served as an opportunity for research, in part), Gray is working to create a network of political theorists and other scholars in India and around the world that share his interest in the Mahabharata's political thought. "Because of the historical motivations and existing work in Indian political theory, there is really nothing like that right now," he said.
In Gray's class this semester, Intro to Political Philosophy, as well as a Spring Term class on the Mahabharata, students are able to explore some of these fascinating materials and themes. Look for them in his first book, "A Defense of Rule: Origins of Political Thought in Greece and India" (Oxford University Press, 2017), as well as his forthcoming chapter, "History, the Hindu Right, and Subversion of Brahmanical-Hindu Political Thought," in "The Oxford Handbook of Comparative Political Theory."
If you know a W&L faculty member who would be a great profile subject, tell us about it! Nominate them for a web profile.
Ayoub and Friend Awarded NSF Grant for Research in Spider Silk
Two Washington and Lee University professors have received a National Science Foundation Grant of $302,674 that supports their research of the evolutionary diversity of spider aqueous glues.
Nadia Ayoub, associate professor of biology and principal investigator of the project, along with her W&L colleague Kyle Friend, assistant professor of chemistry and biochemistry, worked together to secure the funding.
The grant will help fund a multidisciplinary team from three institutions, including W&L, that will investigate how variation in adhesive-protein components of spider silk relate to differences in the glue's material properties. The wet-adhesive silks of the 18 target species of spiders that the group is studying have significant differences in adhesiveness, material efficiency and response to humidity. Identifying the molecular correlates of these properties will advance basic understanding of structure-function evolution, and contribute to the development of high-performance biomimetic glues.
"I am most excited about having funding to support close collaborations with a colleague in another department, Kyle Friend, as well as colleagues at other institutions. This includes Brent Opell from Virginia Tech, a pioneer in silk biomechanics, along with Cheryl Hayashi at the American Museum of Natural History, who is the leader in spider silk molecular evolution," said Ayoub.
"I am also really excited to work on this project with Nadia Ayoub and other experts in spider physiology and evolution," said Friend. "It has been wonderful working with students to better understand how spider glues work as adhesives and how their proteins contribute to their function."
The study of the web-building spiders offers many opportunities for science educators to integrate biology, chemistry, physics and mathematics as they engage their students in the natural world. Ayoub and her team will mentor both undergraduates and graduates, as well as incorporate the research into their undergraduate courses.
"Having the external funding also means that I can support additional undergraduates doing research in my lab than I would be able to do with internal funding," said Ayoub. "I can involve even more students through research-based courses. Having funding also means that I can advance my scholarship in the area of spider silk genetics at a deeper, more complete and more complex manner than I would otherwise be able to."
Team members will also offer science-enrichment activities at rural Virginia public elementary schools, run workshops for middle and high school science teachers and mentor New York City high school students to complete original research projects.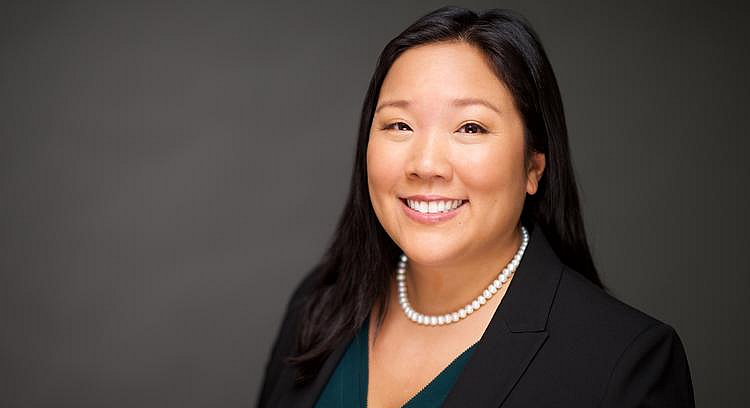 Debbie Tang '03L Named to Washington Business Journal 40 under 40
Debbie Tang, a 2003 graduate of Washington and Lee School of Law, has been named to Washington Business Journal's list of "40 Under 40" industry leaders.
Tang is a partner in the minority-owned executive search firm Bridge Partners. She works to increase the number of women and people of color in executive positions and on company boards. Being fluent in Mandarin, Tang also is able to help clients in the U.S. hire overseas.
In her Washington Business Journal profile, Tang says the one thing she would like to see more of in her industry is greater flexibility from employers so that relocation to a company headquarters does not derail a job search. She also wishes teleportation was real so she wouldn't waste so much time in airports and commutes in the D.C. area.
Before joining Bridge Partners, Tang spent over 6 years as a Managing Director in Major, Lindsey & Africa's in-house practice group. Prior to her career in executive search, she gained corporate experience as in-house counsel for Marriott International and also served as General Counsel of an international restaurant chain. She began her career as an attorney at Troutman Sanders and Reed Smith.
Tang is actively involved in the National Asian Pacific American Bar Association and the Women's Bar Association of the District of Columbia.
Nothing like a Password: Trial and Resilience in the American Asylum System Anne Rodgers '20 completed a 2018 summer internship with Asylee Women Enterprise (AWE) through the Shepherd Program. These are her reflections.
The following article by Anne Rodgers '20 was originally published on the Shepherd Higher Education Consortium on Poverty website. Anne completed a 2018 internship with Asylee Women Enterprise (AWE).
"We shouldn't be hiring judges by the thousands, as our ridiculous immigration laws demand, we should be changing our laws, building the Wall, hire Border Agents and Ice and not let people come into our country based on the legal phrase they are told to say as their password."  – Donald J. Trump, June 21, 2018, 8:12 am, Twitter.
On June 20, 2018, I was holding a little baby girl named Katie* at Asylee Women Enterprise (AWE). Katie is a United States citizen, but her mother is not. Although Katie doesn't know it now, she is the reason her mother is seeking asylum in the United States. In her home country, her mother resisted several forced marriages, and was exiled from her family. She then became pregnant in a different country, but was arrested because it is illegal in that country to be pregnant out of wedlock. When she was 7 months pregnant, she fled to the United States. Upon arriving at an airport in the United States, she was detained. She spent a month in jail without prenatal care. Her asylum case is still pending.
After a summer of working at AWE, I have found that "asylum" is anything but a "password" that asylum seekers say to get a green card. After arriving at the U.S. border, asylum seekers are put through a credible fear interview. In this interview, an ICE agent picks apart asylum seekers' stories to determine if they have a legitimate fear of persecution over their race, religion, nationality, political opinion, or membership in a social group. Sometimes a person's history of trauma is written on his or her body, as is the case of a client who was attacked with acid in her home country for her work as a women's rights activist. Other times, a client's trauma is not apparent to an ICE agent, as is the case of a client who was raped in her home country by soldiers because of her membership in an ethnic group. Telling this story to a U.S. customs agent whose job is to find inconsistencies in your story is not easy.
If your fear is deemed credible and you can enter the United States, the road to asylum does not get any easier. Asylum seekers, unlike refugees, do not qualify for public benefits. After fleeing their home and often arriving at the United States border with nothing, they face homelessness and starvation. Additionally, asylum seekers do not qualify for health insurance until after a year or more of being in the United States, which leads to many chronic conditions going untreated. Many asylum seekers arrive in the United States suffering from the physical trauma of the torture they went through, as is the case of a client who had unknown substances injected into his body, and motorcycles driven over his back daily after he was taken and detained by government officials in his home country. An asylum seeker cannot obtain a work permit until after six months of applying for asylum. Multiple clients at Asylee Women who were doctors, lawyers and politicians have been tortured for speaking out for basic human rights and democracy. In the United States, their higher education degrees mean nothing.
With all of these needs, AWE provides a safe, supportive community space in which a case manager assists asylum seekers in finding housing, food, clothing, shelter, medical care and legal services. AWE also provides on-site programs for survivors of torture to attend in healing, cultural adjustment, and employment readiness while they are waiting on their work permit. These programs include a music therapy group, cultural orientation and employment training. AWE tries to find jobs that match their skills, so that they can utilize their strengths and skills to better the American economy after they attain their work permit. AWE helps asylum seekers to rebuild their lives—to make them citizens that are ready to strengthen American communities when they are granted asylum.
Many asylum seekers come to the United States alone, not knowing how to speak English, and feeling extremely isolated in our current political climate that is so against immigrants entering the United States. Despite the struggle every day to survive in a system that is unsupportive of asylum seekers' needs, as well as cope with the physical and mental scars of torture, the clients that I worked with this summer are the most resilient individuals I have ever met. Despite one client describing how she feels like she is "constantly going in circles" in our legal immigration system, she still comes every day to English class at AWE. At Asylee Women, clients have a place to call home as they are living in limbo, not knowing if they will be able to stay in the United States. The clients rely on each other for strength through this process, and the caseworkers at AWE support these individuals in their trauma recovery.
This summer at AWE, I have learned that we must stop seeing asylum seekers as individuals that are trying to "game the system," as they have lost everything that made them feel human. The large percentage that have legitimate claims should be treated with the dignity and respect that they are legally entitled to. We could all be asylum seekers if we lived in a country where voting for a political candidate, believing in a certain God, or being gay meant that you would be targeted, tortured and possibly killed. As the Program Director at AWE stated at a community meeting in Baltimore, we must start seeing asylum seekers as our neighbors, our friends and our family.
By the end of my SHECP internship at Asylee, Katies's mom was coming in and putting Katie in my lap, saying, "Katie, say hello to your auntie." One client practicing her English would come into the office before she left in the afternoon to say, "I love you." Last week she and her husband moved out of a shelter to a new home that AWE caseworkers arranged, and she came into my office and said, "for me, when I can't cook I'm not home. In the shelter, I cannot cook. Now I can cook. Now I am home."
Editorial Disclaimer: The views and opinions expressed in this essay are those of the author and do not necessarily reflect the official policy or position of the Shepherd Higher Education Consortium on Poverty.
Lee Chapel Researcher to Deliver Fall Lecture
David Cox, professor of history at Southern Virginia University, will give Lee Chapel's fall lecture on Oct. 8 at 12:15 p.m. in Lee Chapel.
Cox's talk, which is free and open to the public, is titled "Lee Chapel at 150: Redefining a Symbol."His talk will focus on the changing nature of Lee Chapel as a symbol over the years, tracing its history from its original purpose to how it is perceived and used by the community today.
Ordained in the Episcopal Church in 1972 to serve parishes in Connecticut, Cox returned to Virginia in 1987 to become rector of R. E. Lee Memorial Episcopal Church in Lexington (now Grace Episcopal). In 2000, he left that position to complete doctoral studies, for which he received fellowships at Harvard Divinity School and Virginia Theological Seminary.
"David's talk will center on the main themes of his book, 'Lee Chapel at 150,' which contains the best research done on the chapel to date," said Lucy Wilkins, director of University Collections of Art and History, which includes Lee Chapel and Museum. "If you want to understand the building's evolution over time and how it reflects the history of not only the university but also in our country, this is a must-read."
Cox's talk will be available to view on Livestream at https://livestream.com/wlu/cox-lee-chapel-redefining-a-symbol.
The talk is sponsored by University Collections of Art and History at W&L.
Henry Sharp Jr., Professor of Mathematics Emeritus, dies at 94 Sharp taught at W&L from 1983-1991.
Henry Sharp Jr., Rupert and Lillian Radford Professor of Mathematics, Emeritus, died Sept. 23, 2018, in Lexington. He was 94.
"I know from my colleagues that Professor Sharp's breadth of expertise and his commitment to his students was impressive, teaching courses from Calculus I to Cantor's Theory on Transfinite Numbers and directing a number of honors theses and directed-study projects," said President Will Dudley. "In addition, his service on the President's Advisory Committee, the Library Committee and the Fringe Benefits Committee helped improve the W&L community in tangible ways. We are grateful to Professor Sharp for his commitment to his students and to the life of the university. Our thoughts are with his family in this time of loss."
A native of Nashville, Tennessee, Sharp received his B.A. in civil engineering from Vanderbilt University and his M.A. and Ph.D. from Duke University. He served in the Army Corps of Engineers during World War II in the Pacific Theater.
Before joining the W&L faculty as head of the Mathematics Department in 1983, he taught at Georgia Institute of Technology and Emory University. Sharp retired from W&L in 1991.
"When Hank Sharp came to W&L, the Mathematics Department was trying to decide its direction with strongly held, but opposing views," said Wayne Dymacek, Cincinnati Professor of Mathematics. "He not only healed the divisions, but set the department on a successful course which has lasted until the present. Without him, the department would not have the faculty, nor the number of majors we currently enjoy."
Sharp's research interests included graph theory and combinatorial mathematics, and he received an NSF grant and an NSF science faculty fellowship to study these topics. He published numerous papers for professional journals and wrote four pre-calculus textbooks.
After retirement, Sharp volunteered as a mentor/tutor in the Lexington and Rockbridge County public schools, where he earned the esteem of many young students, parents and teachers. He joined the board for the Kendal at Lexington Retirement Community, and he and his wife were among the earliest residents there. He continued his lifelong interest in education by offering a number of short courses in mathematics for fellow Kendal residents.
He is survived by his son, Henry Kerr Sharp, and daughter, Margaret Lewis Sharp.
W&L Law's Sarah Haan Contributes to First Amendment News Online Symposium
Washington and Lee law professor Sarah Haan is an invited contributor to a special online symposium commemorating the 200th issue of First Amendment News.
Haan is one of 15 experts, all of whom are women, to provide commentary and analysis. Her essay, based on a work in progress, is titled "Facebook and the Idenitity Business" and examines Facebook's regulation of political speech and, more broadly, what it means for political discourse to be regulated through private ordering by a global, profit-seeking, public company.
First Amendment News has long been published on the popular legal blog Concurring Opinions but in October will move to its online new home, The Foundation of Individual Rights in Education.
Haan joined the faculty of W&L Law in 2017. She writes about corporate political speech and disclosure.  Her most recent article is "The Post-Truth First Amendment," published in the Indiana Law Journal.
She received a B.A. in History from Yale University and a law degree from Columbia Law School, where she was an articles editor of the Columbia Law Review.  Prior to joining legal academia, Professor Haan worked in the litigation department at Davis Polk & Wardwell in New York, and as a Teach For America teacher in Compton, California.
Studying Medicine in Pakistan A grant from the Endeavor Foundation allowed Midha Ahmad '21 and Sawera Khan '21 to spend the summer in Pakistan, where they compared alternative medicine to traditional treatment.
Midha Ahmad '21 and Sawera Khan '21 were one of several pairs of Washington and Lee University students who were awarded Endeavor Foundation grants for summer 2018. These grants allow students to pair up and pursue summer research projects overseas. Student teams for Endeavor projects are traditionally made up of one American student and one international student; the teams then spend time doing research and sightseeing in the international student's home country.
Midha, a native of Islamabad, Pakistan, is majoring in neuroscience with a minor in either creative writing or Middle East and South Asia Studies (MESA). Sawera, who hails from Atlantic City, New Jersey, is majoring in biochemistry with minors in MESA and human poverty and capability studies.
Please briefly describe your project. Why did you choose this topic?
Midha: Sawera and I centered our research around alternative medical practices in Pakistan — that is, any medical practice that cannot be categorized under the conventional, allopathic practice that is common. Most of these practices aim at using characteristically prepared medicine from herbal resources to treat a variety of ailments of patients. These practices are extremely popular in Pakistan for many reasons; they are reasonably cheaper, more easily accessible and are much preferred than their allopathic counterparts as they can be consumed without any side effects. They also constitute a big part of traditional Pakistani life. We chose to conduct our research on this topic as we were curious about how much these traditional medical practices have integrated themselves within normal Pakistani life, and how well they have aligned with the modern medical field during this era of technological boom.
Sawera: Although I currently live in the states, I was born in Pakistan and most of my extended family lives there. One of the things that I remember most from my time there and from talking to my family is how much people rely on non-allopathic medicine. This includes herbal medicine (hikmat), homeopathic medicine and religious scholars (aalima/hafiza). Midha and I wanted to see why these types of medicine were so popular in Pakistan and how/whether poverty, lack of access to healthcare or religious beliefs played a role in its widespread use.
How did you go about conducting the project when you got there?
Midha: We traveled a lot — probably halfway across Pakistan— to hit the big cities as well as the rural areas. Our goal was to widen the scope of our research to get information from people across many different medical fields. We interviewed the practitioners of alternative medical practices themselves — hakeems, homeopaths, ayurvedics, religious scholars, etc. — as well as some of their clients. We also interviewed allopathic doctors on the opposing side to get their point of view as well. Our focus mainly was on how their practices were conducted, the degree of effectiveness of their services offered, the type of clientele they receive, the type of acute and chronic illnesses they treat, and so on.
Sawera: Before we actually went to Pakistan, Midha and I contacted practitioners from each of the different medical practices we were going to explore and asked if they would be interested in doing an interview with us for our research. A lot of the people we asked were very interested and agreed to be interviewed. We traveled across most of Pakistan, from the north in Kalam, Madyan and Bahrain to as far south as Lahore. We covered well over half of Pakistan. One of our main questions in doing this research was whether these practices were popular in both rural and urban areas. By exploring such a large part of the country, we were able to hear from both the rich and the poor, males and females, doctors and clients, and hear many different opinions on traditional medicine.
While most people were eager to sit down for an interview, others were much more hesitant. In fact, none of our interviewees consented to a video interview, and only some to an audio interview because of the very conservative culture of the country. Despite this, we were still able to get plenty of information on how these practitioners conducted their treatment, which maladies they treated, who they treated and their thoughts on why they believed traditional medicine was such a big part of Pakistani culture.
What were your most important takeaways from the research?
Midha: We received a lot of information, but to break down our findings, these practices remain a huge part of Pakistani life and will continue to do so. Most of the clientele that visit these practices are those who have had an acquaintance who benefited from them before. In the big cities, in most cases these practices are seen as a last resort option to consider if you are in the final stage of an illness and have given up on modern medicine.
Conversely, clients regularly visit these practices in less affluent areas of Pakistan, in place of normal doctor consultations. Perhaps the most intriguing finding was the claim from both practitioners and clients to have treated "incurable diseases," like many types of cancer. Tension and friction exists between the alternative and allopathic fields, both accusing the other of selling adulterated medicine to clients and doing irreversible harm. But both fields do acknowledge the benefits the other field brings to the medical world and hope that peaceful co-existence under government supervision would be possible soon. Laws have been made for the latter with varying results, due to the current unstable political climate of Pakistan.
We do hope to present these findings through presentations and media, and hopefully contribute to some papers.
Sawera: One of the biggest factors in these forms of medicine is faith/belief. One of the examples that I remember most distinctly and one that many of our interviewees gave was that of Surah-e-Rahman, a chapter from the Qur'an, being played in Cardiac ICUs. According to our interviewees, patients in hospitals that played the recitation saw better results than those in hospital that didn't. People in Pakistan genuinely believe that traditional treatments will cure them because they have such strong belief in hikmat and the Qur'an.
Another big takeaway was that, unlike what most of the allopathic doctors believed, not all of these traditional medical practitioners are just in it for the money. We heard of one family who made an herbal concoction that was used to pass kidney stones. Patients found out through word of mouth and went to the family. The family said that they did not want any money because they were happy to share their gift from God and perform a good deed.
The biggest takeaway was that these practices are used by the rich and the poor and those that live in urban and rural areas equally. While money is definitely a factor in medical treatment in Pakistan, both the rich and the poor turn to hikmat and aalima/hafiza when they have exhausted all other treatments or in addition to going to an allopathic doctor.
Midha, what was it like introducing your study partner to your homeland? When you saw it through her eyes, what was different about it for you?
With Sawera, I got to revisit a lot of my favorite childhood sites and a whole load of new ones. It was nostalgic yet exhilarating to see everything again from new eyes. I guess I never realized how rich in culture every single site was, how much history was contained within the walls, and how valuable that is — something I subconsciously knew but never paid attention to. For me, mundane things of everyday life gained a new meaning.
Sawera, what were your impressions of Pakistan after this visit?
The last time I was visited Pakistan was in 2012, almost 6.5 years ago. Since I had been to Pakistan before, I was expecting to be very familiar with the culture and the environment. However, I was definitely not ready for the super-hot summer weather (average 105 degrees), or the lack of 24/7 electricity, or the mosquitoes! Even though there were power generators and solar panels, sometimes everything just stopped working and I would find myself sleeping in mosquito net, in 100-degree weather with no fan, let alone an A/C.
On the other hand, there were so many places that I was able to see because of this experience. Because I have lived in the states for most of my life, my parents, my family in Pakistan, and the media always painted an image of a third-world, war-ridden, impoverished country. While it is true that Pakistan is still a developing country, this trip helped me see how beautiful my birthplace was. I was able to connect to my roots, meet some of the most hospitable people I had ever met, listen to beautiful music, and see stunning scenery that I would never have imagined being in Pakistan.
What was your favorite experience of the trip?
Midha: I would definitely say it would be the stories and anecdotes we heard. Stories of patients with debilitating illnesses, of fighting through the worst and pulling through with sometimes only hope and faith, when everything else fails. Of miracles being performed and of dreams being fought for. Perhaps the most heartwarming stories were of those offering medical services free of cost to those who cannot afford them, which was more common than not. Kindness, I realized, was sometimes more healing than medicine could ever be.
Besides that, it would be the hospitality of the people we met. Our topic was a bit sensitive, but the people were very accommodating. We couldn't leave the establishments without drinks and refreshments being offered by strangers! It was definitely a blessing in the heat of 115 degrees.
Sawera: My favorite part was seeing the cultural differences in the different cities that we visited, from Kalam to Charsadda to Islamabad to Lahore, and listening to the stories of the people of these different regions. It was very interesting to see how, between the Pashto and Urdu speaking regions, despite the difference, there were also many similarities in the experiences that people had with traditional medicine. Another part that was really enriching for me was that we were using three different languages, English, Urdu and Pashto, when conducting interviews. It was remarkable just seeing the variety of cultures, traditions and languages of Pakistan despite the fact that over 90 percent of the country shares the same religion. I also just loved all of the cultural heritage sites that we visit because it made me see how beautiful Pakistan is.
How do you think this project has enriched your overall educational experience at W&L?
Midha: My major is concerned with the medical field, so it was definitely like gaining hands-on experience within the real world. Reading about something in class is way different than actually interviewing doctors, medical experts and clients about them. It was fascinating to place my limited knowledge within the vast medical field, and to see the myriad of ways it has been incorporated and carried out.
To be brief, this trip was definitely an experience of a lifetime, and is something I'm not going to forget anytime soon.
Sawera: I am a biochemistry major on a pre-med track, with a double minor in poverty and human capability studies and Middle East and South Asia studies. Through this trip, I was able to bring all three of my areas of learning together into one moving experience. Not only was I able to explore different types of medicine, which I will most likely not learn about here or in medical school, I was also able to experience the culture of Pakistan and its people. I was so satisfied with my progress these past two months that I want to go back for another summer and do more research, a Shepherd internship, or even incorporate all of this into my poverty and human capabilities capstone.
I am so grateful to the Center for International Education for giving me the opportunity to explore such a beautiful country and allowing me to explore and learn more about a topic that I am very interested in. Thank you for allowing me to explore my passions and helping me figure out what I want to do with my education at W&L.
What's a YAC and How You Can Be One Too
If you are a younger member of our alumni community and wondering how you can get involved with the law school, our Young Alumni Council, or YAC, is the answer.
W&L Law YAC has quadrupled in size since its beginnings in 2015, with a membership of 153 alumni from the most recent ten years, (save the newest class). They come from 27 states, as well as Canada and Sweden. Their practice areas range from academia to workers' comp. More than 80 are returning to serve from last year's Council, and nearly 70 more are first time members.
So what exactly does YAC do? Members help job-seeking students and recent grads by reviewing resumes and conducting mock interviews, providing practice area insight and job contacts along the way. They share stories of their time in Lewis Hall with prospective students through phone calls and emails, and make time to attend law school fairs. They reach out to admitted students and come to their receptions. They also support the Law School with their gifts to the Law Annual Fund and promote networking at alumni events.
Working closely with Admissions and Career Strategy offices, members can make an indelible impression with their engagement. In fact, this year's recipient of the newest alumni award, Young Volunteer of the Year, is YAC member Matney Rolfe '14L, who facilitated the hiring of six students in summer internships and two young alumni in full-time positions, through her own position as clerk to The Hon. Loren A. Smith of the U.S. Court of Federal Claims in Washington, D.C.
Lisa Rodocker, Director of Law School Admissions, credited YAC members for helping shape an excellent incoming 1L class.
"Thanks to their efforts and enthusiasm, we were able to enroll an extremely accomplished group of 131 students from 28 states plus the District of Columbia and five foreign countries," said Rodocker.  "Many of our entering students spoke about the strength of our alumni network, their friendly interactions, and what an impact those conversations had on their decision."
If you are interested in staying engaged with W&L Law and making a difference beyond Lewis Hall, contact Jen Andrews, andrewsj@wlu.edu.
Walking in Sunshine Blue Ridge Autism and Achievement Center's Lexington branch recently held a grand opening celebration for a nature trail built by Washington and Lee University engineering students through a community partnership.
Sept. 7 was a stifling day in central Virginia, but students at Blue Ridge Autism and Achievement Center's Lexington branch were perfectly content to shun the air conditioning and explore the facility's new outdoor nature trail.
The trail, which was designed last year by four Washington and Lee University engineering students, was officially dedicated at a cookout and celebration that Friday afternoon, during which BRAAC also presented W&L with a plaque of appreciation. Meagan Harding, a behavior analyst and special education teacher at BRAAC, said their students flat-out love the new trail, which includes interactive stations and doubles the facility's activity space. Prior to construction of the trail, students there had no playground, only an overgrown, wooded area behind the building.
"From the moment we first showed them the trail, they were begging to come outside," Harding said.
With locations in Roanoke, Lynchburg and Lexington, BRAAC serves families who face unique learning challenges, including autism, ADD, and physical or visual impairment. The Lexington office works with children ages 2-16.
Annie Jeckovich, Walker Brand, Kyle Ruedisili and Ryan Brink, all members of the W&L Class of 2018, spent their senior year designing and mapping the trail, raising money and securing volunteer labor, and finally overseeing its completion. They were advised by Professor Joel Kuehner and Associate Professor Jon Erickson of Washington and Lee's Department of Physics and Engineering.
The students were able to liaise with BRAAC through W&L's Office of Community-Based Learning and create a community-based research (CBR) project. Such projects provide students, faculty and community partners an opportunity to collaborate on mutually beneficial research aimed at addressing community-identified needs. The walking trail also fulfilled a new year-long capstone project requirement for engineering majors.
Sensory stations have been added along the finished trail to give kids a chance to play and experience interesting sights and sounds. A music station includes drums, chimes, a small xylophone and other noisemakers; further down the trail is a crazy mirror with nine convex circles, as well as a small playhouse.
"The kids need the sensory input so these stations give them the experience they really need," said Craig Charley, a registered behavior tech at BRAAC. "They have behaviors that they don't have an outlet for, so it's cool to see a kid come and bang on a drum or look in the mirror."
At a brief dedication ceremony before a ribbon-cutting, BRAAC Development Director James Garner thanked everyone who contributed to making the trail a reality, including Jim and Brenda Fonner, owners of Park N Pool Corp. in Lexington, which donated the land for the trail. Jim Fonner passed away in January 2017, but his wife was present to see the trail dedication and a bench along the trail that will bear an engraved plaque in his memory.
Angie Leonard, CEO of St. Vincent's Home, the umbrella organization for BRAAC, said that working with W&L on the project was a very positive experience.
"The students who participated under Joel [Kuehner] were absolutely amazing, thorough and very conscientious," she said. "We just had a wonderful partnership and we're very thankful to W&L."