Gerry Simpson to Lecture on History of War Crimes Law
Professor Gerry Simpson of the London School of Economics (LSE), one of the world's top scholars of international law, will deliver a public lecture titled "One Hundred Years of Turpitude: A Counter-History of War Crimes Law."
The talk is scheduled for  Thursday November 8 at 9:30 am in Classroom A, Sydney Lewis Hall. The lecture is free and open to the public.
Simpson was appointed to a Chair in Public International Law at LSE in January 2016. He previously taught at the University of Melbourne (2007-2015), the Australian National University (1995-1998) and LSE (2000-2007) as well as holding visiting positions at Harvard Law School (1999) and the State University of Tbilisi where he was an adviser to the Georgian Ministry of Foreign Affairs. He is the author of "Great Powers and Outlaw States" (Cambridge, 2004) and "Law, War and Crime: War Crimes Trials and the Reinvention of International Law" (Polity 2007), and co-editor (with Kevin Jon Heller) of "Hidden Histories" (Oxford, 2014) and (with Raimond Gaita) of "Who's Afraid of International Law?" (Monash, 2016).
Simpson's current research projects include an ARC-funded project on Cold War International Law (with Matt Craven, SOAS) and Sundhya Pahuja, (Melbourne) and a counter-history of International Criminal Justice. He is currently also writing about the literary life of international law; an exploratory essay – "The Sentimental Life of International Law" –  was published in The London Review of International Law. A book of the same name will be published in 2019. He is an editor of The London Review of International Law and an occasional essayist and contributor for Arena Magazine.
Quick Hit: Friday Underground Gets Spooky for Halloween The weekly coffeehouse event took a chilling turn to celebrate All Hallows' Eve.
W&L Presents The Antioch Chamber Ensemble The Antioch Chamber is one of the most highly regarded chamber choral groups in the United States.
The Washington and Lee University Concert Guild will present the Antioch Chamber Ensemble on Nov. 10 at 8 p.m. in Wilson Concert Hall on the W&L campus.
The Antioch Chamber is one of the most highly regarded chamber choral groups in the United States. Now in its 21st season, the group performs all facets of music, from classical to contemporary and spiritual to secular. In recent seasons, Antioch has been called "stellar," "flawless," "an exceptional group," and "a spectacular example of what a classical choir should sound like" by the national press.
The Antioch Chamber Ensemble is based out of the New York Metropolitan Area. Its most notable concert venues include the Metropolitan Museum of Art, the Festival des Choeurs Laureats in France, Carnegie Hall and The Piccolo Spoleto Festival.
Tickets are required and available through the Lenfest Center box office at 540-458-8000 or online at wlu.edu/lenfest-center. Box office hours are Mon. – Fri., 9-11 a.m. and 1-3 p.m. and will be open one hour prior to performance time.
Staniar Gallery Presents Jeff Rich's "Watershed: Tennessee River" The show will be on view Nov. 5 – Dec. 7.
Washington and Lee University's Staniar Gallery presents "Watershed: Tennessee River," an exhibition of photographs by environmental photographer Jeff Rich. The show will be on view Nov. 5 – Dec. 7.
Rich will give an artist's talk on Nov. 13 at 5:30 p.m. in Wilson Hall's Concert Hall on the W&L campus. A reception for the artist will follow the lecture. The talk and reception event is free and open to the public.
In his ongoing project, "Watershed," Jeff Rich documents the complex relationship between land, water and man within the Mississippi River Basin and the effects and consequences of this sometimes fraught relationship on the Southern landscape. The exhibition examines widespread development in the Tennessee River Watershed, with a focus on the Tennessee Valley Authority, which has completely reshaped the rivers and ecosystem of the Tennessee Valley, as well as the lives of its residents, over nearly a century of evolution.
The work was published as the monograph "Watershed: The Tennessee River" by Fall Line Press in 2017. Another chapter in this series, "Watershed: A Survey of the French Broad River" received the 2010 Critical Mass Book Award, and was published as a monograph in 2012. Rich is an assistant professor of photography at Coastal Carolina University in South Carolina.
Staniar Gallery is located on the second floor of Wilson Hall, in Washington and Lee University's Lenfest Center for the Arts. Gallery hours are Mon. through Fri., 9 a.m. to 5 p.m. For more information, please call 540-458-8861.
Washington and Lee's Lenfest Center Presents November Concerts
The Lenfest Center at Washington and Lee University has two musical performances in the first half of November. Both events are free and open to the public; no tickets are required.
W&L Wind Ensemble Presents "Reckoning"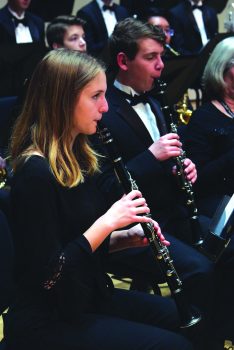 The Washington and Lee University Wind Ensemble presents its fall concert, "Reckoning," led by Chris Dobbins, assistant professor of music, on Nov. 5 at 8 p.m. in the Wilson Concert Hall on the W&L campus.
The concert is filled with music that attempts to understand different parts of the human condition. Musically, the evening will reckon with religion, death, safety, humor, history and other topics.
Jordan Kinsey is the guest conductor, and the music of David Maslanka, Steve Danyew, Michael Markowski and guest composers, Nicole Piunno and John Costa will be the aural guide.
The concert will be available to watch live here.
The University Orchestra Presents "Serenade"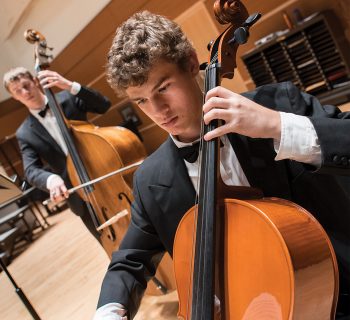 The University Orchestra will present "Serenade" at 8 p.m. on Nov. 15 in the Wilson Concert Hall at Washington and Lee University.
The performance will include a winning composition from the first annual W&L University Chamber Orchestra Composition Contest, as well as "Serenade for Strings in C Major, Op. 48" by Tchaikovsky.
The performance will be streamed live online here.
For more information on both events, call the Lenfest Center box office at 540-458-8000.
Exploring the Twists and Turns of Knot Theory Mathematics professor Elizabeth Denne helped design one of the Fleet Museum's most popular exhibits yet.
"Some writers are natural poets, some are better at novels, non-fiction, etc. It's the same thing with mathematicians. I found myself reading about knots for pleasure, in my spare time, while I was studying mathematics."

~Elizabeth Denne, associate professor of mathematics
It is a world where art meets math, where visitors can walk – and crawl – through translucent, branching tunnels illuminated by rainbows of pulsating light. This is the awe-inspiring landscape that Elizabeth Denne, associate professor of mathematics, helped create in the Taping Shape 2.0: Why Knot? exhibit, which was on display at the Fleet Science Center in San Diego, California through Sept 30. According to the website, "surfaces curve, slope and twist. The 'floor' eases into the side of the structure, which gradually becomes the ceiling."
Taping Shape 2.0, created by miles of packing tape wrapped over scaffolding, was a deeper exploration of knot theory, a part of the mathematical theories of geometry and topology; topology, in turn, explores how objects can be stretched and deformed as they move through space. Denne spent hours over Skype with California-based colleagues brainstorming how to use this enormous, colorful and immersive exhibit to explore the mathematics of knots. The result: one of the museum's most popular exhibits to date, which was extended a month past its original end date.
When mathematicians study knots, they consider anything that is a closed loop to be a knot, Denne explained. "In knot theory, mathematicians spend most of their time developing tools to tell which knots are the same and which knots are different. In addition, the shape of the knot, thickness, curvature, tightness and more are dissected and explored."
Why the public should care about knot theory is hard to convey – but care they should. "There is a lot of overlap with biology, understanding proteins and DNA molecules and replication," said Denne. "Some of these molecules are knotted, and the knotting is part of the reason these molecules behave in the way they behave. Another practical application is understanding elementary particles in physics."
For Denne, the true challenge of Taping Shape was finding ways to make knot theory resonate with people of all ages and educational backgrounds. "I didn't know this before, but museum text has to be written at the 6th grade reading level," she explained. "And while the questions that knot theory attempts to answer are simple enough to state, the answers can be incredibly complex."
In addition to knot theory, topology and geometry, the exhibit also touches on spatial relations, membranes, mathematics and tensile strength. (And in case you're wondering what happened to the miles of tape at the end of the exhibition's run – it's being recycled).
"Math has applications outside of just math, that can potentially change the world as we know it," reflected Ashanti Davis, exhibits project supervisor at the Fleet Science Center and Denne's partner in realizing the installation. Through Taping Shape 2.o, she hoped that visitors would realize "that math is a language and if you can learn to speak the language of another ethnic group, you can learn to speak math, too. That every day you tie your shoe, you are doing math and engineering. But most importantly, that math can be fun."
For Davis, a self-proclaimed reformed "math-hater," the process of creating Taping Shape 2 helped renew and strengthen her appreciation for math – a change of heart that she hopes exhibit visitors experienced, too. "The artist in me appreciates the beauty that can be found in math's complexities, and the scientist in me appreciates the role that it plays in science and speaking to and about the universe," Davis reflected. As an educator, she also marveled as joyful, wide-eyed students made their way through the exhibit; students who, like her, may have previously been wary of math. "I love getting to share with people how interesting these subjects are and how math, like most things, deserves a second, third, fourth, etc. chance at being cool," she added.
Denne became interested in knot theory while studying mathematics as a graduate student at the University of Illinois at Urbana-Champaign. "Some writers are natural poets, some are better at novels, non-fiction, etc. It's the same thing with mathematicians. I found myself reading about knots for pleasure, in my spare time, while I was studying mathematics. So I thought, I should probably just do my Ph.D on this."
Denne also knits and crochets as a hobby. "My mother taught me when I was a child. I didn't do it a lot in my teenage years, but in my mid- to late-20s, I became a fierce knitter. I enjoy the craft of it and making something to wear, as do all knitters. There is a neat overlap with my work, but it's not intentional. I was knitting long before I was thinking about knots. And there is probably a paper in there somewhere, but I have yet to write it."
Denne's passion for knitting has managed to thread its way into the classroom in other ways, though. Denne has crocheted hyperbolic surfaces – or physical representations of mathematical objects – for use in her geometry classes.
Asked about her favorite part of teaching at W&L, she responded without hesitation: "It's the interaction with W&L students. They're such wonderful human beings, and they definitely keep you on your toes." She was also pleased that W&L helped fund her trip to San Diego to participate in the exhibit opening in February.
Denne's hope is that the public realizes that there is some mathematics behind the everyday experience of knots – we all must tie our shoes, after all – "there are some really interesting mathematical questions there, with answers that aren't totally obvious."
Simpson House Honoring W&L's first woman to become a tenured professor at the university.
In October, the Board of Trustees, after consultation with students, faculty, staff and alumni, announced that Lee-Jackson House will be renamed Simpson House, occupied by the Office of the Dean of the college.
The Simpson House recognizes Pamela Hemenway Simpson, the first woman to become a tenured professor at the university and the first women to hold an endowed chair, when she became the inaugural Ernest Williams II Professor of Art History in 1993. Simpson, who died in 2011, was also the first woman to serve as associate dean of the college, and she played a critical role in the university's transition to co-education in the mid-1980s as chair of the Co-Education Steering Committee.
During her 38 years on the faculty at W&L, Simpson made myriad contributions, both in the classroom, where she was described as "the embodiment of W&L's teacher-scholar," and in countless other formal and informal positions.
Her scholarly work often centered on local architecture, and in her 2011 Convocation address she drew a parallel between W&L's architecture and its educational objectives. In narrating the developments that led to the Colonnade and Lee Chapel she said, "What we so value today came together over a period of several hundred years. Each generation built on the past. What resulted was not only a collection of historic, distinguished buildings; we also ended up with a symbol.
"This is who we are. When we think of our most deeply held values – academic excellence, collegiality, civility, and most of all, honor, all of them are embodied here."
Watch Simpson's Convocation address at go.wlu.edu/simpsonconvocation2011.
A Historic Love Affair Sally Ball Sharp '96 has personal connections to the Simpson House.
"Though letting go of the past bears pause, for me, this naming also weaves together an honor truly befitting our tradition. I'm proud to celebrate Pam Simpson's contribution to W&L, and I believe all of the past residents of the Lee-Jackson House would concur."

~ Sally Ball Sharp '96
For me, and I imagine many other graduates, the board's recent email notification on renaming campus buildings stirred many emotions: nostalgia for the past, gratitude of forward vision and maybe a twinge of sadness. Speaking with my father, Haywood Ball '61, about the changes, I realized I have a unique vantage point to offer on this occasion.
After graduation in 1996, my great-aunt gave me a treasured family possession, a set of Washington and Lee red Wedgewood plates featuring different scenes on campus: Lee Chapel, the Colonnade and Tucker Hall, to name a few. Yet, one plate I received had many duplicates. That was because the Lee-Jackson House was our house, specifically my grandmother's. Daughter of W&L Law School Dean W. H. Moreland, my grandmother, Margaret Ann Moreland Ball, grew up in the Lee-Jackson House. It was from this house, beloved to so many, that she walked to and from high school, passing my grandfather's fraternity house (Jack Ball '32, '35L) and catching his eye.
By the time they married in 1936, her family resided in what is now the Hotchkiss Alumni House. Following a ceremony at R.E. Lee Memorial Episcopal Church (now renamed Grace Episcopal Church), guests walked across campus to her parent's home for their reception.
In 2000, my now-husband Michael and I asked W&L if we could recreate my grandparents' wedding, using the Alumni House for our reception. With a little trepidation on the school's side and a hard sell from my parents, the university granted our wish, which was the first private event hosted there.
So on a magical night in June 2001, we, too, crossed the Colonnade on our way to a most enchanting reception. It was as gorgeous a setting as it was meaningful to my family. The campus sparkled with darting fireflies. Live bluegrass music prompted spirited dancing and revelry on the porch. Even Southern Living published the event in an issue of their Weddings magazine.
Mine is a deeply historic W&L love affair. As I am the fourth generation of my family rooted at W&L, I was also notably our first female alum. At age 8, my father brought me to campus for the first time. I was so determined to attend that I declared my intention to become an attorney, as the Law School was then the only means for a female to attend W&L. Luckily for me, that barrier was knocked down. My graduating class marked 10 years of Washington and Lee co-education. And it was a remarkable time with much transition, being 75 percent male during my stint. Just 10 years later, W&L would see equal male and female matriculation. Sometimes though, I can admit, I felt like a pioneer.
To the credit of two exceptional women leaders and professors* on campus, my W&L experience was filled with a great purpose. Today, I am specifically honored that one of them, my own mentor and advisor Professor Pam Simpson, has been named to the house that means so much to me. Professor Simpson's quiet dignity, strength and demand of excellence developed in me core strengths, which prove the cornerstone to my career: fearlessness and total commitment. She was patient and fair, but she expected more from me than the sorority girl she saw my freshman year—and she got it. Pulling me aside at the end of my senior thesis studio art show, she told me in earnest that she was proud of what I had done with my opportunity. Her words still ring as one of my most cherished accolades. My self-discovery in art, as in life at W&L, was not easily won, but earned and honorable. I had come to understand the significance of opportunity she forged for me, and for all women at W&L.
I am humbled by the history and legacy of this moment. Though letting go of the past bears pause, for me, this naming also weaves together an honor truly befitting our tradition. I'm proud to celebrate Pam Simpson's contribution to W&L, and I believe all of the past residents of the Lee-Jackson House would concur.
* Professor Kathleen Olson-Janjic, the Pamela H. Simpson Professor of Art, is the other W&L woman who broke down walls, opened my potential and poured herself into my education. I am forever grateful for these two leaders and for the high academic standards that W&L brought to the Art Department. Today, I am a licensed illustrator/commercial artist with artwork appearing on gift wrap, seasonal flags and gift products. Thanks to the mentorship of Olson-Janjic, I attended Parson School of Design after Washington and Lee, rounding out my painting education with graphic design and illustration.
Parents and Family Weekend 2018 Creates Shared Experiences
This slideshow requires JavaScript.
Washington and Lee held Parents and Family Weekend Sept. 28–29, 2018, welcoming more than 800 families (close to 3,000 people) to campus for the event. Parents and Family Weekend offers an opportunity for students to connect on campus with their parents and family members, sharing their full college experience by immersing them in W&L's unique culture. Families attend sporting events, concerts, art exhibits, and even classes together. This year, the History of W&L course was a popular choice, and professors shared that all parents in attendance were enthusiastic participants.
Students and their families also had the opportunity to participate in a social media contest by following the university's Annual Fund on Instagram, Facebook and Twitter. Families who followed any of these accounts and posted a picture of themselves on campus were entered to win a $25 gift card to downtown Lexington café Pronto. Kitanna Hiromasa '19 and her parents, Shannon and James, were the lucky winners.
Parents and Family Weekend also provides a perfect occasion for leadership parent donors and prospects to come together to build connections, as well as participate in gatherings with the president and other university officials. The Parents Leadership Council and the PLC Steering Committee are groups of parents who generously support the Parents Fund as well as work to build relationships among W&L families, host regional events for student and parents, and welcome new families each summer. Parents Fund Chairs Kamela and Steve Krouskos P'16, '17, '21 were on campus for the Parents Leadership Council events to welcome new and returning members. The council has 186 members and welcomed 38 new members who have a student in the Class of 2022. The PLC Steering Committee has 43 members to date, and more than 60 percent were on campus for the weekend festivities.
"Members of The President's Society, Parents Leadership Council and PLC Steering Committee all contribute significantly to the Parents Fund and have helped us achieve record-setting results for seven years running," said Ronni Gardner, director of parent giving. In 2017-18, donors contributed $1,812,199 to the Parents Fund. This year's goal is $1.85 million. The Parents Fund is an important component of W&L's Annual Fund, which supports the university's top priorities each year.
W&L will welcome members of the Parents Leadership Council back to campus for the Parents Leadership Council Spring Weekend March 29 – 30, 2019.
All gifts to the Parents Fund make a difference for every W&L student. To make your gift, visit support.wlu.edu/giveonline.
'Fight for Change and Progress' Dannick Kenon '19, who plans to attend law school and devote his career to positive social change, has co-founded a new student publication at W&L called The Vigil.
"I grew up in a northern suburban area and I wanted a change of pace for college. Washington and Lee is a perfect fit with its small-town vibe and beautiful Appalachian mountains."

~Dannick Kenon '19
Hometown: West Babylon, New York
Majors: Accounting and Political Philosophy
Minor: Poverty Studies
What factors led you to choose W&L?
I chose W&L because of the location and the small classroom sizes. I grew up in a northern suburban area and I wanted a change of pace for college. Washington and Lee is a perfect fit with its small-town vibe and beautiful Appalachian mountains. Besides the Lexington coziness, the small classroom sizes really stuck out to me. I remember on my first visit to the school there were classes with only three people, compared to other universities with up to 200 people per class.
You are pursuing an interesting combination of majors and minor. Why did you choose those areas of study?
I originally came to Washington and Lee as only a politics major. In high school, I loved my AP politics class and have always enjoyed arguing politics both inside and outside the classroom. Having seen the role of finance and business in policy, I decided I need to gain a deeper understanding of money in general. Accounting, the language of business, served as a great fit because it showed me how people analyze and think about the exchange of money. I chose the poverty studies minor because I wanted to learn about how economic insecurities affect political issues, especially criminal justice.
What internships have you held, and did they reaffirm your future career goals or cause you to rethink the path you want to take?
Over the past three summers, I have interned for the Dwayne Gregory for Congress campaign, the Office of the Public defenders in Baltimore, and Washington and Lee's Office of Sustainability. All three contributed to my decision to attend law school. Witnessing firsthand the role that law and policy play in politics, criminal justice and sustainability taught me that I need to grasp a better understanding of the law to truly fight for change and progress.
You serve as co-founder and chief strategist for The Vigil, a new publication at W&L. What is The Vigil and how did it come to exist?
The Vigil is a student publication dedicated to telling opinions that traditionally have not had representation on the W&L campus. We publish many diverse pieces, from black poetry to the importance of the W&L community. Our goal is to give Washington and Lee something that will be an atypical point of view. It came to exist when co-founder Jake Sirota and I, along with a couple of other student activists, decided it was time to get our voices heard.
What does your job as chief strategist entail?
My job is to set the agenda and gather the resources to maintain The Vigil. This can go from gathering articles from different student activists to helping set up a podcast, so we can shine a light on the diverse W&L student leaders. Another big part of my job is recruiting editors, managers and whoever else we need to the executive team.
Why is The Vigil so important to you, and why do you think it's important to the W&L community?
The Vigil is important to me because it gives activists and students of color the ability to be heard on a campus that can often seem like it caters to only one type of student. I believe it is important to the W&L community because it stands as a force to move Washington and Lee in a direction of change and progress that this university so rightly deserves.
What other extracurriculars are you involved in at W&L, and why?
I am the treasurer of Amnesty International, the treasurer of SEAL and a member of compost crew because I believe in both the protection of human rights and sustainable practices. I am also a shift leader for Campus Kitchen at W&L and an advisor on the Shepherd executive committee board as a way to further my studies in the field of poverty.
More About Dannick
What's your personal motto?
Smile every day
What's your favorite place to eat in Lexington and what do you order?
Blue Phoenix; I order the Radical Rubenesque
What one film/book do you recommend to everyone?
"Locking Up Our Own: Crime and Punishment in Black America" by James Forman Jr. This book details how we grew to such a high mass incarceration rate, especially among black men. It shaped the way I viewed the justice system as well as the black community in America.
What do you wish you'd known before you came to campus?
How much I would miss sleep.
Favorite W&L memory?
Taking on the role of a police officer in the Volunteer Venture Poverty simulation. It was a great learning experience for both myself and the first-years in studying poverty.
Favorite W&L event?
The Christmas dessert reception in Evans Hall
Favorite class?
My favorite class was POV-296, Freedom and Unfreedom, which took place inside Augusta Correctional Center. It was the first class to truly introduce me to the flawed criminal justice system, and my first chance to actually meet people who have been incarcerated and to learn from them.