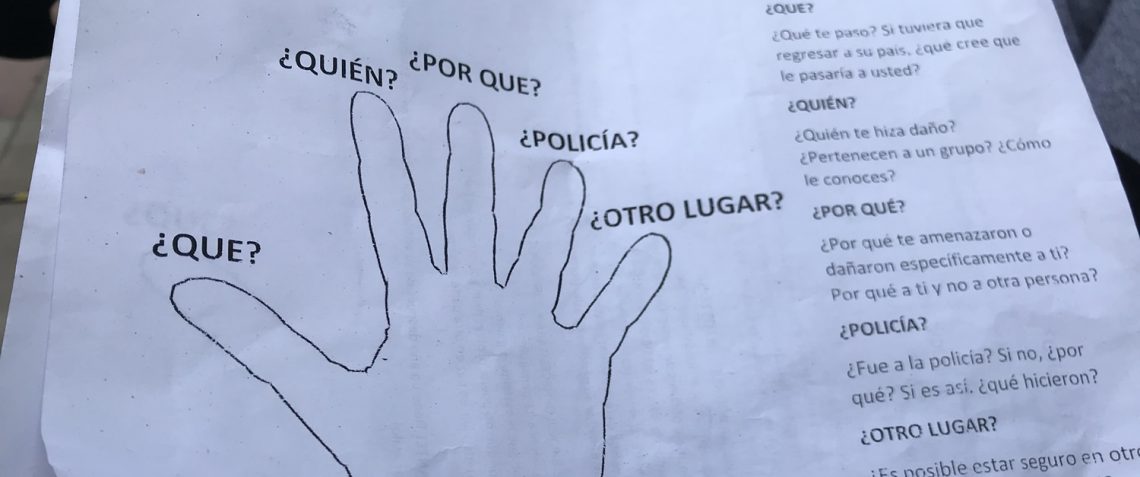 Al Otro Lado W&L law students provide legal assistance at the border.
The list, "La Lista," is kept in a notebook in Tijuana. On it are the names of thousands of people, many from violence-ridden countries in Central America but also from as far away as Africa and the Middle East. Each day, U.S. authorities release a number, sometimes as low as 10. The numbers indicate how many people from the list will get a chance to apply for asylum in the U.S. that day.
Washington and Lee law student Marissa Baer worked with people both high and low on the list, and with some who didn't even know there was list on which to put their names. She was part of a team of W&L law students, led by professors Johanna Bond and David Baluarte, who recently traveled to Tijuana to provide legal and humanitarian assistance with the asylum process as an extension of the work undertaken by the Immigrant Rights Clinic.
"Our work mainly involved meeting with asylum seekers to make sure they were aware of their rights under U.S. law and to prepare them for when they were called for their interview. We wanted to help them understand the asylum process and make sure they made their strongest case," said Baer. "It was great work, but also frustrating knowing some people with really powerful claims for asylum would be waiting for so long to get their chance."
Another student on the trip, Danielle Phillips, described it as "by far the most powerful experience I have had while here at W&L." About 10 days after returning from Tijuana, she heard from one of the migrants she had spoken with in Mexico. The woman, an asylum seeker from El Salvador, happily reported to Phillips that she had successfully completed the first stage of the asylum process. Phillips is now assisting her to find an attorney who can help her pursue her asylum claim.
With U.S. immigration authorities providing only a number each day, management of the process has largely fallen to the immigrants themselves, who formed a committee to administer the list. Even as asylum grants had slowed to a trickle, the list swelled in late November with the arrival of several migrant caravans, much publicized in the run-up to the U.S. midterm elections.
Baluarte, who directs Immigrant Rights Clinic, says the process now in place at the border likely violates U.S. legal obligations to protect refugees, and definitely puts the lives of some vulnerable migrants at risk.
"The U.S. government is preventing people from exercising their statutory right to seek asylum, and there are documented cases of Border Patrol agents forcing people back to the Mexico side of the border to wait on 'the list' in clear violation of the law," said Baluarte.
Baluarte says the Mexican federal government, which has only recently begun to provide aid to refugees at the border, doesn't want to manage the list either, so it is left to the immigrant committee to contact people when it is time for their asylum interview.
"It is a first-come, first-served process, with no due process or transparency," said Baluarte. "We spoke to some people in immediate danger of being killed, and asking them to wait months in that state of insecurity is a moral outrage."
With no large humanitarian aid groups yet operating, Bond described the scene in Tijuana as a human rights crisis in the making.
"People are living in dire circumstances at the border," she said. "There is a vast need not only in terms of information about the asylum process but also for basic material needs like food, shelter, water and clothing."
"Our students were phenomenal," Bond added. "They entered an intense and chaotic situation and rose to the occasion, providing both humanitarian aid and much-needed information about the asylum process, often giving impromptu know-your-rights presentations. It is the kind of experience that changes how you think about the power of law."
Bond says she first had the idea to bring students to conduct pro bono work in Tijuana after seeing media coverage of both the migrant caravans and the family separation occurring at the border. Together, Bond and Baluarte planned the trip, coordinated with a local NGO operating in Tijuana and a group of volunteers from Charlottesville, and selected interested students.
At the same time, Bond and Baluarte organized a local fundraiser, and members of the Lexington community raised about $6,000. Some of that money went to purchase much-needed supplies such as tarps and protein sources for the migrant camp, while some was used to support the partner organization, Al Otro Lada, or "The Other Side."
Along with Baer and Phillips, students who participated in the trip were Karen Vallejos-Corrales, Sarah Brettin, Erick Resek and Morgan Richter. Baer had spent her 1L summer in Washington, D.C., with a nonprofit organization working on immigration matters for those already in the U.S. She was eager to see the situation on the other side of the border, and the trip to Tijuana has solidified her plans to pursue immigration work for her legal career.
In the short term, however, the refugees in Tijuana remain her focus, and she plans to return, potentially as early as March, to continue to provide assistance, legal or otherwise.
"It was an amazing experience, but we were only able to help a small fraction of the people there," said Baer. "They will need help down there for many months to come."
Happy Holidays from W&L We hope you enjoy our annual holiday video greeting. Warm wishes for a safe and happy season!
W&L Chanoyu Tea Society to Host Annual Martin Luther King Jr. Tea W&L's Chanoyu Tea Society will host their annual Martin Luther King, Jr. tea ceremony on Jan. 21
"The tea ceremony is very much an art dedicated to finding peace within, reflecting on the here and now and enjoying time together with friends."
Washington and Lee University's Chanoyu Tea Society will host their annual Martin Luther King Jr. tea ceremony on Jan. 21 in the Senshin'an Tea Room, Watson Pavilion.
The tea ceremony will include seatings at  1:30 p.m., 2 p.m. and 2:30 p.m. The ceremony is free and open to the public.
Free tickets for each seating will be available starting Jan. 7 and must be picked up at the Reeves Center between 9 a.m. – 4 p.m. Monday through Friday. Seats are limited.
Students will be serving traditional Japanese sweets and making tea using the open hearth in the tearoom. The scroll for this special occasion has the character for "Dream," which will be the group's unifying theme.
The tea will be "crane themed" to symbolize peace and unity, and will reflect on the meaning of "wa kei sei jaku" (harmony, respect, purity and tranquillity).
"We started the MLK tea last year as a way to celebrate the university holiday in a meaningful way and not simply to see it as a day to catch up with work or take a day away from campus," said Janet Ikeda, associate professor of Japanese. "The tea ceremony is very much an art dedicated to finding peace within, reflecting on the here and now and enjoying time together with friends."
Chanoyu Tea Society is a student organization consisting of students who express an interest in the art of the Japanese tea ceremony and wish to pursue their study of the ceremony in the Senshin'an (Clearing-the-Mind Abode) Tea Room.
"The W&L Japanese tearoom is a perfect place to bring the community together in celebration of Martin Luther King, Jr.," said Ikeda. "In this contemplative and beautiful space, we can reflect together on peace, unity and our commons bonds. The student Tea Society organization looks forward to sharing sweets and a bowl of matcha with all."
The group aims to increase exposure of the Japanese tea ceremony and Japanese culture to the W&L community and the surrounding area by hosting public tea demonstrations.
For tickets contact Cassie Ivey at 540-458-8476 or reevescenter@wlu.edu.
W&L Law Welcomes New Faculty Member Washington and Lee law school dean Brant Hellwig has announced the appointment of Carliss Chatman to the permanent faculty, effective next semester.
Washington and Lee law school dean Brant Hellwig has announced the appointment of Carliss Chatman to the permanent faculty, effective next semester. Prof. Chatman has served as a visiting professor at W&L Law this fall.
"Carliss brings a wealth of practice experience to her teaching at W&L Law, having practiced for over a decade in the fields of commercial litigation and business representation before moving into academia," said Hellwig. "Her courses and her scholarship both are influenced by this background, and she is uniquely suited to help prepare our students for careers in the transactional arena.  We at the law school have already come to know Carliss as a wonderful colleague during her time as a visiting professor, and our existing students were thrilled to hear that she is joining our faculty on a permanent basis."
Professor Chatman teaches an array of business law, commercial law, and ethics classes including: Contracts and Sales and Leases; Agency and Unincorporated Entities, Corporations, Business Associations, and Securities Regulation; Professional Responsibility; and a Transactional Skills Simulation course with a Mergers and Acquisitions focus that incorporates corporate law and UCC Article 9. Her research interests are in the fields of corporate law, ethics, and civil procedure.
Professor Chatman's scholarship is largely influenced by 11 years of legal practice in complex commercial litigation, mass tort litigation and the representation of small and start-up businesses in the United States and the Kingdom of Saudi Arabia. As a result, her scholarship is intersectional with a focus on issues at the heart of commercial litigation: the interplay of business entities, government and natural persons.
Professor Chatman's work is also influenced by over two decades of service on non-profit boards and involvement with community organizations. Through leadership positions, she has developed expertise in corporate governance and non-profit regulation. She has also been instrumental in strategic planning and fundraising efforts. Professor Chatman has actively advocated on behalf of non-profit organizations at state and federal legislatures.
"I am thrilled to join W&L Law and to help continue to build on the school's reputation for great teaching and scholarship, especially in the field of corporate law," said Chatman. "The school is a perfect place for someone who wants to develop close relationships with and mentor top law students and be supported in her scholarly endeavors."
Prof. Chatman comes to W&L Law from Northern Illinois University College of Law. She previously taught at Stetson College of Law.  Prior to law teaching, Professor Chatman was a commercial litigation attorney in Houston, Texas. In practice, she focused on trial law, appeals and arbitration in pharmaceutical, healthcare, mass torts, product liability, as well as oil, gas and mineral law. In addition to negotiating settlements and obtaining successful verdicts, Professor Chatman has also analyzed and drafted position statements regarding the constitutionality of statutes and the impact of statutory revisions for presentation to the Texas Legislature.
Professor Chatman is a 2004 graduate of the University of Texas School of Law, where she was a member of the Texas Journal of Women and the Law, and served on the Student Recruitment and Orientation Committee. She received her bachelor's degree in 2001 from Duke University with honors in English.
Quick Hit: Winter Wonderland They call it Winter Wonderland, but it's more like a winter candyland — and it's one of the most popular W&L events of the year!
25 and Counting At prestigious labs around the country, W&L students have pushed themselves and the frontiers of science in the quest to find a cure for a rare disease.
"I learned that failing to find the answer you were expecting is not failure at all, but another piece of knowledge bringing you closer to your goal."
~ Julia Yerger '19
For the last eight years, Phil Marella '81 and his wife, Andrea, have provided funding from their foundation, Dana's Angels Research Trust (DART), to place W&L students — 25 and counting — into some of the most prestigious labs in the country to work on a disease that has a deeply personal meaning for the Marella family.
In 2011, Marella approached W&L with the idea that DART could provide research stipends for undergraduate students majoring in science. The organization raises money in support of research on Niemann-Pick Type C (NPC), a lysosomal storage disease that manifests predominantly as a collection of progressive, degenerative neuropathologies. At the moment there is no cure. Marella's son, Andrew, suffers from the disease, and his daughter, Dana, died of it 2013.
In trying to help their children, the Marellas discovered that because there are so few diagnosed cases of NPC, there is very little research being done on it. They have become vigorous advocates for investigation into its cause and potential cure and, through DART, have established collaborations with six laboratories for the support of accelerated research on the disease.
W&L's DART fellows have spent summers focused on NPC at top-notch medical research facilities, such as the Albert Einstein College of Medicine, Mount Sinai School of Medicine, National Institutes of Health, Institute on Childhood and Human Development, University of Pennsylvania School of Veterinary Medicine and University of Texas Southwestern Medical Center.
This past summer, three neuroscience majors continued the work on NCP. "We had another outstanding group this year, and every one of them was invited back after graduating to work in the lab where they carried out their fellowships," said Fiona Watson, associate professor of biology.
Julia Yerger '19 worked in the labs of Dr. Charles Vite at the University of Pennsylvania School of Veterinary Medicine. "I had a preconceived notion that research was boring, that people typically spent years and years searching for some answer, failing and altering their methodology over and over to get it right," she said. "Although this is somewhat true, I learned that failing to find the answer you were expecting is not failure at all, but another piece of knowledge bringing you closer to your goal. Any finding is rewarding and is one more interesting piece of the puzzle. I feel fortunate to have had some promising results in just the 10 weeks I was researching."
Zach Salter '19 joined Nobel laureate Joseph Goldstein '62 at his lab at UT-Southwestern Medical Center. "I gained so much hands-on lab experience, but also the knowledge and understanding of how a professional lab operates on a day-to-day basis," he said. "My biggest takeaway was the ability to think through and conceptualize an experiment from start to finish. I have worked in other labs before and have understood bits and pieces of the experiment that I was working on but was not able to understand how they fit into the bigger picture."
"The Dart fellowship," said Bryan D'Ostroph '19, who carried out research in Dr. Denny Porter's lab at the NIH,  "was the perfect way to get to the front lines of research medicine." Previously, he had only shadowed physicians and volunteered at hospitals. "I learned not only about the science but about what I want going forward in my career. As I venture out into the world — hopefully the world of medicine — I feel more confident since I am now armed with new skills."
Watson noted that DART fellowships provide a unique opportunity for W&L students to grow personally and professionally. "Through these internships, our students learn how science is done in a very busy lab," she said. "They are working with post-docs, graduate students and senior scientists,  and it's exciting to see them thrive in this environment. It's a chance for them to be a professional and contribute toward peer-review research articles. Sarah Clifford '19, for example, is the most recent of our students to have her name listed as a co-author for work she did in 2017."
While W&L students have helped advance the understanding of NPC, there is still much work to be done. Next summer, another group of DART fellows will fan out across the country and take their places in the lab.
Past DART Interns
2011
Cantey Hattink '12 (biology), Brown-Goldstein Lab, UT-Southwestern Medical Center. Currently a resident at Emory in OB-GYN
Lule Rault '12 (neuroscience), Ioannou Lab, Mount Sinai School of Medicine. Currently in medical school at Emory
Jina Park '13 (biology), Porter Lab, NIH. Currently a resident at NYU-Langone Medical Center
Nicole Herbst '11 (neurology), Walkley Lab, Einstein College of Medicine. Currently a resident at Boston Medical Center in Internal Medicine
2012
Robert Vestal '13 (biochemistry), Brown-Goldstein Lab, UT-Southwestern Medical Center.
Jena Glavy '14 (neuroscience), Ioannou Lab, Mount Sinai School of Medicine. Currently in medical school at FAU
Jina Park '13 (biology), Porter Lab, NIH (second appointment)
Keaton Fletcher '13 (neurology), Walkley Lab, Einstein College of Medicine. Currently in doctoral program in I/O psychology at University of South Florida
2013
Katie Driest '14 (biochemistry), Brown-Goldstein Lab, UT-Southwestern Medical Center. Currently in doctoral program in Cancer Biology at Stanford
Jena Glavy '14 (neurology), Ioannou Lab, Mount Sinai School of Medicine. Currently in medical school at FAU
Jina Park '13 (biology). Porter Lab, NIH (third appointment)
Rachel Christensen '15 (neurology), Walkley Lab, Einstein College of Medicine. Currently a clinical research assistant in the PediMIND Research Unit at Bradley-Hasbro Children's Hospital in Providence.
2014
McCauley Massie '15 (neurology), Brown-Goldstein Lab, UT-Southwestern Medical Center. Currently in medical school at Emory.
Rachel Solomon '16 (neurology), Ioannou Lab, Mount Sinai School of Medicine. Currently a surgical assistant at Washington Orthopedics and Sports Medicine
Annie Gauf '15 (neurology). Porter Lab, NIH. Program Coordinator for ChildSpring International in Atlanta
Noah Lessing '15 (neurology), Walkley Lab, Einstein College of Medicine. Currently in medical school at University of Maryland
2015
Emily Doran '17 (biology), Brown-Goldstein Lab, UT-Southwestern Medical Center. Program Manager at Epic Healthcare Software.
Scott Philips '17 (neurology), Ioannou Lab, Mount Sinai School of Medicine. Dental School
Jenny Wang '17 (psychology). Porter Lab, NIH.
Nicole Kasica '17 (neurology), Vite Lab, UPenn School of Veterinary Medicine. Currently in doctoral program in Neuroscience at Wake Forest.
Harrison Westgarth '17 (biology), Walkley Lab, Einstein College of Medicine. Fulbright 2017
2016
Erin Fykes '18 (biology), Brown-Goldstein Lab, UT-Southwestern Medical Center.
Harrison Westgarth '17 (biology). Porter Lab, NIH. Fulbright 2017
Ryan Hodgson '18 (sociology and anthropology), Vite Lab, UPenn School of Veterinary Medicine.
2017
Michael Colavita '18 (neurology), Brown-Goldstein Lab, UT-Southwestern Medical Center.
Sarah Clifford '19 (biology). Porter Lab, NIH.
Kate Dalia '18 (neurology), Vite Lab, UPenn School of Veterinary Medicine.
The State of the University A conversation with W&L President Will Dudley
Bob Strong on George H.W. Bush Bob Strong's piece was published on Dec. 9 in The Virginian-Pilot.
"George Bush was modest and cautious in his public persona. He rarely took credit for accomplishments and famously kept a low profile in dramatic days such as those following the collapse of the Berlin Wall. But from time to time, he also made bold moves."
In an opinion piece published on Dec. 9 in The Virginian-Pilot, Washington and Lee University's Bob Strong, William Lyne Wilson Professor in Political Economy, writes about the life and legacy of George H.W. Bush.
Read the full piece on The Viriginian-Pilot's website.
The Gift that Keeps on Giving
"I really hope this scholarship helps someone get out of W&L what I did. I hope they can pour their heart and soul into their experience without being concerned with the financial burden so many people have."
— Tyler Lenczuk '08
When Tyler Lenczuk '08 married Danielle Galanti in July 2014, they were given a gift like no other — a named scholarship fund to benefit future Washington and Lee students with financial need. The Office of Financial Aid will match the first Tyler R. and Danielle G. Lenczuk Scholarship recipient this year.
A gift from Lenczuk's grandfather, Richard L. Duchossois '44 and his wife Judi, the scholarship honors a strong bond between a supportive family and W&L. "I didn't have a full appreciation of W&L and my grandfather's love for it until I went there," Lenczuk said. "The quality and character of the people make it a place where you want to know everybody. W&L is not an institution — it's really a community. There is a level of comradery that is really unprecedented."
The unique wedding gift touched the newlyweds and gave them a personal legacy at W&L. While the gift itself was a nice surprise, the fact that it was not traditional was nothing new to Lenczuk. "My grandfather stopped giving gifts in the traditional sense because he wanted the act to mean something special in our lives," he said. "This was a creative way to give a wedding gift; it certainly beat getting a serving tray we're never going to use," he joked.
Duchossois was instrumental in recruiting Lenczuk for W&L. Having gone to a large high school in the Midwest, he never imagined himself attending a small college in Virginia. However, after a special trip with his grandfather, which included attending a lacrosse game as well as stopping by Duchossois' dorm room in Graham Lees, he was sold. Lenczuk said he got goosebumps as he stood outside his grandfather's room. "My grandfather relayed to me that being well-rounded with a liberal arts education was important, and I couldn't agree more," he said. Becoming an alumnus himself further strengthened the bond between the two.
Now, Lenczuk works for the family business, The Chamberlain Group, on the emerging business team, to identify and develop new opportunities beyond the core business. The company designs and engineers access-controlled entry systems, such as garage door openers and gate operators. He worked his way up in the company after spending a few years working in commercial real estate.
Lenczuk cherished his time at W&L and credits the university with reinforcing the importance of holding oneself to a high standard. "I really hope this scholarship helps someone get out of W&L what I did. I hope they can pour their heart and soul into their experience without being concerned with the financial burden so many people have," he said. "This gift is so thoughtful because it's about helping someone else build their future."
Decoding Technology, Opening Doors Women in Technology workshops introduced Ruopeng Zhang '21 and Caroline Blackmon '19 to basic web development in a collaborative and fun environment. They urge other students to take advantage of the next round of workshops.
"The Creative Technology Cohort provides me with a wonderful opportunity to start learning technology from the very basics in a supportive environment. It is also a great platform to meet other women interested in technology."

~ Ruopeng Zhang '21
During Fall Term 2018, Washington and Lee University held two Women in Technology workshops that introduced women to the basics of web development and programming in a relaxed and collaborative environment. Students who participated in these workshops, as well as other events that make up the initiative "Rewriting the Code: Women and Technology," are members of the Creative Technology Cohort at W&L.
"The idea of the Creative Technology Cohort is to give these students something to identify with as we hold events throughout the year and they learn these new technological concepts," said workshop organizer Kellie Harra '18, a post-baccalaureate fellow in digital humanities.
Of the many goals behind the initiative, Harra says a crucial one is to "provide opportunities for women to explore their interest in technology and introduce them to new concepts outside the classroom." Additional Women in Technology workshops will be held in late January or early February, and a related forum is planned for early March. Keep an eye on the university calendar for specifics.
Students Ruopeng Zhang '21 and Caroline Blackmon '19, who participated in the fall Women in Technology workshops, recently reflected on the value of the cohort and the workshops.
Q: Tell me about your role/experience in the Women in Technology Workshops
Ruopeng: As a member of the Creative Technology Cohort, I had the opportunity to learn basic web development using HTML and CSS and build my own personal website from scratch. I also had fun learning basic coding in Python with my cohort! After each workshop, there are follow-up sessions where we can work together and practice our computer skills.
Caroline: I took both workshops offered for Women in Technology, where we learned HTML, CSS and Python coding languages.
Q: What made you want to be part of this work?
Ruopeng: In the digital age, adopting technology has been a trend for most industries. However, women are generally underrepresented in the high-tech industry, and the resources of learning technology for women are relatively limited. The Creative Technology Cohort provides me with a wonderful opportunity to start learning technology from the very basics in a supportive environment. It is also a great platform to meet other women interested in technology.
Caroline: I am a senior and plan on being a journalist when I graduate from Washington and Lee. It is very pertinent that journalists know at least the basics of coding, especially HTML, because a lot of stories now rely on data and multimedia aspects. Through other classes I've taken at the university, I've learned some technology that will help with this, but I thought taking an immersive workshop taught by experts on the subject would be a great opportunity to get a crash course in each language.
Q: What did an average day for you look like on this project?
Ruopeng: A typical workshop is held on the weekend and starts in the morning and usually lasts for five hours. The cohorts meet at the IQ center and welcome our speakers, women who work with technology. We typically have lectures and do group activities for about two hours. Then we will have 30 to 45 minutes lunch break during which we can also talk to the speaker and network. After lunch, we go back to learning technical skills and collaborating with other members for another two or three hours.
Caroline: For both workshop days, we learned the basic terminology for each language and then went right into the hands-on experience through coding our own lines and stories. I personally learn best when I do whatever I'm learning for myself, so I appreciated when the teachers they brought in allowed us to learn by doing it ourselves.
Q: Has it been challenging in any way? If so, how?
Ruopeng: With zero computer science background, I personally found creating a website from scratch and writing hundreds of lines of code challenging and even intimidating at first. However, the Creative Technology Cohort has been very supportive and allows students with any level of computer skills to gain from the experience. Both professors and my peers are willing to help, which makes learning technology a lot easier and fun!
Q: How does the project relate to your wider experiences at W&L in terms of student-faculty relationships?
Ruopeng: During the workshop, Professor Sydney Bufkin and Research and Outreach Librarian Emily Cook were there to help whenever we had questions. I have also worked closely with Prof. Bufkin in the follow-up session where we talked about the features of web development and ideas for designing my personal website. This project again makes me realize how accessible faculty is and how willing they are to help students at W&L!
Caroline: I could really tell that Professor Bufkin, who was the main professor that organized the workshops, cared about us learning. She also knew everything the experts, who she brought in to teach us, were teaching us. This showed to me that, while she could have taught us the workshops as well, she wanted us to expand our connections with other women in technology and also wanted us to have as many resources as possible during the workshops to draw upon.
Q. Did this work impact your future plans in any way?
Ruopeng: This program definitely encouraged me to take computer science classes at W&L. It also reaffirmed my determination to incorporate technical skills into my study of accounting and mathematics. Career-wise, the two workshops I have attended so far raised my interest in technology and encouraged me to look at opportunities with an intersection of tech and my majors.
Caroline: They haven't impacted my future plans, but I definitely am more confident in my coding abilities now.
Q: How did W&L prepare you for this experience?
Ruopeng: W&L education has focused on making us capable of doing new things instead of repeating what has already been done and has motivated me to try out a wide variety of subjects that I would not have imagined myself learning. The spirit of constantly exploring really encouraged me to dig deeper into technology. The liberal arts education also did a great job preparing me for interdisciplinary programs like this one.
Caroline: Being a Washington and Lee student means that I have found my way around lots of different types of technology, and this was no different. I think the experts who taught us were surprised at how receptive all of us were to learning these different coding languages and how quickly we caught on. We showed the visitors what Washington and Lee students are made of and I think we impressed them.
Q: Why is this kind of experience important to W&L students?
Ruopeng: The Creative Technology Cohort is open to all majors and all class years, allowing students from different backgrounds, regardless of their knowledge about technology, to get a taste of what technology is really like. Moreover, it helps expand students' skill sets, making W&L students stand out in all kinds of occasions.  This program is also a wonderful networking opportunity to connect with speakers, faculty members and peers.
Caroline: This kind of experience is important to Washington and Lee students because it shows that a variety of majors can come together and learn a new skill together. It also shows that women can catch on to technology just as well as men can. It also is important because, in an increasingly digital world, students need to at least know the basics of different computing and coding languages so they can keep up with the fast-paced technological world.
Q: Why should someone sign up for the next workshops?
Ruopeng: Join us to learn technology in a collaborative and supportive environment and meet awesome people who share the same interests as you! Also, free lunch is provided!
Caroline: I would tell anyone interested in being a part of the next workshops to not be afraid of the five-hour time commitment because the time flies by as you are completely immersed in a full hands-on experience with learning several different coding languages. Also, it's really fun to learn from and get together with other women from many different walks of life around campus that you may not interact with on a daily basis.
Hooked on Giving Gary Silverfield '69 makes supporting his alma mater a top priority.
"W&L made me what I am. The school gave me a lot of encouragement, as well as the skills to be successful."

~ Gary Silverfield '69
"It's hard to believe I made it this far," quipped Gary Silverfield '69 of his upcoming 50th reunion.  Silverfield, who is serving on his 50th reunion committee, supported all three main categories of 50th reunion giving: the Annual Fund, the class gift and a planned gift. "W&L made me what I am," he said. "The school gave me a lot of encouragement, as well as the skills to be successful."
Silverfield, who jokes he's "a deal junkie," was a successful real estate developer. Despite being officially retired, he still drops by his office at the Silverfield Development Company, which his son, Leed Silverfield '99, has taken over. There are now four W&L graduates in the office.
"Washington and Lee has been a family affair," noted Silverfield, who also served on the Parents Leadership Council. "Two of my best friends from W&L also each had a child in the class of '99."
He and his wife, Laine, who has worked in non-profits, appreciate the values that Washington and Lee continues to espouse. "Gary and Laine are committed supporters of those organizations about which they are passionate," noted Tres Mullis, executive director for university development. "Washington and Lee is fortunate to be among the beneficiaries of their generosity." The couple even set up a family fund so their children could learn about giving as well. "Giving has been a consistent part of our lives," Silverfield observes.
"The university has benefited from their consistent support of the Annual Fund as members of the President's Society over many years," Mullis pointed out.  "Gary is now setting an example of leadership for his class's 50th through a named gift in the new Duchossois Athletic Center and generous support of the Class of 1969 Scholarship."  Silverfield, who played on the golf team all four years at W&L and captained the team his senior year, when asked to help with the new indoor golf facility, decided to fund it completely.
Silverfield also named W&L as an IRA beneficiary, the proceeds of which will pass tax-free to W&L. The 50th reunion is the only time deferred gifts count in overall reunion giving; deferred gifts recorded within five years of the 50th reunion are included within the reunion giving total.
Planned gifts can be applied to the class project, to something special the donor may want to support or they may be unrestricted, as is Silverfield's gift. Unrestricted gifts are important to the university because they allow trustees to allocate funds to W&L's highest giving priorities.
"The great thing about giving this way is that is does not impact your current lifestyle," observed Silverfield.  "My wife, Laine, and I have been so lucky. We appreciate that W&L continues to represent the ideals we care about, including the Honor System and Speaking Tradition. It is an extraordinary institution, and we are delighted to help it endure."
For more information on IRA beneficiary designations or other deferred gifts, please contact Margie Lippard in the Office of Gift Planning at mlippard@wlu.edu.
President Dudley on Investing in Low-Income Students
"College remains the best investment we can make in America's future. The United States has an abundance of talented young women and men who want the chance to realize their full potential. Providing students from low-income families the access and support they need to achieve their dreams is in everyone's best interest."
In an opinion piece published on Dec. 7 in The Washington Post, Washington and Lee University President William C. Dudley writes about the progress Washington and Lee is making in drawing more Pell-eligible students to its campus.
Duchossois Center: Pictures of Progress As construction continues on W&L's new, state-of-the-art Richard L. Duchossois Center for Athletics and Recreation, we offer a virtual tour—no hard hat required!
Click here to begin your scroll-through of construction on the Richard L. Duchossois Center for Athletics and Recreation, which is scheduled for completion in summer 2020.
Stay tuned to our website for future updates on this journey toward the finish line.
A Book Fit for Royals Washington and Lee's Special Collections is an educational resource fit for a queen, but this 543-year-old book really has royal connections.
Provenance, the fancy French word that roughly translates to "pedigree" or "who owned it," often plays a major role in determining the rarity of an item. Certainly that is true for the earliest printed piece housed in Washington and Lee's Special Collections. Known as an "incunable" (any work printed before 1501), Washington and Lee's copy of a Latin text entitled "Historiae Adversus Paganos" ("Histories Against the Pagans"), published in Vicenza, Italy in 1475, is exceedingly rare in its own right. However, the ownership by not one, but two, British royals makes the Special Collections copy almost totally unique.
Although the text of our volume is hand-set type printed in 1475, the binding is an exquisite custom-designed red Moroccan leather binding with gold tooling likely done in the latter quarter of the 18th century. The front and back covers of this beautiful piece bear the coat-of-arms of George Spencer, 2nd Earl Spencer (1758-1834), a Whig member of Parliament who held various political offices during his long and distinguished career. Spencer was also noted for his interest in literature and early examples of printing. When Napoleon instigated the secularization of religious houses in South Germany, Spencer acquired many rare books and manuscripts. Hence his ownership of this religious work, which is a fine example of pre-Gutenberg Press printing. Spencer's library of tens of thousands of volumes was sold at auction in the late 19th century. The late Diana, Princess of Wales, was descended from the Spencer royal family.
The inside of the front cover bears evidence of a second royal ownership. Neatly centered in an endboard adorned with hand-colored French marbled endpapers is the coat of arms of Prince Augustus Frederick, Duke of Sussex (1773-1843). It is not evident in the record how the Duke of Sussex, nearly a contemporary of Earl Spencer, acquired the book from Spencer's library. Prince Frederick was the son of George III and was born at Buckingham House in London. The Duke of Sussex was known for rebelling against royal traditions. Indeed, it was his liberal political views that fully estranged him from his father for much of his life. Not only did he advocate for Catholic emancipation, the removal of restrictions on Jews and dissenters, and parliamentary reform, but he also supported the abolition of slave trade.
He was president of the Royal Society between 1830 and 1838, and had a keen interest in biblical studies and Hebrew. His personal library contained over 50,000 theological works. The title of Duke of Sussex was bestowed upon him by his father in 1801. He was married twice, each time in contravention to the Royal Marriages Act, and neither union was recognized by his father. By his first marriage, he had two children, but since neither was recognized as legitimate, the title of Duke of Sussex became extinct on his death in 1843.
In a remarkable contemporary twist on this story of royal legacy, on May 19, 2018, Queen Elizabeth bestowed the royal titles of Duke and Duchess of Sussex on Prince Harry and Meghan Markle on the morning before their wedding. While Meghan Markle is the first Duchess of Sussex, Prince Harry becomes the second Duke of Sussex after Prince Augustus Frederick. It is not known whether the queen considered Prince Augustus Frederick's anti-slavery advocacy when choosing the title for Prince Harry and Meghan Markle. It is quite fitting, however, for the royal couple, considering all the ways that both Harry and Meghan have used their royal and celebrity status for advocacy and charity.
Sankofa House: A Place of Belonging Community and social support form the heart of W&L's newest theme house.
"Generally, people who live here really want to be open, to participate in a community, and to support each other."

~ Ramonah Gibson '20
The amenities of the new Sankofa House are any resident's dream: a sprawling chef's kitchen, wide windows lavishing light over 5,000 square feet of freshly renovated living space. Just steps away from campus, Sankofa House, one of W&L's newest theme houses, is more than just a place for folks to hang their hats. It's a sanctuary for students of the African diaspora and their allies to foster community, friendships and activism, and a game-changer for the W&L campus.
"We realized early on that social real estate is important," said Tamara Futrell, dean for diversity, inclusion and student engagement, who, along with Tammi Simpson '91, associate dean of students and David Leonard, dean of student life, was instrumental in bringing Sankofa House to fruition. Statistically, minority students don't join the Greek system as much as their white peers, Futrell explained. The Greek system offers housing, socialization opportunities and, just as crucially, the space in which to host them.
Previously, Chavis House served as the African-American social house, but it only fit a few people comfortably in its common area.
Although it's a relatively new community, the residents of Sankofa House have already fostered an intentional, "very inclusive" ambiance, according to Ramonah Gibson '20, its community assistant (C.A.). The massive kitchen offers opportunities for parties and shared meals galore — such as the recent Sizzlin' Soul event organized by the National Panhellenic Council, a collaborative organization of African-American fraternities and sororities.
After hours of cooking, talking and laughing alongside one another — students, staff and faculty alike; some who had never before tried soul food, some who had eaten it all their lives — attendees mingled over steaming plates of mac and cheese, chicken and dressing, green beans, ribs, peach cobbler, apple pie and more. It felt like a family gathering, as one attendee put it.
"Sometimes you feel a bit out of place [at a Greek party] if you don't know anyone," explained Gibson. "At Sankofa parties there's music, the lights are on. It's more than just dancing. You look over and you see some serious conversations — and of course some super silly ones too — and a general vibe of acceptance. No one feels like they aren't allowed or aren't supposed to be there."
Though adjusting to campus life can be hard for any student, minorities can face unique psychological and social challenges, especially on a campus where black or African-American students represent just 2.58 percent of the student body. Sankofa offers a communal space to unpack and discuss these challenges without judgment, to share frustrations and joys. "It's nice to come in and say one thing and have everyone understand it," said Gibson. "We all know what it means when someone walks in and says, 'I had a bad day.' We support each other and hold each other accountable."
Asked about who she wants to be a part of Sankofa House, Gibson said, "I don't have an ideal. I want all different kind of residents. The majority here are of African descent, but we also have a girl from Poland living here, and we all love her. We all have different majors — drama, biology, film — people are in different clubs and in different leadership positions across campus. Generally, people who live here really want to be open, to participate in a community, and to support each other."
Simpson marveled at the changes she's witnessed since first stepping foot on campus as a freshman in 1987. She called the university "undoubtedly, demonstratively different" today, adding that hers was just the third class of women to be admitted to the previously all-male school.
"But I believe that our motto, 'Non Incautus Futuri,' requires that we continue to do more to serve all students," she said, "students of every ethnicity, socio-economic status, and sexual orientation."
Futrell noted that enrollment of undergraduate American minorities at W&L increases year over year, and that black undergraduate enrollment is the highest it has been since 2012.
When it comes to making W&L a campus that is truly welcoming to all, "there is still much work to do for all students to feel included and engaged," she said. "But Sankofa House is an important step."
What is "Sankofa"?
"Sankofa" is a term borrowed from the Akan people of Ghana, representative of the need to reflect on the past in order to build a successful present and future.
The mythic Sankofa bird is widely seen in Akan art, as well as African-American and African Diaspora iconography. Its head is turned backwards — toward the past —  its feet face forward to the future. It carries a precious egg, symbolizing knowledge, in its mouth.
W&L's Zainab Abiza Among 2020 Class of Schwarzman Scholars Abiza will receive a master's degree in global affairs from Tsinghua University in China.
"Zainab lives her involvement in public policy and her interest in international affairs."
Zainab Abiza '19, an economics and global politics double major with a minor in poverty and human capability studies at Washington and Lee University, has been selected for the 2020 class of Schwarzman Scholars, a one-year master's program at China's Tsinghua University inspired by the Rhodes Scholarship program at the University of Oxford.
The class of 2020 is comprised of 147 scholars who were selected from over 2,800 applicants and represent 38 countries and 119 universities. The scholars were selected through a rigorous application process designed to evaluate academic ability, as well as leadership potential and strength of character.
"Our newest class includes a diverse group of future leaders from around the world. They join a global network of Scholars who have committed themselves to being a force for change, regardless of where their professional or personal passions take them. My hope is that a year in Beijing will inspire and challenge these students in ways they haven't even imagined. I look forward to seeing how this new class will leave its mark," said Stephen A. Schwarzman, co-founder, chairman and CEO of Blackstone, and chairman of Schwarzman Scholars.
Abiza plans to study economics and business while at Tsinghua University, and will receive a master's degree in global affairs. Beyond the classroom, scholars will gain exposure to a broad network of important relationships through unique internships, mentorship opportunities, high-profile speakers and opportunities to travel throughout China.
The Schwarzman Scholars program is designed to prepare future global leaders to meet the geopolitical challenges of the 21st century. The vision of Schwarzman Scholars is to bring together the world's best young minds to explore and understand the economic, political and cultural factors that have contributed to China's increasing importance as a global power, and to make them more effective as links between China and the rest of the world.
"The accomplishments, dynamism, and commitment of this year's class of Scholars are inspiring for all of us involved with the program," said Schwarzman Scholars Global Director of Admissions Robert Garris. "We look forward to seeing them come together from around the world to share their experiences in business, entrepreneurship, public policy, community service, media, and many other fields, learning from each other and from their fellow students at Tsinghua."
Abiza, who hails from Morocco, is fluent in English, French and Classical Arabic, as well as in her native language of Moroccan Arabic. Her interests in global politics and economics have led her to a number of summer experiences related to international affairs during her time at W&L.
She spent the summer following her sophomore year in Dangriga, Belize, working as an intern for the Belize Family Life Association, where she planned and led the organization's annual summer camp, raised funds to provide free cancer screenings and other clinical services for the town's residents, and organized community outreach events.
In the spring of 2017, Abiza served as an intern for the National Council on U.S.-Arab Relations in Washington, D.C., after which she returned to campus to work as a Summer Research Scholar in W&L's politics department, putting her language skills to work conducting counter-terrorism research.
"Zainab combines personal experience with a natural gift of analytic clarity to shed light on the most important questions in our discussions," said Seth Cantey, assistant professor of politics at W&L. "She does this in a consistently thoughtful and professional way, benefitting the class as a whole."
Abiza was a delegate to the Student Conference on U.S. Affairs, where she participated in discussions on global markets, investments and trade and generated and presented policy recommendations that were published in the "Undergraduate Journal of Social Sciences."
This past summer, she was one of 32 fellows at the PPIA Junior Summer Institute at Princeton University, a rigorous seven-week program that prepares college juniors for advanced degrees and careers in public policy and international affairs. She wasalso awarded a Davis Projects for Peace grant, which she used to design and implement a project aimed at improving educational outcomes and creating a better learning environment for rural girls in Morocco. She is currently working on expanding this program domestically and starting her own NGO to improve educational outcomes for girls globally.
"Zainab lives her involvement in public policy and her interest in international affairs," said Bill Connelly, John K. Boardman, Jr. Professor of Politics at W&L. "Her facility with multiple languages is a wonder to behold. Her commitment to public service is palpable and readily evidenced by her actions. Her leadership in the classroom and in various practical settings serving the disadvantaged is truly impressive. The Schwarzman Scholars Program is a natural next step as she furthers her education and experience."
Setting Goals, Improving Lives At the Trade Institute of Pittsburgh, Zabriawn Smith '14 helps others regain a focus on their futures.
"My education prepared me to be more bold in my actions and to never remove myself from conversations, because in them, we are afforded an opportunity to integrate theories in hopes to implement more reasonable practices in our society."
~ Zabriawn Smith '14
When Zabriawn Smith '14 talks about his work, there is no mistaking his passion or drive to help the people he serves create a new way forward for themselves. As a public ally AmeriCorps member, Smith was placed at the Trade Institute of Pittsburgh and serves as the outreach and alumni coordinator. Trade Institute of Pittsburgh trains skilled tradespeople — specifically targeting those with a carceral history — in the areas of general laboring, brick and block masonry, carpentry, stonework and welding. The benefits are two-fold — the institute helps meet rising demands for tradespeople while assisting students in regaining focus on their futures to cut a new and better path. Smith's job is to cultivate an alumni network that assists graduates in gaining access to career opportunities within the community as well as partner with organizations to develop programs that enrich the current student experience.
"My favorite part of my position is that I am able to come in and not only witness true change within the students, but I am also able to facilitate those changes through the work I contribute as part of the front office team," he said. "On the surface it may seem like a workforce development program, but it is more of an establishment promoting a healthy well-being."
Smith grew up in Aliquippa, Pennsylvania, a city located in the western greater Pittsburgh area, and is happy to serve his home community. He even knows some of the students with whom he works. Montez Jones, a soon-to-be-graduate, grew up with Smith. "My mother was his teacher in elementary school," he said.
Prior to joining AmeriCorps and working at Trade Institute of Pittsburgh, Smith was an elementary school teacher in Kentucky and said that as a young alumnus, he has tried to find the right balance between trying new positions to gain experience and sticking too firmly to a set career path. Now, he believes he has learned how to determine if a position will fulfill his passion to serve his community while encouraging professional growth. At Washington and Lee, he learned the value of having the courage to speak up and contribute his own thoughts and ideas to discussions. "My education prepared me to be more bold in my actions and to never remove myself from conversations, because in them, we are afforded an opportunity to integrate theories in hopes to implement more reasonable practices in our society," Smith said.
In his current position and in his role as a teacher, he noted that he has employed many skills, including critical thinking, which he honed from spending time in the classroom with others who had different opinions and perspectives. Learning how to hear people, appreciate their perspective and be able to voice his own to encourage discussion has been an invaluable tool. "No matter where you go, team building is the difference between failure and success in this climate of changing demographics," he said. "Learning what motivates others as well as yourself is your best way to ensure not only that you are an effective member of a team, but it also puts you in the best position to be a leader."
Quick Hit: Festival of Lights Washington and Lee recently held its biggest-ever celebration of Diwali, the Hindu festival of lights.
A Seat at the Table Jessica Taylor White '04 talks interpersonal relationships, fearless leadership and lifelong learning.
Why did you want to serve on the Annual Fund Council?
My first job after graduation was for the Development Office as an Annual Fund staff associate. I got to learn where the dollars go and saw firsthand how impactful Annual Fund giving is to the university community. The Annual Fund contributes about 8 percent of the university's operating budget each year. That may seem like a small amount, but that amount annually provides nearly $5,000 per student in support. To each student, that matters greatly.
Were there professors at W&L who helped shape your academic career?
There were a number of professors who helped me grow both intellectually and personally. Professor Tim Lubin in the religion department inspired in me a never-ending curiosity about what people believe and why. Every time I attend a yoga class, I think of his courses. Professor Sascha Goluboff in the Anthropology Department helped me see the value in and the importance of carefully studying where we come from and what our cultural practices mean. Professor Julie Woodzicka in the Cognitive and Behavioral Science Department is a teacher I only had for one class, but who continued to mentor and support me outside the classroom in ways she may not even recognize as meaningful — but to me, I will never forget.
What are your reasons for choosing to remain deeply engaged with W&L?
My experiences at W&L have prepared me to be a lifelong learner. The education I received was invaluable and the relationships formed are ones that have enriched my life. I have volunteered with the DC Alumni Admissions Program since 2007. Meeting the impressive students  helps me remain hopeful about W&L's ability to continue to produce engaged, bright, responsible global citizens. That shows me why it is important to continue giving to support the university's efforts.
What would you like to emphasize to fellow W&L alumni and friends when it comes to giving back to the university?
I give to W&L because what the university has given to me is beyond measure. I think it is important for all alumni to give. We all benefit from the continued success of the university. For those who might be unhappy with changes, I challenge them to consider staying engaged as a way to ensure that your voice is heard. Having a seat at the table is the only way to be a part of the conversation.
What extracurricular activities were important to you at W&L?
I was among some of the first members of the cheerleading team. I was a competitive cheerleader in high school and loved the sport, so it was a pleasure to continue in college. I went on to serve as captain my senior year and as coach after I graduated. I made lifelong friends while volunteering and making an impact on campus through school spirit and camaraderie. It was impactful for me to see so early in my college career that a committed group of students could start something and make a difference.  I also had the privilege of chairing the Maryland State Delegation for the 2004 Mock Convention. That experience was one I will never forget. The exhilarating zeitgeist of the convention floor is one that is tough to describe to those outside our community.
What do you consider as the most important qualities of a strong leader, and what would you say to encourage more women to pursue leadership roles?
I think the most important qualities in a strong leader are a collaborative spirit, a strong moral compass and a dose of fearlessness. One of the greatest leadership lessons I've learned is that nothing can be accomplished without buy-in and support from those around you. No leader has all the answers. Leading by your values will almost always guide you in the right direction. When a leader grounds each decision in her values and asks, "How does this align with my personal values and the values and mission of the organization?" the best course of action becomes clear. Fearlessness is really important in pursing leadership. The fear of failure can hold so many promising women back. I encourage all women who are interested in leading to consider what the risks of failure actually are. If a bruised ego is the biggest risk — go for it!
Student Experience Fund A Special 2019 Giving Opportunity for Washington and Lee Black Alumni
W&L is grateful for your past support of the Annual Fund — your contributions make a difference in the university's ability to support its students.
In connection with the March 8-9 Black Alumni Reunion on campus, the alumni planning committee hopes to do even more through black alumni charitable gifts to create a $10,000 Student Experience Fund.
These funds will make it possible for several undergraduate students in the 2019-20 academic year to take advantage of a high-impact, outside-the-classroom opportunity they cannot otherwise afford. These activities are an important aspect of the full W&L experience.
The scholarship is open to students receiving financial aid whose enrollment promotes and expands student body diversity. Preference will be given to students who demonstrate interest in African-American culture and studies.
Some examples include a trip sponsored by the Career and Professional Development office to learn about industries and job opportunities in a major city, a summer internship or a faculty-mentored summer research experience. The fund would support students on financial aid whose circumstances preclude them from participating in these activities. The students chosen for support will know that their grants are thanks to the generosity of black alumni.
We will be in touch with further information about this exciting idea, and we look forward to seeing you on campus March 8-9!