A Giving Story When Kelly Cunningham '19L won a raffle for contributing to her third year class gift, she knew right away what she wanted to do with the prize.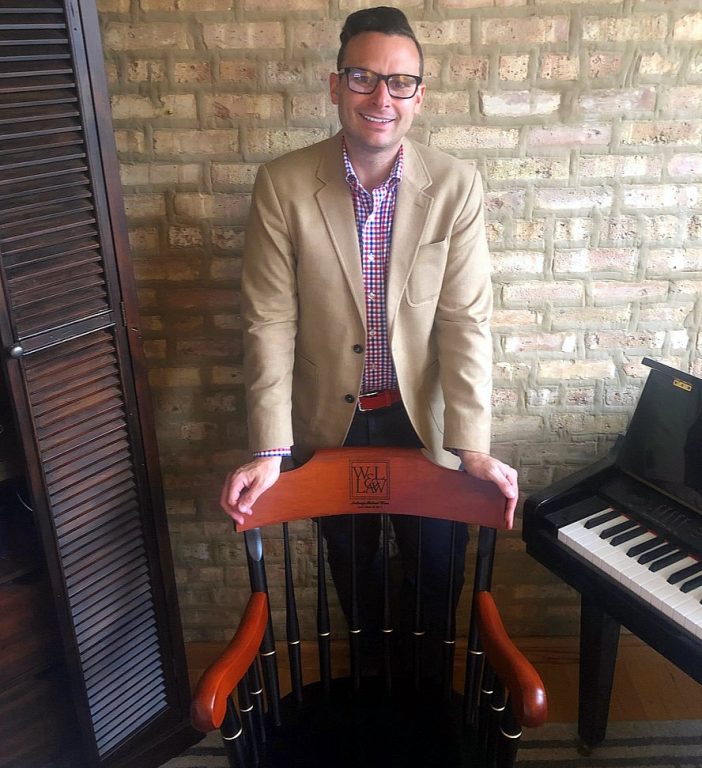 When Kelly Cunningham '19L won the Third Year Pledge Project raffle for an engraved W&L Law chair, she knew just what she wanted to do with it — send it to the alumnus who was instrumental in her decision to attend W&L Law, Anthony Kreis '11L.
Kreis, who is currently a visiting assistant professor of law at Chicago-Kent Law School, followed law school by earning a Ph.D. in political science and public administration from the University of Georgia, where he taught Cunningham. He is a great example of how alumni contributions of time, as well as financial resources, help sustain the law school from year to year.
"When Kelly was in my class as an undergraduate at the University of Georgia, I knew she had a bright future. And when she told me she was pursuing law, I was thrilled — even more so when she conveyed her interest in Washington and Lee. I've been fortunate to keep in touch with her in the five years since. Her time at W&L was a wild success and she's going to take the legal profession by storm. I'm so excited for her.
The chair was a great surprise and an incredibly thoughtful gesture. I will treasure it forever. As an educator, it always feels good to know you have had a positive impact on a student's life. I recognize that so much of my success is due to the investment W&L professors made in me while I was in Lexington and beyond. With each and every student, I work to do my best and pay their generosity forward. Kelly has reminded me — and inspired me— of that goal."
Cunningham, who will clerk for Judge Hugh Lawson at the U.S. District Court for the Middle District of Georgia, shares why she decided to turn one gift into two.
"The Third Year Pledge Project is about showing our gratitude to W&L. It offers an opportunity to reflect on all that the law school has given us. When I won the Pledge Project raffle at graduation, I immediately thought of gifting the chair to Anthony Kreis. Anthony has devoted his career to making this world a better place; the way he invests in his students is just one example.
Anthony taught legal theory at the University of Georgia, where I attended undergrad. He introduced us to important texts and case law. His class was inspiring and formative for my undergraduate experience. He wrote a letter of recommendation for my law school search, and he is part of the reason I ended up at W&L. We've stayed in touch over the years (even sharing our excitement that the legendary Professor Murchison would be teaching my first-semester small section), and I have followed his scholarship throughout my time at W&L. It means so much to me to have a friend, mentor, and fellow alumni who works hard to advance fundamental rights for marginalized groups. My gift could serve only as a small token of gratitude for his contributions to my life and the legal community."
You can have an impact on the daily experience of current law students by supporting the Law Annual Fund. Visit law.wlu.edu/give link by June 30 to make a gift this fiscal year.