At Home in LaLa Land

Marquita Robinson '10 loves the uncertainty of life as a sitcom writer for "New Girl."
"My advisor, Bob de Maria [professor emeritus of journalism and mass communications], was my main cheerleader, and although I took some of his classes, it was time spent just talking to him in his office that had the most influence on me."
In the seven years since Marquita Robinson graduated from Washington and Lee University, she has had 11 jobs and internships. In most professions, that would indicate a problem, but for Robinson, it's all a part of making it in show biz.
Currently a staff writer for the Emmy-nominated FOX comedy show "New Girl," Robinson thrives on the demands and uncertainty of working and living in Los Angeles. Sometimes, "the faucet turns off; even gifted people can hit a rough patch," she said of the profession she chose.
Show business is not a place for people who want stability, she said. "You often get rejected. It's not good for sensitive people."
But for someone like Robinson, who organized the comedy skit group Wednesday Night Live at W&L, working on a comedy TV show or movie is a dream come true. "I knew when I was a freshman at W&L that I wanted to go to film school," she said.
After graduating with a double major in theater and journalism and mass communications, Robinson entered the prestigious film school at the University of Southern California. While some people skip this step and plunge right into interviews and auditions, Robinson wanted to take time to understand the business.
With no contacts in Los Angeles, Robinson said film school gave her a chance to learn about how the business works, from contracts to the creative development side. Another advantage was that after graduation she had a built-in network of people who knew her and her capabilities and talents. She believes that in one year she has learned what it takes most to acquire through years of on-the-job experience.
Film school is also an "insanely expensive" risk, Robinson said. "It's a high bar to set for yourself. Many graduates never hit the career points they want."
Robinson didn't go directly from film school to a job with a television show or movie. She first worked for a talent-management company to further develop her connections in Los Angeles. There, she learned about managing writers, directors, show creators and others connected to the world she aspired to join. "It was a small company, but a good place to be," she said.
Her next stops included working as a writer's assistant on the show "Lucky Seven," until it was cancelled after six months. "I learned how a writers' room operates," she said of the experience. She later was a researcher for "@Midnight," a live-comedy show that relied on trending topics on social media to create games. "I got to click on what you're not supposed to click on at work," she laughed.
She worked for two feature writers on the movie "Barbershop 3" and was a show runner's assistant for the ABC comedy "Blackish." Her connections scored her a writing spot on "Survivor's Remorse," a Starz show produced by LeBron James about a professional basketball player who moves his family to Atlanta.
On the "New Girl" staff, Robinson's daily activities depend on what stage of development the script is in. She might be the keeper of the script or main writer, or she might be reading and helping to rewrite another writer's script. "The writer has to find the balance between what's really funny and what's important for a character's emotional arc," she explained. The show follows the story of Jess, a quirky teacher, who moves in with three men after a bad break-up.
There are brainstorming sessions, production meetings and table readings, where "we're learning how the story and jokes work." Some days are spent writing alone or rewriting with a group of writers. When the script is ready, Robinson can spend a week on set to produce her own episode and make any last-minute adjustments to the script.
Because her father was in the Air Force, Robinson lived in many areas of the country and world, including upstate New York, where she was born, Okinawa and the Azores. Her father retired in Oklahoma City, where her immediate family now lives. She chose Washington and Lee based on an interview with an alumnus in Oklahoma City and "because it wasn't in Oklahoma!" During the interview, she was especially impressed with the university's honor system.
"My advisor, Bob de Maria [professor emeritus of journalism and mass communications] was my main cheerleader, and although I took some of his classes, it was time spent just talking to him in his office that had the most influence on me," she noted. Owen Collins, professor of theater, and the rest of the theater department played influential roles and led her on the path to follow her passion. She wrote her theater honors thesis on directing and creative management.
She also had internships in New York City, at Embassy Row and with the Food Network and celebrity chef Bobby Flay. While studying abroad in England with the theater department, she immersed herself in British television, which led to some teasing from her fellow travelers but added to her bank of knowledge when she arrived in Los Angeles.
In addition to organizing Wednesday Night Live, Robinson worked as a resident's assistant, was involved in numerous multicultural clubs and was president of the Ladies Club and the film society. She acted in shows, sang in the chorus and musicals and directed productions.
Reflecting on her trajectory from W&L to the writers' room of an Emmy-nominated TV show, Robinson says working for television is both her job and her hobby. She wants to keep working in the industry and dreams of creating her own show and characters who reflect people like herself and push the boundaries of the types of people represented on television.
Bren Flanigan, World Ambassador

Bren Flanigan '16 shares his economic skills and American culture as a Peace Corps volunteer.
"W&L really makes each student an excellent ambassador of American culture. We can talk about almost anything given our liberal arts background, and our campus environment instills in us an adaptability and ambition that we can use to go anywhere in the world and share our skills and knowledge."

— Bren Flanigan '16
The night Bren Flanigan '16 woke up with a mouse on his neck is one he won't soon forget.
It was near the end of a temporary stay with a host family in Benin, Africa. He screamed in shock, and his host mother came running with a flashlight. When she saw the intruder, she expressed what she and other members of the family were thinking: "He just wants to see you one more time before you leave."
As a new Peace Corps volunteer assigned as a community economic advisor to Benin, Flanigan became immersed in the French language and Beninese culture by living the first three months with a family in a small village of 1,000 people. He became very attached to his large host family — a husband, four wives and 20 children. They felt the same about him, and have kept in touch since he moved to his permanent, two-year assignment in Natitingou, the largest city in northern Benin.
Flanigan asked for an urban assignment, partly to counter the usual impression of Africa as just villages — a concept he learned more about in a W&L class, Africa and the Western imagination. Unlike the host family's village, which had a pump for water, little electricity and no toilet, his city life includes ATMs, toilets, restaurants, running water and electricity.
His goals as a Peace Corps volunteer are to share information about American culture and life with the Beninese people; to share his economic and technical skills as a volunteer; and to share Beninese culture with friends, family and others back in the United States.
In Natitingou, Flanigan works with three organizations that are overseen by the same person. An international non-governmental organization promotes use of the Western African cereal grain fonio. Native to the region, it can be transformed into a powder and is used in popular local dishes to combat malnutrition. The five staff members work with 200 fonio producers in 10 villages.
A connected business focuses on marketing and selling fonio. Since everyone has a smart phone, part of the marketing involves social media and apps. As Flanigan becomes acclimated to the business' processes, he will advise them on accounting practices.
The third organization is an orphanage for teens ages 18-19. About 30 are housed in a nearby building. Flanigan plans to organize an English club for them, since all students in Benin study English. He also wants to use his Peace Corps skills to teach them how to start businesses.
In April, Flanigan will travel to Senegal for a two-week global conference on malaria. "I will be one of 80 Peace Corps volunteers representing every African country to attend this conference focusing on the prevention and treatment of malaria, " he said. "I'll be presenting on what Benin is currently doing, and will spend the rest of my time learning new techniques that I can then bring back to Benin and help officials implement."
Flanigan is no newcomer to international travel. Encouraged by his parents, he has visited 24 countries since 2006. He has lived on three continents and studied abroad twice. In 2014, he spent the summer working at the U.S. Embassy in Lusaka, Zambia. Even in the U.S., his recent summers have focused on international relations: In 2015, he worked for the U.S. Agency for International Development in Washington, D.C., and in 2016, he spent the summer working for the Department of Public Information at the United Nations in New York City.
"I became totally immersed in international relations and learned how aid diplomacy works at the highest levels of government during those assignments," he said. At the U.N., he gave a speech before the U.N. ambassadors from Mexico, Greece and Portugal and about 45 other diplomats. He spoke about combating xenophobia and empowering youth to support the protection of refugees.
Flanigan came to Washington and Lee from Carthage, Missouri, primarily because he knew of the university's outstanding reputation in liberal arts. He continues to be proud of his choice and takes everything he learned with him around the world.
"W&L really makes each student an excellent ambassador of American culture. We can talk about almost anything given our liberal arts background, and our campus environment instills in us an adaptability and ambition that we can use to go anywhere in the world and share our skills and knowledge," he said.
Some classes and professors stand out for Flanigan. Seth Cantey's capstone course in Middle Eastern politics "changed my thinking process about how to interpret conflicts and diplomatic challenges to the U.S." He said the course looked at where conflicts originated and how they influence culture today.
Looking at war and peace through an economic lens was the focus of a course taught by Shikha Silwal, assistant professor of economics. Flanigan said understanding the topic can help governments make more informed policy decisions.
After taking global politics with Tyler Dickovick, professor of politics, during his first year at W&L, Flanigan spent many hours learning from him about his own Peace Corps experiences. An expert on African politics, Dickovick advised Flanigan about how to use his skills to be an effective Peace Corps volunteer. "Hearing about professor Dickovick's service as a volunteer launched me on a trajectory to join the ranks of Peace Corps myself."
Outside of class, Flanigan was assistant head hearing advisor, helping students accused of honor violations to present their cases, and supervising other hearing advisors. He served as president of the Student Recruitment Committee and gave tours to prospective students and Johnson Scholar finalists. He also was a member of Phi Gamma Delta fraternity.
As he looks to the future, Flanigan said his Peace Corps experience is vital. "This is what I want to do the rest of my life — to work in diplomacy. Therefore, it is vital to understand the relationships between the United States and other countries, at the highest level of government but most importantly, at a grassroots level of cultural exchange."
'Matching a Person to a Role': Jeb Brooks '05

The CEO of a top sales-training company says everyone is in sales.
"The biggest lesson I learned from my dad is that you need to find really talented people and trust them to do good work. It's my job to have the overall vision and keep trying things. I'm not done making mistakes — I haven't had all my twists and turns yet."
Recruiters talking to high school students interested in joining the U.S. Air Force, nurses at long-term care facilities counseling families about loved ones, manufacturers providing capital equipment to oil and gas companies. To Jeb Brooks '05, it's all sales.
"It's surprising the number of people who use sales in their roles," Brooks said. "Many companies exist because people are on the front lines, communicating the value of what that organization does or makes — in essence, everything has to get sold."
As the president and CEO of The Brooks Group, a company in Greensboro, North Carolina, that provides sales training for companies throughout North America, Brooks leads a firm of over 40 people. His team of sales trainers designs and builds sales curricula and courses for business-to-business companies in a variety of industries, including industrial equipment, healthcare and telecommunications.
"If you rounded up all of the students with undergraduate liberal arts degrees, many of them will at some point in their careers end up in sales roles," Brooks said. "Companies train and invest in sales education for their employees, and we're one of the firms filling this niche."
As a student at Washington and Lee, Brooks majored in sociology and anthropology. He has always been fascinated by why people do things as individuals, groups and as a society. After moving to Phoenix after graduation to work for a human resources consulting company, Brooks decided to head back to Greensboro to work for his father's company.
"My father was an expert in business-to-business selling," Brooks said. "He wrote 23 books on the topic and traveled the country giving keynote speeches at national sales meetings. His business was very much personality-driven, meaning companies hired him as an individual to share his knowledge."
Brooks began working in a marketing role for the company and continued to move his way up. But in 2006, his rise quickly accelerated when his father fell gravely ill. Brooks was in his first semester of law school at Elon University when his father passed away.
"It was no longer an option for the company to provide keynote speeches by my dad," Brooks said. "We sat down as a family because we faced this choice — do we want to shut this thing down or grow it and transform it? And we chose to completely transform it."
Now the head of one of the top-ranking sales training companies in the world, Brooks said it takes a great deal of personal awareness about his own strengths and skills to lead the company. He finds that he focuses on managing people and handling the firm's legal issues, but he allows his sales trainers to be the experts on the subject matter they present.
"The biggest lesson I learned from my dad is that you need to find really talented people and trust them to do good work," he said. "It's my job to have the overall vision and keep trying things. I'm not done making mistakes — I haven't had all my twists and turns yet."
Brooks said it's this mindset — of continuing to grow and being open to new opportunities — that is essential for students today.
"I look at a lot of resumes," he said. "And I never look at the major, because that's not what's important. What really matters is matching a person to a role — a role that allows them to love what they're doing. Not what you think you're supposed to do; not what everyone else is doing. Why would you limit yourself like that?"
The Voice of the Maritime Aquarium

Marketing maven Tina Tison '95 is inspired by tradition and innovation.

The balance of tradition and innovation was appealing to Tina Tison when she first learned about Washington and Lee University. The strength of its heritage spoke to Tison, who grew up in a family with strong religious, cultural and ethnic traditions. The university was just a few years into coeducation when she visited the campus as a high school junior. "Before I made the trip, I was fascinated by the concept of a place so steeped in tradition embracing such a dramatic change," she said.

The visit was a seminal moment for Tison. "It was love at first sight," she said of first seeing the university – the only place she applied to.

As director of marketing for The Maritime Aquarium in Norwalk, Connecticut, Tison has continued to employ the balance of traditional and progressive thinking as the foundational principle of her career and personal life.

At home, both she and husband, Joe '95, keep family traditions alive, while creating their own unique traditions with their children.

In her professional life, she used her journalism degree as a springboard to a job in the advertising business after graduation. Beginning with agency icon Young & Rubicam, she moved during the next 10 years to two other powerhouse agencies — Ogilvy & Mather and Grey Worldwide in New York City — before moving to a small, entrepreneurial firm in Connecticut.

The three large, New York City-based agencies "were time-tested and attracted fantastic brands as clients," she said, citing P&G, Kraft, Campbell's Soup and ConAgra Foods. "It was so fulfilling to be learning and advancing my career with those projects and brands." Her efforts were rewarded with multiple Effie Awards for advertising effectiveness.

As her family life became more Connecticut based, Tison "found an opportunity to take everything I learned and go to a small ad agency, where the clients were entertainment brands." At Media Storm in Norwalk, Connecticut, she worked with such clients as FX, Food Network and ABC Family, leading integrated consumer marketing efforts that broke network and industry records for ratings.

The entrepreneurial culture of Media Storm was "fantastically rewarding," said Tison. Entertainment brands are water cooler topics, and both the entertainment and ad industries were going through many changes. When she began, there was no Netflix, streaming-TV shows or On Demand. "There were some familiar challenges and some new challenges. It was a balancing act of using proven best practices and experimenting with new ideas to stay relevant."

Media Storm had an advantageous location as well, sitting directly across the street from The Maritime Aquarium — rated the top aquarium in New England. Tison's family became regular visitors to the aquarium and her children – Samantha, 10, and Trey, 7 – participated in camps and in-depth educational programs there.

When she happened to spot a job announcement for a marketing director on the aquarium's website, she "ran at it with enthusiasm reminiscent of my first visit to W&L. I knew where I was meant to be," she said.

At the nonprofit aquarium, Tison is part of the senior staff and leads everything from press releases to advertising. She and her team also execute monthly visitor events and all promotional messages to support those events. They also constitute the digital voice of the aquarium on social media and the website.

"The aquarium is a remarkable institution," Tison said. "It has a strong heritage of education and animal husbandry." The aquarium's mission is to educate visitors about and to create stewards for Long Island Sound. Visitors can get close to more than 250 species native to the sound and its watershed, including sharks, seals, sea turtles, river otters, jellyfish and other animals. Tison said her goal is "doing great by doing good," and her current role fulfills that every day. "I feel so honored to be the voice of the aquarium, its mission and all of the species in our care."

At W&L, Tison was guided by the "entire team of professors at Reid Hall. They were incredibly influential to me." She had always been a book enthusiast and loved the power of words in literature and poetry. However, it was her journalism professors, including her advisor, Bob de Maria, who "inspired me in class and conversations with the power of words in their most succinct format. I learned to be as effective as possible in the shortest form."

That lesson served her well as an advertising executive. While watching 30-second TV or digital ads or driving 70 miles-an-hour past a billboard, consumers don't have much time to absorb a message. "Ads have to be succinct yet dynamic," said Tison. "In today's world, there is less time and more noise."

Outside of class, Tison was a charter member and officer of the university's Pi Beta Phi sorority and held leadership roles with the yearbook, Super Dance and Fancy Dress Ball. She also held down a job in the dining hall.

Although she and Joe, a vice president at a financial technology company, graduated together, both came from Connecticut and had mutual friends, they didn't connect as a couple until meeting again at an alumni gathering in New York City two years after graduation. Now together 20 years — 15 as a married couple — they enjoy taking their children to visit W&L and sharing the university's traditions.

"Washington and Lee was such a special place and experience for both Joe and me. Love of W&L is one of our favorite traditions to celebrate and pass along to our kids."
The Intersection of Art and Science: Lauren Sturdy '11

Finding answers in the space where science and art intersect.
"I found W&L to be a close-knit community where professors care about students"
Fans of the PBS program "Antiques Roadshow" know that the art experts often recommend to a guest that their painting be restored.
What they might not realize is that there is a body of science behind the conservation of a painting. It is this intersection of art and science that attracted Lauren Sturdy '11 to a Ph.D. program in materials science and engineering at Northwestern University.
A chemistry and art history major, Sturdy conducts research on the relationship between the structures of matter on a molecular- and macro-scale level. Her research looks at the aging of artists' paints — how they change over time and how different environmental conditions make them dry differently. Changes in chemical properties affect the mechanical properties of paint.
"My research is a couple of steps removed from the actual conservation of art," she explained. Changes in temperature and oxygen levels affect paint, but she said it is hard for a conservator to actually experiment with these effects without fear of damaging the painting. That's where her research is valuable to predict outcomes under various scenarios.
Now completing her fifth and final year of the program, Sturdy hopes to teach engineering on the collegiate level, after first obtaining a post-doctoral academic position. She received a National Science Foundation fellowship to underwrite some of her doctoral studies.
Sturdy also is conducting research for another project examining the mechanical properties of rubber that could benefit the tire industry. Although tires and art seem far removed from one another, Sturdy says there are some links. For instance, she uses the same instrument — a quartz crystal microbalance — to conduct research for both projects. She also gets similar types of information that helps her in both areas.
Attracted to art conservation since she was in high school in Williamsburg, Virginia, Sturdy was able to explore the topic in more depth at W&L, where she also began looking at textile conservation. She received a Johnson Opportunity Grant to do a summer internship at the Smithsonian's Museum of Conservation Institute.
While there she helped re-house the Black Fashion museum collection — photographing, vacuuming, cataloguing and packing objects for long-term storage. She also co-designed an experiment to deposit goethite onto wool, polyester and linen fabrics, using her chemistry background to adapt an established process to a much smaller scale.
The internship also accomplished something else important to Sturdy. She realized that she was still more interested in art conservation science than in textiles.
The summer after her freshman year at W&L, Sturdy had an internship at the Netherlands Institute for Cultural Heritage in Amsterdam. "I learned there that research is hard and tedious," she said.
Sturdy came to W&L because of its "great academic reputation," and because she met Erich Uffelman, the Bentley Professor of Chemistry, during a weekend program for prospective students. "I found W&L to be a close-knit community where professors care about students," she said.
She enrolled in Uffelman's course on Art and Science, which "opened my eyes to how many different ways art could be studied from a scientific point of view," she said.
As a student, Sturdy worked at the Reeves Center, which houses the university's collection of Asian, European and American porcelain, and University Collections, where she helped catalogue and inventory the collection. There, she was influenced by Patricia Hobbs, associate director, and Peter Grover '73, who confirmed her interest in the broad field of art conservation, she said.
While at the Reeves Center, Sturdy and another student conducted an experiment to analyze a plate from the George Washington dinner service, decorated with the insignia of the Society of the Cincinnati, against a fake. The two provided scientific proof of the forgery, using W&L's portable x-ray fluorescence spectrometer to match minerals from the two plates. They presented their findings at a conference of the American Institute for Conservation.
When not in the lab at W&L, Sturdy served as president of the Craft Guild for two years. The group of students and some staff met to work on handicrafts, such as knitting, crocheting or origami.
She also sang for four years in the a cappella group The Washingtones. The group performed on campus for Parents Weekend and for open mics on the campus radio station.
Like most scientists, Sturdy is motivated by finding answers. She wants to know why paintings age the way they do and find better ways to preserve them. "I enjoy doing experiments and understanding the outcomes," she said. "I am intrigued by the why questions."
Standing Up for LGBT Rights

Leading the Fight for Equality for All Americans
"When marriage equality was resolved, there was a vacuum in discussing LGBT issues. Now that is changing."
When legislation focused on LGBT issues works its way through the U.S. House of Representatives, there is a very good chance that Roddy Flynn '12L has been involved behind the scenes, crafting strategy and educating members of Congress.
For the past year, Flynn has served as executive director of the LGBT Caucus, a group of 87 representatives engaged in strategy to turn issues of concern to lesbian, gay, bi-sexual and transgender people into legislation or executive action.
"My job is to give shape and strategy to LGBT legislation," he said. While the job is self-directed — "I can plan my own initiatives" — he tries to be responsive to what House members want. "We focus on policy development and ask what we can do to help." The answer might be to draft legislation or ask the executive branch to act.
Flynn discussed his job and the issues he tackles on the national level at a recent Embracing Diversity symposium on campus.
He is proud that during his first year with the caucus, he was able to organize a landmark congressional forum on violence against the transgender community — the first time transgender issues have been the sole focus of congressional testimony.
The forum was set up much like a formal congressional hearing. "I reserved a hearing room and had 12 House members on the dais," said Flynn. He recruited witnesses to discuss transgender issues in such areas as employment and housing discrimination. "It is a multi-faceted problem."
News outlets from around the world covered the forum, which Flynn said successfully raised transgender issues to high levels of government, such as the departments of Justice and Education.
Flynn has also helped create and serves as managing director of Equality PAC, a political action committee that works for the election of openly LGBT candidates and strong allies to federal office.
Flynn received his undergraduate degree from American University, where he majored in interdisciplinary studies in political communication and economics. After graduating from W&L School of Law, he clerked for Justice Henry DuPont Ridgely of the Delaware Supreme Court and then spent two years practicing commercial and intellectual property law with Richards, Layton & Finger PA, in Wilmington, Deleware.
While in Delaware, Flynn helped form an LGBT bar association, which now is a section of the Delaware Bar. He also coordinated LGBT pro bono efforts in such areas as family court and insurance. Through those activities, Flynn got to know his congressman, Rep. John Carney.
Through Rep. Carney, Flynn learned of the House caucus job, and although the job "was completely unplanned," he saw it as an opportunity that he couldn't pass up. "I've learned not to plan too much," he said.
Flynn thinks the caucus is making progress. "When marriage equality was resolved, there was a vacuum in discussing LGBT issues. Now that is changing."
He has worked hard to develop strategy for the House's Equality Act, which amends the Civil Rights Act. "It is a comprehensive nondiscrimination bill that creates more awareness of how LGBT issues reach into areas other than marriage," he said, citing employment, housing, public accommodation, jury duty and other areas
While at W&L, Flynn was the head Kirgis Fellow, which gave him the opportunity to run orientation for the 1L class. He also was a Burks Scholar, a position that allowed him to teach legal research and writing to 1Ls.
He fondly remembers Ann Massie, professor of law emeritus, who taught bioethics and constitutional law. "She pushed everyone to think through issues, such as assisted suicide and surrogacy." Brian Murchison, the Charles S. Rowe Professor of Law, taught him administrative law and is someone Flynn continues to consult when he wants another opinion. He also credits professors Sarah Wiant '75L and J.D. King with influencing his career path.
Flynn acknowledges some frustration that Congress moves so slowly. "I'm goal oriented and like to accomplish things," he said. What makes him happiest in his work is "when I can get a member who doesn't understand the urgency of an issue to become a full activist or co-sponsor."
He doesn't have much time for hobbies these days. "My job is my entire life," he said. However, he likes to cook and says baking relaxes him. Cooking Italian or American comfort food "provides satisfaction and makes me feel good."
His path toward his current work on behalf of the LGBT community might have been set at his graduation from W&L Law School, when he received the Calhoun-Bond Award for exceptional service to the university. He believes it was an acknowledgement of the work he did on campus on behalf of the undergrad LGBT population.
W&L Connections at Work

Forging a Future Through the W&L Network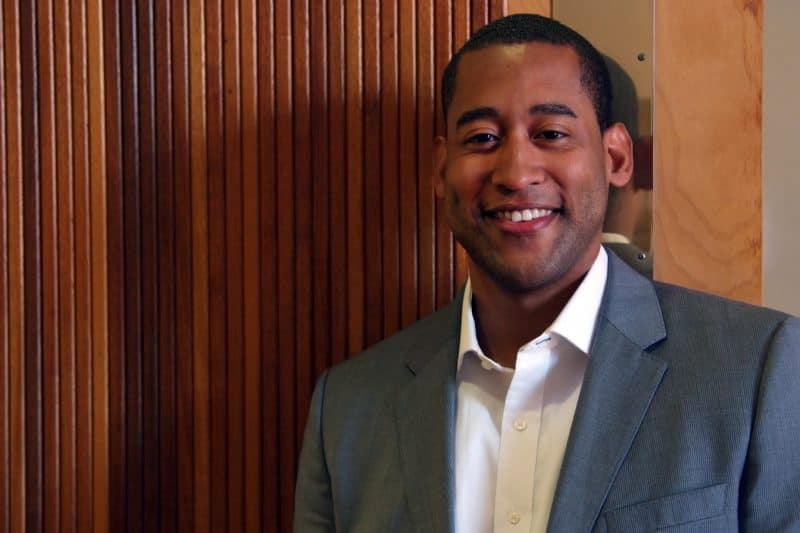 "W&L was a grounding mechanism that has helped me in my search for what is important in life."
When Andrew Elliott graduated from W&L in 2007, he was at a crossroads. He knew he was interested in real estate, but he didn't have the experience or connections to find his way into the field.
Networking with W&L alumni paved the way for him to pursue a career that has evolved to his current position as manager for Deloitte Consulting.
"I used Colonnade Connections (alumni directory) to research alumni in real estate and made a short list of people on the East Coast," he recently told an audience at W&L's Embracing Diversity symposium. Elliott's next step was to set up meetings with them during a two-week travel blitz from his hometown of Little Rock, Arkansas.
Not only did he meet with alumni up and down the East Coast, but some also invited him to stay with them to save on the expense of the trip. One alumnus with a real estate investment trust (REIT) in Atlanta, told Elliott about an open position with his company in Chicago. He paved the way for Elliott to interview for the job, which he got.
For the next two years, Elliott worked in Chicago as a property administrator, managing a portfolio of seven grocery-anchored shopping centers valued at more than $150 million. When the recession hit, many of the businesses in his portfolio went out of business or filed for bankruptcy, leading Elliott to seek his next opportunity.
Again, networking through his W&L connections led to a job. He contacted Harlan Beckley, executive director of the Shepherd Poverty program, in which Elliott had participated as a student. Beckley put him in touch with an alumnus who had just become president of Greater Camden Partnership (since merged and renamed Cooper's Ferry Partnership) in Camden, New Jersey.
Since the two men had backgrounds in real estate and the partnership was looking for someone with his skills, "I was offered the job on the spot," Elliott said.
He worked with the partnership to help develop a business district that provided extra services not available through the city in order to maintain a clean and safe environment for customers. "Camden was a living example of a post-industrial city suffering from increased amounts of blight, poverty, and drug-related activities," Elliott said. "We wanted to provide a presence on the street for people to feel safer and to promote investment."
Elliott managed an annual budget of more than $1.3 million and met with corporate partners and local businesses to develop strategy and annual plans for the business district. "We asked, 'What can we do to make this a better area to attract businesses?'"
After a couple of years, Elliott realized that he was interested in developing strategy on a larger scale and began to plan his transition. He knew he needed more education and an expanded skill set, so he applied to the MBA program at the Johnson Graduate School of Management program at Cornell University. He was accepted and received a Roy H. Park Leadership Fellowship. The full-tuition scholarship, with additional requirements for leadership beyond the classroom, allowed him to earn the degree and move into a senior consultant position with Deloitte Consulting.
Promoted to manager, he now focuses his work on business transformation in the firm's strategy and operations practice. Ironically, his very first project was to work with a REIT, whose new CFO wanted to position the company to double its revenue in a short period of time. Elliott's job was to conduct an assessment of the company, including what skills were available and what skills were lacking among his client's employees. He and his team provided the company's executives "with a solid view of their position."
He has since consulted for an international power and utility company, a multi-billion-dollar global healthcare company and a multi-billion-dollar global professional services company.
In addition to Professor Beckley, Elliott attributes his success to at least three other professors: Marc Conner, interim provost, who taught him freshman English and African American studies; Ted DeLaney, associate professor of history and program chair of Africana Studies; and Art Goldsmith, the Jackson T. Stephens Professor of Economics. "He modeled real life situations, incorporating a social aspect with economics," Elliott said.
Elliott learned leadership skills as president of Alpha Phi Alpha fraternity, a historically black fraternity whose chapter operated jointly with James Madison University. He was also involved with the Nabors Service League and Campus Kitchen, among other activities. Two study-abroad experiences exposed him to the world. At Queen Mary, University of London, he studied economics and architecture, and during Spring Institute in Senegal, he learned about the country's culture and language.
Elliott believes that "giving back to W&L is highly, highly important." Until now, "it has been hard to get back to campus," he said. With a more flexible schedule, he is happy to return to the campus where he remembers a more simple and carefree time in comparison to the complexity he faces on a daily basis now. "W&L allowed me to be more idealistic, with free-flowing thoughts and perspectives," he remembered.
As for his future, Elliott says he is motivated by the unknown. "I'm excited about the future challenges, and what's next for me." As he moves along with life and career, he now thinks more about "how it aligns with helping others." He thinks his interests and future will become more aligned with entrepreneurship and small businesses, and he wants to refine and gain the skills to be in the position to help others.
He is able to understand his interests and hone the necessary skills because W&L helped build a foundation that "created a very high level of self-awareness," he said. "W&L was a grounding mechanism that has helped me in my search for what is important in life."
One Fish, Two Fish

Sasha Doss '13 is in the final stage of completing a master's degree in fish and wildlife conservation at Virginia Tech.
"Fish have amazing traits. I want to share that with people, help them feel connected to fish and help them understand how important fish are to the world we live in."
While she readily admits that she's terrible at fishing — "I've only caught a handful of fish in my life," Sasha Doss '13 has made the underwater creatures the focus of her graduate work.
"Fish are really cool," she said. People often connect better with furry fauna — "bears or large cats," for instance. "I want people to feel that way about fish."
Doss is in the final stage of completing a master's degree in fish and wildlife conservation at Virginia Tech. She took time between her W&L graduation and starting the master's program to undertake an internship with the Environmental Defense Fund in San Francisco.
Doss interned for six months in the Oceans Department. "One of the major problems the department worked on was how to better manage fisheries with deficient data. Many countries and agencies just don't have the resources for extensive data collection, but still need to make decisions. Ironically, a lot of those places are typically home to the most unique resources." One project Doss worked on involved creating a computer-based model that could be used to stimulate coral reef systems using minimal data input."
Since then, most of her field research at Virginia Tech has been in collaboration with Joe Williams, a biologist with the Virginia Department of Game and Inland Fisheries. They search for and study muskellunges or "muskies" in the New River to study their diet and population patterns.
Doss said that muskies were introduced into the New River in the 1960s for sport fishermen, but over time, many started to think that muskies were preying on smallmouth bass, the New River's most popular sport fish. Through their research, Doss and Williams have concluded that muskies eat a wide variety of other fish, and that smallmouth bass make up less than 1 percent of the muskie diet.
Their research has shown that "muskies do not have a substantial predatory impact on the smallmouth bass population," she said.
Last winter, Doss received the Robert D. Ross Graduate Scholarship, given to a graduate student in Virginia who has demonstrated academic excellence and promise for future contributions to fisheries and aquatic resource conservation.
Doss will complete work on her master's degree this semester and then move to Washington, D.C., to begin a Sea Grant John A. Knauss Marine Policy Fellowship. Fellows are paired with a host in either the executive or legislative branch of government to work directly on marine resource policy development and application.
Doss will be placed with an executive branch agency, but won't know her exact placement until December. Previous executive fellows have been placed in agencies such as the National Oceanic and Atmospheric Administration, the National Marine Fisheries Service and the U.S. Department of Defense.
The fellowship begins in February and will last one year. After that, she hasn't decided on her next move. "I hope the fellowship will help me decide what side of science I want to be on," she said. "Research or management."
A native of Martinsville, Virginia, Doss visited W&L and "fell in love with the campus and the traditions," she said. "All the people I met were wonderful." She arrived as a Johnson Scholar and knew she wanted to pursue science.
Robert Humston, associate professor of biology, introduced her to the fisheries field. "He has been involved in every aspect of my early professional career," she said. He took her to a conference of the American Fisheries Society, where she presented her research. "It was a big turning point" — the first time she felt comfortable amid a group of professional scientists. "I regularly talk to him for professional advice," she said.
"W&L in general fosters a creative atmosphere," said Doss. In less traditional courses for a science major, such as environmental and natural resource economics with associate professor Jim Casey, she learned new perspectives on environmental management.
Outside of class, she was a cheerleader for four years, a member of Alpha Delta Pi sorority, Beta Beta Beta biology honor society, the Lexington Literacy Campaign and Women in Technology and Science.
Doss may not be an expert at fishing, but she does like to get into the water and become one with her subject's environment. She says diving or snorkeling on coral reefs is one of her favorite things to do. Out of the water, she and her German Shepherd, Bernard, love to hike and spend time outdoors.
Doss intends to continue her work with fish. "They have amazing traits. I want to share that with people, help them feel connected to fish, and help them understand how important fish are to the world we live in."
—Linda Evans
Crisis Responder

David Sugerman '99
"In the emergency room, unlike public health, doctors can immediately alleviate suffering on an individual basis."
When recent floods hit Louisiana, many people lost homes and businesses. Among them was a homeless man, who lost his only shelter — a cardboard box under a highway overpass.
Responding to the disaster in his capacity as a physician and commander in the U.S. Public Health Service, David Sugerman '99 got to know the man and, while treating his medical needs, heard his story of military service, drug abuse and a life that spiraled out of control.
"It was a wonderful opportunity to provide him medical care and to help him get needed services, an apartment and job training," Sugerman said.
That intersection of medicine and social services attracted Sugerman to a nontraditional form of medicine — one that has taken him throughout the world responding to medical crises.
After graduating from Washington and Lee in 1999, Sugerman earned a medical degree from Thomas Jefferson University and completed his residency in emergency medicine at Johns Hopkins University Hospital.
Today, he is a medical officer at the Centers for Disease Control and Prevention, assigned there through the U.S. Public Health Service (USPHS), with the rank of commander. The uniformed service, modeled after the military, is overseen by the surgeon general and is the largest division of the Department of Health and Human Services. Commissioned officers serve in more than 20 duty stations throughout the federal government.
Sugerman entered USPHS as an officer with the Epidemic Intelligence Service (EIS) in San Diego. For two years, he helped respond to such crises as a measles outbreak among intentionally under-vaccinated children, the first case of pandemic H1N1 flu and meningitis across the U.S. – Mexico border. For two months, he was stationed with the U.S. Army in the Democratic Republic of Congo responding to an outbreak of monkeypox.
He then joined the Global Immunization Division, where he worked on polio eradication in Nigeria, improving oral polio vaccine coverages. He responded to the earthquake in Haiti, the Ebola outbreak in Sierra Leone, the Deep Water Horizon oil spill and Hurricane Sandy. In Sierra Leone, the opportunity to train local staff, set up screenings and isolate patients in the hospital or their homes, was rewarding and worth the effort, when, after three years, the country was officially declared Ebola free in March 2015.
Sugerman has been based in Atlanta since 2009. At the CDC's National Center for Injury Prevention and Control, he helped establish guidelines for training, triage and transport for trauma patients, and worked on new guidelines for prescribing narcotic pain medications in order to prevent drug overdose.
Now with the Center for Global Health, he oversees training of epidemiologists in developing countries. Originally begun in 1975, the program has trained more than 8,000 epidemiologists in investigation, surveillance and intervention for disease control.
"We station senior epidemiologists to live in the countries and provide direct technical assistance to the government," he said, noting that the program handles about 62 programs in 46 countries.
Once a week, Sugerman works at the Emory University Hospital Emergency Department, where he teaches medical students and residents emergency medicine.
"Being a teacher and mentor is very gratifying," he said. "In the emergency room, unlike public health, doctors can immediately alleviate suffering on an individual basis."
Sugerman's father was a trauma surgeon at the Medical College of Virginia, in Richmond, and from an early age Sugerman was interested in science. He began thinking about a career in medicine in high school, but knew he wanted to follow a less traditional path.
Working with an organization called Metro Town Institute, in Richmond, to help improve diversity in the public schools, Sugerman met a W&L graduate who told him about the university's small size, honor system and pastoral setting that would allow him to indulge his interests in hiking, biking and camping.
He enrolled as a biology major and participated in the Shepherd Poverty Program, where Professor Harlan Beckley's class "made me think of a career to connect medicine and social science. I became more knowledgeable of the risk factors for poverty."
At W&L, he also continued his service with Habitat for Humanity, which he had begun in high school. He became president of the W&L chapter his junior year and values the mentorship of advisor Professor Brian Richardson.
Sugerman also values the support he received from then-President John Elrod and his wife, Mimi, who often invited him to their home for dinner. Mrs. Elrod served on the board of Project Horizon, a nonprofit organization for which Sugerman volunteered.
He also served as president of PRIDE, a program to increase diversity in education and recruitment and encourage a welcoming atmosphere for all ethnicities.
Sugerman and his wife, Ciara, who holds a Ph.D. in microbiology, are parents to three children under the age of 3: an adopted son, 26 months; a daughter, 18 months; and a son, 5 months. His wife also works for CDC, helping oversee global diarrheal disease response, including cholera and typhoid.
Reflecting on his career, Sugerman said he gets tremendous satisfaction in training others to increase the knowledge of disease control and prevention. He enjoys working closely with his counterparts around the globe and said the trainees are very thankful for programs that make them part of the solution.
Bebe Goodrich '07

Founder, Icebox Coffee
"If I had a normal job, others would not have a job."
Bebe Goodrich '07 doesn't own a drip coffee maker, but she has built a fast-growing business cold brewing coffee in the tradition of her native New Orleans.
"I only own a French press and a Toddy," she said, referring to two lesser-used methods for brewing hot and cold coffee at home.
Goodrich started her company, Icebox Coffee, like many entrepreneurs — in her garage in Birmingham, Alabama. She brews a specially sourced coffee that is ideal for her cold brew method. "Cold brew coffee is what we call low and slow," she said. It takes 20 hours to brew at ambient temperature, using a reliable water source and a good processing system.
Her method is based on her early years in New Orleans, where her father roasted coffee for fun, and she became accustomed to the rich, flavorful taste of his and her grandmother's cold coffee, which they kept in their iceboxes.
"I didn't realize I had become a coffee snob," she laughed, until she left New Orleans and couldn't find the same coffee experience in other cities.
Entering Washington and Lee as a physics major, Goodrich got to know her advisor, William F. Connelly Jr., the John K. Boardman Professor of Politics, who encouraged her to learn more than math. "He made me read, and I didn't like to read or write," she said. Connolly convinced her that if she couldn't communicate well, she would not succeed. Following his advice, "made my life more dynamic and helps me move my message forward," Goodrich said.
She changed her major to political science and after graduation, went to work in Washington, D.C., for Rep. Rodney Alexander from 2007-10.
Another change in her life came when she married fellow alum Thomas Goodrich '07, and moved to his hometown of Birmingham. For the first year, she worked for a nonprofit organization, but began to realize her skills were more suited to a manufacturing environment.
The W&L network helped her when she met Hatton Smith '73, owner of Royal Cup Coffee and the resident mentor for W&L grads in Birmingham. Smith gave her a part-time job working in product development for RCC while she started Icebox Coffee in 2012.
After the birth of her second child, Goodrich decided to leave RCC and concentrate on building Icebox Coffee. With a goal of going national, she started small, selling online to family and friends and going to farmers' markets. Soon she had a solid customer base and expanded into independent grocery stores and restaurants.
Now featured in Whole Foods stores in the Southeast and Florida and Central Market in Texas, the company is experiencing 200- to 300-percent growth per year, she said. Another break came when Cheesecake Factory restaurants began offering her coffee in 2016.
She now employs 10 people: four full time, two part time, and several high school and college interns, who work in manufacturing and business operations.
Goodrich says that her W&L experience was critical to her success. She became "literate," and the W&L network has helped her with jobs and resources to start her business. She attributes everything that fell into place during her first year in business to "one degree of separation" from W&L.
She also models her business values after the integrity and honorable lifestyle taught at W&L. "That is how we run our business. We feel proud that we can grow in a way that we feel good about, with integrity and transparency." She says the core values of her business reinforce the right decisions.
In addition to learning communications skills at W&L, Goodrich also learned to always be prepared. In her Lincoln's Statesmanship class, Lucas Morel, the Class of 1960 Professor of Ethics, called on each student during every class. "I learned to be prepared, to be part of the discussion. That has served me extremely well," she said.
Goodrich sometimes thinks about going to work at a normal job, but whenever those thoughts nibble at her during a bad day, "Thomas reminds me that if I had a normal job, others would not have a job." She is proud to be an employer who can create jobs and train the next generation of entrepreneurs.
Goodrich expects her company to continue to grow. "Our category — cold brew coffee — is on fire," Goodrich said. In Whole Foods alone, there are six competitors on the shelves, and some coffee shops are now cold brewing their own versions. Future plans for Icebox Coffee include a soda product and a tea product, in addition to the New Orleans, Madagascar Vanilla and decaf concentrates and ready-to-drink cold brew coffees she currently sells.
Icebox Coffee, she says, is all about "creating experiences for people for what is an ordinary event." To capture those experiences — like the ones she remembers from growing up in New Orleans — "is the backbone of our business."
— Linda Evans