Law and Undergraduate Alumni Reunions Join us for the biggest events of the year!
Law Alumni Weekend 2018 is April 13-15
Celebrating reunions for the law classes of '68, '73, '78, '83, '88, '93, '98, '03, '08 and '13 as well as our Legal Legacies (any alum who graduated more than 50 years ago).
Register now and view the schedule of events.
Undergraduate Alumni Weekend is April 26 – 29 
An all-out extravaganza, Alumni Weekend is the University's signature event held each spring. Alumni who graduated from W&L 11 to 50 years ago are invited to attend. Those celebrating their 50th, 45th, 40th, 35th, 30th, 25th, 20th, and 15th reunions have additional class-only events. Weekend activities include live music, university speakers, alumni panel discussions, campus tours, and the annual Alumni Association Meeting held in Lee Chapel.
The Shape of the Maury Robert Humston's Aquatic Ecology class collected ecological data about the Maury River in preparation for the removal of Jordan's Point Dam.
"The class is focused on aquatic ecology, but the overarching context for the class this year is the impact of dams on rivers and the potential for restoring those waterways through their removal."

~ Robert Humston, associate professor of biology and director of the Environmental Studies Program
On a beautiful fall day last term, Robert Humston, associate professor of biology and director of the Environmental Studies Program, and his Aquatic Ecology class floated down the Maury River, two to a boat, tracking the location of smallmouth bass they had tagged and released several weeks earlier.
Their mission? To collect ecological data about the Maury River, both above and below the Jordan's Point dam, for the Virginia Department of Game and Inland Fisheries (VDGIF).
This was not the first time Humston's classes and summer research projects have focused on regional environmental issues. He and his students have monitored smallmouth bass in the James River and investigated pollution levels in Hays Creek, both part of the Chesapeake Bay watershed, and shared that data with the VDGIF.
The current project zeroes in on an environmental issue closer to home. In winter 2018, Lexington City Council approved an agreement between VDGIF and the city to remove Jordan's Point dam, following a 2007 inspection report that revealed significant structural issues. The dam is a well-known landmark that once supplied power to a milling business, and the pool created by the impoundment is a popular recreational site for both boating and fishing. Removing the structure will alter riverine habitat. The question is, by how much?
The answer, in part, required a closer look at habitats of the Maury River. The state DGIF requested Humston's help to examine a six-mile stretch of the river, starting at Beans Bottom and ending at the Interstate 81 overpass, which marks the two-mile point on the Chessie Trail. "The class is focused on aquatic ecology, but the overarching context for the class this year is the impact of dams on rivers and the potential for restoring those waterways through their removal," Humston explained.
"This project has really resonated with the students," Humston added. "Partly because they use Jordan's Point recreational area themselves and partly because they see the data being used in a meaningful way by the state agency. The students get a lot of hands-on time learning useful research techniques, and we provide additional research and monitoring capacity for the state biologists. We also get to spend a lot of time on the water, and it is a beautiful river — one of the more scenic rivers I've ever paddled."
The first step was to radio tag 20 smallmouth bass. Some were released upstream and some below the dam. "The tags should last about a year, so that after the dam's removal, we can see how their movement patterns change," said Humston. "Hopefully, we'll see more fish moving upstream, past the dam footprint to access the habitat that's up there. The habitat upstream of the dam right now is slow and a bit murky. That's roughly a mile of flat water, and it's not a great spawning habitat for smallmouth bass, which are the real flagship freshwater species and sport fish. There's a lot of hope and expectation that by removing the dam we'll create better spawning habitat for the smallmouth bass."
Students also logged water temperatures along the river's bottom and documented the macroinvertebrates, as well as the flora and fauna communities. The plan is to tag more fish in the spring and monitor their movements during spawning season.
"This class served two purposes, "Humston said. "We did research and provided service to the community by helping the state document the possible impact of removing the dam. There are structures like this all over the state of Virginia, and more and more of them are going to be called up for potential removal. Many were originally built for flood control and hydropower, but they have outlived their usefulness and have become an economic liability."
The data collected will also help address some of the concerns of the local residents. "We're analyzing the vegetation along the banks of the reservoir section," said Humston. "As those water levels drop after the dam removal and the banks are exposed, there is concern that vegetation will be slow to recolonize those banks or that we could end up with a whole bunch of invasive species in there. By taking note of what's there now, we can revisit these sites later to document any sort of change.
"All of that data can help the state and localities inform future land-use decisions. In the long run, we can help the state in outreach efforts when individual municipalities raise the question of whether removing their dam is the right thing to do."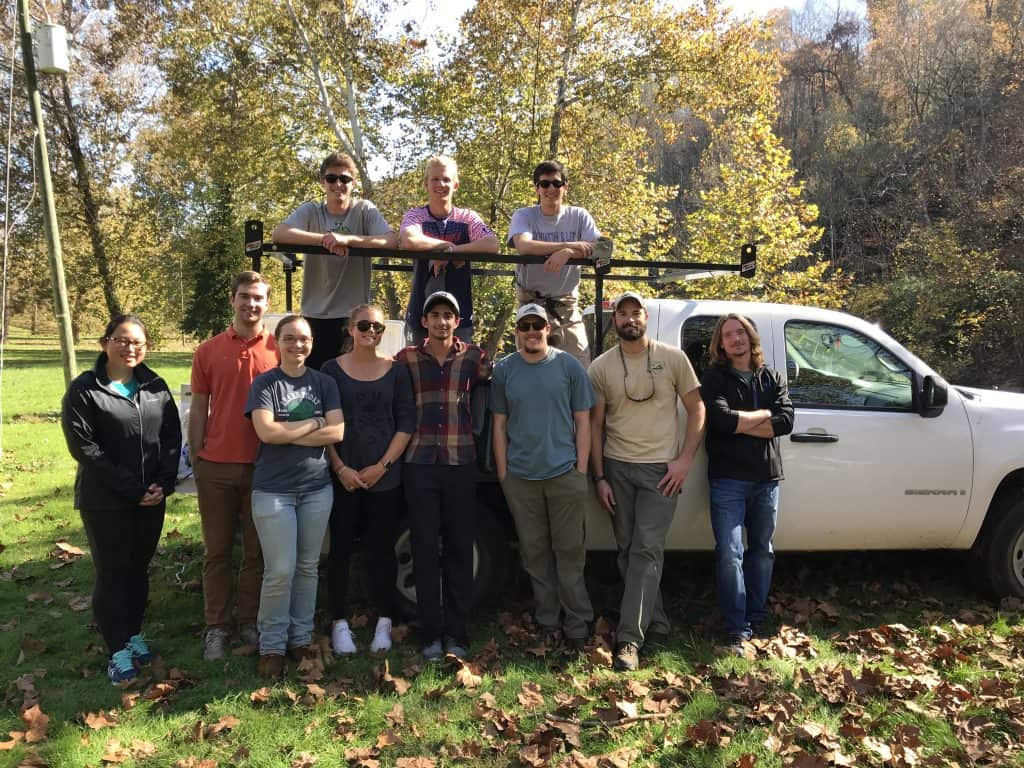 Defying Gravity Professor Jenefer Davies talks about her new book on aerial dance and the physical and artistic challenges of working against gravity.
What's the history of aerial dance, and when did you become interested in this art form?
Within the larger continuum of dance, aerial is relatively new. It began to make an appearance in the 1970s when dancers started experimenting with the trapeze and other sorts of apparatus that were, at the time, part of circus arts and began incorporating them into dance performances.
Prior to teaching at W&L, I was the artistic director of a professional dance company and school. We started experimenting with rope and harness and collaborated with some climbers who had technical expertise in rigging. I was interested in discovering what we could do with rope and harness artistically. The outgrowths of that experimentation were a few really interesting and exciting performances.
When I came to W&L in 2006, incorporating aerial dance into our academic curriculum was one of my goals. It was quite a long process of permissions, determining which building on campus would suit our needs, the logistics of rigging to the building and, most of all, ensuring the safety of the dancers. This was a huge undertaking by my department, the dean's office, the director of health and safety, the director of facilities management and the director of outdoor education, as well as W&L's architects, engineers and many others. Thanks to all of these people, I taught the first aerial dance class and presented the first aerial production on the outside wall of Wilson Hall during the 2008 spring term. To my knowledge, W&L was one of the first universities in the country to incorporate aerial dance into an academic curriculum.
Why modern dance?
What draws me to modern dance is its philosophy and how that philosophy informs movement. This art form was created by radical, independent women at the turn of the 20th century, and it was created specifically for women's bodies. There is a feminism present that acknowledges weight and gravity, acknowledges power and isn't afraid to show exertion in performance. Dancing modern means we can take you on journeys and tell stories through a unique lens.
Teaching modern dance technique is one of my favorite classes because I cover both the movement principles and kinesiology of the art form, but I also incorporate some of its philosophy and history. There's so much more to dance than just moving through space. It's about acknowledging and understanding why you're moving through space, where it fits in the historical canon and how it happens kinesthetically. It involves a deep understanding that is more than just shape-making.
Tell us about your new book, "Aerial Dance: A Guide to Dance with Rope and Harness."
As an academic, I've done a lot of experimenting to determine the limitations and freedoms that are inherent in aerial rope and harness. Refining those outcomes have enabled me to create a program of optimal conditioning for the students so that their bodies were physically prepared before we started working on the wall. Once they are rigged, we use a sequence of lessons to help them grow stronger, flexible, nimble and prepared for performance. Aerial necessitates a very different kind of technique than is required for traditional dance forms. This book describes the technique for aerial dance that I have created (and contains links to companion videos).
The book is the culmination of the past 16-plus years of experimentation and research. In some ways, it is really a love letter to W&L. The majority of the research happened during my tenure here. Much of it was supported through W&L grants and through the aid of W&L faculty and staff. All the photos were taken by W&L photographer Kevin Remington, and the photos in the book are all of W&L students who have been in my classes over the past 10 years. I love so much that my students are part of the book.
What does it take to train for aerial dance?
For much of the time spent on the wall, the dancer is parallel to the ground. Gravity and centrifugal forces work against the body and affect the body in unusual ways. When you are spinning through space or trying to execute a flip, force and direction are upended. Traditional concepts in alignment shift. The cycle of orientation and reorientation becomes an internal conversation.
Aerial dance can be difficult for trained dancers because they have set preconceptions about how their body moves through space. Traditional concepts of alignment, the force necessary to push away from the 'floor,' distance gained in jumps and leaps, and timing and landing suddenly become uncertain and fluid. Alignment is an internal process of sensing, as opposed to an external use of mirrors. The way that muscles engage, give in to and resist gravity has shifted 90 degrees. You think you know where your body is in space, but your body is not where you think it is. Aerial dance takes everything you thought you knew about your body and shifts it. In addition to the muscles that are working in a new way, part of the training for aerial dance is developing internal kinesthetic knowledge.
What do you want your students to learn about dance?
One of the things that is wonderful about being an artist and an educator is that my scholarly work and teaching interact and converse with one another. In creating and presenting original pieces of choreography, I contribute to the scholarly canon of dance. When I have the opportunity to also set these works on my students, my scholarly work is translated into teaching. These two aspects intertwine in a really beautiful and harmonious way. Further, many times in the rehearsal process, I receive valuable feedback from the students, which then circles back and informs my scholarly work. It is a wonderful collaborative experience.
I hope that all my students, across all the classes I teach, walk away with a sense of bravery. For many of them, dance is new territory. I work to create an environment where students feel safe to take risks. Then I encourage them to try new things, learn from failure and risk again. In many ways, the failing is the succeeding. It's the learning. There's a quote I share with my students that says, "The greatest risk is not taking one." That's why we're here — to try new things. Sometimes that involves flying high into the air from the roof of a building.
If you know a W&L faculty member who would be a great profile subject, tell us about it! Nominate them for a web profile.
Jenefer Davies
Associate Professor of Dance, Director of the Dance Program, Artistic Director of the W&L Repertory Dance Company
Classes:
Contemporary Modern Dance Technique
Contemporary Modern Dance Composition
History of Contemporary Modern Dance
Aerial Rope and Harness
Aerial Silks and Bungee
Movement for Actors
W&L Repertory Dance Company
Dance Europe
Artistic Identity in Contemporary European Dance
Celebrating a Milestone When he arrived on campus in 1954, it would have been hard for Farris Hotchkiss '58 to imagine celebrating his upcoming 6oth reunion.
"Since I enrolled at W&L in 1954, I have had a real love affair with the school, and I wanted to do what I could for it within my means."
Hotchkiss has enjoyed a storied and mutually supportive history with the university. As an undergraduate, he started the Student Service Society under the guidance of legendary dean Frank Gilliam, who wanted students to help make the campus more hospitable to visitors and help with campus events. Hotchkiss describes his relationship with Gilliam as "magical." "For some reason he and I were meant to work together," he reflects.
After graduating, Hotchkiss went to Atlanta to work in the printing and publishing field for almost a decade, but he continued to do volunteer work in admissions for the university. In 1965, Dean Gilliam invited him back to fill in for Lew John '58, on a two-year leave of absence, as assistant dean of students, assistant director of admissions and director of financial aid. "There was no guarantee after those two years, but I took the gamble," he recalls.
When John returned to his position, W&L's new president Robert E.R. Huntley '50, '57L invited Hotchkiss to join the newly formed development office. "It was the greatest career move I could have made," admits Hotchkiss, who served in the development and university relations fields from 1966 – 2001. "It was my privilege and a lot of pleasure."
Hotchkiss rose through the ranks to become director of development, then vice president of university relations, as well as secretary of the university and senior assistant to the president. He has also served in numerous volunteer roles as a member of the alumni community and in the Lexington community at large. He is a trustee and former senior warden for Grace Episcopal Church and one of the founding members of the Kendal at Lexington Board of Directors, in addition to serving for many years as a member of the board of the local hospital.
"Since I enrolled at W&L in 1954, I have had a real love affair with the school, and I wanted to do what I could for it within my means," continues Hotchkiss, who has chaired the 1749 Circle, which recognizes loyal donors who give to W&L year after year. Last year Hotchkiss took advantage of the IRA Charitable Rollover for his annual giving. "At my age you are required to take a minimum distribution from your IRA, so it was a handy and convenient way to make my gift."
The IRA Charitable Rollover provision enables donors who are 70 and ½ or older to distribute annually up to $100,000 from a Traditional or Roth IRA to Washington and Lee University or other 501C3 organization. Implemented by the IRA administrator at the request of the donor, the distribution bypasses the donor's taxable income and qualifies for the required minimum distribution. Since the IRA Charitable Rollover does not produce a charitable deduction, it delivers tax savings regardless of whether or not the donor itemizes charitable deductions.
Hotchkiss and his wife, Judy, also made a bequest provision for the university in their wills at his 50th reunion a decade ago. "Judy and I made our bequest commitment when I was celebrating my 50th reunion. That reunion of course was a high water mark," he observes. "An estate provision allowed me to give more than I could have by simply writing a check at that time." When the couple made their bequest, Hotchkiss had been working with people at Washington and Lee whom he admired. He had great confidence in how the university was being guided and nurtured and wanted to do his part to help it continue to grow and thrive.
For more information on bequests and beneficiary designations, or IRA Charitable Rollovers, please contact Margie Lippard in the Office of Gift Planning at mlippard@edu or visit the Gift Planning page on W&L's website.
Boss of Her World Harleigh Bean '18 studied in Paris, spent a summer at one of Middlebury's competitive language schools and attended the Public Policy and International Affairs Junior Summer Institute at Princeton University.
"For seven weeks I spoke only French, I wrote in French, I watched TV in French; my whole life was in French. As this experience took place the summer before my abroad experience, I was more than prepared to travel to Paris, confident in my ability to communicate in another language."
Hometown: Upper Marlboro, Maryland
Majors: Romance Languages and Politics
Though I could surely go on and on about the amazing social, academic and athletic experiences I've been fortunate to have here at Washington and Lee, I'd rather spend this time sharing the story of my summer experiences and study abroad semester and how W&L played an active and supportive role in each of these opportunities.
During the summer between my sophomore and junior year, I attended the Betty Ashbury Jones MA '86 School of French at Middlebury College. As a romance languages major (with a Spanish emphasis), I picked up French upon arriving in Lexington. It's safe to say that I struggled with it. However, I was determined to establish a solid foundation with the language, not only to satisfy the requirements of the major but to form a solid foundation from which I could learn additional languages in the future.
I was first introduced to the program through a classmate who had attended the French language school the previous summer. He was practically fluent. After talking with him about his experience, I knew I had to pursue this opportunity. With the help of my French professor, I pulled together a competitive application and sent it in. To be honest, I did not expect to receive admission — Middlebury language schools maintain a rather cutthroat reputation, for good reason! For seven weeks I spoke only French, I wrote in French, I watched TV in French; my whole life was in French. As this experience took place the summer before my abroad experience, I was more than prepared to travel to Paris, confident in my ability to communicate in another language.
This brings me to my second experience—my Fall Term abroad in Paris. This experience was completely facilitated through W&L. With the help of the Study Abroad office, I identified the country I wanted to be in, the subjects I wanted to study and the living arrangements I wanted to pursue. With their help, I chose to study abroad from August to December in Paris through the IES: Business and International Affairs Program. Thanks to the Financial Aid Department, my full scholarship at W&L transferred to pay the cost of the program and gave me a stipend to use as disposable income while I was abroad. With the help of the Romance Languages and Politics departments, I was able to receive full credit from my semester abroad without having to push back my graduation date. I can say with full honesty that my semester in Paris was the best semester of my life, and I couldn't have done it without W&L.
The last experience I'd like to share took place in Princeton, New Jersey, this past summer. In February 2016, I was chosen as one of about 30 students out of a pool of 600 applicants to attend the Public Policy and International Affairs Junior Summer Institute at Princeton University. This program strives to expose underrepresented minorities to public policy and international affairs through coursework and extracurricular programming in order to prepare us to become influential leaders of the future. It goes without saying that this was a once-in-a-lifetime opportunity.
During this seven-week program (I seem to have an affinity for those), I took graduate-level courses in economics, statistics and international policy. Retired ambassador James Gadsden taught my international policy course. In addition to the coursework, we also attended various bag lunches with established professionals in the fields of public policy, international policy, health care, education and more. We also took a trip to D.C. to meet with international officials at the Johns Hopkins School of Advanced International Studies, attended a specially organized graduate school fair, and networked with PPIA alumnus in the area. This program also ensures that I will receive some funding for graduate school once I embark on that journey. The cohort of students is amazing — we're still constantly connecting via social media, and the alumni network has proven to be an amazing resource.
I would not have gone through with this experience without the insight of a W&L student the year above me who also was a PPIA Princeton alum, the courses I've taken at W&L that made me academically competitive, and the extracurricular opportunities that demonstrated my commitment to public policy and service.
If you know a W&L student who would be a great profile subject, tell us about it! Nominate them for a web profile.
More About Harleigh
Extracurricular involvement
University Ambassadors, the Peer Counseling program, Kathekon, Pluma and an internship at the George Marshall Foundation housed on VMI's campus. Though each of these opportunities seem extremely different, they all afford me the opportunity to interact with people, give back to the community, and develop personally and professionally. The internship at VMI is pretty interesting because for most of my W&L career, VMI has been this elusive institution; now I'm on its campus quite frequently.
Why did you choose your major?
Growing up in the greater Washington, D.C., area exposed me to the realm of politics. As I got older, I became more and more interested in international politics, so the choice to major in global politics was natural. My romance languages major was also an obvious decision, as I've been taking Spanish since kindergarten. Though I wanted to branch out into other languages, specifically French, in high school, I was unable to do so. The romance languages department offered me the opportunity to pursue a second language (or third, really) while maintaining my first foreign language.
What's your personal motto?
Recently, I've been referring back to the quote "I'm not bossy. I'm the boss." I'm unsure of its origin; however, it came into my life when I heard Beyoncé recite it during a campaign for the Girl Scouts of America. Many times in my life I've been told that I'm blunt, too honest or aggressive. When I was younger, I used to feel bad for being this way. Now, I love it. I may be blunt or brutally honest, but these are personality traits I admire as I move to establish my professional career.
Best place to eat in Lexington? What do you order?
Napa Thai. My friends make fun of me because I eat there so often. My usual order is chicken pad Thai with a side of fried rice. If I'm feeling exceptionally gluttonous, I'll also order spring rolls.
Post-graduation plans
Though my post-graduation plans aren't completely solidified yet, I do have a plan. I hope to work in Congress this summer in order to get a better understanding of a key branch of the U.S. government. I then aspire to work in the D.C. area for about a year in the realm of international politics, specifically transnational terrorism or nuclear proliferation, before moving overseas to gain more experience in international security.
Favorite W&L Memory?
The first memory that came to my mind upon reading this question is from a random lacrosse practice last season. Truthfully, I don't remember what day of the week it was or what we were supposed to be doing, but I definitely remember the feeling of my stomach hurting from so much laughter. Last season, there were four goalies on the women's lacrosse team dubbed "Goalie World" by Coach Brooke O'Brien and the other members of the team. It was a pretty appropriate nickname because we were always in our own world. As we all would stand behind the goal during practice, we had a lot of time to goof off. On this particular day, we were supposed to be executing some drills, but we got distracted. Well, the rest of the team was ready and Goalie World got distracted. All I remember is the look on Coach O'Brien's face when she turned around fully expecting the goalies to be present and ready to begin and instead saw all four of us on the ground (or slowly moving to the ground), dying from laughter. It shocks me to this day that we didn't get in more trouble for that. Although I am no longer a member of the team, my time on the women's lacrosse team provided some of the best memories I have at W&L.
Favorite class
This question is very hard. I will call it a three-way tie between La Guerra Civil Española, Terrorism,  and Web Programming for Nonprogrammers. The first class is in my top three because I had been waiting four years for the opportunity to take a class with Professor Ellen Mayock. She is one of the most highly regarded professors in the Romance Languages Department, one of the most intelligent women I know and my advisor. The class was honestly amazing. Professor Seth Cantey teaches the second class. Though the winter semester is still underway, I can already tell that this is going to be an amazing class due to the meticulous way Professor Cantey put together this course. I am also currently enrolled in my third favorite class. Though I'm a millennial, computers and I do not have a close relationship. As I needed to fulfill my science foundation requirement, I decided that this course would be a good idea. Truthfully, I'm horrible at web programming. But that's one of the reasons I really enjoy this class. I think it's healthy to be constantly challenged in a subject I'm not strong in. It's very humbling to constantly be wrong.
Diversity of Experiences Sima Sharma '18 used her time at W&L to explore her passion for the world and its various cultures through volunteering and study abroad.
"My study abroad experiences in China and Scotland have enriched my understanding of the world and aided my personal and academic growth, nurturing my passion for learning and making me more open to and receptive to change."
Sima Sharma '18
Majors: Computer Science, East Asian Languages and Literatures (Chinese)
Hometown: Singapore
As I reflect back on my Washington and Lee experience, I realize that I have grown in ways I could never have imagined when I first arrived here. My time at W&L has enabled me to explore my passion for the world and its various cultures. By becoming actively involved in the Multicultural Student Association and the Student Association for International Learning, I was able to plan and organize multicultural events that promoted the understanding of diverse cultures in the W&L and the Rockbridge-area communities. My study abroad experiences in China and Scotland have enriched my understanding of the world and aided my personal and academic growth, nurturing my passion for learning and making me more open to and receptive to change.
I have become a more engaged volunteer during my time at W&L. I tutored students in Rockbridge County Schools who learn English as a Second Language by helping them with their English and reading skills. I have also been fortunate to volunteer several times with W&L's Nabors Service League in under-resourced cities such as Charleston, West Virginia, and Birmingham, Alabama. Before coming to W&L, I was more involved with the fundraising aspect of volunteer work. W&L has given me opportunities to become much more involved in directly volunteering, an experience which I find incredibly fulfilling.
Lastly, another key part of my W&L experience was understanding and articulating my own cultural and national identity. Although I was born in the U.S., I largely grew up in Nepal and Singapore. Having never spent significant time in the U.S., aside from the occasional family visit, my understanding of American society and culture was mostly informed by my family, my peers and my education rather than through firsthand experience. My time here has helped me better understand American society and the diversity of experiences in this country. Learning about different perspectives, whether from my classes, extracurricular involvement or conversations with peers, has helped me understand how my experiences have shaped and continue to shape me into the person that I am today.
The last four years has significantly expanded my worldview and made me become a more well-rounded and engaged individual. What I have learned has transformed my understanding of the world and of myself, and this will surely continue to benefit me as I move forward.
If you know a W&L student who would be a great profile subject, tell us about it! Nominate them for a web profile.
A little more about Sima
Extracurricular involvement
Multicultural Student Association
Student Association for International Learning
Rockbridge County Schools Tutor
Student Environmental Action League
What's your personal motto?
"The only constant thing is change."
What do you wish you'd known before you came to campus?
I wish I had known how cold Lexington could be. Living in a tropical country (Singapore) had ill-prepared me for any weather below 70 degrees.
Post-graduation plans
I plan on gaining work experience in the tech industry after graduation. After a few years, I plan on attending graduate school.
Favorite W&L event
Mock Convention. I found the talks and the events very informative and interesting.
Favorite W&L memory
Nabors Service League alternative break trips. I enjoyed volunteering and helping out under-resourced areas during our breaks, while also meeting W&L alumni who were passionate about volunteering.
Favorite class
Death and Dying taught by Professor Marks. Although the subject matter could be heavy at times, discussing cultural and religious viewpoints on death helped develop my perspective on an important, but rarely discussed, topic.
Weaving a Web of Research Andrew Mah '18 has spent his undergraduate career studying the circadian rhythms of spiders.
"In a unique experience for most undergraduates, I got to work extremely closely with multiple advisors at multiple universities to truly see how the scientific sausage is made firsthand."
Hometown: Radford, Virginia
Majors: Neuroscience and Math
Extracurricular involvement:
Co-president of General's Unity
Tutor at the Math Center
Tutor with the Peer Tutor Program
There's a reason I've become the designated spider-catcher in all my friend groups: I've spent basically all four of my years at W&L, up close and personal, studying our eight-legged friends. My current project combines my experience in a spider lab with my research passion in computational neuroscience (think math meets neuroscience) to study some strange patterns in circadian rhythms that arise in some spider families. Not only does this project allow me to explore my research passions, it also helped forge a new collaboration with spider circadian experts at East Tennessee State University (ETSU), where I spent the summer collecting literally hundreds of spiders for our work and meeting some unique characters along the way.
The reason I'm so passionate about spider circadian rhythms does not lie in some deep-seated childhood love of biological rhythms. Rather, I was inspired by the passion that my W&L and ETSU mentors brought to the table, day after day, even in the face of setbacks and less-than-ideal results. In a unique experience for most undergraduates, I got to work extremely closely with multiple advisors at multiple universities to truly see how the scientific sausage is made firsthand. I was not handed this project on a silver platter with a well-defined goal and plan of attack. Instead, I found myself on the front lines with my professors with a vague end goal, figuring it out one step at a time. And even though we've still got a mountain of work ahead of us, I couldn't be more proud of the work that we have done.
The experiences afforded to me by W&L's unique dedication to research in a tightly knit community has helped me grow immeasurably as a scientist and a person. Spending the summer in Johnson City, Tennessee, allowed me to meet so many wonderful people, both in and out of the lab. Presenting my work at the annual Society for Neuroscience conference allowed me to engage in conversations with world-renowned neuroscientists about my research and the greater field of neuroscience (as well as generate quite a bit of media interest). Without the near endless support from W&L and ETSU, I could never have been exposed to such formative experiences. I got to see the wet and wild world of science, warts and all, and I can't wait to continue my education as a scientist in graduate school and beyond.
If you know a W&L student who would be a great profile subject, tell us about it! Nominate them for a web profile.
A little more about Andrew
Why did you choose your major?
Everything that we are, everything that we experience, every memory we have, is mediated by the exchange of ions and neurotransmitters in a collection of billons upon billons of neurons organized into complex circuits. I'm fascinated by how this process works, from the molecular to the behavioral level, and neuroscience and mathematics provides me with the tools to investigate these kinds of questions on a theoretical and experimental level.
Has anyone on campus inspired you?
Hands down, my research advisors, Dr. Nadia Ayoub and Dr. Natalia Toporikova. I've worked with them in one capacity or another since my first year here, and they've seen me grow and mature as a scientist and a person. The guidance they've provided me along the way, in addition to their passion for science, played a major role in my decision to pursue a career in research.
What's your personal motto?
"Keep moving forward," which I did not realize was from the seminal film "Meet the Robinsons" until I recently re-watched it.
Best place to eat in Lexington? What do you order?
Napa Thai, easily. I still haven't decided between chicken pad Thai and drunken noodles.
What do you wish you'd known before you came to campus?
Learn to roll with the punches. Whether in your personal or academic life, sometimes you're going to deal with some crappy situations. But don't get discouraged. Just learn from them and keep moving forward.
Post-graduation plans
Hopefully attend graduate school to study computational neuroscience. I've got some interviews at prospective schools, so fingers crossed!
What's something people wouldn't guess about you?
I have what some people might refer to as "grandmotherly" pastimes: knitting, crocheting and cross-stitching.
Curiosity Leads to Passion The Shepherd Poverty Program put Brent Beshore '05 on a different career path than the one he imagined.
Brent Beshore '05 is a successful entrepreneur and venture capitalist who is on the Alumni Advisory Committee. He received a Distinguished Alumni Award from the university in 2015.
Q: How did the Shepherd Program shape your years at W&L?
The Shepard Program started off as a curiosity and then became my passion. It opened me up to a completely different world than I had experienced and made me realize how unusual my life had been. It provided humility, self-awareness, and a depth of gratitude that I hadn't previously experienced.
Q: How did the Shepherd Program impact your career/graduate studies?
The Shepherd Program put me on a completely different trajectory. It gave me a new "why" for all the striving. I consider alleviating others' suffering to be a core component of my life. It made me kinder, more nuanced in my thinking, and helped me to understand the overwhelming complexity of human capability.
Q: Why is this program important for W&L?
This may sound over the top, but I can't imagine W&L without the Shepherd Program. When I think of the university, I think of the Shepherd Program. It's a wellspring of interdisciplinary education, meaningful interaction, and an incredible source of lifelong relationships. What it offers to the school and its students is priceless.
Office Hours: Classics Professor Rebecca Benefiel The associate professor of classics won a grant from the National Endowment for the Humanities to support the digitization of Pompeian epigraphy, along with Sara Sprenkle, associate professor of computer science.
What drew you to the study of classics?
I began studying Latin and enjoyed learning about another culture. Then I started reading more broadly — about Roman religion, ancient history, politics and government. In college, I took classics courses in ancient law, archaeology, philosophy and city planning. With each perspective, I couldn't help but reflect on where we've been and where we are today. There is a reason why classics provided an entire college education for our founding fathers.
Tell us about digital humanities and classics.
Classics was employing digital humanities decades ago, and my specific field of research, epigraphy (the study of inscriptions), was a leader within classics, so I've grown up with it. Studying the ancient world, we need systems to make sense of it all, as well as tools to communicate with scholars in other countries. We move forward more productively when we are working together.
The growth of digital humanities has benefited the liberal arts broadly by providing access to material. Inscriptions in Pompeii, the papers of Thomas Jefferson, marriage records of churches in 16th-century England — more material can now be studied from anywhere in the world because it has been digitized. Digital humanities also provides tools. So, we can use a computational imaging technique (RTI) to reveal inscriptions that are invisible to the naked eye, or X-ray fluorescence to read through a charred scroll burned in a volcanic eruption. How we use those tools, and the questions we ask of what we find — these are still the most important steps.
For example, hyperspectral imaging saw through a blot on a draft of the Declaration of Independence. It revealed that Jefferson had written "subjects" and then changed it to "citizens." He had lived his entire life under a monarchy. How did he have to shift his way of thinking to reconceive of a citizen body? How do you create a democracy? Both the "digital" and the "humanities" are important.
What do you find most rewarding about teaching at W&L?
Smart, respectful students; good colleagues; an administration that supports us in our teaching and our research, and in whom we have confidence. That combination makes a great university. Plus, my colleagues in Leyburn Library are amazing.
What would you tell a student thinking about studying classics?
Classics creates skilled thinkers and analysts. The governor of California (Jerry Brown), the last mayor of London (Boris Johnson), the founder of CNN (Ted Turner), along with author Toni Morrison and even actor Tom Hiddleston — what do they have in common? They all studied classics.
Classics majors have among the highest LSAT scores of any major and the best admittance rates for medical school. But the skills acquired are useful for many professions: close reading, analysis, understanding patterns and language structure, synthesizing information, communicating clearly. (These are benefits of studying the liberal arts.) Classics students learn how information fits together and acquire a greater awareness of the world. Classicists were even selected to be code-breakers during World War II.
Just a look at our recent majors illustrates what a strong W&L education can do. They have gone on to major law firms, to consulting firms, to medical school, to teaching, to the Federal Aviation Administration, to the Peace Corps, to a Rhodes scholarship. Our students can do anything!
OUTSIDE THE CLASSROOM
On weekends, I go for a run, have a leisurely breakfast, and don't check email. I try to focus on being present with the people around me. I'm often traveling to be with my family (husband and daughter), and a change of scenery helps.
My students might be surprised to know that I danced with the New York City Ballet at the Kennedy Center. And I've been a Navy spouse for 15 years.
In the Belly of the Beast Skyler T. Zunk '19 was an intern at the White House's Office of Political Affairs.
"It was incredibly eye-opening to meet and acquaint myself with some of the some of the smartest, most dedicated civil servants in the entire world."
Skyler T. Zunk '19
Hometown: Moseley, Virginia
Major: American Politics
Q: Tell us a little bit about your summer opportunity:
I had the privilege to intern in the White House Office of Political Affairs this past summer. I worked under the regional political director for the Midwest region facilitating research and projects to help fulfill the president's agenda. It was incredibly eye-opening to meet and acquaint myself with some of the smartest, most dedicated civil servants in the entire world — their devotion to our nation and its continued success was truly inspiring and encouraged me to work harder every day.
Q: What was your favorite aspect of D.C?
1600 Pennsylvania Avenue was quite a change in pace compared to Lexington and my hometown. Though city life required a bit of adjustment, I most enjoyed being in the "belly of the beast," in the center of the country's attention. Seeing events transpire during the workday and then returning home to hear the media coverage of these same happenings quickly put into perspective the consequential work of all those surrounding me.
Q: What did an average day look like?
The Office of Political Affairs is truly the intersection of politics and policy. Accordingly, my day to day consisted of preparing regional research briefs on national, state and local topics that affected policy and the president's agenda. On numerous occasions throughout the summer, I attended White House events, such as the Made in America Product Showcase, the Congressional Picnic, and a speaker series inclusive of counselor to the President KellyAnne Conway and Secretary Ben Carson. Every day at the White House was a great day, but no two days were exactly alike.
Q: Who served as a mentor to you this summer, and what did they teach you?
Like every W&L student, I am blessed with an expansive alumni network, especially in Washington, D.C. I had the opportunity to meet several notable alumni, several of whom provided me with exceptional advice on how to navigate D.C careers, life after W&L, as well as how to be a better intern. I'm incredibly thankful for the time and guidance of Professor Bill Connelly, Andrew Olmem '96 '01L, Riley Barnes '09 and Mr. Rich Spence '91, among the several others who took the time to launch me in the direction I want to go.
Q: What have you learned at W&L that helped you in this endeavor, and what will you bring back to your life on campus?
In Washington, as at W&L, the importance of relationships is paramount. Washington and Lee thrives because of the relationships students are able to build between themselves, their professors, and the community at large. Washington, D.C. is a big city, but in many ways, it is a small town where people matter and relationships rule.
Q: Has this experience impacted your studies or future plans in any way?
If anything, this experience invigorated my passion for American government and the importance of public service. I have a better idea of how graduate programs can help in different capacities (law, business, policy), but I will likely work for a couple of years prior to any graduate school programs.
Q: Why is this kind of experience important to W&L students?
It is important for all students to intern or work for government at some level because it helps to put into context the challenges we face as a nation and personalizes the efforts by those in the legislature and the executive to improve our country. It is easy to stand back and commentate, commiserate and criticize the political battles of the day; it is another thing to roll up one's sleeves and try to make meaningful change. When you are up close, you learn that most everyone in government believes they are doing what is best for the nation; the disagreements come when deciding how to make America great.
Q: What kind of funding helped make this experience possible?
Johnson Opportunity Grant, John Warner Public Service Award
If you know a W&L student who would be a great profile subject, tell us about it! Nominate them for a web profile.