25 and Counting At prestigious labs around the country, W&L students have pushed themselves and the frontiers of science in the quest to find a cure for a rare disease.
"I learned that failing to find the answer you were expecting is not failure at all, but another piece of knowledge bringing you closer to your goal."
~ Julia Yerger '19
For the last eight years, Phil Marella '81 and his wife, Andrea, have provided funding from their foundation, Dana's Angels Research Trust (DART), to place W&L students — 25 and counting — into some of the most prestigious labs in the country to work on a disease that has a deeply personal meaning for the Marella family.
In 2011, Marella approached W&L with the idea that DART could provide research stipends for undergraduate students majoring in science. The organization raises money in support of research on Niemann-Pick Type C (NPC), a lysosomal storage disease that manifests predominantly as a collection of progressive, degenerative neuropathologies. At the moment there is no cure. Marella's son, Andrew Marella '18, suffers from the disease, and his daughter, Dana, died of it 2013.
In trying to help their children, the Marellas discovered that because there are so few diagnosed cases of NPC, there is very little research being done on it. They have become vigorous advocates for investigation into its cause and potential cure and, through DART, have established collaborations with six laboratories for the support of accelerated research on the disease.
W&L's DART fellows have spent summers focused on NPC at top-notch medical research facilities, such as the Albert Einstein College of Medicine, Mount Sinai School of Medicine, National Institutes of Health, Institute on Childhood and Human Development, University of Pennsylvania School of Veterinary Medicine and University of Texas Southwestern Medical Center.
This past summer, three neuroscience majors continued the work on NCP. "We had another outstanding group this year, and every one of them was invited back after graduating to work in the lab where they carried out their fellowships," said Fiona Watson, associate professor of biology.
Julia Yerger '19 worked in the labs of Dr. Charles Vite at the University of Pennsylvania School of Veterinary Medicine. "I had a preconceived notion that research was boring, that people typically spent years and years searching for some answer, failing and altering their methodology over and over to get it right," she said. "Although this is somewhat true, I learned that failing to find the answer you were expecting is not failure at all, but another piece of knowledge bringing you closer to your goal. Any finding is rewarding and is one more interesting piece of the puzzle. I feel fortunate to have had some promising results in just the 10 weeks I was researching."
Zach Salter '19 joined Nobel laureate Joseph Goldstein '62 at his lab at UT-Southwestern Medical Center. "I gained so much hands-on lab experience, but also the knowledge and understanding of how a professional lab operates on a day-to-day basis," he said. "My biggest takeaway was the ability to think through and conceptualize an experiment from start to finish. I have worked in other labs before and have understood bits and pieces of the experiment that I was working on but was not able to understand how they fit into the bigger picture."
"The Dart fellowship," said Bryan D'Ostroph '19, who carried out research in Dr. Denny Porter's lab at the NIH,  "was the perfect way to get to the front lines of research medicine." Previously, he had only shadowed physicians and volunteered at hospitals. "I learned not only about the science but about what I want going forward in my career. As I venture out into the world — hopefully the world of medicine — I feel more confident since I am now armed with new skills."
Watson noted that DART fellowships provide a unique opportunity for W&L students to grow personally and professionally. "Through these internships, our students learn how science is done in a very busy lab," she said. "They are working with post-docs, graduate students and senior scientists,  and it's exciting to see them thrive in this environment. It's a chance for them to be a professional and contribute toward peer-review research articles. Sarah Clifford '19, for example, is the most recent of our students to have her name listed as a co-author for work she did in 2017."
While W&L students have helped advance the understanding of NPC, there is still much work to be done. Next summer, another group of DART fellows will fan out across the country and take their places in the lab.
Past DART Interns
2011
Cantey Hattink '12 (biology), Brown-Goldstein Lab, UT-Southwestern Medical Center. Currently a resident at Emory in OB-GYN
Lule Rault '12 (neuroscience), Ioannou Lab, Mount Sinai School of Medicine. Currently in medical school at Emory
Jina Park '13 (biology), Porter Lab, NIH. Currently a resident at NYU-Langone Medical Center
Nicole Herbst '11 (neurology), Walkley Lab, Einstein College of Medicine. Currently a resident at Boston Medical Center in Internal Medicine
2012
Robert Vestal '13 (biochemistry), Brown-Goldstein Lab, UT-Southwestern Medical Center.
Jena Glavy '14 (neuroscience), Ioannou Lab, Mount Sinai School of Medicine. Currently in medical school at FAU
Jina Park '13 (biology), Porter Lab, NIH (second appointment)
Keaton Fletcher '13 (neurology), Walkley Lab, Einstein College of Medicine. Currently in doctoral program in I/O psychology at University of South Florida
2013
Katie Driest '14 (biochemistry), Brown-Goldstein Lab, UT-Southwestern Medical Center. Currently in doctoral program in Cancer Biology at Stanford
Jena Glavy '14 (neurology), Ioannou Lab, Mount Sinai School of Medicine. Currently in medical school at FAU
Jina Park '13 (biology). Porter Lab, NIH (third appointment)
Rachel Christensen '15 (neurology), Walkley Lab, Einstein College of Medicine. Currently a clinical research assistant in the PediMIND Research Unit at Bradley-Hasbro Children's Hospital in Providence.
2014
McCauley Massie '15 (neurology), Brown-Goldstein Lab, UT-Southwestern Medical Center. Currently in medical school at Emory.
Rachel Solomon '16 (neurology), Ioannou Lab, Mount Sinai School of Medicine. Currently a surgical assistant at Washington Orthopedics and Sports Medicine
Annie Gauf '15 (neurology). Porter Lab, NIH. Program Coordinator for ChildSpring International in Atlanta
Noah Lessing '15 (neurology), Walkley Lab, Einstein College of Medicine. Currently in medical school at University of Maryland
2015
Emily Doran '17 (biology), Brown-Goldstein Lab, UT-Southwestern Medical Center. Program Manager at Epic Healthcare Software.
Scott Philips '17 (neurology), Ioannou Lab, Mount Sinai School of Medicine. Dental School
Jenny Wang '17 (psychology). Porter Lab, NIH.
Nicole Kasica '17 (neurology), Vite Lab, UPenn School of Veterinary Medicine. Currently in doctoral program in Neuroscience at Wake Forest.
Harrison Westgarth '17 (biology), Walkley Lab, Einstein College of Medicine. Fulbright 2017
2016
Erin Fykes '18 (biology), Brown-Goldstein Lab, UT-Southwestern Medical Center.
Harrison Westgarth '17 (biology). Porter Lab, NIH. Fulbright 2017
Ryan Hodgson '18 (sociology and anthropology), Vite Lab, UPenn School of Veterinary Medicine.
2017
Michael Colavita '18 (neurology), Brown-Goldstein Lab, UT-Southwestern Medical Center.
Sarah Clifford '19 (biology). Porter Lab, NIH.
Kate Dalia '18 (neurology), Vite Lab, UPenn School of Veterinary Medicine.
'Entranced by Science' Deepthi Thumuluri '20 won a Virginia Academy of Sciences grant to continue her research into the relationship between diet-induced obesity, exercise and the gut microbiome.
"W&L students are so fortunate to have professors who are genuinely invested in the well-being of their students and in furthering the body of knowledge in their field. I truly believe that this perspective on academia allows all of us to cultivate our own passions."

~ Deepthi Thumuluri '20
Deepthi Thumuluri '20
Major: Neuroscience
Minor: Computer Science
Hometown: Dublin, Ohio
What sparked your interest in science?
I was really lucky to grow up in a family that really valued science and believed in how important it was that we are always learning more about the world around us. Some of my earliest memories of science are my dad sitting next to me on planes and explaining how a metal box was able to fly in the air. Seven-year-old Deepthi didn't understand Bernoulli's principle in the slightest, but he ensured that I would always be entranced by the science of the natural world. The older I got, the more I began to question why humans are the way we are and how we got to be this way. This is why I then transitioned into exploring more about biology and the history of humanity.
How did you end up at W&L?
Full disclosure: I applied to W&L after I saw the Admissions brochure that came to my house in the mail. Something about that flier stuck out to me, and I decided to apply totally on a whim. I then came to visit after I was accepted, and that was when I decided that I wanted to be at W&L. I loved that the student body was so welcoming and friendly, and I loved that the faculty were super involved with every student that they interacted with. Fun fact: I actually met Professor Sarah Blythe when I first came to W&L. When I had to fill out my preferences for an advisor, I asked for her and I've stayed with her ever since.
What projects at W&L have you worked on?
I started working for Professor Gregg Whitworth as an HHMI fellow during my freshman year. At that point, his lab was working on studying a species of bacteria that seemed to play a really important role in understanding how the gut microbiomes of animals change in response to diet and estrogen. I learned all about how difficult it is to grow cells and how much of it is sheer luck. More importantly, I learned to get really comfortable with failure and accepting that a huge part of science is being dynamic and constantly willing to learn. I also learned how our lab uses molecular biology to better understand the physiology that other labs explore. This was a summer of learning how to be in a lab and understanding more about what exactly I wanted to study.
I spent my second summer also doing molecular biology, but focusing more on how different diets effected the gut microbiomes of both male and female rats. By working over 50 hours a week for the entirety of the summer, I was able to get a lot of data about the diversity of the gut microbiome. Professor Blythe helped me tie this molecular biology to the physiology and neuroscience. She and I also collaborated on designing my current project which will focus on how the gut microbiome changes in response to a restriction on diet and exercise.
Tell us about the research grant you just won.
In November, I participated in the Virginia Academy of Sciences Undergraduate Research meeting and submitted a grant proposal, which I won. My $750 grant will go toward further research on the relationship between diet-induced obesity, exercise and the gut microbiome in order to expand treatment options in the face of a nationwide obesity epidemic. The beneficial effects of exercise, specifically long-distance running, are well documented in scientific literature but are also well known to the general public. Emerging evidence has shown that there are also effects of diet-induced obesity on the diversity and health of the gut microbiome. However, little is known about the impact of swimming as an exercise regimen on gut diversity in obese animals. Swimming is a unique exercise because it is low impact, and therefore can be utilized by those who are unable to run. This study will also allow us to compare the impacts of a Western-style Diet (WSD) and a control diet on the gut microbiome via a well-established marker of gut health, the Firmicutes to Bacteriodetes ratio, and overall phyla level analysis. This study will add to the existing literature, as swimming and WSD are novel approaches to altering the gut microbiome.
What's next?
As part of my professional career, I would like to work in a lab which deals with diseases that are very much current problems in society. I also would love to continue to work in a lab that bridges the space between physiology, molecular biology and computational biology. Being able to work in the same lab for two years has taught me a great deal about all of those fields and how closely they all interact. Additionally, this lab experience has taught me how to take ownership of my work and demonstrate diligence and determination to reach an end goal.
A Little More about Deepthi
Extracurricular Activities
Residential Advisor, Dance Marathon, Peer Tutoring Coordinator, formal secretary for Beta Beta Beta Biology Honor Society
Why did you choose your major?
I chose my major because I have always been really captivated by the brain and how it controls everything that we do in such a seemingly effortless way. Also, I think it's so fascinating that we learn to do so many different things so well that they become almost second nature.
Has anyone on campus inspired you?
I am so inspired by all of the professors in the Biology Department and Neuroscience Program for being passionate educators, as well as being incredible scientists. W&L students are so fortunate to have professors who are genuinely invested in the well-being of their students and in furthering the body of knowledge in their field. I truly believe that this perspective on academia allows all of us to cultivate our own passions.
What's your personal motto?
Those who matter don't care, and those who care don't matter.
Favorite way to unwind?
Working out or quality time with my loved ones.
What one film/book do you recommend to everyone?
"The Circle" by David Eggers
Post-graduation plans?
A Ph.D.? I'm not entirely sure in what, but I'd love to teach at some point.
Favorite W&L memory
Midnight breakfast during finals week my first year
Favorite class?
Male and Female Roles in Western Religious Traditions with Professor Alex Brown
Women Watching Wall Street Alumnae business reporters recently visited W&L to offer advice and invite students to lean in and learn.
"We wish we had more people our own age to give us advice about the real world."
That's what Alecia Swasy, Reynolds Professor of Business Journalism, heard from recent graduates. With that in mind, she invited seven alumnae who cover the financial markets to offer advice — both professional and personal — and provide networking opportunities for students interested in pursuing a career in business journalism.
"Covering Corporate America and Wall Street is an exciting beat and W&L's graduates are working at the very best international news outlets," Swasy said. "Who better than seven of our alums to show students about such exciting careers?"
Making the journey to Lexington were Mary Childs '08 and Alexandra Scaggs '09, who have close to a decade each under their belts, and recent grads Leslie Yevak '17, Anna Akins '17, Rachel Adams-Heard '16, Polina Noskova '17 and Rachel Stone '17.
Representing Barron's, Bloomberg, CNBC and S&P Global, the alumnae spent Oct. 19 in Swasy's Covering Business class, at a panel discussion open to all students and at a networking session hosted by the Office of Career and Professional Development.
In Swasy's class, which included business journalism, strategic communications and business majors, the group offered insights on how to land that first job and advance through the ranks. Many of the suggestions were tried-and-true chestnuts: "Don't be afraid to ask questions," "Always volunteer to take on something outside your comfort zone," "If you want that assignment, keep asking for it" and "Find a mentor."
The group emphasized the importance of being open to new opportunities and not being defined or limited by a job title or description. As Stone noted: "Your first job is probably not going to be your career. If a better opportunity comes your way, take it. View your current job as a stepping stone." Childs added, don't let an employer slot you into a box. "When your job isn't serving you any longer, get out. If you're genuinely curious and have proven yourself to be competent, you'll be able to move up, either at your current job or somewhere else."
They also stressed that their experiences on the Ring-tum Phi and Rockbridge Report, as well as their summer internships, served them well in promoting themselves. Yevak, a journalism major, parlayed her ability to cut packages for the Rockbridge Report into a position with CNBC. "Having some producing experience was definitely an advantage in landing this position at CNBC," she said. "I'm learning every day because I don't have an economics or business background.
"It's hard not to tell you not to be scared," Yevak added. "But think of your first job as being surrounded by experienced people. Take advantage of having all those intelligent people around you." Akins recommended being honest. "Let people know you're right out of college and that you have questions."
Several advised taking Beat Reporting — "There's no substitute," said Scaggs. Classes in ethics, economics (specifically Professor Linda Hooks' course on Money and Banking) and accounting ranked high on the list. And there was the shout-out to taking as many liberal arts classes outside the major as possible. "I wished I had taken more," said Scaggs. "They can be really useful in helping you look at the financial world from a different perspective."
As the veteran journalists of the group, Scaggs and Childs wished they had pushed back a bit earlier in their careers, particularly when an editor was insisting on a story that either didn't have legs or didn't match the reporting. Adams-Heard provided an example: "You have to challenge editors when you feel like the story's moving in a direction that isn't fair to your sources or the people you interviewed. When I was writing a story on map camps in the oilfields in West Texas, I tried to be very careful about not relying on stereotypes and using only details and anecdotes that added value." She emphasized that if you're going to earn the community's trust, then "you have to be accountable to the people you interview." Childs agreed: "Be conscious that you are writing about humans. You can be fair and kind."
With these women working in a male-dominated field, the classroom and panel discussions turned to sexual harassment and pay equity. The general consensus was that a thick skin is useful. "You're going to be called sweetheart," said one. "There will be lots of mansplaining," added another. Salaries for some still lag behind those of their male counterparts, and they advised students to advocate for themselves early and often.
But there are signs of progress. Scaggs noted, "Five years ago, I didn't see a lot of women in middle management. That was discouraging, but the change I'm seeing has been astonishing." She mentioned that at least one of the places she's worked has significantly expanded its maternity leave. Noskova cited an example of Bloomberg reporters including more women and minority sources in coverage.
Overall, the group is cautiously optimistic that the work environment is improving for women. They hope that by sharing their stories, the next generation of business reporters will be even better prepared than they were.
Reporters at Large
Anna Akins '17 is a reporter for S&P Global in Charlottesville. She covers big tech firms, including Facebook, Google and Apple. At W&L, she interned for the Richmond Times-Dispatch and the Savannah Morning News.
Rachel Adams-Heard '16 is an energy reporter at Bloomberg in its Houston office. She won first place for general news reporting-newspaper (small school division) in Region 2 of the 2014 Society of Professional Journalists college journalism competition.
Mary Childs '08 is a senior reporter at Barron's, where she writes about debt and alternative investing, among other things. She's also working on a book about Pimco, Bill Gross and the bond market. She has worked for the Financial Times and Bloomberg.
Polina Noskova '17 is a breaking news editor at Bloomberg, where she also interned as a student. She's covered Tesla, Harvey Weinstein, cryptocurrencies and more.
Rachel Stone '17 is a finance technology reporter for S&P Global in Charlottesville. As an intern for the Charlotte Observer, she interviewed the mother of Lorne Ahrens, one of five police officers shot and killed in Dallas on July 7. She also interned at The Roanoke Times. At W&L, she was the cops reporter for the Rockbridge Report.
Alexandra Scaggs '09 is a senior reporter at Barron's covering U.S. markets and investing, with a focus on fixed income. Previously, she worked at the Financial Times, Bloomberg and the Wall Street Journal. At W&L, she wrote about a former POW who lived down the road and a distant ancestor who adopted and raised a bear in rural Virginia.
Leslie Yevak '17 is a planning producer at CNBC, where she has produced hits on such topics as the 2018 Winter Olympics, the Beijing Auto Show and CNBC's "Trade War Tour" series. At W&L she was news editor of the Ring-tum Phi, a news producer for the Rockbridge Report and a summer intern at Fox News in New York.
Mario Pellicciaro, Associate Professor of Classics Emeritus, Dies at 89 Pellicciaro taught at W&L from 1966 to 1999.
Mario Nicholas Pellicciaro, associate professor of classics emeritus, died on Nov. 8, 2018. He was 89.
Born in New York City, he was the son of Italian immigrants: Annunzio Pasquale Pellicciaro and Ovidia Paone Pellicciaro. His mother's name is the female version of Ovid and an influence on Mario's later interest in Italian literature and classics. The singer Tony Bennett was a high school friend and is the one that suggested that Mario was too smart not to go to college.
Pellicciaro attended the Industrial School of Art and Design and later the City College of New York. Following City College, he was commissioned as a second lieutenant in the U.S. Army and served in Korea. After returning from service he pursued master's and doctoral studies in classics at the University of North Carolina, Chapel Hill. His speciality was Greek art and linguistics. After graduate work and before coming to Lexington, he taught classics at Georgetown University. Pellicciaro joined the W&L faculty in 1966 and retired in 1999.
"As a teacher, he was one who left a deep impression on a select few of the studentry," said Lash LaRue '59, W&L professor of law emeritus, on the occasion of Pellicciaro's retirement. "There are not many students who wander into Greek, and the intense intellectualism and rigorous theorizing that he brought to the subject was not what many of those expected, or wanted, in an introductory language course, since he never drilled them on the forms but instead gave them the deep theory that generated the forms. He taught them to think seriously about thinking. And he taught them how to tell when it was important to know whether a Greek verb was in the middle voice of the optative mood, instead of the passive voice of the subjunctive mood; he taught them to know how major issues of Plataonic scholarship could turn on such a nuance."
"Mario hailed from New York City, and it showed," said Kevin Crotty, professor of classics at W&L. "He was like a breath of New York intellectualism here on campus. He conveyed to me not only a place (New York), but a time — the 60s."
"During the years when our careers at the University overlapped, 1966-1972, Mario was the most intellectually distinguished member of the faculty, in my estimation and that of many other faculty members," said Henry Sloss, former assistant professor of English at W&L. "He was a great resource for his colleagues and students during the critical years of transition for the University, when it was transforming itself into a coeducational institution amid the greater transformations that were occurring in the society of the time. For the fifty years that I knew him, Mario represented an ideal combination of intellectual integrity and personal humanity."
At W&L, Pellicciaro taught ancient Greek, Greek and Latin literature in translation, structural linguistics, Greek art, philosophy and Italian. For many years he organized and conducted the university's travel study program in Greece. He served as a member of W&L's Glasgow Endowment Committee and on the editorial board of the university's literary magazine, Shenandoah.
Pellicciaro is remembered for his passion for life that included support for the arts. He and his wife, Barbara, were founding members of the Lime Kiln Arts board of directors. He was responsible for the calligraphy design and spelling of the names of ancient Greek artists for his friend Cy Twombly '53's ceiling design in the Salle des Bronzes, Louvre, Paris. His love for classics included continually translating text in one of the eight different languages he could read. He was always improving translations of text: biblical, classical, old English, French. His love for all things Italian included cooking Italian as his mother taught him, and this was almost always for a large group of his friends and students. He was always willing to teach friends and students a cooking secret or skill.
Italian by birth, Pellicciaro and his wife spent most of their summers in Italy and for the last 15 years were residents of Spello (PG), Umbria. A community memorial celebration was held there last week, and he will be laid to rest in the Spello cemetery.
He is survived by his wife, Barbara Lyons Crawford, professor of art and art history at Southern Virginia University; his children, Andrew Pellicciaro '79, David Pellicciaro and Julia Pellicciaro Schaff and two grandchildren, Dylan Schaff and Kyra Schaff.
Santa's Helper Ron Ginder '75 isn't one of Santa's elves; he's a thoughtful alumnus who makes 800 wooden toys each year for Rockbridge-area children.
"I love the look on children's faces when they receive a homemade gift."
~ Ron Ginder '75
Ron Ginder's friends and family often call him "Santa" or "the toy man." The nicknames seem appropriate, since he long ago converted his three-car garage into a workshop where he spends several months each year making wooden Christmas toys for children.
"I love the look on children's faces when they receive a homemade gift," said Ginder. He has continued the tradition of making toys for more than 20 years because he likes woodworking and hopes that by his example some child might develop an interest in woodworking, too.
Ron and his wife, MJ, rediscovered the good life in Lexington when their two children, Mike '07 and Melissa '09, were students. They wanted to become involved in the Lexington community, so when a neighbor mentioned the Rockbridge Christmas Baskets, Ginder contacted the organization. They were thrilled with his contribution, and he now works closely with the two W&L employees who chair the annual toy drive.
Ginder makes toys for a range of ages. Simple wooden cars might appeal to a younger child, while more complex games challenge the older kids. He works alone in his shop — no elves helping construct upwards of 800 wooden toys per year — but MJ does help package and label them.
Ginder painstakingly handcrafts the toys using vintage woodworking tools and then donates them to the Rockbridge Christmas Basket for distribution to children in need in Lexington, Buena Vista and Rockbridge County. Last year, more than 3,000 individuals, including 1,080 children, received food boxes and toys through the 70-year-old charity.
This will be the second year that Ginder has donated toys to the Rockbridge Christmas Baskets. Prior to 2017, his handiwork went to churches, hospitals and shelters in Jacksonville, Florida, where he lives most of the year.
Ginder never took woodworking classes. "I'm self-taught," he said. "Wood is a forgiving medium, and I have been able to learn from my mistakes." He got started out of necessity. When he was a student at W&L living off campus, he needed furniture, so he made some himself and also refinished finds from local thrift stores. Through the years, he has continued to restore antique furniture, as well as make a variety of items, from cutting boards to custom furniture. He uses vintage tools, many as old as 75 years, and has even started a small business buying and selling parts for old tools.
Ginder has more "Santa" time now that he has retired from a career in human resources, first at Anheuser-Busch for 20 years before setting up the HR department for the Diocese of Saint Augustine in Jacksonville. A sociology major at Washington and Lee, he went from graduation to a job with the Department of Navy in Norfolk, Virginia, where he joined a personnel management training program. Along the way, he earned a master's degree from George Washington University.
He has no plans to stop making toys for children. Since he and his wife recently purchased a 1930s-era home in historic downtown Lexington, the only change might have to be moving Santa's workshop from sunny Florida to the more wintry Shenandoah Valley of Virginia.
Holiday Spirit
The Rockbridge Christmas Baskets is a 70-year-old nonprofit organization that provides food and toys to families in need at Christmas. Volunteers are needed Dec. 15 from 8 a.m. to 12 p.m. to pack boxes and bags for distribution by fire departments, first aid crews, civic clubs, churches, scout troops, etc. Visit the website for more information.
Bridge Dedicated to W&L Veteran A bridge in Maryland has been named for Cpl. Chris Coffland '88, who died in Afghanistan in 2009.
"Chris was a leader, not a follower."

~ Jim Rallo '88
On Nov. 13, friends and family of Cpl. Christopher Coffland '88, who was killed in Afghanistan by a roadside bomb on Nov. 13, 2009, will gather to dedicate a bridge across Loch Raven Reservoir on Dulaney Valley Road in his hometown of Timonium, Maryland.
His childhood friend, John Nozemack '88, noted, "There's a beautiful irony for me of Chris getting a bridge in Loch Raven Reservoir dedicated to him. Chris and I used to fish there quite a bit when we were little kids. It's such a peaceful and tranquil spot, but also a place where we had some really good times. I'm glad it's a spot where so many people who knew and loved Chris will get to see his name daily. This way, there is a constant reminder of our friend who lived by the courage of his convictions and bravely went off to fight injustice in the world so that those of us at home would be more safe and secure while being able to exercise our rights of freedom."
"Chris was a leader, not a follower," added Jim Rallo '88. "His entire life he took the path that he wanted, as he was never influenced by his friends or society. He was a person that led by example. After Sept. 11, he often talked about joining the military and serving his country and did so at age 41. He became the squad leader in basic training and was more physically fit than most of the younger guys. 'Catch a lift' was his favorite phrase while at W&L, as he was always headed to the gym to stay in shape for football or lacrosse. Chris was a friend, a leader and truly a Renaissance man."
The signs at either end of the bridge went up in October. In an interview with the Baltimore Sun, Coffland's sister, Lynn, said, "It was a really humbling moment to see my brother's name be put on a sign that I know will be there for as long as that bridge exists."
The bridge dedication was spearheaded by the Catch A Lift Fund, a nonprofit founded by Lynn Coffland a year after her brother's death. The Timonium-based organization provides fitness grants and mentorship to veterans to help them acclimate to civilian life.
Veterans who have benefited from the nonprofit were instrumental in helping to prepare the application and petition for the Maryland State Highway Administration's approval.
Rob Fessock, a 16-year retired Army veteran who credits Catch a Lift's programming with his recovery, said, "Every civilian and military member that crosses that bridge knows that he served his nation and made the ultimate sacrifice."
You can read more about Coffland's accomplishments here.
Washington and Lee will honor veterans with a brief ceremony on Nov. 12 at 9:30 a.m. in front of Lee Chapel.
In addition, on Sunday, Nov. 11, W&L will toll the Lee Chapel bells at 11 a.m. as part of the United States World War One Centennial Commission's "Bells of Peace: A World War I Remembrance" event. This national bell-tolling event honors the centennial of the armistice and the 4.5 million Americans who served and sacrificed in World War One.
An Impactful Gift When appreciated stock is gifted outright, you can claim a federal income tax charitable deduction for the full, appreciated value.
"Many financial professionals over the years advised us to donate appreciated stock when making significant charitable gifts. It's easy, and it just makes sense. We get to take a charitable deduction at the stock's full fair-market value, but we don't have to pay capital gains taxes on the increase to the stock's value over time. It's a great way to give back to a school that means so much to me."
~ Gary Seldomridge '76
"My husband and I give through appreciated stock because it's such an easy way to give back to W&L, while also minimizing our tax liability. When we donate appreciated stock to W&L, we take a tax deduction for the full fair-market value, and avoid having to pay long-term capital gains tax. In effect, we are able to donate 20 percent more than if we had sold the stock, paid tax and contributed cash. In addition, gifting certain appreciated securities also helps us diversify our portfolio with concentrated positions. It's a win-win."
~ Julie Bradbury '97
Did you know that giving appreciated stock to W&L can benefit you more than giving cash? It's a great way to make a larger gift than might otherwise be possible and to fulfill outstanding pledge commitments.
When appreciated stock is gifted outright, you can claim a federal income tax charitable deduction for the full, appreciated value and avoid capital gains taxes. You pass your tax savings to W&L for an even more impactful gift!
Please consider a year-end gift of appreciated securities to W&L.  Simply complete the online Stock Transfer Information Form and give your broker W&L's stock delivery instructions:
   Gift Account A/C# 1046108
DTC# (Participant#) 0990
Agent ID# 26209
Contact: Elizabeth "Liz" Hudgens
866-848-0383
ehudgens@wilmingtontrust.com
For more information on making a stock gift to W&L, please contact Sandy Beverly in Gift Accounting at sbeverly@wlu.edu. For information on funding a life income gift with appreciated stock, please contact Margie Lippard in the Office of Gift Planning at mlippard@wlu.edu.
Thank you for your generous support of W&L!
Simpson House Honoring W&L's first woman to become a tenured professor at the university.
In October, the Board of Trustees, after consultation with students, faculty, staff and alumni, announced that Lee-Jackson House will be renamed Simpson House, occupied by the Office of the Dean of the college.
The Simpson House recognizes Pamela Hemenway Simpson, the first woman to become a tenured professor at the university and the first women to hold an endowed chair, when she became the inaugural Ernest Williams II Professor of Art History in 1993. Simpson, who died in 2011, was also the first woman to serve as associate dean of the college, and she played a critical role in the university's transition to co-education in the mid-1980s as chair of the Co-Education Steering Committee.
During her 38 years on the faculty at W&L, Simpson made myriad contributions, both in the classroom, where she was described as "the embodiment of W&L's teacher-scholar," and in countless other formal and informal positions.
Her scholarly work often centered on local architecture, and in her 2011 Convocation address she drew a parallel between W&L's architecture and its educational objectives. In narrating the developments that led to the Colonnade and Lee Chapel she said, "What we so value today came together over a period of several hundred years. Each generation built on the past. What resulted was not only a collection of historic, distinguished buildings; we also ended up with a symbol.
"This is who we are. When we think of our most deeply held values – academic excellence, collegiality, civility, and most of all, honor, all of them are embodied here."
Watch Simpson's Convocation address at go.wlu.edu/simpsonconvocation2011.
A Historic Love Affair Sally Ball Sharp '96 has personal connections to the Simpson House.
"Though letting go of the past bears pause, for me, this naming also weaves together an honor truly befitting our tradition. I'm proud to celebrate Pam Simpson's contribution to W&L, and I believe all of the past residents of the Lee-Jackson House would concur."

~ Sally Ball Sharp '96
For me, and I imagine many other graduates, the board's recent email notification on renaming campus buildings stirred many emotions: nostalgia for the past, gratitude of forward vision and maybe a twinge of sadness. Speaking with my father, Haywood Ball '61, about the changes, I realized I have a unique vantage point to offer on this occasion.
After graduation in 1996, my great-aunt gave me a treasured family possession, a set of Washington and Lee red Wedgewood plates featuring different scenes on campus: Lee Chapel, the Colonnade and Tucker Hall, to name a few. Yet, one plate I received had many duplicates. That was because the Lee-Jackson House was our house, specifically my grandmother's. Daughter of W&L Law School Dean W. H. Moreland, my grandmother, Margaret Ann Moreland Ball, grew up in the Lee-Jackson House. It was from this house, beloved to so many, that she walked to and from high school, passing my grandfather's fraternity house (Jack Ball '32, '35L) and catching his eye.
By the time they married in 1936, her family resided in what is now the Hotchkiss Alumni House. Following a ceremony at R.E. Lee Memorial Episcopal Church (now renamed Grace Episcopal Church), guests walked across campus to her parent's home for their reception.
In 2000, my now-husband Michael and I asked W&L if we could recreate my grandparents' wedding, using the Alumni House for our reception. With a little trepidation on the school's side and a hard sell from my parents, the university granted our wish, which was the first private event hosted there.
So on a magical night in June 2001, we, too, crossed the Colonnade on our way to a most enchanting reception. It was as gorgeous a setting as it was meaningful to my family. The campus sparkled with darting fireflies. Live bluegrass music prompted spirited dancing and revelry on the porch. Even Southern Living published the event in an issue of their Weddings magazine.
Mine is a deeply historic W&L love affair. As I am the fourth generation of my family rooted at W&L, I was also notably our first female alum. At age 8, my father brought me to campus for the first time. I was so determined to attend that I declared my intention to become an attorney, as the Law School was then the only means for a female to attend W&L. Luckily for me, that barrier was knocked down. My graduating class marked 10 years of Washington and Lee co-education. And it was a remarkable time with much transition, being 75 percent male during my stint. Just 10 years later, W&L would see equal male and female matriculation. Sometimes though, I can admit, I felt like a pioneer.
To the credit of two exceptional women leaders and professors* on campus, my W&L experience was filled with a great purpose. Today, I am specifically honored that one of them, my own mentor and advisor Professor Pam Simpson, has been named to the house that means so much to me. Professor Simpson's quiet dignity, strength and demand of excellence developed in me core strengths, which prove the cornerstone to my career: fearlessness and total commitment. She was patient and fair, but she expected more from me than the sorority girl she saw my freshman year—and she got it. Pulling me aside at the end of my senior thesis studio art show, she told me in earnest that she was proud of what I had done with my opportunity. Her words still ring as one of my most cherished accolades. My self-discovery in art, as in life at W&L, was not easily won, but earned and honorable. I had come to understand the significance of opportunity she forged for me, and for all women at W&L.
I am humbled by the history and legacy of this moment. Though letting go of the past bears pause, for me, this naming also weaves together an honor truly befitting our tradition. I'm proud to celebrate Pam Simpson's contribution to W&L, and I believe all of the past residents of the Lee-Jackson House would concur.
* Professor Kathleen Olson-Janjic, the Pamela H. Simpson Professor of Art, is the other W&L woman who broke down walls, opened my potential and poured herself into my education. I am forever grateful for these two leaders and for the high academic standards that W&L brought to the Art Department. Today, I am a licensed illustrator/commercial artist with artwork appearing on gift wrap, seasonal flags and gift products. Thanks to the mentorship of Olson-Janjic, I attended Parson School of Design after Washington and Lee, rounding out my painting education with graphic design and illustration.
W&L Hosts 14th National Symposium of Theater and Performance Arts in Academe Highlights include live performances of works written and directed by professors Domnica Radulescu and Stephanie Sandberg.
Washington and Lee University will welcome scholars and artists from around the world to its 14th National Symposium of Theater and Performance Arts in Academe on Oct. 25-26. All events will take place in Stackhouse Theater in Elrod Commons, and they are free and open to the public.
This year's symposium, "Race and Gender in Theater, Poetry and Rock 'n' Roll," was organized by Domnica Radulescu, founding director of the symposium and the Edwin A. Morris Professor of Comparative Literature at W&L.
"I always try to connect the theme of the symposium to the moment of history we're living in," said Radulescu. "This year's focus also fits in perfectly with the various and wonderful new diversity initiatives of the university on issues of identity, gender and race. Theater is such a fantastic medium for exploring all the subtleties of these topics and the various forms of struggle and resistance to prejudice and oppression."
The symposium includes an opening address by Lena Hill, dean of the college, as well as lectures by Ricardo Wilson, assistant professor of English and Africana Studies; Seth Michelson, assistant professor of Spanish; and Florinda Ruiz, director of the Writing Program at W&L. Sarah Helms '15 will share her documentary, which is set to her own poetry and explores her social activism on women's health issues in Nepal. Rounding out the two days are artists and lecturers from Romania and universities across the U.S. Among them are Marjorie Agosín, world-renowned, award-winning poet and human rights activist; Barbara Mujica, bestselling author; Nisha Sajnani, award-winning director of the Drama Therapy Program at NYU; and Joan Lipkin, award-winning theater maker and activist.
"The symposium displays a diversity of voices and faces and is spread across different forms of performance and literary art," said Radulescu. "While the symposium is not political, it explores political issues aesthetically."
The evening sessions will feature live performances, including "House in a Boat with Food and No God" and "Crack in the Wall," written and directed by Radulescu. "Both of these are works in progress," said Radulescu, who has written, edited or co-authored 15 books, as well as written and directed numerous plays. "The first is an environmental dystopia and deals with our destruction of the environment, but with a dark sense of humor. The second work was inspired by the immigrant situation and the literal and metaphorical walls that are now sadly part of a national conversation. These political aspects haunt and touch me, and I connect with or react to them in a visceral way."
In addition, Stephanie Sandberg, assistant professor of theater at W&L, will direct "Kissed the Girls and Made Them Cry," by Arlene Hutton. "Arlene based this play on what high school students really wanted to say about sexual assault," said Sandberg. "It's about teen sex, lies and gossip, power, secrets, manipulation, mascara and the need to scream. It's a very bold piece, but also funny, with a swift and witty sense of language."
W&L students will perform Sandberg's "Stories in Blue: The Stories of Sex-Trafficking Survivors." First mounted at W&L in 2016, Sandberg's work is a response to the high rate of human trafficking in Michigan that she observed while living there. "I'm really thrilled to have Stephanie's work as part of the symposium," said Radulescu. "She does fantastic experimental work that is embedded in and emerging from hard political realities."
The symposium is supported by funds from the Office of the Dean of the College; the Center of International Education; the Office of the Provost; the Class of 1963; the Glasgow Endowment for the Arts; the Women's, Gender, and Sexuality Studies Program; the Africana Studies Program; Medieval and Renaissance Studies; and the Office of Diversity, Inclusion and Student Engagement.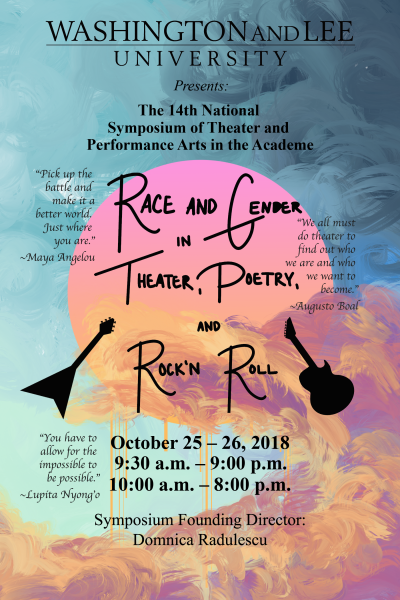 Schedule of Events
Oct. 25
9:30 a.m.
Welcoming Address: "The Gift of Colored Glasses," Lena Hill, dean of the college
Opening Remarks: Domnica Radulescu, Edwin A. Morris Professor of Comparative Literature at W&L.
9:45 a.m.
"Odanaku," a poetry and documentary film presentation depicting women's life in a remote Nepali village. Sara Helms '15.
10 a.m.
"Can Theatre Heal?: The Role of Performance in Working Through Internalized and Interlocking Oppression." Nisha Sajnani, director of the Drama Therapy Program and the Theatre and Health Lab at the Steinhardt School of Education, Culture and Human Development at New York University.
10:50 a.m.
"From Hollywood to Broadway and Beyond: The Hyper-sexualization of the Non-white Female Performer." Barbara Mujica, novelist, short story writer, essayist and theater director.
11:40 a.m.
"Deaf Men, Violence, and Silence." Ricardo Wilson, assistant professor of English and Africana Studies at W&L.
1:30 p.m.
"Choreographies of the Soul: Theater Poetry and Resistance." A talk and reading by Marjorie Agosin, Wellesley College.
2:30 p.m.
"Jacques ou la soumission," by Eugène Ionesco. Brief interlude of absurdist performances, students of French 332.
2:45 p.m.
"The Circumcised Dog and the Subtle Whore: Race and Gender in Shakespeare's 'Othello' and Its Musical Adaptation." Alina Bottez, University of Bucharest, Romania.
3:40 p.m.
"Picnic on the Battlefield," by Fernando Arrabal. Brief interlude of absurdist performances, students in WRIT 100.
4 p.m.
"Love and Hate: The Many Faces of Race and Gender in Romanian Theater." Performance by Cosmin Pana, School of Theater at University of Cinematography and Dramatic Arts, Bucharest.
7:30 p.m.
"Kissed the Girls and Made Them Cry," by Arlene Hutton. Staged reading directed by Stephanie Sandberg. Performed by students from Sandberg's script analysis class at W&L. Followed by a Q&A with the author.
Oct. 26
10 a.m.
"I Felt like I was One of Them or All of Them Put Together: Reflections on Race, Gender and Bob Dylan's Multitudes." David Gaines, Southwestern University, Georgetown, Texas.
10:50 a.m.
"Radical Hospitality: Poetry and the Practice of Democracy." Seth Michelson, assistant professor of Spanish, W&L.
11:45 a.m.
"The Word and the Shot: Confronting and Fusing One's Own Images with Reflections of Gender and Identity." Florinda Ruiz, visiting associate professor of writing, W&L.
1:30 p.m.
"Have We All the Same Story?" A comedic and musical adaptation of women's monologues by Franca Rame. Performed by Diana Rosca, Babeș-Bolyai University, Cluj-Napoca, Romania.
2:45 p.m.
"Dance the Vote and Birthday Party for the Resistance." An interactive talk/performance/workshop. Joan Lipkin, That Uppity Theater Company, Saint Louis, Missouri.
5:30 p.m.
"Stories in Blue: The Stories of Sex-Trafficking Survivors," written and directed by Stephanie Sandberg, performed by W&L students.
6:30 p.m.
"House in a Boat with Food and No God" and "Crack in the Wall." A staged reading of selections from plays written and directed by Domnica Radulescu, W&L.