Climate Change and Sharks As a research assistant at the Virginia Institute of Marine Science, Rachel Steffen '18 gathered data on the environmental thresholds of juvenile sandbar sharks.
"It takes a lot of hard work, passion, reading and creativity to become a successful scientist."
Rachel Steffen '18
Hometown: Coronado, California
Major: Biology
Minor: German
Q: Tell us your summer opportunity.
I had the privilege of working at the Virginia Institute of Marine Science (VIMS) Eastern Shore Lab, as a research assistant to Ph.D. student Dan Crear. Dan is researching the effects of climate change, such as warming and decreased oxygen, on juvenile sandbar sharks.
Carbon dioxide in the atmosphere prevents the loss of energy (in the form of heat) from leaving the earth. In addition, this heat is absorbed by the ocean and, in turn, decreases the ocean's ability to hold oxygen. An increase in water temperature often causes an increase in a shark's oxygen consumption and metabolic rate. Therefore, at higher temperatures, a shark has a high oxygen demand, but is in an environment with less oxygen in the water. However, these environmental thresholds are unknown for many marine species.
Using a respirometer, we can determine the effects of warming and decreased oxygen on the oxygen consumption and behavior of juvenile sandbar sharks. Sandbar sharks are apex predators at the marshy Eastern Shore, as well as many other parts of the world. A change in their population density and distribution would cause a domino effect, cascading down all levels of the food chain. The goal of this research is to predict the future behavior and movement of these sharks.
Q: What has been your favorite aspect of your location?
VIMS Eastern Shore Lab is located in lovely Wachapreague, Virginia. With a population of roughly 200 residents, it isn't exactly a bustling city, so there is little to do outside the lab. However, this allowed me to get to know the other students and professors at VIMS. There were 11 of us (undergrads, grad students, and professors) that lived in the three houses on the VIMS Eastern Shore Lab campus. They are all wonderful, brilliant, fascinating people, and I learned so much from all of them.
Q: What did an average day for you look like?
Every morning began with a 7:30 a.m. breakfast meeting on the front porch of King House. While chowing down on cereal (we went through a lot of Kashi), we discussed the plan for the day. Although everybody had their own projects, there was a lot of collaboration among research groups, so it was helpful for everyone to be on the same page.
Before we started our respirometry trials, a lot of preparation was needed. This included scrubbing shark slime off the tank and pumps, dipping the accelerometer in liquid plastic (to waterproof it), calibrating oxygen probes, and hauling around a large battery. To begin the trial, we first fished out the correct shark from the holding tank, and secured the accelerometer onto its dorsal fin without losing any of our fingers. The accelerometer is used to record the shark's movements and speed throughout the trial. Then, either Dan or I ran the shark to the respirometer tank. After the shark was settled in the respirometer, we started recording data (with the help of several computer programs and oxygen probes).
Once the trial was started, and we've examined who got the worst of the "shark burn" (shark skin is about the same texture as sand paper), there wasn't much else to do except check in on the shark for the rest of the day. I used this downtime to work on my main contribution to the experiment. We recorded every trial in order to understand shark behavior under the different environmental experiments. To measure this, I watched each video twice, first timing the laps to get the average speed (body lengths per second) and then again to count the number of turns they make. Watching sharks swim in circles all day was a bit tedious, but hopefully the data I collected will benefit the experiment.
The second day of every trial was a bit more stressful because on that day we brought down the oxygen. Before breakfast, we turned on a big nitrogen tank and used computer software to control the flow of nitrogen into the respirometer, which in turn reduces the oxygen saturation in the water. We continued to bring down the oxygen throughout the day, while carefully monitoring the shark's metabolic rate and behavior. Once the metabolic rate dropped, we assumed that the shark had reached its critical oxygen saturation (Scrit) at that temperature. Once this occurred, the trial was over. We brought the tank back up to 100 percent oxygen saturation and then ran the shark back over to the holding tank, reuniting him with his shark friends.
Because respirometry is hard work, it really built up an appetite — for both me and the sharks. Every three days I got to pretend I was sushi chef and cut up 35-55 menhaden, known locally as "bunker," to feed to the sharks. I apologize if I still smell like dead fish.
Every day was exhausting to say the least, but I woke up excited about the project and thankful for the opportunity to be a part of it.
Q: What was the most rewarding part of the experience?
Not only did this experience bring me one step closer to achieving my goal of becoming a marine biologist, but I also got to help Dan collect data for his Ph.D dissertation and helped to unveil some of the consequences of climate change.
Q: What was the biggest challenge you faced?
A few weeks ago, I was left in charge of running trials while Dan attended a conference. There are 100 little things that must be done for a trial to run smoothly, and even then, things inevitably go wrong. Although there were a few hiccups along the way, I managed to complete both trials, collect all the data we needed, and keep both sharks alive.
Q: Who served as a mentor to you, and what did they teach you?
The graduate students, Dan, Gail and Maggie, taught me more about grad school, grant applications, marine biology and life in general than I could have ever asked for. It was a tremendous honor to work with Dr. Brill and Dr. Bushnell. They taught me that it takes a lot of hard work, passion, reading and creativity to become a successful scientist.
Q: What have you learned at W&L that helped you in this endeavor, and what did you bring back to your life on campus?
Through my experience in field classes (Dr. Marsh's field herpetology class and Dr. Hamilton's Yellowstone ecology class), I felt prepared to work with live animals, solve problems, follow protocol, and respect the scientific method. Dr. Cabe's 300-level seminar also prepared me to read scientific papers efficiently and effectively, which has proven to be a very useful skill, allowing me to understand what I am doing, why I am doing it, and what similar work has been done in the past. Dr. Marsh's biostats class is one I recommend to all science majors. I have come to realize that understanding the basics of scientific statistics and learning computer programming are invaluable, if not necessary, skills in just about every field of science. I returned to W&L with a renewed determination to achieve my goals.
Q: Did this experience impact your studies or future plans in any way?
I came to W&L with an interest in biology and seemed to be whisked onto the premed track. In September of my junior year, with the MCAT and med school applications fast approaching, I found myself in somewhat of a panic. I realized I had more anxiety than excitement at the thought of becoming a doctor. I scheduled an emergency life reevaluation meeting with my advisor, Dr. Hamilton. He calmed me down and made me realize I had both the time and the means to explore other options. This got me thinking about what I was passionate about. In the summer of 2015, I had worked for the Navy Marine Mammal Program and absolutely loved it. Growing up a Navy brat, I moved around a lot but always lived next to the ocean, so for me the ocean feels like home. I'm not sure why I had never considered a career in marine biology before, but suddenly it seemed like the most obvious option. I contacted Dr. Humston, W&L's resident marine biologist, and explained that I thought this whole marine science thing was something I might be interested in. It was as if a weight had been lifted off my shoulders, and I became excited and passionate about what my future could hold. However, I had no idea what my next steps should be or even what the life of a marine biologist looked like.
Dr. Humston knew exactly where to send me. VIMS is like marine science boot camp, and working there confirmed that marine biology is the field I would like to continue to pursue. I quickly realized the life of a marine biologist is far from simple or relaxing. Depending on what their project entails they have to also be fishermen, plumbers, electricians, chemists, vets, statisticians, writers and public speakers. Each day presents new challenges and problems that need to be solved. As a kid, I would wander the neighborhood looking for mystery and adventure. At VIMS, I realized that the ocean holds all the mystery and adventure I could ever want.
Q: Why is this kind of experience important to W&L students?
W&L students know how to put their nose to the grindstone to reach their goals, but I think without passion and direction it is easy to burn out. An opportunity like mine, which allowed me to have an immersive experience in a field I was interested in, fueled my passion and further refined my chosen direction.
Q: What kind of funding helped make this experience possible?
I received both a Johnson Opportunity Grant, and a grant from the environmental studies department. I am incredibly honored and grateful to have received these grants.
If you know a W&L student who would be a great profile subject, tell us about it! Nominate them for a web profile.
Made to Order Ledbury co-owner Paul Trible '03 designed a hunting shirt that's made to last.
Just in time for your holiday shopping, Virginia Living announced its Made in Virginia 2017 Awards. Ledbury co-owner Paul Trible III '03 made the list for his Whitfield Hunting shirt, named for his niece who was born the day the shirt was launched.
Trible, who began making bespoke shirts in 2009, is an avid hunter and relied on feedback from his friends on the shirt's design.
They told him "to keep it simple and to reinforce it in the places that matter." He added: "I shoot with my grandfather's Browning Belgium rifle. My bird jacket was passed down from my wife's grandfather. I wanted to create a hunting shirt, made by hand in our workshop, that I would be proud to pass down to future generations."
Social Responsibility Kate Donnelly '11 is using her education and Shepherd experiences to improve her local community.
Kate Donnelly '11 interned with Cooper's Ferry Development Association as a Shepherd student and is currently the manager of accounting operations at Goodwill of Greater Washington, D.C. Prior to Goodwill, Kate worked for Ernst & Young in its assurance services practice and served as EY's community engagement champion. Kate helps run the mentor program for the Elrod Fellowship program in D.C.
Q: How did the Shepherd Program shape your years at W&L?
While I was a business and accounting major at Washington and Lee, my four years in college were more defined by my minor in poverty studies. I'll never forget walking into Dr. Beckley's Poverty 101 class my first semester in college. At the time, I had no clue how much that one class would impact my future. I knew going into W&L that I would want to participate in the Shepherd Program on some level, but I was totally hooked after the first class. Poverty 101 covered real issues that all majors and minors could relate to. The Shepherd Program allowed me to apply my desire to improve my local community with my business and accounting education. I catered my course schedule to include a multitude of business and accounting classes, while also taking a couple of Poverty Studies classes each term.
My education culminated in my Poverty capstone project, where I partnered with a fellow classmate to perform an assessment of the personal finance environment in Rockbridge County, Virginia. We spent 12 weeks interviewing local residents and community leaders throughout the county and meeting with local banks, police forces and lenders to assess the personal finance environment in Rockbridge County. From that, we developed a report analyzing our results and suggesting ways in which our university community could assist.
Q: How did the Shepherd Program impact your career/graduate studies?
After graduating, I took a job with Ernst & Young in its assurance practice. Though I knew long term that I wanted to do something more community-based, I was attracted by the people of EY and knew the firm would provide meaningful experiences for professional growth. While at EY, I volunteered in its corporate social responsibility group and acted as the community engagement leader for the Greater Washington office. My involvement in EY Community Engagement gave me a view of the many ways in which a large organization like EY can impact its community. The experiences and education I encountered through the Shepherd Program provided a different perspective than most of my EY colleagues, which helped me greatly in all of my roles with the firm.
In 2015, I decided to shift gears to work where I could see my efforts more directly impact my local community. With the advice and support of W&L mentors and professors, I joined Raffa P.C., a public accounting firm specializing in non-profit accounting. It was a great combination of my business and accounting background and my passion for improving my local community — exactly what I worked on throughout college. My experience at Raffa ultimately let me to my current role at Goodwill of Greater Washington as manager of accounting operations. My experiences from the Shepherd Program led me to where I am today.
Q: Why is this program important for W&L?
The Shepherd Program not only taught me the importance of facing the social issues in our communities, but more importantly, the program taught me that it is the responsibility of our entire community to help. Profitable businesses and social responsibility are not mutually exclusive, but can often intertwine to create win-win situations for both the bottom line and the community. The program allows students to pursue their careers with a different perspective, creating community conscious professionals, leaders and citizens.
Small Company, Big Internship Marta Regn '19 used her internship to throughly explore all aspects of a sustainable, ethical jewelry startup.
"Living on your own in new places and experiencing that everyday independence simply cannot be taught in a classroom."
Marta Regn '19
Hometown: Charlottesville, Virginia
Major: Business Administration
Minors: Environmental Studies, Poverty Studies
Q: Tell us a little bit about your summer opportunity.
I interned with Soko, a sustainable, ethical jewelry startup. Soko uses existing artisan networks in Kenya and connects these people to Western markets through technology. The business model is built around artisans keeping around 30 percent of the profits, which is revolutionary in the fashion industry where workers' wages and conditions are compromised to keep the cost of fast fashion low. Using materials such as reclaimed brass, as well as horn and bone (natural byproducts of Kenya's meat industry), Soko gives new life to unused materials, with little to no environmental impact. And on top of all that, the jewelry is gorgeous and affordable.
My role at Soko was on the operational side, working closely with the sales and merchandising departments. I helped fulfill orders, manage inventory, as well as merchandise trade shows and pop ups.
Q: What was your favorite aspect of your summer away?
I worked at Soko's headquarters in San Francisco. The diversity of cultures and rich history, set in the natural beauty of northern California made SF an otherworldly place. I loved the food and the music scene, but my favorite part was, for sure, the local boutiques and vintage stores. The city has style, no doubt about it.
Q: What did an average day for you look like?
I took a crowded bus through the Mission district, into Potrero Hill — part of the San Francisco design district — where the Soko HQ is located. Some days I spent at my desk working on a project, others I might prepare jewelry for shipment. Every now and then, we took an impromptu office field trip to the plant shop to buy succulents (those and cacti are everywhere in SF.)
Q: What was the most rewarding and fulfilling part of your internship?
Working with a smaller company in a startup environment provided me a wider range of experience than a typical internship program. While my internship is formally in sales, I got to meet and work with individuals from every branch of the company. It allowed me great networking experience, as well as the opportunity to really test the waters of the business and fashion fields and figure out what I'm interested in.
Q: What was the biggest challenge you faced?
My biggest challenge during my internship is something I've been working on throughout my college career. I'm not especially assertive, and I'm often introverted in new settings, so joining a new company, asking questions, and meeting new people required me to leave my social comfort zone. I can definitely say that this experience provided me with a lot more confidence, and I'm excited to use these networking skills in the near future.
Q: What have you learned at W&L that helped you in this endeavor, and what will you bring back to your life on campus?
Even though we hear it all the time, having a liberal arts education has really given me a unique perspective. I think many people can get tunnel vision in analytical fields, which business certainly is in part, but W&L's well-rounded curriculum has ingrained the ability to keep in mind the big picture, make outside connections, and put all of those numbers in context.
Q: Why is this kind of experience important to W&L students?
Living on your own in new places and experiencing that everyday independence simply cannot be taught in a classroom. I can honestly say I am more self-sufficient and confident in my abilities than I was before going to San Francisco.
Q: What kind of funding helped make this experience possible?
I could not have had this experience without the support of the entrepreneurship internship program, as well as the Johnson Opportunity Grant. I am so grateful.
If you know a W&L student who would be a great profile subject, tell us about it! Nominate them for a web profile.
Women in Charge Laura Stagno '18 saw the faces of America's future leaders, including her own, through an internship on Capitol Hill.
"Two of my three bosses were women, and all six of the Ways and Means subcommittee staff directors are women. Interning in an environment in which women dominate so many key positions was extremely rewarding."
Laura Stagno '18
Hometown: Birmingham, Alabama
Major: Economics and Spanish
Q: Tell us a little bit about your summer opportunity:
This summer I interned on Capitol Hill for the majority staff of the House Ways and Means Human Resources Subcommittee. The subcommittee has jurisdiction over several key welfare programs including Temporary Assistance for Needy Families (TANF), Unemployment Insurance (UI), Supplemental Security Income (SSI), child care and child support. The subcommittee staff consists of a staff director and two professional staffers, whom I work alongside everyday. A Johnson Opportunity Grant made this internship possible.
Q: What was your favorite aspect of being in D.C.?
The best part of interning in D.C. was living in such close proximity to all of the daily political action. Whether I was walking the halls of the Capitol or the Longworth Building or watching a hearing in the Ways and Means hearing room, I was surrounded every day by ambitious, dedicated and passionate leaders and staffers who inspired me to fight for what I believe in.
On the weekends, I was able to explore several of the cultural and historical sites that D.C. has to offer, such as the Smithsonian Institution museums, the Holocaust Memorial Museum, the Supreme Court and the Library of Congress. One of my favorite memories is when I went to the Library of Congress, registered for a library card and read my book in the famous Reading Room. There is always somewhere to go, someone to meet or something to learn in D.C., which makes the city an amazing summer home for students.
Q: What did an average day for you look like?
Every day was different. My daily responsibilities included answering the phone, putting together daily news clips for my bosses, sending out the day's congressional hearing schedule and researching various issues. But my internship also took me far beyond our office walls. I had the opportunity to attend hearings, markups, and policy briefings around the Hill; sit in on Ways and Means staff and member meetings; watch the House floor and sit down with Kevin Brady, the Ways and Means chairman, in his office.
Q: What was the most rewarding part of your experience?
I was surrounded every day by the most intelligent, motivated and passionate individuals, and that in itself fulfilled me. The legislative process can be frustrating and slow, but that does not keep my bosses from fighting every day for our society's most vulnerable members.
I was particularly inspired by the large number of intelligent and strong women in positions of power on the Hill. Two of my three bosses were women, and all six of the Ways and Means subcommittee staff directors are women. Interning in an environment in which women dominate so many key positions was extremely rewarding.
Q: What was the biggest challenge you faced?
The biggest challenge I faced happened only about three weeks into my internship. I was informed that my office's legislative assistant was going to be leaving for another job in the next week. My bosses told me that they would need me to fill in as the subcommittee's temporary LA until they were able to hire someone else. I was extremely nervous about having to move up to the front desk and take on a whole new set of responsibilities. Adjusting to my new role was definitely difficult at first. I messed up the phones more times than I would like to admit and had to get used to manning the front desk and seeing to it that everyone who came into the office was attended to. While the change challenged me at times, and I often felt unqualified for the role, it was an amazing opportunity that undoubtedly opened new doors for me. The experience taught me to never underestimate myself, to accept my mistakes and, most importantly, to learn from my mistakes.
Q: Who served as a mentor to you this summer, and what did they teach you?

I looked to Rosemary Lahasky, one of the professional staff in my office, as my mentor. Rosemary taught me something arguably more valuable than what I could ever learn in a textbook or a class. She taught me the importance of developing personal relationships with the people I work with. From day one, Rosemary made the effort to get to know me on a personal level and did not allow me to be shy. By virtue of her mentorship, I am more confident in my own abilities and have built strong relationships with my bosses.
Q: What have you learned at W&L that helped you in this endeavor, and what have you brought back to your life on campus?
All of the economics courses I have taken at W&L have improved my research and analytical skills. When my bosses asked me to research issues and analyze reports and papers, I could complete those tasks confidently and successfully. Thanks to the small class sizes offered at W&L, I have grown accustomed to developing relationships with my professors. Thus, I began my internship well prepared to work with and learn from all of my superiors at Ways and Means.
I am not only grateful for the professors I have had at W&L but also for the W&L alumni network. Without the advice and encouragement I received from several alumni last fall, I would not have had the internship. Moreover, the W&L alumni who work on Capitol Hill were an incredible source of guidance and mentorship for me this summer outside of the Ways and Means Committee. Therefore, when I returned to campus in the fall, I planned to continue to take advantage of the network and encourage other students to do the same. I look forward to becoming part of the W&L alumni network after I graduate and having the opportunity to help future W&L students explore their passions.
Q: Has this experience impacted your studies or future plans in any way?
I went into the summer with the idea that I wanted to pursue a career in policy or politics, but I needed an internship experience such as this one to assure myself that I am headed down the right career path. I aspire to return to Washington and make a difference, and my experience interning with the Ways and Means Committee has given me the motivation and the courage that I need to never give up on that goal. As one of the thousands of summer congressional interns, I felt at times like just another face in the crowd. But I refuse to adopt such a mindset. In that crowd, I see the faces of America's future leaders, including my own. That image reminds me every day to never underestimate myself and to always follow my dreams.
Q: Why is this kind of experience important to W&L students?
I would tell any W&L student who wants to learn about politics or decide if a career in politics is for him/her to intern on Capitol Hill. This opportunity has allowed me to learn firsthand about the political and legislative process, especially all of the nitty-gritty aspects. More importantly, I believe that some of the most impactful experiences that young college students can have are those that humble us. My internship has not only been an incredible learning experience but also a humbling one, as my preconceived opinions and views have been challenged significantly since I began my internship in June.
Q: Describe your summer adventure in one word:
Exciting.
Q:What kind of funding helped make this experience possible?
Johnson Opportunity Grant
If you know a W&L student who would be a great profile subject, tell us about it! Nominate them for a web profile.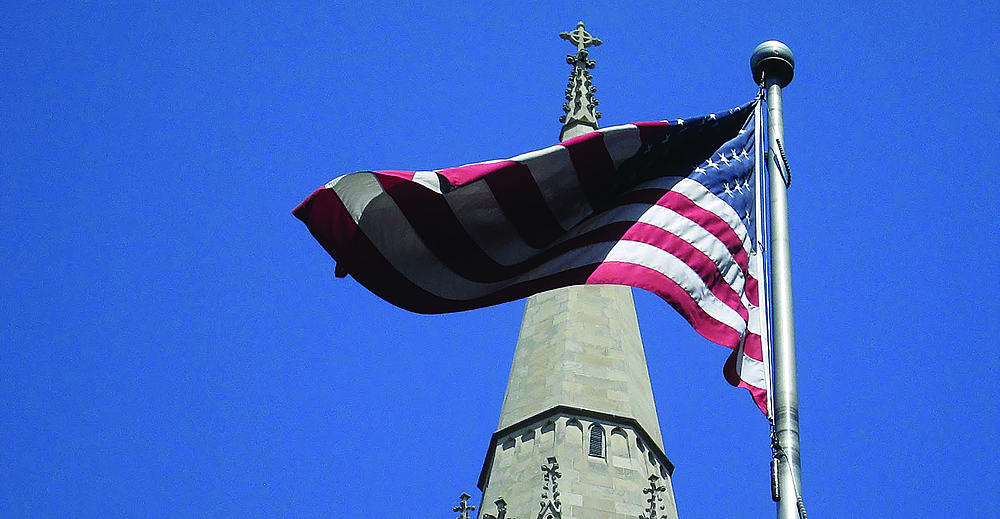 Institute for Honor Symposium Religious Values and Public Policy: Does the Separation of Church and State Also Require Separating Religion from Politics?
From the beginning of colonial America, religion was integral to public life. Religion's special place in the new American nation was enshrined in the First Amendment, which prohibited Congress from enacting laws respecting an establishment of religion or prohibiting its free exercise. In 1802, Thomas Jefferson characterized this language as "building a wall of separation between Church and State." Lively debate has ensued ever since. Was Jefferson correct? If so, what precisely does such a separation mean? In particular, does separating church and state also require separating religion from politics?
Join us for conversation on this important and complex subject, which is not only central to understanding American history, but also relevant to a number of current public policy disputes. A renowned law and religion scholar, Emory University's John Witte Jr., will deliver a keynote address, "Separation of Church and State in American History and Today: Facts, Fictions, and Future Challenges." Daniel Mach, director of the American Civil Liberties Union Program on Freedom of Religion and Belief, will share insights based on his ACLU experience and his prior legal practice specializing in First Amendment law. Sam Calhoun will examine the role of religious values in Abraham Lincoln's opposition to slavery. Calhoun will also introduce the symposium by setting forth key themes and issues, as well as lead a closing panel discussion.
To register, please contact the Office of Special Programs at spclprog@wlu.edu or (540) 458-8723.
Schedule of Events
Friday, March 16
3 -3:50 p.m.
Program Registration (Early-Fielding Lobby)
4 p.m.
Program Welcome and Introductions
Dean Brant J. Hellwig, Washington and Lee University School of Law
Sam Calhoun, Class of 1960 Professor of Ethics and Law (Lee Chapel)
4:15 p.m.
Keynote Address
"Separation of Church and State in American History and Today: Facts, Fictions, and Future Challenges"
Professor John Witte Jr., Emory University
 5:30 p.m.
Reception (Global Learning Center)
6:30 p.m.
Institute Dinner (Great Hall, Science Center)                       
Saturday, March 17

8:30-9 a.m.
Continental Breakfast (Millhiser Moot Court Room Lobby, Lewis Hall)
9‑9:40 a.m.
"The Role of Religious Values in Abraham Lincoln's Opposition to Slavery"
Professor Sam Calhoun (Classroom A, Lewis Hall)
9:40-10 a.m.
Discussion
10-10:30 a.m.
Break (Millhiser Moot Court Room Lobby)
10:30-11:10 a.m.
"Religion and the Machinery of the State: The Constitutional Harms of Governmental Religious Favoritism"
Daniel Mach, ACLU (Classroom A, Lewis Hall)
11:10-11:30 a.m.
Discussion
11:30- 12:30 p.m.
Luncheon (Millhiser Moot Court Room Lobby)
12:30‑2 p.m.
Panel Presentations: Religious Values and Public Policy
Witte, Mach, Calhoun, Mason Grist '18 and Ian Huyett '18L (Classroom A, Lewis Hall)
What Do We Owe Others? As director of the Shepherd Program, Howard Pickett focuses on bringing different voices to the table.
"I can't think of a better way to spend my time than talking about the most pressing moral and social problems that we face with bright, good, energetic young people."
Howard Pickett
Assistant Professor of Ethics and Poverty Studies and Director of the Shepherd Program for the Interdisciplinary Study of Poverty and Human Capability; Adjunct Professor of Law
Classes
Poverty and Human Capability: An Interdisciplinary Introduction
Fieldwork in Poverty and Human Capability
Poverty and Human Capability: A Research Seminar
Poverty, Ethics and Religion
Martin Luther King, Jr.: Poverty, Justice, and Love
Poverty, Dignity, and Human Rights
Q: Congratulations on your fifth year as director of the Shepherd Program. What brought you to W&L and this discipline?
When I first came to Lexington, when my wife Holly (associate professor of English at W&L) started teaching here, I was browsing through the VHS tapes in the library one day. I noticed a multi-volume series on the theological ethics of James Gustafson. I took the tapes home, and saw pretty much all the major figures in religious ethics from the '80s talking about Gustafson right there in the W&L Moot Courtroom. And I thought, "Why the heck is this going on in the middle of nowhere, in Lexington?" I watched more and finally figured out it was all organized by some guy named Harlan Beckley. This was 10 years before the Shepherd Program began and 20 years before I came to town. Well, I found myself wondering "Who is this Harlan Beckley? And has he done anything impressive since then?"
A little later, I actually met Harlan on the sidewalk. At the time, he was serving as W&L's interim president, but he told me that most of the time he ran an interdisciplinary program that focused on poverty and ethics with a hands-on, community-engagement and internship component. I remember thinking, "I'd like to do that one day."
Q: What led you to teaching?
Very early on, when I realized that I would not, in all likelihood, be drummer for the band KISS, I turned my sights elsewhere. Where I grew up, we didn't have tutors. When students in my very small Mississippi high school were struggling with a project or a book or preparation for a test, I used to drive around from house to house and run homework sessions, because, well, that's what I wanted to do. I wanted to talk about the books and the ideas. After college, I wasn't sure what I wanted to study in grad school. Holly entered the Ph.D. program at UCLA, and I taught middle school and high school in Los Angles very happily for seven years. I went on to earn my Ph.D. in religious studies from the University of Virginia and began teaching in Shepherd full time in 2012. Teaching is pretty much the only job I've ever had, other than my college job working in the library.
I can't think of a better way to spend my time than talking about the most pressing moral and social problems that we face with bright, good, energetic young people. It's awesome. One of the appealing aspects of a place like W&L, and certainly one of the draws of the Shepherd Program, is that we get to have great classroom conversations. We get the scholarly engagement through conversations with colleagues across the disciplines. We get incredible insights from gifted Shepherd staff and community partners. And we also get the opportunity to mentor students as they figure out how to connect their own incredible gifts with the greatest needs of the world.
For me, I really love doing research and I love teaching, but if I didn't also have those one-on-one advising conversations with students about their summer internships and how they are going to build on those experiences in the coming years, my life wouldn't be nearly as fun or nearly as fulfilling.
Q: The Shepherd Program is celebrating its 20th anniversary. What drives the program's success?
Short answer: The people.
Now for the longer answer. There are two important aspects of Shepherd that people might not realize if they aren't heavily involved. One is that Shepherd's focus has always been vocational. We're preparing students to work with their future communities to address the problems associated with poverty. Sometimes that's in their professional lives, but it should always be in their civic lives. Moving forward we're going to clarify some of the more common vocational paths through the program, such as health, law, education, economic development and the like.
The other aspect people don't realize is that Shepherd is an embodiment of a W&L education. It actively cultivates both the intellectual virtues related to critical thinking and the civic virtues, including responsible leadership, service to others and engaged citizenship in a global and diverse society. Sometimes people think Shepherd is only coursework. Other times people think it is only community service. It's really an interweaving of interdisciplinary coursework and community engagement.
Shepherd has always been committed to bringing different people with different voices together around the table — people with different experiences, different backgrounds, different disciplines, different career paths and different political ideas. It's our hope that students will learn how to participate passionately and respectfully in conversations about these pressing moral and social problems related to poverty with people who don't always agree with them.
Q: What role does the Law School have in the Shepherd Program?
There's long been a connection with the Law School, and I anticipate seeing that relationship expand and deepen over the next several years. Right now, we have at least four law student summer interns each year. We also have course work connections, notably each year a handful of law students with an interest in public interest law take the research seminar with our poverty studies minors. That's a really fruitful interchange. You have students with an understanding of the law who are able to share that with undergrads who might be interested in a law career. Simultaneously, the undergrads have expertise rooted in their coursework and in their internship experiences that can directly inform discussions about poverty and law — everything from social determinants of health to housing issues to food insecurity.
Over in the Law School, Joan Shaughnessy offers a course for undergrad and law students on child abuse and neglect. J.D. King, also a longtime supporter of the Shepherd Program, is quick to point out that his clinic, really all the Law School clinics, have a poverty dimension, though they exist apart from Shepherd. What we're hoping to do over the coming years is to connect faculty and students in law and the undergrad side around those clinics. The Public Interest Law Students Association is taking the lead on some of that, too.
Q: You have a new book out, "Rethinking Sincerity and Authenticity: The Ethics of Theatricality in Kant, Kierkegaard, and Levinas." What questions are you looking to answer in this project?
I'm interested in the problems with excessive individualism. One could approach that by examining the obvious problems with people putting too much emphasis on their own individual interests, and harming others. But, instead, I'm interested in some of the ways our most cherished virtues and institutions may smuggle in excessive individualism. Specifically, I'm arguing that, in many ways, the modern emphasis on sincerity — on being true to oneself — is sometimes more vice than virtue.
There are three problems with sincere self-expression. First, the self may not be worthy of expression. I may need to transform myself before its appropriate to go out and be the real me. I may often be an immoral and imperfect person; one doesn't want to externalize the inner self if the inner self is pretty ugly.
Second, the self might not be capable of expression. We frequently have conflicting feelings and judgments, and it's difficult to figure out which one is the real me.
The third problem is that all this focus on being true to one's self — all this introspection — can actually sometimes distract us from the needs of others. Maybe I ought to be, not so much true to myself, as true to the other person.
Ultimately, I defend what I call virtuous hypocrisy. I'm not making a wholesale recommendation of all hypocritical activity; I'm only advocating virtuous hypocrisy. More specifically, I'm looking at the ways some influential thinkers have described the ethical life in theatrical terms — imitating a moral exemplar, playing the role of the needy other. These activities actually play an important role in our own moral development and our moral deliberations about what we owe others. The problem, however, is that theatrical imitation can look a lot like insincerity or inauthenticity.
Q: What do we owe others?
A very important notion to me — even though the ethicists in my book don't use the phrase — is "fake it till you make it." I think that's one of the big challenges in our lives. How do we overcome what for many of us is an obsession with our own self interest in order to become more concerned about the needs and well-being of others.
Everything that we do in Shepherd is about learning how to be more understanding. How can we hear others' stories more compassionately? How can we work in solidarity and partnership with our communities and community agencies to improve the well-being of all and to promote a more just world?
Everything Shepherd does is a rejection of excessive individualism in pursuit of a more collaborative community. Getting there requires community engagement, participation in internships, working with community partners and examining complex problems from different disciplines and perspectives. Shepherd is all about recognizing both our own limitations and the value of others.
Q: Who do you like to read?
If I had to pick one author to read and teach, it would be Martin Luther King Jr. — in particular, his final years, when his focus turned more and more to issues of poverty and economic justice. But my students wouldn't be surprised to hear me also say John Rawls and Martha Nussbaum.
Shepherd Program Celebrates 20 Years Here's a look back at important milestones that shaped the program through the years.
In the fall of 1997, Professor Harlan Beckley, with the financial support of Nancy and Tom Shepherd '52, established the Shepherd Program for the Interdisciplinary Study of Poverty and Human Capability. Along with coursework, students engaged in community service and volunteer work.
The 1997 Fall Alumni Magazine made note of this novel approach to the study of poverty. "Washington and Lee ushers in a bold and innovative new initiative that seeks to promote two important aspects of the University's mission: to cultivate in its students 'the responsibility to serve society through the productive use of talent and training' and a capacity 'for self-sacrifice in behalf of their fellow citizens.' "
Over the last 20 years, the Shepherd Poverty Program has dramatically expanded to include a capstone course, summer internships, the Nabors Service League, The Bonner Scholars Program, Campus Kitchen and more.
It's difficult to capture the depth and breadth of the Shepherd Program, but here's a look back at important milestones that shaped it.
Art in the City Mandy Witherspoon '18 combined her love of art with her expertise in business at the Baltimore Museum of Art.
Mandy Witherspoon '18
Hometown: Baltimore, Maryland
Majors: Business Administration and Art History
Q: Tell us a little bit about your summer opportunity?
This past summer, I worked at the as a marketing and communications intern. My days were spent in the back offices of the museum, researching artists and brainstorming titles for upcoming exhibits, organizing PR calendars and press releases, writing blog posts about present and past art at the museum, and archiving documents from previous exhibits. A Johnson Opportunity Grant helped make this possible.
Q: What was your favorite aspect of your summer experience?
Baltimore is my hometown, and I am so fortunate to have these opportunities and experiences so close to home. The museum is right next to the Johns Hopkins campus, so I explored the nearby college town during my lunch breaks. On the weekends, I tried to explore the rest of the city and take part in the local attractions, such as the annual Artscape. Baltimore is also a short drive or commuter train ride away from Washington, D.C., so I visited friends and art exhibits in the capital whenever possible.
Q: What did an average day for you look like?
I worked in a small office with five other members of the M&C team, though I was the only intern. Sometimes we had a morning meeting to discuss the progress on the upcoming exhibitions. I mostly worked at my desk. A few times there were all-staff meetings, where the director of the museum, Christopher Bedford, would chat with the staff about the future of the museum. Some days we ventured into the exhibits to do some promotional work for the website. All in all, each day was completely unique.
Q: What was the most rewarding and fulfilling part of this experience?
I was fortunate enough to have the chance to sit in a few all staff meetings, where the new director Christopher Bedford led discussions about the museum's future and encouraged staff from all departments and ranks to join in. I was impressed by how open-minded and aware the staff is and how eager the museum is to mold and adapt to the new role museums play in our society. I am part of the new generation, and it was amazing to see and hear that a museum that just celebrated its 100th birthday is moving in the same direction as I am. It makes me hopeful and excited for when it comes my time to join the museum industry.
Q: What was the biggest challenge you faced?
Blog posts. I'd never taken a journalism class at W&L, and my last English class was back in high school. I got off to a slow start, but once I had warmed up to the idea and got into the research, the idea became less terrifying and more intriguing. I emailed coworkers who attended the events I was covering for quotes, and by the end, I had learned a little history about the museum. When we as visitors see an exhibit, we tend to look past all the work that goes into the exhibit from the corporate side. The blogs helped me to see past the glitz and instead see all the hard work that the curatorial team, the installation team, the marketing team, etc., puts into even the tiniest of shows.
Q: Who served as a mentor to you, and what did they teach you?
I was lucky enough to have four amazing mentors this summer: Anne Brown, senior director of communications and marketing; Mary Margaret Stephanian, marketing and partnerships manager; Sarah Pedroni P'14, communications and group sales coordinator; and Jessica Novack, communications and editorial manager. Each one had her own history and experience that made her vital to the museum's marketing department.
Through their different expertise, I learned about different areas of marketing needed to advertise an upcoming exhibit. I saw how creative and passionate they are about the museum and how willing they are to engage with the Baltimore community. I saw exhibits grow and how the museum used different facets of social media and paid advertising to get the word out to the public. They included me in meetings to plan upcoming exhibits and events and helped me understand all that needs to be done from a marketing perspective to make these events successful. I was so lucky to be surrounded by such hard working, knowledgeable, sweet and funny people.
Q: What have you learned at W&L that helped you in this endeavor, and what will you bring back to your life on campus?
The W&L curriculum helped me to not only land such a prestigious internship, but also to navigate through unfamiliar work territory. W&L's speaking tradition helped me to become comfortable in the new work environment and create work friendships. W&L has taught me to speak up not only when I have questions, but to also to share my onions and become an active member of the team. By the end of the summer, I felt I had left my mark and was not just another nameless intern. This year, I will come back to W&L with even more confidence in my career decisions, knowing I'm on the right path for my future success.
Q: Did this experience impact your studies or future plans in any way?
Absolutely. I wanted to see if I could one day combine my two majors in a setting I've always loved. This summer has shown me that I enjoy working behind the scenes of the museum, just as much as I enjoy the museum itself. This internship has introduced me to the corporate life of museums, and now I know this is a place where I'll want to return.
Q: Why is this kind of experience important to W&L students?
The non-profit sector is a different pace and environment than I was used to when I worked for a marketing agency last summer. As a college student trying to decide my future, it was extremely beneficial for me to see how the other side of the industry works. I am so grateful to spend my last summer as a student working at a marketing agency, but also equally as grateful that I had the chance to explore a dream of mine to work in a museum. College is the time to seek out your hopes and dreams; you never know where it might take you after you graduate.
Q: Describe your summer adventure in one word:
Insightful
If you know a W&L student who would be a great profile subject, tell us about it! Nominate them for a web profile.
Classic Designs Julie Lawrence '92 mixes old and new materials in her furniture designs.
Julie Lawrence, an interior designer based in Roanoke, Virginia, just launched two collections for Restoration Hardware, and her aesthetic caught the eye of Architectural Digest.
The influential magazine quizzed the 1992 Washington and Lee University graduate on her "inspiration, process and achieving an authentic style."
Julie, who began her career with her stepfather's business Van Theil, says in the interview that although she describes her work as classic, she is "continually striving to incorporate elements of both traditional and contemporary design so they are complementary and balanced. I think the contrast makes everything more interesting."
After graduation, Julie lived and worked in Europe and "developed a strong appreciation for art, architecture and furniture that could withstand the test of time, not only in style, but in materials that could survive for centuries, and in most cases only become more beautiful with wear and age."
She has blended old and new materials in her new line, and, for her, the "authenticity of this collection is that we're being true to the materials — letting the materials shine. The veining of the Carrera marble and the handworked texture of the iron is, in part, what makes the collection work. It is not trying to be anything more than it is, and in my opinion, it is that type of simplicity and honesty that makes it beautiful."
To see more of her work, visit RH.