Dymacek to Present Inaugural Lecture The title of Wayne Dymacek's talk, which is free and open to the public, is "My Life and Times with Dots and Lines."
Wayne Dymacek, Cincinnati Professor of Mathematics at Washington and Lee University, willpresent an inaugural public lecture to celebrate his endowed professorship on Jan. 31 at 4 p.m. in Chavis Hall 105. Refreshmentswill be provided in the Chavis Hall foyer following the talk.
The title of Dymacek's talk, which is free and open to the public, is "My Life and Times with Dots and Lines."
In his talk, Dymacek will discuss a philosophy of mathematics known as constructivism, and its more extreme versions, finitism and ultra-finitism. The talk will conclude with examples from his mathematical career.
Dymacek earned degree B.A. in mathematics at Virginia Tech in 1974, and went on to earn his M.A. and Ph.D. there in 1978. He has taught in the Mathematics Department at Washington and Lee University since 1981. Dymacek is a member of the American Mathematical Society, Association of Christians in the Mathematical Sciences, Institute of Combinatorics and its Applications, Mathematical Association of American and Pi Mu Epsilon.
The Society of the Cincinnati is the nation's oldest private patriotic organization, founded by the officers of the Continental Army in 1783 to perpetuate the ideals and memory of the American Revolution. The society was comprised of 13 American state societies and a French society, and George Washington was its first president.
Semester in DC: Gabriella Passidomo at the U.S. Department of Energy
Gaby Passidomo is a third year law student from Naples, FL.  She is a staff writer for the Law News and serves as the law school's Key Staff representative with W&L's Outing Club.  Gaby spent the fall semester in DC interning with the U.S. Department of Energy.  She is interested in energy law and policy and will be doing state utility regulation with Florida's Public Service Commission after graduation. Gaby, right, is shown above with her sister Francesca outside the Lincoln Theatre in DC.
I love Lexington. There, I said it. I love the mountains that encompass it. I love its small-town feel, the close-knit community, how people greet one another as they pass on the sidewalk. Lexington is the perfect place to spend three years of law school, or as it turned out to be in my case, two and a half years. Last year, as a 2L contemplating my third-year plans, a bit of luck struck. I submitted an application with the general counsel at the U.S. Department of Energy, presumably for a summer position. When I received a call asking if I would be interested in a longer term position during the fall, I immediately said "Yes!" Then I realized, wait, I'm still in law school.
While W&L's DC Externship Program was a key factor for some of my classmates choosing W&L when they were prospective students, the program had not necessarily been on my radar. Plus, I was not sure how I felt about leaving Lexington for a semester (see above, love Lexington, friendly people, etc.). However, after discussing with students from past years in the DC Externship Program, I was sold. I was still not sure what to expect, as each placement varies, but I was excited. I have been interested in practicing energy law for quite some time now, and I could think of few better places for practical experience than the U.S. Department of Energy (DOE).
I worked for the Office of the Assistant General Counsel for Electricity and Fossil Energy (GC-76) at DOE. Our office was small, fluctuating from three to six attorneys while I was there, but mighty. GC-76 is the lead departmental attorney for the Assistant Secretaries for Electricity Delivery and Energy Reliability, and Fossil Energy. While at first glance this may seem modest, it is anything but. The attorneys in GC-76 handle everything from electricity generation, transmission and distribution, the production, transmission, storage, importation and exportation of natural gas, oil production and storage, including the Strategic Petroleum Reserve, to energy reliability, grid emergency authority, and cyber security. Needless to say, GC-76 attorneys wear many different hats.
However, the flood of work that comes through GC-76's doors presents an unparalleled opportunity for law student externs. The office truly valued my help and was sure I would never have a day sitting around twiddling my thumbs. By the end of my externship, I was drafting internal memos, reviewing import and export authorizations, and writing orders that will be published in the Federal Register.
W&L's DC Externship Program uniquely places students for an entire semester in an opportunity that will provide real, substantive work. My experience in DC was not the prototypical "intern" experience where I got the boss coffee and made copies. No, I produced real work product that my mentor attorney reviewed and critiqued with me, and improved my legal research and writing skills. Without a doubt, my semester in DC was invaluable.
I am back in Lexington now, happy to be home with my friends and community, but, I'll say it, I miss DC. I miss my colleagues, my work assignments, my metro "community," the food options, even the city. W&L's DC Externship Program enables students like myself not to have to make that fretful decision– urban or rural, academic or experiential. I got the best of both words, and will be a more effective lawyer because of it.
ODK Recognizes New Members at 2019 Founders Day/ODK Convocation The leadership organization also presented the James G. Leyburn Award to Srimayi B. "Tinni" Sen.
Alpha Circle of Omicron Delta Kappa, the national leadership honor society, recognized six honorary and 38 student initiates during its traditional tapping ceremony at Washington and Lee University's annual Founders Day/ODK Convocation on Jan. 22 at 5 p.m. in Lee Chapel.
The convocation was free and open to the public. It was broadcast live online and can now be viewed here.
Christy Coleman was the featured speaker; her talk was titled,"In Times Like These: Responsive and Responsible Leadership." Coleman currently serves as CEO of the American Civil War Museum, located in Richmond and Appomattox, Virginia, where she has been instrumental in furthering discussion around the Civil War, its legacies and its relevance to our lives today, not only in the Richmond region but around the nation.
She began her career at the Colonial Williamsburg Foundation (CWF), where she was responsible for all programming and tours in the historic area. In 1999 she became president and CEO of the Charles H. Wright Museum of African American History in Detroit, Michigan. In 2008 Coleman was named president and CEO of the American Civil War Center at Historic Tredegar (ACWC). In 2013 she helped orchestrate the merger of ACWC with the Museum of the Confederacy to create the American Civil War Museum.
ODK honorary initiates are Mark H. Eastham, head of school at Stuart Hall School, in Staunton, Virginia; Brant J. Hellwig, professor of law and dean of the School of Law at W&L; Mohamed Kamara, associate professor of French and head of the Africana Studies Program at W&L; Alfonzo M. "Bucky" Miller Jr., retired deputy chief of the Lexington, Virginia Police Department; Lex O. McMillan III, president emeritus of Albright College in Reading, Pennsylvania; and William C. "Bill" Shelton, former director of the Virginia Department of Housing and Community Development in Chesterfield, Virginia.
Eastham is a member of W&L's Class of 1984. Since 2004, he has been head of school at Stuart Hall School, an independent Pre-K-12 co-ed day and boarding school. The school's enrollment is more than 300 day and boarding students across two campuses. Eastham turned around the school's deficit in just his second year on the job and led successful campaigns to increase the institution's endowment to more than $5 million. He also oversaw the merger with a K-5 school in Verona, Virginia. From 2000 to 2004, Eastham was headmaster at Aylett Country Day School in Millers Tavern, Virginia. Before that, he was assistant headmaster and director of development at St. Margaret's School in Tappahannock, Virginia. He served as director of publications, then director of annual giving and, finally, associate director of development at Episcopal High School in Alexandria for 10 years, ending in 1995.
Eastham is a former president of the Tappahannock-Essex County Chamber of Commerce and a former member of the vestry at St. John's Episcopal Church there. He has also been a member of Rotary International and the board of directors of the Virginia Association of Independent Schools. He earned a B.A. from Washington and Lee University in 1984 and a M.Ed. from the University of Virginia in 1994.
Hellwig is a professor of law at Washington and Lee who also serves as dean of the School of Law. He received a B.S. in mathematical economics at Wake Forest University and a J.D. from the Wake Forest University School of Law. After a brief period in private practice, he pursued an LL.M. in taxation at New York University School of Law. After serving as a law clerk to the Hon. Juan Vasquez of the United States Tax Court, he began his teaching career at New York University School of Law. He accepted a tenure-track position at the University of South Carolina School of Law, where he was a member of the faculty for 10 years prior to joining the law faculty at W&L.
Hellwig specializes in a variety of federal taxation topics, including individual income taxation, taxation of business entities, and estate and gift taxation. He has co-authored casebooks on these subjects, several with his colleague on the W&L law faculty, Bob Danforth. After several years on the faculty, he began his administrative role as dean in 2015. He and his wife, Tammi, have two teenage daughters, Emily and Molly.
Kamara is associate professor of French at Washington and Lee. Currently head of the Africana Studies Program, he has also served as interim chair of the Romance Languages Department. He has a B.A. from Fourah Bay College (the University of Sierra Leone) and a M.A. and Ph.D. from Purdue University and Tulane University, respectively. Kamara's teaching and research interests include French and Francophone language, literatures and cultures, with specific focus on African and 18th-century French women writers, colonial education and human rights. He is also a founding member of Refugee Working Group and Rockbridge Interfaith.
Kamara is the current chair of the International Education Committee, a faculty representative on the W&L Board of Trustees, as well as a member of other university-wide committees. As faculty advisor to campus Muslim students, he is a member of the religious staff in the Office of Inclusion and Engagement. Kamara is married to Tida Drame and has two children, Adama and Musa, both of whom are in college.
Miller faithfully served the Lexington community as a police officer over a 30-year career, first as a patrol officer, then as investigator, then sergeant and deputy chief. He has been honored by the Lexington Police Department with the Meritorious Service Medal, the Life Saving Medal and the Award for Valor. Miller has been honored for his community leadership as the Lexington Public Employee of the Year in 2002 and the People's Choice Award Citizen of the Year in 2014. He is a Paul Harris Fellow and was named the Jaycees Outstanding Citizen of the Year in 2014. In 2015, the city of Lexington proclaimed June 10, 2015, as Captain Bucky Miller Appreciation Day.
Miller has been an adult volunteer counselor at the 4-H camp for the last 12 years, is an instructor for the J.A.K.E.S. (Juniors Acquiring Knowledge, Ethics and Sportsmanship) Program and has been a basketball coach for Lylburn Downing Middle School for the last five years. He continues to volunteer for many local organizations including the Rockbridge Area Recreation Organization and the Community Table. He is a graduate of Lexington High School and holds a degree in psychology from Virginia State University.
McMillan, a member of Washington and Lee's Class of 1972, was the 14th president of Albright College in Reading, Pennsylvania (2005-2017). Upon his retirement, the board elected him president emeritus, the third president so honored in Albright's 161-year history. The board also renamed the college's campus center in his honor and inscribed his name on the college's Founders Wall. McMillan led Albright to record enrollments, new academic programs, the most successful fundraising effort in its history, and major capital improvements, including a $39 million renovation and expansion of its science center and other new buildings. As vice president for college relations at Gettysburg College (1993-2005), he provided staff leadership toward a six-year, $100 million campaign, exceeding its goal by more than $11 million.
McMillan previously served as executive director of development at Washington and Lee University (1987-1993), where he helped lead a campaign that exceeded its $127 million goal by more than $20 million. Before that, he served as director of public relations, then director of development, at Randolph-Macon College in Ashland, Virginia. He is immediate past chair of the National Velodrome Development Foundation, a volunteer speaker for Fair Districts PA, (a citizens' group for electoral reform), a volunteer with the Adams Rescue Mission in Gettysburg, and a lector and choir member for his church. He has served on other higher education boards and with other local charity and civic groups. He is an authority on and gives talks about author C.S. Lewis. He received his bachelor's degree, cum laude, from Washington and Lee, a master's degree in English from Georgia State University, and a doctorate in English literature from the University of Notre Dame. He is married to the former Dorothy Argoe of Atlanta, Georgia. They have five grown children and six grandchildren.
Shelton is a member of W&L's Class of 1976. As director of the Virginia Department of Housing and Community Development from 1998 to 2018, he served five governors, providing advice on housing, economic development, community development and building code issues. In all, he worked in the housing and community development field for 40 years. Signature initiatives included helping in the creation of the Virginia Housing Partnership Fund, the launch of Virginia Community Capital (Virginia's statewide community development bank), collaboration on the Southwest Virginia cultural heritage initiatives and supporting efforts that led to a 33 percent reduction in homelessness from 2010 to 2017.
Shelton has served on numerous boards and commissions including the Virginia Housing Development Authority, Virginia Community Capital, the Southwest Virginia Cultural Heritage Commission, Housing Virginia, the Council of State Community Development Agencies, and as the governor's representative to the Appalachian Regional Commission. His leadership has been recognized with the Virginia S. Peters Housing Award from the Virginia Housing Coalition, the James E. Reeves Member Contribution Award from the Council of State Community Development Agencies, Policy Maker of the Year from the International Code Council, the John D. Whisman "Vision" Award from the Development District Association of Appalachia, the Robert Baker Achievement Award from the Virginia Association of Planning District Commissions, and the Excellence in Virginia Government Lifetime Achievement Award from the VCU L. Douglas Wilder School of Government and Public Affairs. He has been inducted into the Virginia Housing Hall of Fame. A native Virginian, he received a B.A. from Washington and Lee University (1976) and a Masters of Urban and Regional Planning from Virginia Commonwealth University (1979).
Undergraduate Class of 2019:
Jeremy Abcug (Coral Springs, Florida) is an environmental studies major. In addition to co-managing WLUR, Washington and Lee's college radio station, he has been significantly involved with sustainability at W&L. As a sustainability intern, he has led and helped complete a variety of new sustainability initiatives and programs, including the green transformation of Washington and Lee's campus dining options, which now offer only compostable plates, utensils and other forms of consumer ware. As a member of the university's Compost Crew, he also helps in the school's process of turning pre- and post-consumer waste into soil for our Campus Garden, growing food that goes directly back to students and those in need in our local community.
Yo Han "John" Ahn (St. Louis, Missouri) is majoring in economics and minoring in poverty and human capability studies. The son of first-generation immigrants, he attends W&L as a Gates Millennium Scholar and a QuestBridge scholar. As a first year student, he was selected based on leadership and merit to represent W&L in the Kemper Scholars Program, a national business fellowship providing internship experience in Chicago. Ahn is president of SPEAK, the university organization that works to raise awareness and prevent sexual assault on campus. He has been involved with SPEAK since his first year. He joined the Campus Kitchen Leadership Team at the end of his first year and created the organization's 10-year anniversary documentary. He has also served as the head of consulting projects for Venture Club, W&L's entrepreneurship organization.
Erin An (El Paso, Texas) is majoring in religion and is on the pre-med track. She is an ESOL community coordinator, Burish Service-Leadership intern at Maury River Middle School, and small group leader for InterVarsity Christian Fellowship. An is a peer tutor, ESOL tutor and a youth volunteer teacher at Rockbridge Church. She is a research student for Dr. Friend in the Biochemistry Department and has participated as a cellist in the University Orchestra.
Hye-Eun "Jenna" Choi (Iowa City, Iowa) is majoring in business administration and minoring in theater. On campus, she has served as a resident advisor for the past three years, and she is the activities co-chair of the First-Year Orientation Committee. Choi served as the sisterhood chair for her sorority, and she is the assistant stage manager for the upcoming W&L production of "The Cherry Orchard." She also has participated in the service fraternity Alpha Phi Omega, the InterVarsity Christian Fellowship, and tutored a family on behalf of ESOL.
Suzanne Eleanor "Elly" Cosgrove (Wilmington, North Carolina) is a business journalism major. She is a two-year captain of the W&L women's volleyball team. In her senior season, Cosgrove was First Team All-ODAC, AVCA Honorable Mention All-Region and VaSID First Team All-State. She is also sports director for the school's radio station, WLUR, and a sports editor for the Ring-tum Phi. Cosgrove was part of the Generals' Leadership Academy her junior year and served as the secretary of 24, a student-athlete leadership committee on campus.
Katherine Francis Dau (Dallas, Texas) is majoring in art history and German. She serves as the DAAD Young Ambassador to W&L and as president of the German Club. She has also served as vice president and president of her sorority, Kappa Alpha Theta. Dau has served as a representative on both the Constitutional Review Committee and the University Board of Appeals. Since 2017, she has been a digital humanities fellow and an active member of the "Florence As It Was" project. She received a Mellon grant for faculty-student research in order to conduct further research for FLAW in Florence this past summer.
Hailey Rian Glick (Raleigh, North Carolina) is a psychology major and a poverty studies minor. Since the spring of her first year, she has been on the Hillel Board, serving as social action chair for two years, and student head of the Novack Fund for three. She is a research assistant in Dr. Fulcher's gender development lab, a PSYC 250 T.A., alto section leader for the University Singers, and an active member of the Theater Department, having participated in three shows in the past two years. Off campus, she is a consistent volunteer at Project Horizon.
Lorena Hernandez Barcena (Houston, Texas) is majoring in economics with minors in education policy and poverty and human capability studies. She is co-president of English for Speakers of Other Languages and serves on the executive leadership teams of Nabors Service League and College Democrats. Currently, she is a Burish Intern at Rockbridge County High School and has been an economics tutor for three years. Last year, she also served on the executive board of the Chi Omega sorority. In 2018, she was selected as a Public Policy and International Affairs Fellow and received the John M. Gunn Scholarship from the Economics Department.
Morgan VanGilder Maloney (Vienna, Virginia) is an American history and politics major. She has served as president of the W&L College Democrats and as an officer in Amnesty International at W&L since her sophomore year. In addition to participating in Washington Term, she took a semester-long leave of absence to work on the Hillary Clinton campaign. Maloney has served as executive council of the W&L chapter of Pi Beta Phi for two years. She volunteers weekly at Project Horizon. She is also a Johnson Scholar and a member of Phi Beta Kappa.
Kathryn Sinclair McEvoy (Middletown, Maryland), is majoring in global politics and minoring in poverty and human capability studies. She is co-president of English for Speakers of Other Languages and student advisor to the Community Engagement and Service Learning Committee. McEvoy volunteers weekly at Project Horizon Domestic Violence Shelter, teaching English classes that she established there and conducting community-based research for the shelter. She also serves as a lead class agent, a university tour guide and an ambassador for the Shepherd Higher Education Consortium on Poverty.
Katherine Helen Oakley (Reno, Nevada) is majoring in anthropology and Spanish and minoring in environmental studies. Currently the president of Generals Unity, the queer student organization, Oakley is also involved in the queer community through her role as an LGBTQ+ peer counselor. She also works as an intern for the Office of Sustainability, is a member of the Compost Crew, and is actively involved in music on campus as a frequent performer at Friday Underground and other showcase events. She is a regular writer for the online student publication The Vigil, a black belt in taekwondo, and a red belt in karate. She is also a member of Phi Beta Kappa.
Jackson Arthur Roberts (Kansas City, Missouri) is majoring in neuroscience and anthropology with a minor in poverty and human capability studies. Roberts, who is heavily involved in the Shepherd Program, has served as a three-year leader of a Volunteer Venture trip to Richmond and has played a significant role in the Shepherd international internship program. An experienced researcher, he works as one of the student heads of Dr. Toporikova's research lab, focusing on the intersection of obesity and reproduction. He has also sought roles in campus governance, forming part of the Student Health and Science, Society, and the Arts executive committees. After serving as the outreach chair for W&L's Red Cross Club, he became the club's co-president.
Anukriti Shrestha (Kathmandu, Nepal) is a double major in integrated engineering (chemistry emphasis) and mathematics. She was vice president and then president of the Student Association for International Learning (SAIL). She is a teaching assistant in the organic chemistry lab and is also a peer tutor for the subject. Currently, she is secretary of Engineering Community Development and is involved in coordinating community development projects for the club. She is a student representative on the International Education Committee. She has served as an International Student Orientation leader as well as a pre-orientation trip leader for sustainability. She's also part of the residential life staff as a community assistant for the Global Service House.
Mohini Tangri (Fort Collins, Colorado) is a Johnson Scholar majoring in global politics and minoring in poverty studies. As a first-year student, she founded W&L's Amnesty International chapter, which has grown into one of the largest groups on campus. She has brought W&L students to Amnesty's National Day of Legislative Action, regional conferences and regional orientations while serving as a Virginia state leader for Amnesty's national organization. Tangri has also been vice president of the campus Roosevelt Institute chapter and a hearing advisor for the W&L Honor System.
Sarah Anne Troise (Lexington, Virginia) is majoring in engineering and computer science. She is president of Women in Technology and Science, teaching STEM lessons to local elementary school girls. She was a member of the Student Financial Aid Committee and the Science, Society, and the Arts Advisory Committee. A Johnson Scholar and the 2017 president of Sigma Pi Sigma Honor Society, she has participated in research in the Physics and Engineering Department since fall 2016 and will present her findings at the American Concrete Institute Convention this year. She was the 2017 recipient of the H. Thomas Williams Jr. Undergraduate Research Scholarship, as well as the 2016 and 2017 recipient of a National Science Foundation Research Experience for Undergraduates Fellowship.
Julia Mae Udicious (Bryn Mawr, Pennsylvania) is majoring in business administration with a double minor in mass communications and dance. She has served as treasurer and PR chair of the W&L Repertory Dance Company and performed in leading roles. Udicious is also part of a nine-member team that manages the university's @WLULEX social media brand. Since her first year at W&L, she has tutored and mentored a local student, following him in his transition from Waddell Elementary School to Lylburn Downing Middle School. She also serves as the director of social enrichment for Alpha Delta Pi sorority, an associate class agent for the 2019 Senior Gift Committee, and a peer advisor for Professor Bower's Ad Class.
Jordan Elizabeth Watson (Fayetteville, Georgia) is majoring in economics. As a member of the varsity swimming team, she earned First Team All-ODAC honors as a first-year, sophomore, and junior, and was also an NCAA qualifier as a part of the team's 800 freestyle relay. During 2018, Watson has served as a member of W&L's Panhellenic Council as Head Rho Gamma. Since her sophomore year, she has served on the executive team of 24 as treasurer. She is also a member of Money Matters.
Undergraduate Class of 2020:
Laura Rose Calhoun (Warrensville, North Carolina) is a strategic communication major and poverty and human capability studies minor. She founded Rotaract Club, a community service-based organization, as a first-year student. She also conceived and curated the Unfreedom of Expression art exhibition, showcasing artwork from incarcerated people. Calhoun serves on the Junior Advisory Group and Community Engagement/Service Learning Committee, and as a University Ambassador and a pre-orientation trip leader. She also volunteers weekly at The Community Table.
Edwin Antonio Castellanos Campos (Aurora, Illinois) is double majoring in accounting and Spanish. He's the co-founder of the First-Generation Low-Income Partnership, president of the Latinx Student Organization, community relations chair for QuestBridge, an editor for the Spanish literary magazine Pluma, and interpretations chair for English for Speakers of Other Languages. He has been a trip leader for the Baltimore Volunteer Venture and assists the Washington and Lee University Immigrant Rights and Tax Clinics with interpretations and translations for Spanish-speaking community members. He serves as a member of the Junior Advisory Group, the Diversity First-Generation Working Group, and the Office of Inclusion and Engagement Advisory Board.
Tiffany Bokyoung Ko (Bristow, Virginia) is a neuroscience major and music minor. She is a leader of the Compost Crew, a group of students dedicated to reducing waste from campus dining facilities. She organizes and staffs the Biology Department study hall for students in introductory classes. Ko also serves as a leader for Intervarsity's Asian Ministries small group. She has organized cultural events as secretary of the Pan-Asian Association for Cultural Exchange. She is a member of the coeducational service organization Alpha Phi Omega, the Beta Beta Beta Biological Honor Society and the Phi Eta Sigma Honor Society.
Maya Kathleen Lora (Miami, Florida) is majoring in English and journalism. She is a news editor for the campus newspaper, the Ring-tum Phi, is active in W&L's student newscast, the Rockbridge Report, and captures student life as one of the university's first official student photographers. Lora is a residential adviser for first-year students and vice president of W&L's chapter of the human rights organization Amnesty International. She served as a panelist for the annual Gender Action Group discussion on the word "feminist." She will contribute to one of W&L's most famous examples of student leadership and innovation, Mock Convention, as the Southeast Regional Chair.
Rose Marie Maxwell (Jackson, Mississippi) is majoring in psychology and religion, and minoring in poverty and human capability studies. Maxwell is the assistant head of the Peer Counseling program. She has been the service and philanthropy chair for her sorority, Kappa Alpha Theta, and has also served on their Membership Development Committee. She leads worship for Reformed University Fellowship and is a member of the RUF leadership team. Maxwell has led an Appalachian Adventure pre-orientation trip for two years and is co-head of an outdoor sunset series for the Outing Club. She is a member of the University Singers and chair of the Lenfest Student Committee.
Brian Christopher Peccie (Norfolk, Virginia) is majoring in economics and mathematics. He is a member of the men's golf team and serves as the team captain. He has received First Team All-ODAC, First Team All-VaSID, and PING First Team All-South laurels each year. During the 2017-18 season, Peccie was named ODAC Player of the Year, VaSID Player of the Year and PING First Team All-American. He earned a spot on the All-Nicklaus Team after winning the NCAA Division III Individual National Championship and helping the Generals finish as the National Runner-Up. He participated in the Generals Leadership Academy and is a member of Kathekon. Peccie also enjoys leading guided tours of campus as a part of the University Ambassadors program.
Hannah Margaret Witherell (Littleton, Massachusetts) is majoring in psychology and following a pre-physician assistant track. She has been an executive leadership team member of the Campus Kitchen at Washington and Lee since her first year and is now the president. As a Summer Research Scholar, she worked in Dr. William Schreiber's lab, where she studied habituation learning in invertebrates. She now works in the lab of Dr. Ryan Brindle, helping to study stress physiology. Witherell is a pantry distribution manager at Rockbridge Area Relief Association, a teaching assistant for the Psychology Department, and leader of a Volunteer Venture trip focused on health care and poverty.
Yue Yu (Dayton, Ohio) is majoring in business administration and German. She helps place student teachers in schools through Languages for Rockbridge and is the president of PAACE (Pan-Asian Association for Cultural Exchange). As a member of the Community Grants Committee, she evaluates grant proposals from the local community. She is also a University Ambassador and peer advisor for Career and Professional Development. She has created diversity job resources and career advice for students through this office.
Law Class of 2019:
Joseph Gregory DuChane (Fredericksburg, Virginia) is a managing editor for the Washington and Lee Law Review, overseeing the publication process of the journal. He is also a Burks Scholar, serving as a teaching assistant in a legal writing course for first-year law students. DuChane was an Oral Advocacy Finalist in the 2018 John W. Davis Moot Court Competition, and will represent W&L in the 2018-19 American Bar Association Law Student Division National Appellate Advocacy Competition this spring. He currently serves as a hearing advisor, and has written multiple articles for the W&L Law News.
Jacqueline Marie Fitch (Harrisonburg, Virginia) is editor-in-chief of the Washington and Lee Law Review. Fitch is a law ambassador with the Washington and Lee School of Law Admissions Office, and serves as a hearing advisor for the university's Honor System Hearing Advisor Program.
Madison Claire Flowers (Perry, Georgia) serves as symposium editor for the Washington and Lee Law Review and is responsible for planning and executing the Washington and Lee Law Review 2019 Lara D. Gass Symposium. She has also served in multiple leadership positions in the Women Law Students Organization, of which she is currently co-president. Flowers also serves as a Burks Scholar, a third-year student that assists first-year students with legal writing. During her 2L year, she served as a Kirgis Fellow and mentored a small section of 1Ls, both academically and socially. She graduated magna cum laude from the University of Georgia in 2015 with a B.A. in English.
Mary Nobles Hancock (Birmingham, Alabama) is an executive editor of the Washington and Lee Law Review, and won the Roy L. Steinheimer award for her Note "God Save the United States and this Honorable County Board of Commissioners: Lund, Bormuth, and the Fight over Legislative Prayer." Last year she won the law school's Mediation Competition, and was a semifinalist in the Robert J. Grey, Jr. Negotiations Competition. She has served as a Kirgis Fellow and on the boards of Phi Alpha Delta and the Christian Legal Society. Hancock graduated from Vanderbilt University in 2016.
Sally Elise Harper (Oklahoma City, Oklahoma) served as a Kirgis Fellow during her 2L year and is now a Head Kirgis Fellow. She was a Burks Scholar in fall 2018 and is the Client Counseling chair for the Moot Court Board. She won the Client Counseling Competition and was a semifinalist for the Mediation Competition in spring 2018. Harper is a lead articles editor for the Washington and Lee Law Review.
Benton Thomas Morton (Wilmington, North Carolina) is studying tax law. He is a Burks Scholar, aiding first-year law students in their legal writing curriculum. He also serves as a lead articles editor on the German Law Journal and as the chair of the Washington and Lee Tax Law Society. He has also represented Washington and Lee in external mock trial competitions.
Danielle Joan Novelly (Scottsdale, Arizona) is lead articles editor for the Washington and Lee Law Review, a negotiations chair for the Moot Court Executive Board and co-president of the Women Law Students Organization. Danielle is also a research assistant and a Burks Scholar.
Alex Weill Shoaf (Chattanooga, Tennessee) won the Robert J. Grey, Jr. Negotiations Competition as a 2L. He was a semi-finalist in both the Client Counseling and John W. Davis Appellate Advocacy competitions, and represented the law school at several external competitions. Now he is chair of the Moot Court Executive Board, treasurer of Law Families, and a student attorney in the Criminal Justice Clinic. He graduated from New York University in 2010. While working as a journalist in Nashville, he volunteered as a Court-Appointed Special Advocate for abused and neglected children. He also worked with the Nashville Talking Library, where he hosted a weekly radio program for visually impaired listeners.
Law Class of 2020:
Leilani Tinashe Bartell (Chantilly, Virginia) is a Kirgis Fellow, which is a peer mentorship program. With a partner, she helps ease the transition into law school for a group of first-year students. She is also a part of the Women's Law Student Organization, where she also serves as a mentor for a first-year student. Additionally, she is on the fundraising committee for Phi Alpha Delta's annual auction, which raises money for Blue Ridge Legal Services and for law students drawing on the Natkin Fund to support themselves during unpaid summer jobs.
Hannah Olivia Cloh (Northbrook, Illinois) is vice president of the Jewish Law Students Association, events coordinator for the American Constitution Society, and education and events chair for the Women Law Students Organization. Cloh is also a junior editor of the German Law Journal. She received a bachelor's degree in English literature from Knox College. While at Knox, she created the Sigma Alpha Iota Music Fund to award scholarships to students for private music lessons on campus.
Caroline Louise Crosbie (Manassas, Virginia) is vice president of the Staples Chapter of Phi Alpha Delta International, the largest professional law fraternity in the United States. Crosbie is also vice president of communications, and one of the founding members, of the Washington and Lee University School of Law Environmental Law Society. She is a volunteer at the local Hull's Drive-In movie theater, and is a member of Phi Beta Kappa, inducted at her undergraduate institution, James Madison University.
Junior Joshua Sicelo Ndlovu (Bulawayo, Zimbabwe) is a recent John W. Davis Appellate Advocacy winner and currently represents W&L Law in external moot court competitions, including the upcoming American Bar Association Moot Court Championship. Ndlovu plays on W&L's chess team and works with children as a volunteer for the Lexington City Schools. Active in the Christian community, Ndlovu is occasionally invited to preach in different churches. He is an active member of the Black Law Students Association and is current treasurer of the Phi Alpha Delta, Staples Chapter.
Austin William Scieszinski (Janesville, Wisconsin) is a second-year law student. He serves as a Kirgis Fellow—a role in which he mentors first-year students on academics, adapting to graduate school, and career planning. Scieszinski was a runner-up in the Washington and Lee Law School Negotiations Competition and represented the school at external competitions. In addition, he serves as a staff writer on the Washington and Lee Law Review, volunteers as a law ambassador, has assisted with alumni outreach, and has served as a panelist for the Law Council.
James G. Leyburn Award
In addition to recognizing this year's inductees, ODK will also present its James G. Leyburn Award to Srimayi B. "Tinni" Sen. Sen is a previous honorary initiate of Omicron Delta Kappa and a professor of economics at Virginia Military Institute. She has a Ph.D. in economics from the University of Mississippi and holds master's and bachelor's degrees from Calcutta University in West Bengal, India. She is the winner of the Distinguished Teaching Award at VMI and the Thomas Jefferson Teaching Award. She is co-advisor of the Building Bridges service club at VMI and chair of the Committee on Academic Advising and Support.
In the community, Sen is a founder and board member of 50 Ways-Rockbridge and chairs that organization's Racial Issues Justice Group. That work includes the Coming to the Table community group to forge better race relations and an education program for all middle school students to learn more about Jim Crow and Confederate monuments in a Lexington/Rockbridge context. Also through 50 Ways-Rockbridge, Professor Sen has collaborated on getting more volunteers to Rockbridge County Public Schools and to create a peer mentor network for RCHS. She is also active in the Immigrant Rights Issues Group and the LGBTIA+/Women's Rights Group. In addition, Sen is treasurer of the Rockbridge Regional Library System Foundation board and has served in leadership roles with the RCHS Parent Teacher Student Association and Woods Creek Montessori. A nomination letter for the Leyburn Award cited her "great humanity" which takes the form of "secret acts of generosity she practices daily."
James G. Leyburn was a highly distinguished and respected teacher, scholar, administrator, churchman, author and mentor to generations of Washington and Lee students. A graduate of Duke, Princeton and Yale, he came to W&L in 1947 as dean of the College. In 1956, he returned to teaching and headed the department of sociology, teaching with legendary energy until his retirement in 1972. The undergraduate library is named for Leyburn. The award in his name is presented to community or campus leaders who provide exemplary service.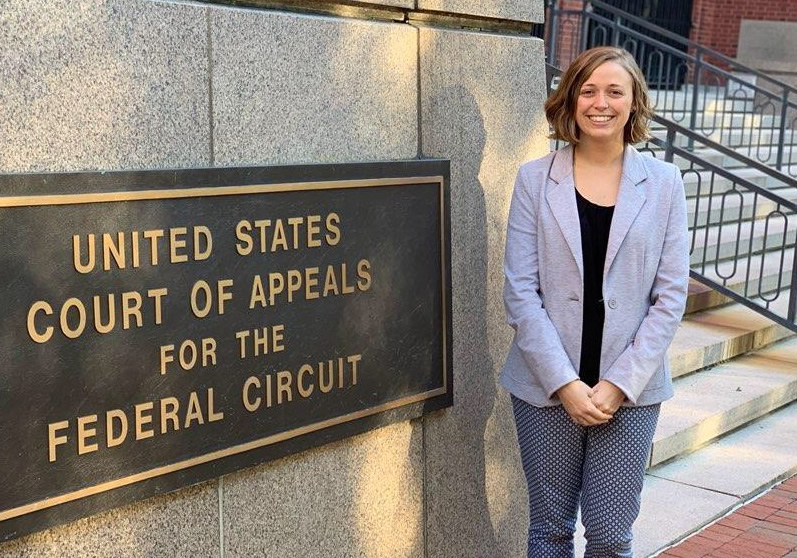 Semester in DC: Daniele San Roman at Federal Appeals Court
Daniele San Román is currently a third-year law student originally from Long Island, New York. At W&L she serves as a Law Ambassador and a Lead Articles Editor for the German Law Journal. Daniele is interested in patent law; after graduation she will work at Finnegan, Henderson, Farabow, Garrett, and Dunner as an associate in Washington, DC in their biological and pharmaceutical practice group.
The DC Program at W&L has many benefits that I have heard and talked about, time and time again—networking opportunities, hands on experience, getting a different perspective, etc. Of all the benefits I enjoyed this semester, the one that stood out most was one that was not often highlighted: The DC Program affords W&L students an incredible opportunity to tailor their legal education the way they want to. W&L is a small school with incredible faculty and administration who work hard to make each student's experience personalized, and the DC Program exemplifies this goal.
I have a background in biochemistry and am pursuing a career in patent law. While the intellectual property courses offered at W&L are excellent, the population of students interested in IP is small, which in turn means there are only so many courses offered. My experience in the DC Program allowed me to vastly improve my knowledge of patent law in a practical, hands-on way.
Throughout the semester I worked as a Judicial Intern to the Honorable Jimmy V. Reyna on the U.S. Court of Appeals for the Federal Circuit. This appellate court has subject matter jurisdiction over issues including patent law, veterans' benefits, and government contracts. Approximately 60% of the appeals heard at the Federal Circuit are patent law cases. For law students and young lawyers interested in patent law, the court is a great place to learn about the subject they are passionate about.
Over the course of the semester, nearly half of my assignments included issues of patent law. I expanded my knowledge in areas I had already worked in, and I gained substantive knowledge in new areas of the law as well. I was fortunate to work in a collegial environment where Judge Reyna and his law clerks were happy to devote significant time and energy to teaching and training the interns. On a daily basis I was engaged in detailed substantive discussions with the law clerks and researched nuanced areas of the law. Throughout the semester I appreciated how effective hands-on learning is for me. Performing these tasks made me excited to use the skills and knowledge I learned. Even if I had taken a full course load of patent classes, I would not have gained as much practical knowledge of patent law as I did in Judge Reyna's chambers. My internship this semester helped me to grow professionally and to appreciate how impactful learning through experience can be.
The opportunity to work at the Federal Circuit as a full-time intern was invaluable. I am grateful for the patent law knowledge I gained, as well as the vast improvement to my writing. I chose to attend W&L for the opportunity to participate in the DC Program, and the program exceeded my expectations in every way. This program emphasized the commitment at W&L to provide students with a valuable and personalized education.
Criminal Tribunal Students Provide Input on Anti-Terrorism Proclamation
This past Fall semester, a team of W&L Law students in the Criminal Tribunal Practicum class were given the unique opportunity to review and suggest legislative amendments to Ethiopia's Anti-terrorism Proclamation.
According to Prof. Henok Gabisa, who teaches the class, this proclamation has been criticized by international  rights group and has been used by the previous administration in Ethiopia as the main legal tool to crack down and criminalize opponents and dissents in the country.
The current reformist administration in Ethiopia, led by Prime Minister Abiy Ahmed, needed expert assistance with its ongoing reform in the country. Gabisa brought the opportunity to his students through connections in Ethiopia, his home country.
The student team drew upon Ethiopian laws, international law, and the national and federal laws of a wide range of countries to provide to the government of Ethiopia their expert opinion and recommended changes to the legislation. These recommendations highlighted the original provisions of the law that were found to be in violation of the Ethiopian Constitution and binding international law. The students also assessed practical aspects of the Proclamation and incorporated post-legislative scrutiny techniques to combat future abuse of the Proclamation in order to ensure fair trials.
The Transnational Criminal Tribunal Law Practicum is one of the innovative practice-based classes created at W&L a decade ago under the auspices of the School's Transnational Law Institute (TLI). The goal of such courses is to equip the students with hands on experience in international criminal law, human rights law and access to justice.
Students in the class have worked directly with defense teams in the Military Commissions Tribunal in Guantanamo, Cuba, the Office of Public Counsel for the Defense at the International Criminal Court, and the Karadzic defense team at the International Criminal Tribunal for Former Yugoslavia (ICTY). Prior student work has has been used directly in court proceedings.
Meet a General: Emily Floyd As executive assistant to the director of University Advancement, Emily Floyd has interacted with people all over the world. But she still finds time for her favorite pastimes: bargain shopping and Candy Crush.
"I enjoy my interactions with faculty, staff, alumni and parents.  I've made some great friends and I get to interact with people all over the world."

~ Emily Floyd
Where did you grow up?
I'm a "townie." I grew up right here in Lexington.
How long have you worked at W&L?
I have been fortunate to work at W&L for 10 ½ years, all in the same position for the same supervisors.
What does your job here entail?
The short answer: I support the vice president for University Advancement and the director of Special Events. University Advancement is comprised of Alumni Affairs, Communications and Public Affairs, Development, Law School Advancement, Lifelong Learning, Special Events, and University Collections of Art and History. My responsibilities include the day-to-day management of the VP's office, including budgets, correspondence, travel and scheduling.  I manage Advancement-related travel and briefings for the president. I assist the director of Special Events with on- and off- campus university events.
What do you like best about working at W&L?
Definitely the people. I enjoy my interactions with faculty, staff, alumni and parents. I've made some great friends and I get to interact with people all over the world.
What's your favorite thing to do when you're not at work?
I am a serious bargain shopper. I always have some sort of project I'm doing and love to find interesting and eclectic things to repurpose. I've just discovered the wonder of chalk paint.
If you could live anywhere, where would you build your dream home?
Granted, I've not traveled the world but I am pretty happy right here in this area. It is a great environment to raise a family and there is a great sense of community.
What book are you reading now?
I have always been a voracious reader but have not made the time to delve into a good book in quite some time. I did start a book called "Roxanna Slade" by Reynolds Price last week.
What's your favorite kind of music/artist to listen to?
I enjoy a wide variety of music, including hip hop and bluegrass, but my favorite genre is rock and roll. My top three bands in order:
Led Zepplin
Guns N' Roses
AC/DC
Do you have an all-time favorite film? If so, what?
"The Lord of the Rings" movies. Every one of them!
What's your desert island food?
I have a weakness for candy bars, especially PayDays.
Tell us some things most people don't know about you.
I am pretty much a world champion Candy Crush player. I am currently on level 3,548. I'm waiting for it to become an Olympic sport and I will be proud to represent the USA.
I have two superpowers: speed reading and proofreading (my eye is naturally drawn to the mistake. I wonder what that says about me.)
I am a 4H public speaking champion.
I am 11th of 13 children.
If you know a W&L staff member who would be a great profile subject, tell us about it! Nominate them for a web profile.
Rachel Mourao to Give Public Lecture on News Organizations In her speech, which is free and open to the public, Mourao will discuss the role news organizations play, not only in spinning news, but also in legitimizing topics and people.
Rachel Mourao, assistant professor of journalism at Michigan State University and W&L John M. Gunn International Scholar 2008-09, will give a public talk at Washington and Lee University on Jan. 28 at 5:30 p.m. in Northen Auditorium. In her speech, which is free and open to the public, Mourao will discuss the role news organizations play, not only in spinning news, but also in legitimizing topics and people. The title of her talk is "Us Versus Them: Trump, Bolsonaro, and the News Media."
She will also visit the Economy of Brazil class taught by Jim Kahn, John F. Hendon Professor of Economics and professor of environmental studies.
Hailing from the Brazilian Amazon, Mourao worked several years as an online reporter and social media manager in journalism and public relations in Brazil. More recently, her work centered on journalists covering political protests and elections in Latin America and the United States.
Maurao's principal research interests in digital media, political communication, journalism studies and Latin American studies have allowed her to focus on the intersection between journalism, new media and politics. She is particularly interested in the conditions under which technology affects the work of journalists covering political events, such as protests and elections.
In 2017, her dissertation won the Gene Burd Outstanding Dissertation in Journalism Studies Award from the International Communication Association and the best dissertation award from the Mass Communication and Society division at the Association for Education in Journalism and Mass Communication.
Mourao received her doctorate in journalism from the University of Texas at Austin, School of Journalism. She also holds a master of arts from the University of Florida's Center for Latin American Studies and a bachelor of arts from the Universidade Federal do Amazonas, Departamento de Comunicação Social.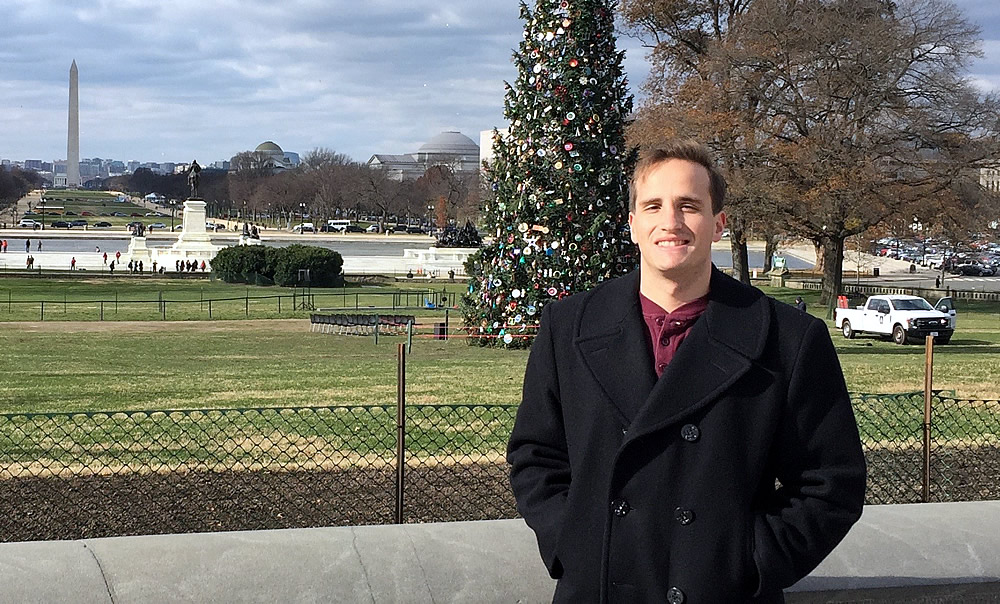 Semester in DC: Michael DiBiagio '19L at the SEC
Michael DiBiagio '19L grew up in Baltimore, Maryland and attended the University of Maryland, College Park, where he was an English and Government and Politics double major. During his time at W&L, he has been involved in various Moot Court Competitions and competed in external competitions on behalf of the school. He also founded the W&L Business and Law Association, a group for students interested in corporate and business regulatory work. During the summers of 2017 and 2018, he  interned at the U.S. District Court for the District of Maryland in Baltimore and JPMorgan Chase in New York City, respectively. Following graduation, he will return to JPMorgan Chase in New York City and will be working in a business regulatory practice with a planned focus on securities compliance.
The goal of externships should be to introduce a student to the substantive work of a certain area of law as well as to the people who work in that area of law. The DC program does just that; it offers the ability to substantively learn about an area of law you are interested while allowing you to build a professional network within that area of law. This quality is what makes the DC program a great externship opportunity at W&L.
In my case, I was able to intern at the U.S. Securities and Exchange Commission and engage with securities law material and meet people who work in the industry. For someone who is interested in practicing securities law, this was an invaluable experience. Working full time and living in DC granted me the opportunity to immerse myself in the work I was assigned and form a network of securities law professionals. Furthermore, working at the SEC, the most influential and respected regulator in the space, substantially boosted the pedigree of my resume and will open up a significant number of opportunities.
Aside from the professional gain, living in DC for a semester grants you the ability to live in and enjoy a vibrant and exciting city. While I did miss Lexington and my classmates at W&L, I feel that the professional knowledge and contacts that I only could have gained through the DC program assure me that I made the right choice to participate in the program. In one semester, I was able to gain a strong understanding of an area of securities law while also meeting people who can help advance my career either directly or through professional guidance. In sum, the DC program offers the opportunity to gain unrivaled professional advancement while also having fun.
David B. Dickens, Professor of German Emeritus, Dies at 85 He taught at W&L from 1960 to 2007.
"The A-hour Dickens section of Elementary German began officially at 7:55 a.m., right at the conclusion of the 7 a.m. office hour. Stragglers who arrived at 8 a.m. found their classmates already hard at work."

~ Roger Crockett, Professor of German
David B. Dickens, professor of German emeritus at Washington and Lee University, died on Jan. 9, 2019. He was 85.
Dickens was born on May 16, 1933, in Buffalo, New York. He graduated from Amherst Central High School and earned his bachelor's degree in German and French from SUNY Buffalo (1955), his master's degree in German from George Washington University (1958) and his doctorate in German from Princeton University (1984). Prior to joining the W&L faculty in 1960 (ABD), he taught at SUNY Buffalo, George Washington University and Hollins University, and worked for the National Security Agency.
As well as teaching all levels of conversational German, he taught German literature of the 17th and 18th centuries, German cultural history, and literature of the fantastic. His research interests included Kurt Kusenberg, whom Dickens described as "the 20th-century German existentialist with a sense of humor"; Clemens Brentano, a key figure of German Romanticism; and vampires.
On the occasion of his retirement in 2007, his colleagues noted in a tribute written by Roger Crockett, professor of German, that many of W&L's "successful German majors started their careers with the Dickens Breakfast Club. The A-hour Dickens section of Elementary German began officially at 7:55 a.m., right at the conclusion of the 7 a.m. office hour. Stragglers who arrived at 8 a.m. found their classmates already hard at work. It was not an environment for fraternity revelers, especially on Thursday morning when there was reliably a quiz, but it was a locus amoenus for the serious language learner."
Dickens was a prolific scholar, publishing "Negative Spring: Crisis Imagery in the Works of Brentano, Lenau, Rilke, and T.S. Eliot," as well as numerous articles and translations of German short stories, poems and articles. He served as acting department chair twice and was a member of the Graduate Fellowship Committee, Writing Across the Curriculum Committee, Foreign Study Committee, Student Financial Aid Committee and Sectioning Committee, which counted class registrations by hand and kept track of them on a blackboard in Robinson Hall.
In the '70s, as Spring Term became part of the curriculum, he created one of W&L's first total-immersion language programs using contacts throughout southern Germany, especially at the University of Bayreuth. He considered this his most important achievement: "It enabled any student to gain familiarity with life in a different country." He also noted that Germany is where he met his wife, who supported him while he finished his Ph.D. dissertation.
Crockett said, "Dave gave the program the name which has stuck: BSW, Bavarian Study Weeks. He also gave it its unique character, which it has maintained: close contact between the W&L instructor and the students, individual home stays rather than dormitory rooms, and the traveling classroom concept, which allows the academic coursework to begin long before arrival in Bayreuth."
Dickens was also W&L's resident vexillologist and was instrumental in helping W&L when the university began displaying flags to honor international graduates in 1995, lending many from his personal collection. Flag Day was celebrated in style at the Dickens residence (a.k.a. the Blue House), which hosted numerous students over the years and where only German was spoken.
In Lexington, Dickens was a founding member of the Friends and Relatives of Gilbert and Sullivan, on the board of directors for the Rockbridge Concert-Theater Series, a member of the Lexington Flower Committee and on the advisory board for the Lexington City Schools Gifted and Talented Program. He also designed the official cachet for the first-day cover of the 20¢ George C. Marshall stamp for the George C. Marshall Research Library and Museum. He enjoyed carpentry, reading, philately, cooking, traveling and creating block-cut Christmas cards.
Dickens is survived by his wife Monika Dickens, daughter Marina Leed, daughter Barbara Mammarella, son-in-law Steve Mammarella, and grandchildren Caitlin and Emily Mammarella.
A memorial service will be held in Stackhouse Theater in Elrod Commons on Thursday, Jan. 17 at 3 p.m., with a reception afterward at the Hotchkiss Alumni House. In lieu of flowers, the family requests that donations be made to the Dickens Award at Washington and Lee. Donations can be sent to W&L, c/o Nancy McIntyre in the Development Office.
A Dish Serving Centuries of History This porcelain dish, which tells a story about the Dutch East India Company and the Dutch Golden Age of the 17th century, will be used in classes ranging from art history to economics.
The conjoined letters "VOC" on the center of this dish are thought to be the first globally recognized corporate logo. Together, the three letters form the monogram of the Verenigde Oostindische Compagnie, or the United East India Company of the Netherlands, better known in English as the Dutch East India Company.
Established in 1602 by the Dutch government to facilitate trade between the Netherlands and Asia (which was then known as "the Indies"), the VOC was one of the first modern, global corporations. It was granted a monopoly on all Dutch trade with Asia and was given the right to make treaties with foreign governments, purchase or conquer territory, and even make war on the enemies of the Netherlands and its own business interests.
The VOC grew to be one of the largest and most powerful corporations the world has ever known. It was one of the economic engines of the Dutch golden age and helped create the modern global economy. The first stock certificates were issued for the VOC, and one of the earliest modern stock exchanges, the Bourse in Amsterdam, was established to trade in them. Insurance, maritime law and the futures market all were developed or expanded to facilitate its operations. It helped popularize a range of consumer goods and foodstuffs, such as pepper, nutmeg, printed cotton, porcelain, tea and coffee. While bringing wealth, power and prestige to its employees, investors and the Dutch nation, it conquered, exploited and enslaved tens, if not hundreds, of thousands of people throughout Africa and Asia. It was also one of the most long-lived corporations the world has seen, surviving nearly two centuries until 1798.
The VOC's monogram served as a practical mark of ownership as well as a symbol of the company's pride. It marked everything from the company's headquarters in Amsterdam, to the coins it minted for use in Africa and Asia, to the cannon on its ships. It was literally branded, or burned, onto the crates of spices, silks, porcelain and other exotic Asian luxuries the company traded. It was probably one of the most recognized, envied and feared visual symbols of the 17th century.
Among the many things branded with the company's logo were Japanese porcelain dishes made for use at the VOC's trading settlements in Japan, Indonesia and South Africa. Reflecting the type of connections made possible by global trade, the very Dutch monogram is surrounded by a very Chinese design: three peaches and three Buddha's hand citrons (a fruit whose body is segmented into finger-like sections). Both fruits are traditional Chinese symbols of a wish for blessings and a long life, and were common motifs used on a range of objects, including porcelain dishes. Japanese potters copied the design from Chinese dishes, and then added (no doubt at the request of Dutch merchants) the VOC monogram.
With the monogram on both its front and back, this particular dish, made in Arita, Japan, between 1680 and 1700, is quite possibly one of the "2,400 pieces for the house of the Hon. Governor-General, all painted inside and outside with the mark of the Company" that were ordered in 1686 for the company's Asian headquarters in Batavia (modern-day Jakarta, Indonesia). There they would have been used, probably in combination with silver dishes, to set an elegant table for the Governor-General to entertain other high-ranking VOC officers, merchants and ship captains.
This dish comes as a gift from Bruce Perkins '73. Perkins helped unpack the original gift of ceramics from Euchlin and Louise Reeves, the founders of the Reeves Collection, an experience that inspired him to start collecting ceramics. The dish will join Washington and Lee's small but growing collection of Japanese export porcelain. In addition to being displayed in the Japanese porcelain gallery, it will also be used in classes ranging from art history to economics to provide a concrete example of the role the VOC played in the sustenance of the Dutch Golden Age of the 17th century and the creation of our modern global economy.