Kenneth Ruscio to Deliver Keynote at ODK Initiation Ceremony The University's president emeritus will address 50 new initiates of W&L's Alpha Circle of ODK.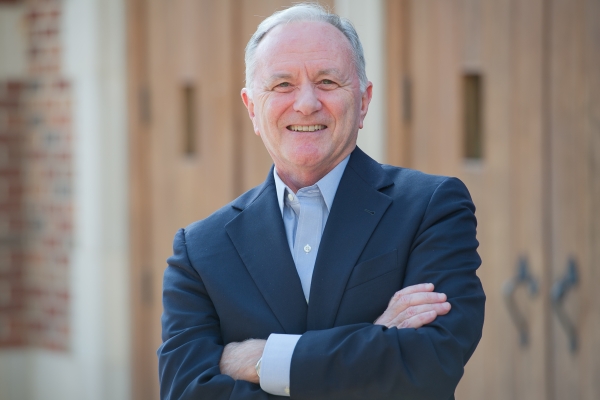 Washington and Lee University's Alpha Circle of Omicron Delta Kappa (ODK), the national leadership honor society, will welcome four honorary and 46 student initiates during its spring induction ceremony on Thursday, March 16 at 5 p.m. in the University Chapel.
The ceremony is open to the public and will be streamed online at livestream.com/wlu.
Kenneth Ruscio '76, W&L president emeritus, will deliver the keynote address at the ceremony. Ruscio is an accomplished higher education administrator of over 25 years, having most recently served as a senior distinguished lecturer at the University of Richmond's Jepson School of Leadership Studies from 2019 to 2022.
Ruscio served as president of Washington and Lee University 2006-2016. During his tenure, he oversaw a number of critical projects, including the renovation and restoration of the historic colonnade, the development of the Johnson Program in Leadership and Integrity, the creation of the Roger Mudd Center for Ethics and J. Lawrence Connolly Center for Entrepreneurship, the construction of the Center for Global Learning and Hillel House, and the expansion of the University's financial aid program.
Inducted into W&L's Alpha Circle chapter in 1975, Ruscio has been an active and distinguished member of ODK throughout his career, serving as the organization's national president from 2002 to 2006 and overseeing the relocation of the national ODK headquarters to Lexington during his time as W&L's president. In 2018, W&L awarded the first Kenneth P. Ruscio scholarship from ODK, which provides a post-baccalaureate scholarship to an Alpha Circle member.
Prior to becoming W&L's 26th president, Ruscio served as the University of Richmond's dean of the Jepson School from 2002 to 2006 and held several faculty and staff positions at W&L from 1987 to 2002, including professor of politics, associate dean of the Williams School of Commerce, Economics, and Politics, and dean of freshmen. A notable leader in higher education, Ruscio is also considered an expert on democratic theory and public policy and is the author of "The Leadership Dilemma in Modern Democracy."
Ruscio received his bachelor's degree from W&L and his master's degree and doctorate from Syracuse University's Maxwell School of Citizenship and Public Affairs.
Omicron Delta Kappa was founded in 1914 at W&L by 15 students and faculty leaders. The founders formulated the idea that leadership of exceptional quality and versatility in college should be recognized, that representatives in all phases of college life should cooperate in worthwhile endeavors, and that outstanding students, faculty and administrators should meet on the basis of mutual interest, understanding and helpfulness. ODK was the first college honor society of a national scope to honor meritorious leadership and service in extracurricular activities and encourage the development of general campus citizenship.