New Exhibition Celebrates Asian American and Pacific Islander Heritage Month "OPEN FLOWERS BEAR FRUIT" opens May 1 in the McCarthy Gallery in Holekamp Hall.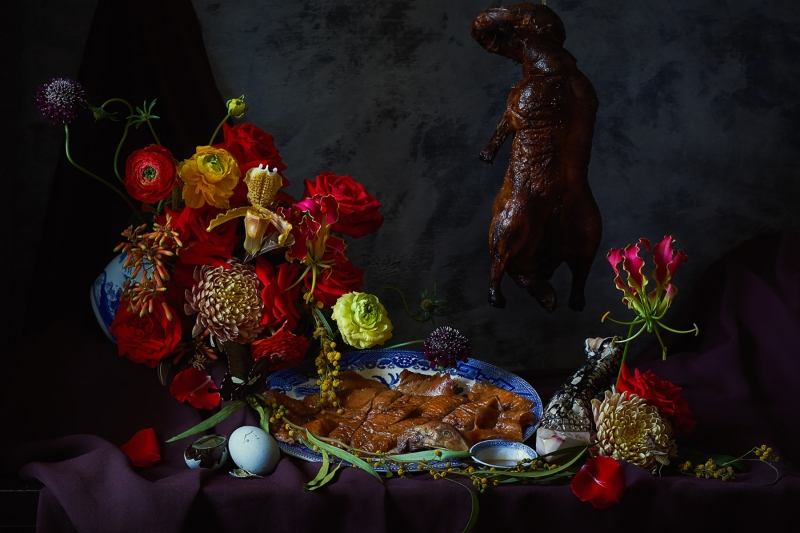 The Museums at Washington and Lee present a new exhibition in the McCarthy Gallery for the first time since the pandemic.
OPEN FLOWERS BEAR FRUIT (開花結果) is an ongoing project by visual still life artist Stephanie Shih that claims space for Asian diaspora cultural history by opening an overdue dialogue between Eurocentric-dominated art spaces and Asian diaspora experiences. As a second-generation Taiwanese Chinese American, Shih explores themes of contemporary and historical cultural dynamics of the diaspora through her still life creations.
"This exhibition speaks to the cross-cutting of culture, commerce, and art in Asian, European, and American histories. It celebrates the exuberance of the resulting Asian American experience and, in doing so, appears defiant to the reminders of mortality so present in the Dutch still life paintings that the images mimic," says Shih.
"Shih's lush photographs are evocations of elaborate Dutch 17th century and other European still life paintings that are so densely populated with flowers and objects they resolutely demand close looking," says Patricia Hobbs, Senior Curator of Art. "The viewer's search for details reveals symbols and deeper levels of meaning in a flower, a morsel of food, or a bug, while full engagement with these works becomes a meditative act that I hope provokes a greater awareness of the complexities of Asian American identities and personal histories."
OPEN FLOWERS BEAR FRUIT will be on view in Holekamp Hall from May 1, 2023 – May 31, 2024.
This exhibition was generously supported by the Williams School, the Art and Art History Department, and East Asian Languages and Literatures Department. "We are really excited about this upcoming exhibition and are so pleased that the McCarthy Gallery in Holekamp Hall will once again be a place of artistic expression and contemplation. From our multi-disciplinary curriculum to the art exhibits that feature prominently in our buildings, celebrating the arts has long been a tradition in the Williams School," says Megan F. Hess, associate professor of accounting.
For more information, visit https://www.wlu.edu/arts/museums/visit/exhibitions/upcoming-exhibits/open-flowers-bear-fruit/