W&L's Alina de Zoysa '25 Awarded the Obama-Chesky Scholarship for Public Service De Zoysa is the university's first recipient of the two-year scholarship for juniors interested in a public service career.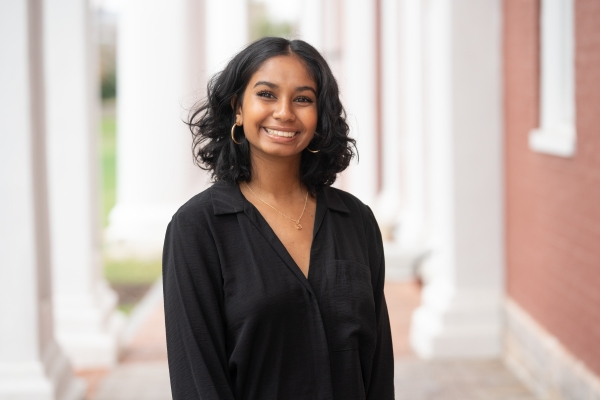 Washington and Lee University's Alina de Zoysa '25 has been awarded the Voyager Scholarship, the Obama-Chesky Scholarship for Public Service. At W&L, de Zoysa is a sociology major with a double minor in education and poverty and human capability studies. De Zoysa is a native of Jackson, New Jersey, and graduated from Jackson Memorial High School.
The Voyager Scholarship is a two-year program that gives juniors who are interested in a career in public service financial support and the opportunity to expand their horizons through meaningful travel and access to a supportive network of mentors and leaders. Each scholarship recipient will receive funding and housing for a Summer Voyage experience the summer before their senior year, which will be designed by the student to gain exposure to different communities and experience in their chosen field. Students will also attend an ongoing speaker series where they can meet public service leaders and are invited to an annual summit to help define and inspire their public service journey.
De Zoysa intends to use the Voyager Scholarship to further her understanding of disability rights and accessibility in the public education system, which will help shape her future career as an educator.
"I plan to work within a public school system, helping students transform their passions and talents into having lasting impacts within their communities," she said. "Specifically, I hope to provide students with the services, accommodations and support they deserve."
For her Summer Voyage in 2024, de Zoysa hopes to travel to a country with a robust disability education system, such as the Netherlands, and observe the different ways students with disabilities can learn and prosper. For de Zoysa, understanding how various students may excel in different environments and how these different classroom settings might function is critical to pursuing a career in education.
"Alina exudes enthusiasm and passion for helping others, and I can't think of a student who is better suited for the Voyager Scholarship," said Lynny Chin, associate professor of sociology. "I've been impressed with her ability to not just speak up about issues she finds unjust, but also act to find ways to solve them."
De Zoysa has demonstrated a passion for public service since she first arrived at W&L, and is an active volunteer within the Rockbridge County community. On campus, de Zoysa is the community service chair for the Student Association for Black Unity, a teaching assistant for the Office of Community-Based Learning, and a career fellow in the Office of Career and Professional Development, as well as involved in the Campus Kitchen at W&L and the Nabor Service League.
"Alina's passion for justice is second to none," said Howard Pickett, associate professor of ethics and poverty studies. "Alina brings a critical yet compassionate eye to everything, and I can always count on her to raise crucial questions about injustice and inequality. She also knows it's just as important to listen to people as it is to ask questions, and I have no doubt that Alina will continue to make a positive impact on our world."
The Voyager Scholarship was created by the President and Mrs. Obama and Brian Chesky, co-founder and CEO of Airbnb, to help shape leaders in public service. Even though they come from different backgrounds, both the former President and Chesky believe that exposure to new places and experiences generates understanding, empathy and cooperation that equips the next generation to create meaningful change. The 2023-2025 cohort of 100 Voyagers represents 33 states and territories and 74 colleges and universities. They are an inspiring group of young people who are eager to bridge divides and take on the world's biggest challenges.
If you know a W&L student who has done great, accolade-worthy things, tell us about them! Nominate them for an accolade.