For Students
Changes are coming.
Next week, during Washington Break, expect significant changes to The Columns and our audience specific dashboard web pages. The Columns will be receiving a visual makeover consistent with the newly redesigned W&L Magazine. The dashboards will be transitioning to a new platform in the first step toward the creation of a Washington and Lee intranet.
The look and layout will change, the functionality will remain much the same. Please take a moment to preview the new student dashboard.
Announcements
Quicklinks
Hours
Upcoming Events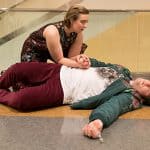 My W&L
Boss of Her World
Harleigh Bean '18 studied in Paris, spent a summer at one of Middlebury's competitive language schools and attended the Public Policy and International Affairs Junior Summer Institute at Princeton University.
'Leaders Like Me'
Lex McGriff '18 has grown into a leader in W&L's Student Association for Black Unity. As she prepares for graduation, she hopes more underclassmen will become leaders like her.
Diversity of Experiences
Sima Sharma '18 used her time at W&L to explore her passion for the world and its various cultures through volunteering and study abroad.
Stay Connected