A Little Book with Big Contents An extremely rare printing of the U.S. Constitution has been restored and returned to Washington and Lee Special Collections just in time for Constitution Day.
Last year, Washington and Lee Special Collections Director Tom Camden '76 removed a small brown book from the vault in Leyburn Library to use as a source for a Constitution Day lecture in Richmond. When he examined the book more closely, he realized that although its provenance is a mystery, it is no doubt an extremely rare printing of the U.S. Constitution, and it needed to be restored by a capable conservator.
Now, just in time for the university's 2020 observance of Constitution Day on Sept. 17, the book has been restored and returned to W&L Special Collections. Printed in 1791, just four years after the U.S. Constitution was adopted in Philadelphia on Sept. 17, 1787, the book is the first to assemble a printing of the document along with 12 proposed amendments, and it is the first to include the constitution of Vermont along with those of the 13 original states.
Within this little book's covers are the colonial charters of Rhode Island (1662) and Connecticut (1663); the 1776 constitutions of Virginia, New Jersey, Delaware, New Hampshire, Maryland and North Carolina; the 1777 constitution of New York; the 1789 Georgia constitution; the 1790 constitutions of South Carolina and Pennsylvania; and the 1780 Massachusetts constitution authored by John Adams. It also contains the 12 constitutional amendments proposed by Congress in 1789, with a printed note, dated August 1791, about the failure of the first two amendments to be ratified.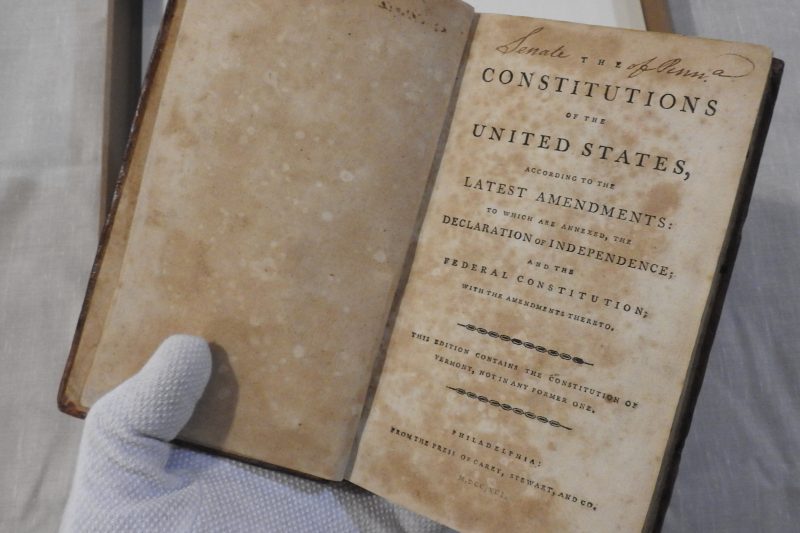 The book's restoration included consolidation of the full leather binding with minor repair using a toned Japanese paper. The text block was stabilized, and each page of the text was cleaned, deacidified, mended and flattened as needed. The book was returned to W&L in a custom, brown linen clamshell box with a printed label.
Although we may never know how the book ended up in the Special Collections vault, it is now available, along with myriad other resources there, to serve as an educational tool for generations to come.
Washington and Lee University will observe Constitution Day at 5 p.m. on Sept. 17, 2020, with a virtual lecture by Mary Anne Franks, professor of law and Dean's Distinguished Scholar at the University of Miami School of Law. The title of her talk is "The Cult of the Constitution."
The lecture, which will be presented in a virtual format, is free and open to the public. Registration information can be found at go.wlu.edu/global.