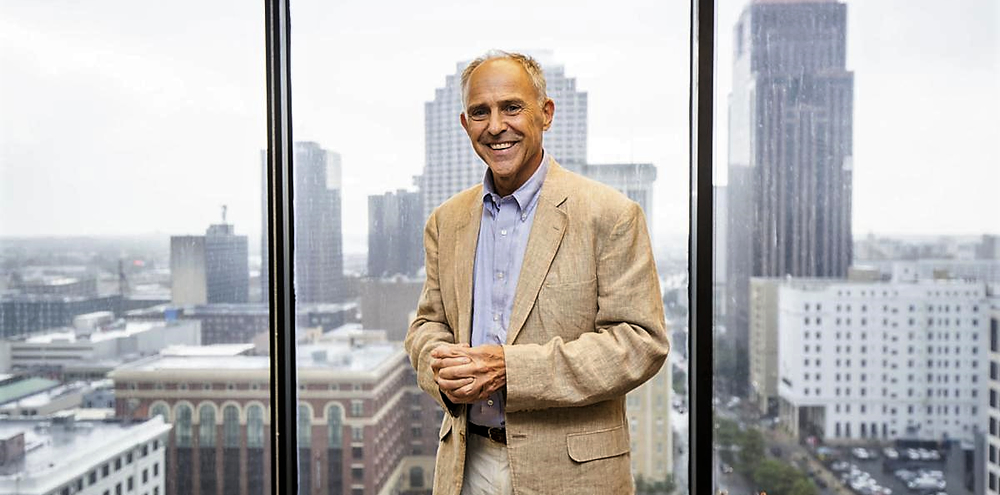 A World of Knowledge Peter Strasser '79L brings a wealth of government and international experience to his new position as U.S. Attorney.
As an attorney, Peter Strasser has seen the world.
As the new U.S. Attorney for the Eastern District of Louisiana, based in New Orleans, he brings his extensive knowledge of military and international law to the job, which he describes as "half managing the office and half doing public relations with federal, state and local law enforcement, as well as the community."
He said it is important to relate positively to the local community, "so citizens will know we are listening and will come to us."
The U.S. Attorney's Office prosecutes violent crime, financial crimes and political corruption. Strasser served 17 years in the same office as an assistant U.S. attorney, and now oversees 60 attorneys who handle criminal and civil litigation.
Strasser's varied legal career includes active and reserve duty with the U.S. Navy. Now retired as a Navy Reserve captain, he served worldwide with the Navy. More recently, he served for 12 years as a DOJ resident legal advisor with embassies in Eastern Europe, Asia and Africa through a program that matches Department of Justice lawyers with State Department needs throughout the world.
Strasser served as an election monitor in the "flawed/rigged elections" that led to the 2003 Rose Revolution in the Republic of Georgia. At the time, he was advising local prosecutors, judges and law enforcement in the development of new procedures to replace Soviet-era systems. He later served as an OECD anti-corruption monitor for Georgia.
He also advised law enforcement in Malawi, Azerbaijan, Pakistan, and Balkan countries under the U.S. European Command's mission in Germany. "They all wanted a criminal justice system modeled on the United States," said Strasser.
While serving in the JAG Corps in the Philippines, Strasser met his wife, who was stationed there with the U.S. Air Force. Their daughter, Hillary, is a 2010 graduate of Washington and Lee and currently works in Burma as a project manager for an investment company setting up the wind energy grid for the country.
Upon leaving Navy active duty in 1984, Strasser applied for jobs with the U.S. attorney's offices in Roanoke, Virginia, and New Orleans. The U.S. attorney in Roanoke wanted to hire him, he said, but there were no openings at that time. He went to work in New Orleans. Later, a job became available in Roanoke, and he moved there. After a short time, his boss left, and Strasser decided to return to New Orleans.
In his position as an assistant U.S. attorney (AUSA) for Louisiana's Eastern District, he headed the organized crime and economic crime divisions. Among his trial accomplishments were the convictions of former Louisiana Gov. Edwin Edwards and associates on racketeering charges.
During a six-month reserve assignment for the Navy in 2001 Puerto Rico, Strasser prosecuted the trials and argued the appeals of a group of 180 protestors, who had objected to the Navy using the island of Vieques, just off the coast of Puerto Rico, for bombing target practice. The protests had gained international attention, and people from all over the world, including political and Hollywood celebrities, were heavily involved in the protests. They all received jail periods.
For the past five years, before his current appointment, Strasser was a partner with Chaffe McCall, LLP, New Orleans' oldest law firm, where he was a criminal defense attorney, gaining "a perspective I didn't have before."
After the election of President Donald Trump in 2016, Strasser's friends suggested that he allow himself to be considered for the U.S. attorney position. The year-long process involved numerous meetings with people in the government, business and legal communities. The Senate proposed his name in October 2017, he was nominated by President Trump in June 2018, and confirmed by the Senate in August 2018.
Originally from Charlottesville, Virginia, Strasser did his undergraduate work at the University of Virginia. When he decided to pursue law school, only U.Va. and Washington and Lee interested him. Wait-listed at both schools, he enrolled at William and Mary, then quickly switched to W&L when a last-minute opening arose.
He said W&L stood out to him because of its emphasis on tradition and its academic excellence. "Tradition is something you don't see at a lot of law schools," he said. "The school's tradition is honored and respected and has meaning."  He also likes that the school values civility.
Washington and Lee – both undergraduate and the law school – are held in high regard in New Orleans, Strasser said. "It's every student's dream to attend U.Va. or W&L."
Working in law is something he has loved "from day one." He says each day is "fascinating and rewarding. You are making a difference and working on behalf of victims." Even in his management position, he feels exactly the same, and he strives to make sure the assistant attorneys under him are happy. "I was always happy as an AUSA because management recognized that happiness equals productive employees."
If you know any W&L alumni who would be great profile subjects, tell us about them! Nominate them for a web profile.