W&L Connections at Work Forging a Future Through the W&L Network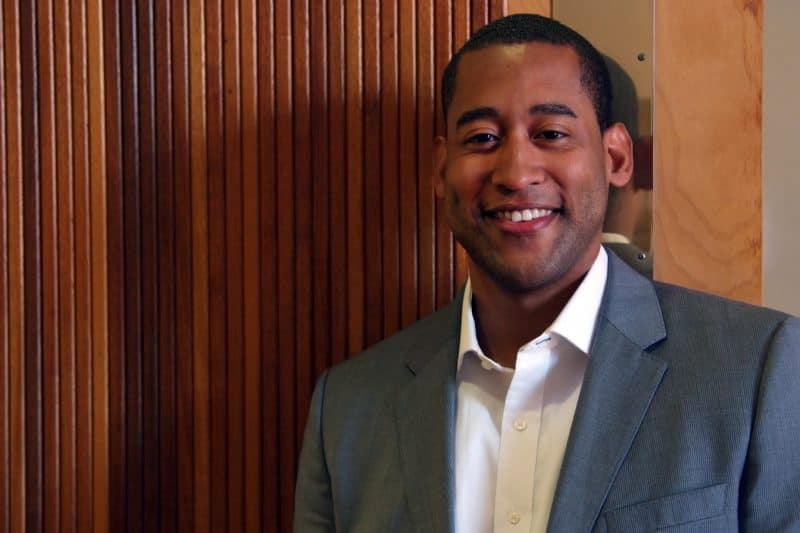 "W&L was a grounding mechanism that has helped me in my search for what is important in life."
When Andrew Elliott graduated from W&L in 2007, he was at a crossroads. He knew he was interested in real estate, but he didn't have the experience or connections to find his way into the field.
Networking with W&L alumni paved the way for him to pursue a career that has evolved to his current position as manager for Deloitte Consulting.
"I used Colonnade Connections (alumni directory) to research alumni in real estate and made a short list of people on the East Coast," he recently told an audience at W&L's Embracing Diversity symposium. Elliott's next step was to set up meetings with them during a two-week travel blitz from his hometown of Little Rock, Arkansas.
Not only did he meet with alumni up and down the East Coast, but some also invited him to stay with them to save on the expense of the trip. One alumnus with a real estate investment trust (REIT) in Atlanta, told Elliott about an open position with his company in Chicago. He paved the way for Elliott to interview for the job, which he got.
For the next two years, Elliott worked in Chicago as a property administrator, managing a portfolio of seven grocery-anchored shopping centers valued at more than $150 million. When the recession hit, many of the businesses in his portfolio went out of business or filed for bankruptcy, leading Elliott to seek his next opportunity.
Again, networking through his W&L connections led to a job. He contacted Harlan Beckley, executive director of the Shepherd Poverty program, in which Elliott had participated as a student. Beckley put him in touch with an alumnus who had just become president of Greater Camden Partnership (since merged and renamed Cooper's Ferry Partnership) in Camden, New Jersey.
Since the two men had backgrounds in real estate and the partnership was looking for someone with his skills, "I was offered the job on the spot," Elliott said.
He worked with the partnership to help develop a business district that provided extra services not available through the city in order to maintain a clean and safe environment for customers. "Camden was a living example of a post-industrial city suffering from increased amounts of blight, poverty, and drug-related activities," Elliott said. "We wanted to provide a presence on the street for people to feel safer and to promote investment."
Elliott managed an annual budget of more than $1.3 million and met with corporate partners and local businesses to develop strategy and annual plans for the business district. "We asked, 'What can we do to make this a better area to attract businesses?'"
After a couple of years, Elliott realized that he was interested in developing strategy on a larger scale and began to plan his transition. He knew he needed more education and an expanded skill set, so he applied to the MBA program at the Johnson Graduate School of Management program at Cornell University. He was accepted and received a Roy H. Park Leadership Fellowship. The full-tuition scholarship, with additional requirements for leadership beyond the classroom, allowed him to earn the degree and move into a senior consultant position with Deloitte Consulting.
Promoted to manager, he now focuses his work on business transformation in the firm's strategy and operations practice. Ironically, his very first project was to work with a REIT, whose new CFO wanted to position the company to double its revenue in a short period of time. Elliott's job was to conduct an assessment of the company, including what skills were available and what skills were lacking among his client's employees. He and his team provided the company's executives "with a solid view of their position."
He has since consulted for an international power and utility company, a multi-billion-dollar global healthcare company and a multi-billion-dollar global professional services company.
In addition to Professor Beckley, Elliott attributes his success to at least three other professors: Marc Conner, interim provost, who taught him freshman English and African American studies; Ted DeLaney, associate professor of history and program chair of Africana Studies; and Art Goldsmith, the Jackson T. Stephens Professor of Economics. "He modeled real life situations, incorporating a social aspect with economics," Elliott said.
Elliott learned leadership skills as president of Alpha Phi Alpha fraternity, a historically black fraternity whose chapter operated jointly with James Madison University. He was also involved with the Nabors Service League and Campus Kitchen, among other activities. Two study-abroad experiences exposed him to the world. At Queen Mary, University of London, he studied economics and architecture, and during Spring Institute in Senegal, he learned about the country's culture and language.
Elliott believes that "giving back to W&L is highly, highly important." Until now, "it has been hard to get back to campus," he said. With a more flexible schedule, he is happy to return to the campus where he remembers a more simple and carefree time in comparison to the complexity he faces on a daily basis now. "W&L allowed me to be more idealistic, with free-flowing thoughts and perspectives," he remembered.
As for his future, Elliott says he is motivated by the unknown. "I'm excited about the future challenges, and what's next for me." As he moves along with life and career, he now thinks more about "how it aligns with helping others." He thinks his interests and future will become more aligned with entrepreneurship and small businesses, and he wants to refine and gain the skills to be in the position to help others.
He is able to understand his interests and hone the necessary skills because W&L helped build a foundation that "created a very high level of self-awareness," he said. "W&L was a grounding mechanism that has helped me in my search for what is important in life."
If you know any W&L alumni who would be great profile subjects, tell us about them! Nominate them for a web profile.