Anti-corruption Efforts in Albania 3L Kyle Hess reflects on the Global Corruption and Good Governance Practicum.
Kyle Hess '20L, from Poway, CA, is a graduate of UCLA. At W&L Law, Kyle serves as Managing Editor for the Washington and Lee Law Review.
During the Fall 2019 semester, I took Professor Speedy Rice's Global Corruption and Good Governance Practicum, a course offered in partnership with Washington and Lee's Transnational Law Institute. Throughout the semester, I was able to advance my understanding of international anti-corruption efforts, while learning legal writing and research skills that were key to advising our client, the Albanian Ministry of Justice. Through our work, we also engaged with students, scholars, and government officials in Albania. This class taught me new ways to think about and approach problems, and it was one of the most memorable experiences during my time at W&L
Our class worked with the Albanian Ministry of Justice and with students from the Faculty of Law of the University of Tirana. We met weekly via Skype to discuss the United Nations Convention Against Corruption, and the various methods, laws, and agencies that have been employed in countries worldwide to combat corruption. We then split into pairs and worked to research and draft reports on anti-corruption best practices in key sectors including healthcare, education, and public procurement. The class culminated with a workshop in Tirana, Albania with Ministry of Justice officials. Over the course of two days, we presented our research, led discussions, and answered questions on anti-corruption strategies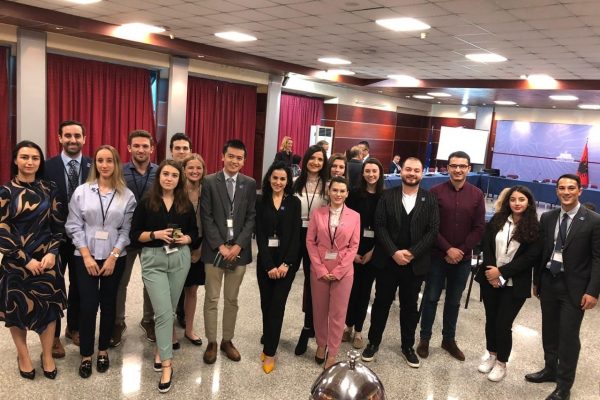 The mandatory "Transnational Law" course I took in my 1L year proved directly applicable to the work I undertook as a 3L. My transnational law foundation was created by examining treaties, reading various UN documents, and researching laws and best practices from jurisdictions such as Hong Kong, Singapore, Norway, and Australia.
The best part of the Global Corruption and Good Governance Practicum was traveling to Albania. While we spent the majority of our time preparing for and conducting the workshop, we also got to explore the city, sight-see, visit several wineries, and sample the amazing food. Each morning we went for a brisk walk with Professor Rice around the lake next to our hotel. Then we would have breakfast and coffee before starting our day. In the evenings, the Albanian students we worked with took us to many of their favorite restaurants, cafes, and bars, ensuring that we saw (and tasted) everything Tirana had to offer
It was rewarding to see how my legal education and experience at W&L could be employed to help others so far from Lexington. As graduation nears, and as I prepare to work in a corporate law firm in New York, I will cherish this experience. I hope to incorporate my newfound interests into my future work.