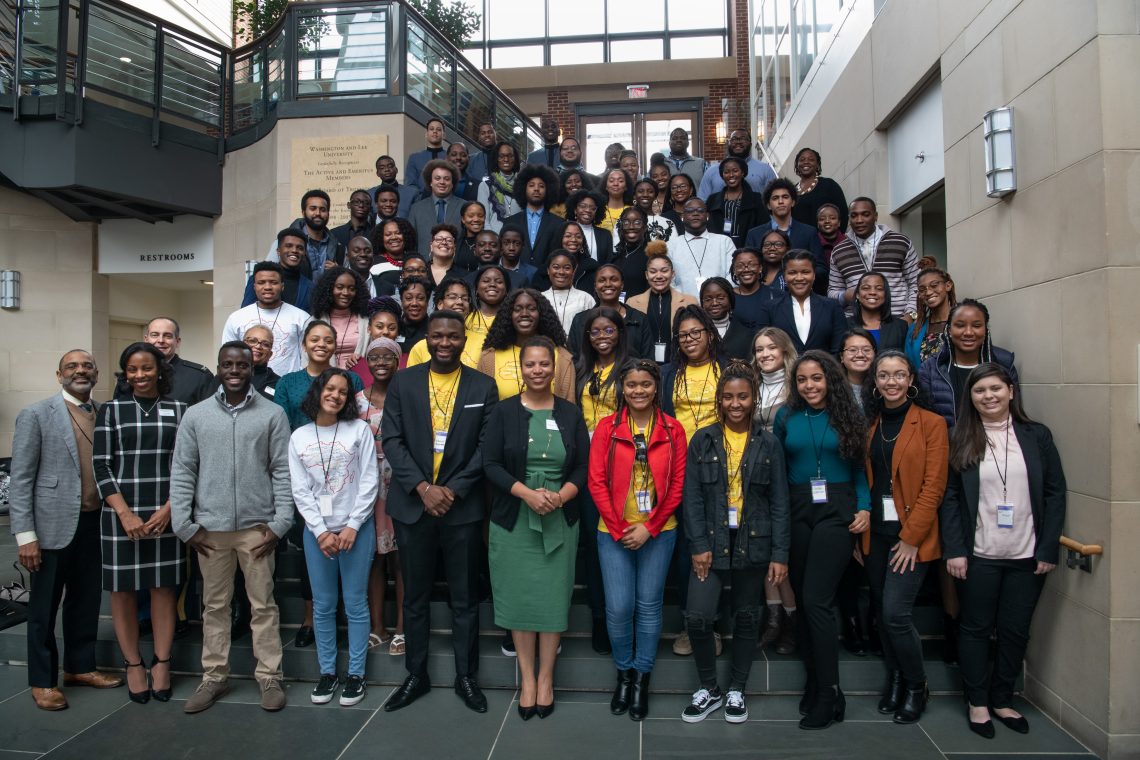 Black FLEX Conference Brings W&L Alumni Back to Mentor Region's Students W&L's first Black Future Leaders Experience (FLEX) conference brought alumni and staff together to mentor students from across central Virginia on how to thrive in white spaces, navigate politics and serve as leaders.
This slideshow requires JavaScript.
"You are the best and the brightest, and you are going to do amazing things. I hope that you stay encouraged and encourage each other."

~ Dean of the College Lena Hill
On Feb. 8, nine alumni returned to W&L to mentor students as part of the Black Future Leaders Experience (FLEX) conference. During the daylong event, they discussed their experiences as undergraduates and professionals, as well as what it means to be black on campus and in the workforce. They came to flex — to engage, prepare and inspire students to become leaders at W&L and in their communities.
The conference came about after Amber Cooper '12, W&L's assistant director of admissions, posed a question to the leadership of the W&L Student Association for Black Unity (SABU): "If money was no issue, what would you do?" Students decided on a black student leadership conference and spent nearly a year securing funding from six different offices on campus, contacting alumni and reaching out to organizations at other schools. They hoped to create an event where community could thrive.
As the conference began, a crowd of around 80 students from W&L, Hollins University, Roanoke College, Mary Baldwin University, Virginia Military Institute, the University of Virginia and Southern Virginia University filed into Stackhouse Theater for opening remarks. Lauryn McCray '22, SABU's social chair, spoke first. She was followed by W&L's President Will Dudley; Dean for Diversity, Inclusion and Student Engagement Tamara Futrell; Associate Dean of Students Tammi Simpson; and SABU president Vincent Buckman '20. The speakers exhorted attendees to listen, learn, network and return to their campuses ready to shift university culture for the better.
After the opening remarks, attendees chose between three breakout sessions: "Black Thriving in White Space," "Leading with Values" or a Q&A about internships and fellowships.
In "Black Thriving in White Space," panelists spoke about imposter syndrome and navigating the transition from primarily black spaces to primarily white ones. Finding and nurturing community formed a central theme, with Trenya Mason '05L, assistant dean of Law Student Affairs, emphasizing the importance of surrogate family in unfamiliar surroundings and all four panelists talking candidly about the challenge of being the only black person in a room.
"It gets to be exhausting," Mason said, when you feel the need to call out injustices and educate people. "No and yes are full sentences," added Cynthia Cheatham '07. "You don't have to give explanations of everything." Cooper, returning multiple times to the importance of taking breaks from challenging the world to socialize in comfortable spaces, warned the audience against judging one another's blackness. "Now is not the time to measure," she said. "Now's the time to connect."
At the end of the session, the panelists took questions from students, advising them on how to find allies in the workplace, what to do when invited to social spaces they didn't really feel welcome in, how to deal with judgment from other black students and more. At times the mentorship grew personal and specific, with participants on and off-stage volunteering advice to a student struggling with an advisor obstructing her academic career.
The second set of morning sessions covered "Black Hustle: Passion vs. Profit," "Activism, Protest and Dissent" and overcoming biases about mental health.
After lunch, Lena Hill, dean of the college and professor of English and Africana Studies, gave a dynamic speech on what it means to flex, the conference's theme of "the metamorphosis of the black persona" and black excellence. Referencing luminaries such as Frederick Douglass and Ralph Ellison while acknowledging the double standard often applied to black strivers, she called on students to "experiment with your eyes wide open" and match their talents to a tireless work ethic. Quoting Toni Morrison on the importance of inspiring others as providing "license to strut," she urged them to be unafraid to celebrate their accomplishments.
"Flex for excellence," she said in closing. "Not just for yourselves, but also for our nation and the world, because as leaders, when you get into positions, you don't get there just to be there. You're there to change the conversation, to change what happens across industries and in this world. You are the best and the brightest, and you are going to do amazing things. I hope that you stay encouraged and encourage each other."
Hill's speech was followed by afternoon sessions on "What Does It Mean to be Black-ish?: Lessons to Learn from Our Blackness" and "Securing the Bag: Building and Utilizing Networks in the Professional World." An hourlong networking reception closed the day in the Science Center Atrium.
"The day couldn't have gone any better," Simpson said afterward, noting attendees were already asking whether the event would return next year. "The conference offered the right combination of interesting topics, engaging presenters and facilitators, a fantastic keynote speech and opportunities to network."
Enuma Anekwe-Desince '22, SABU's community service chair, added, "The conference allowed us to bear witness to how far we've come and the places we can go from here. There are no limits to the things we can accomplish at this school. This is just the beginning."
Dean of the College and Professor of English and Africana Studies Lena Hill's keynote speech, "FLEX-ing to Realize Black Excellence," can be read here.
If you know any W&L alumni who would be great profile subjects, tell us about them! Nominate them for a web profile.
On Flexing
The term "flex" was a frequent topic of discussion. Dean Lena Hill, in her keynote, drew attention to its meanings of adapting and demonstrating strength as applicable to the conference's goals. She also honored its newer connotation of unabashedly displaying something valuable as important in inspiring others.