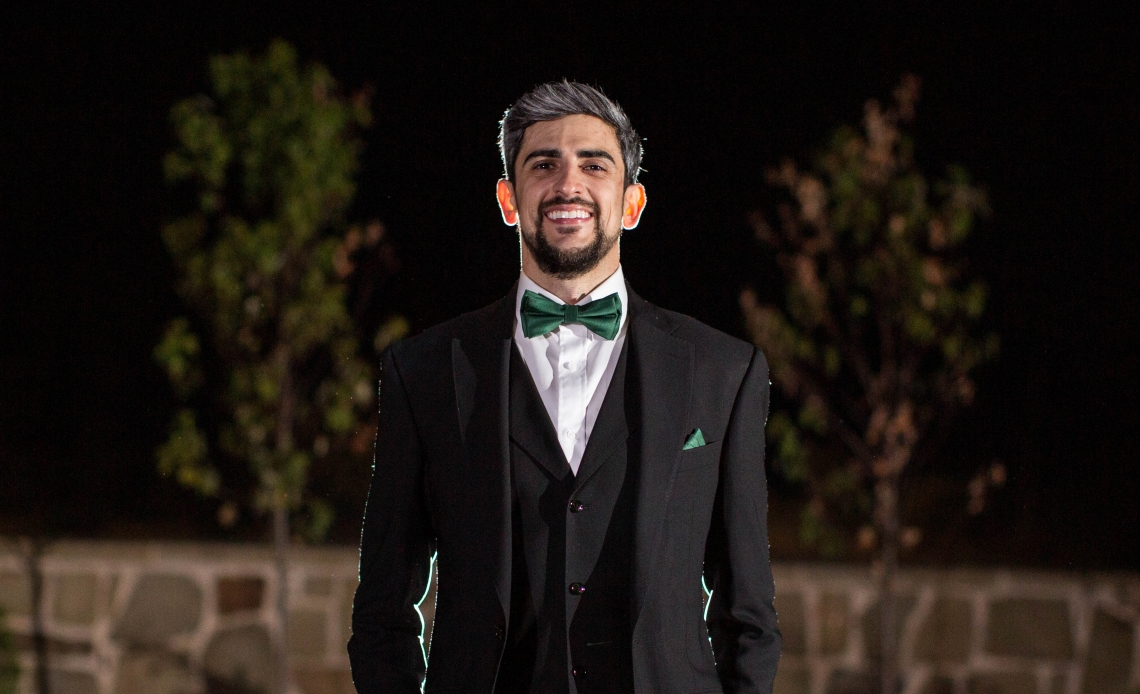 Career Paths: Casey Floyd '15L With his company NOCAP Sports, Casey Floyd '15L helps athletes and agents negotiate and transact NIL deals.
After starting his legal career in college athletics compliance, Casey Floyd '15L recently co-founded NOCAP Sports, a comprehensive NIL (Name, Image, Likeness) technology platform that unites athletes, agents, universities, and brands, providing each with the tools to interact, negotiate and transact compliantly on NIL deals. Floyd is originally from Los Angeles, and currently resides in Dallas, Texas with his wife. He has nearly a decade of experience in NCAA compliance and governance, including stops at "Power Five" institutions, mid-majors, and a conference office. Floyd was the Director of Compliance at the University of Michigan and served on the NAAC Legislation & Governance Committee that provides feedback to the NCAA on legislative proposals such as NIL.
Did you know coming into law school that you wanted to work in Sports & Entertainment Law?
First, some context about me is necessary because I am a nontraditional law student that had unique motivations for being there. I am a first-generation college student, and I grew up in a blue-collar area an hour outside of Los Angeles. My dad remarried while I was in high school, and I was blessed with three younger siblings that changed the trajectory of my life because they gave me a sense of purpose and responsibility as a teenager. I went to law school because I believed becoming a lawyer was the best option available to me to make a lot of money and help provide a better life for my siblings and family.
It was not until I was at W&L that I decided to work in college athletics. Sports had always been my outlet growing up (shoutout to W&L for having the #1 ranked Law School Football League), and I was a die-hard UCLA fan along with my Dad. Ed O'Bannon was a star of the 1995 UCLA championship team, and I idolized him as a little kid. O'Bannon sued the NCAA while I was at W&L, and I became obsessed with the case. That lawsuit was the next pivotal moment in my life because that is when I realized that college athletes were the only American citizens that did not have the rights to their own name, image, and likeness (i.e., publicity rights). I remember talking to a professor and he basically said, it is definitely illegal, but some things take time to work through the system. Since that moment, I knew I wanted to be part of fixing the system and advocating for athlete rights.
What have you done since graduation to lead up to your current job?
I worked in college athletics, specifically compliance and governance. My first stop was at The Summit League's Conference Office in Illinois. Next, I moved to Salt Lake City, where I worked on-campus at the University of Utah, and most recently I spent four years as Director of Compliance at the University of Michigan. At Michigan I would help coaches and athletes by educating them on NCAA rules, filing waivers to get flexibility from rules, and if anyone got in trouble with the NCAA, I would represent them to try and mitigate the penalty or get them off completely (NCAA has its own quasi-judicial system).
Additionally, as an athlete rights advocate inside the system, I learned a lot about the NCAA bureaucratic walls that are put up to resist change. However, I always knew the legal changes were coming, and recently state laws and federal courts started to force the NCAA to evolve. Ahead of the legal changes, I serendipitously met my two Co-Founders while helping a Michigan athlete that was interning for their start-up company. A short introduction call turned into a multiple hour meeting where I learned the three of us were all on the same vibration about what athletes really needed. After our initial call, I was immediately interested in being a part of this movement to give every athlete, regardless of school, sport, level or background, equal access to the best technology and resources to maximize their NIL. I jumped in and from that point we started building NOCAP Sports. I'm proud to say that today we help thousands of athletes, businesses, and universities navigate the everchanging waters of the modern era of college athletics.
Have you always been interested in starting your own company?
I have always wanted to start my own business, mainly to control where my attention and energy was spent. I am very blessed that my wife supported me quitting my job at the University of Michigan, so I could follow my business goals and passion for athlete advocacy.
What sort of legal issues do you handle on a day to day basis?
We have a General Counsel, but here are some legal issues that are most common in college athletics: NCAA compliance and governance, Title IX, contracts, state NIL laws, F-1 Visas for international athletes, and everyone tracks on federal NIL proposals, pending NCAA lawsuits (House v. NCAA and Johnson v. NCAA), and employment law (unionization).
What do you like about your current job?
I love the people I work with, and I am really proud of the company that we are building. I get immense fulfillment seeing the impact we are making and thinking about the lives we are helping change.
Which W&L classes and/or experiences do you think were most helpful in preparing you for this job? 
My 3L entertainment law class provided a lot of hands-on practice with negotiating and contracts, which provided valuable perspective and experience. Also, I was able to extern during my 3L year in Virginia Tech's athletic department for Desiree Reed-Francois, now Athletic Director at the University of Missouri. That was critical experience in my development, and I really appreciate that W&L supported my nontraditional career ambitions and helped me find opportunities to gain real world experience in college athletics.
If you know any W&L alumni who would be great profile subjects, tell us about them! Nominate them for a web profile.
Outside of Work
Hobbies:
Basketball, reading, meditating
Book/Podcast Recommendations:
For books, "Mindset: The New Psychology of Success," "Atomic Habits," "The Code of The Extraordinary Mind," "Miracle Morning," and "Rich Dad Poor Dad." And for podcasts "Living 4D with Paul Chek."
Favorite Travel Locations:
I love visiting national parks. My favorite so far is Zion.