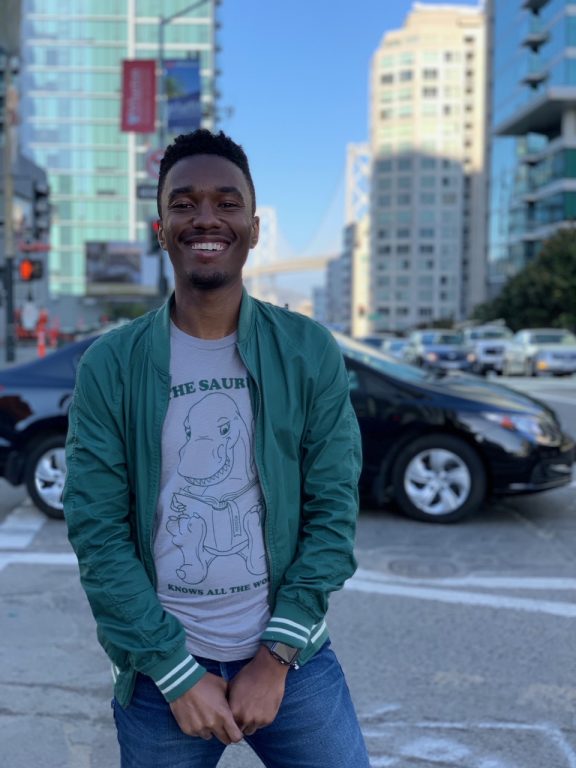 Career Paths: Ernest Hammond '13L As senior product counsel at Twilio, Ernest Hammond's work is centered at the intersection of tech, healthcare, and telecommunications.
Ernest Hammond '13L is originally from Chicago, but he moved to the west coast after graduating from W&L Law. He has worked in numerous sectors and industries, including tech, biotech, pharma, medical devices and financial services. Before joining Twilio, where he currently works at Senior Product Counsel, he was the Product Counsel at Uber, where he focused on helping build and develop product offerings in the healthcare space. Outside of work, he serves as a member on a number of boards, including the Board of Directors of the Barristers Club of the Bar Association of San Francisco, the Minority Bar Coalition of the San Francisco Bay Area, the Child Care Law Center and UnCommon Law.
Did you know coming into law school that you wanted to work in-house?  
I didn't know for certain, but I figured my career could ultimately take me down the in-house route. I was initially interested in entertainment law, and many of the most well-known jobs are in-house. While at W&L, I would not have guessed that I would end up working in-house in tech, but with the explosion in the tech industry over the last 20 years, this sector continues to be one of the fastest growing areas for lawyers with a variety of skill sets.
What have you done since graduation to lead up to your current job?
I have done quite literally everything. I've spent time at a legal arts nonprofit, in city government in Los Angeles, as a consultant for one of the world's largest professional services firms as well as a major record label, at a small law firm, at a major research institution, a biotech company, and two of the world's largest tech companies. When I graduated in 2013, the legal job market was still very much reeling from the recession, which forced many of us to get creative and forge new paths. Each of my varied experiences really helped me to hone my skill set and made me a better and more adaptable lawyer.
How did you find your current job? 
LinkedIn. I've found it wise to always keep at least one eye open on the market just to stay abreast of trends and to help plan longer term career moves. In a cursory search, I happened upon the posting for my current job at Twilio. I was super familiar with the company and its products as my then-employer, Uber, was a major client of Twilio. I thought it sounded like an interesting opportunity for growth and advancement, and it was also pretty closely aligned with my experience.
What sort of legal issues do you handle on a day-to-day basis?  
My work is centered at the intersection of tech, healthcare, and telecommunications, and each of those areas bring their own unique set of legal issues into the mix. On any given day, I might negotiate several agreements related to protecting consumers' healthcare data, review documentation related to requirements for a new product the engineering and product teams are launching, advise a marketing team member on best practices for advertising our products while mitigating regulatory risks, or research financial services regulations across several countries in anticipation of a new market rollout. Often, all of those things are happening simultaneously which makes organization and checklists very important.
What do you like about your current job?
It is often said and I tend to agree that tech is a very spoiled industry. Tech companies are known for taking great care of their employees. They really emphasize things that have become increasingly important to me as I've gotten older, e.g., wellness, balance, and a focus on building an inclusive environment. Beyond the spoils, the work is fast-paced and extremely intellectually engaging. On any given day, you never know what issues may come across your desk that will require you to do a deep dive into cutting edge technology, how it's designed and how it functions. Working hand in hand with brilliant engineers and product designers to solve problems is truly its own brand of fun and something I don't take for granted. It is also tremendously cool to work in an industry and a company whose products and services impact the entire world. I have the added benefit of helping solve problems like building communications tools to improve access to healthcare which is incredibly rewarding when you hear feedback on how lives are being changed by the use of the products you helped build and maintain.
Which W&L classes and/or experiences do you think were most helpful in preparing you for this job? 
I'd say that the business law classes as well as the advanced negotiation skills practicum and business skills immersion have helped throughout my career. A lot of my work involves both internal negotiation with business partners across the company as well as external negotiation with customers. Learning the fundamentals of how to effectively counsel clients in navigating deals was essential to my landing where I've landed. My work also very often calls for an understanding of how publicly traded companies are regulated and how best to mitigate risks of all kinds to the company. I spent a good amount of time learning about that while at W&L.
If you know any W&L alumni who would be great profile subjects, tell us about them! Nominate them for a web profile.