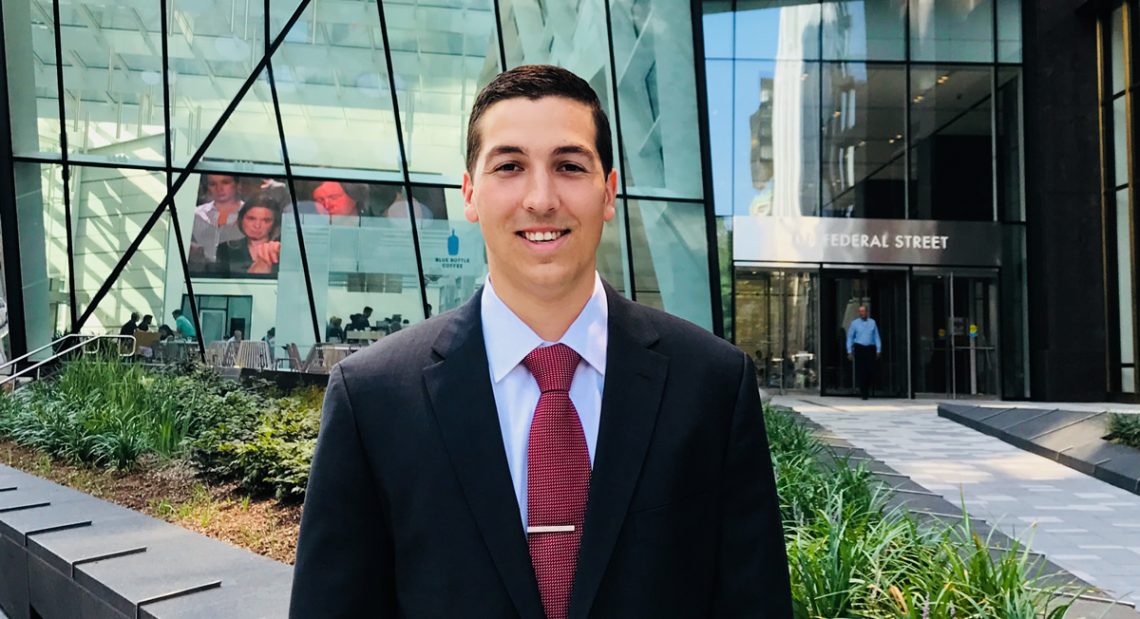 Career Paths: Luke Charette '20L
Luke Charette '20L is from Lunenburg, Massachusetts. He received a Bachelor's in Business Administration from American Military University as well as a Masters in Business Administration from Liberty University. Luke has also served in the United States Coast Guard Reserves for the past ten years, all while attending W&L Law. Luke spent his 1L summer as a legal intern at the United States Attorney's Office for the District of Rhode Island and his 2L summer working at Proskauer Rose LLP in Boston. As a 3L, he completed a full semester externship at The Kraft Group, working as a legal intern in the General Counsel's office. Luke served as a Lead Articles Editor for the Washington and Lee Law Review.
Where will you be working after graduation and in what practice area? 
After graduation, I will be working at Proskauer Rose in their Boston office. I will be joining the Private Investment Funds group, working on private equity deals.
Did you know coming into law school that you wanted to work in this field?
I was pretty confident that I wanted to join a corporate/transactional law practice, but didn't know what specific field I wanted to work in. I didn't have a deep understanding of legal practices entering law school so the career search was a learning experience for me.
What role did the size and location of the firm play in the search and decision process? 
It was very important to me to find a job in Boston. My wife had already accepted a medical residency in Massachusetts and I had always wanted to work in Boston. After many conversations with the Office of Career Strategy, I realized my best options in Boston would be mid-sized to large law firms.
Was there anything in your law school or summer job experience that confirmed this career choice?
Throughout my summer at Proskauer, I worked on assignments in various practice groups, including Private Credit, Corporate Litigation, Securities Regulation, Tax, and Private Equity Transactions. I started my summer confident that I wanted to join the Private Investment Funds group after working with private equity clients. I was very grateful to have the opportunity to receive assignments from so many different practice groups and it helped me solidify my career choice.
What classes do you think are helpful to prepare for this job?  
There are a number of classes that helped prepare me for this job. The two most helpful were Contracts with professor Howard and Close Business Arrangements with professor Johnson. Private equity transactions are controlled by long, complicated partnership agreements in which the basic tenants of contracts are very important. Professor Johnson provided me with my first introduction to partnership agreements and helped me feel more prepared for my summer at Proskauer.
I also had the opportunity to do a full semester externship at a large private company. Working in the General Counsel's office, I was able to deepen my legal research and writing skills. Finally, I had the opportunity to be on the client side of meetings and phone calls with outside counsel.
Can you describe the job search process? 
I applied to all of the law firms participating in the New England Interview Program in Boston. Additionally, I directly applied to several Boston firms not participating. I was fortunate to receive initial interviews through both methods, as well as several subsequent callback interviews. Proskauer was one of the last callback interviews I went to; it jumped out to me as a firm I could see myself fitting in with. I received an offer within a week of interviewing and accepted it immediately.
Dean Jarrett and the Office of Career Strategy worked tirelessly to educate me on the Boston legal market, edit my application materials, and teach me how to navigate the application process. Dean Jarrett was even in Boston at the interview program and provided my classmates and me with everything we needed to be successful. I also spoke to a number of W&L alumni in the Boston area and received their input on practice groups and firms.
What are you most looking forward to about this job?
I am most looking forward to continuing my legal education and learning how to be an excellent attorney. Proskauer receives intellectually stimulating and complex legal work that I am looking forward to working on. Additionally, the professionals I will work with are some of the most brilliant, diligent, and patient people I have ever met.