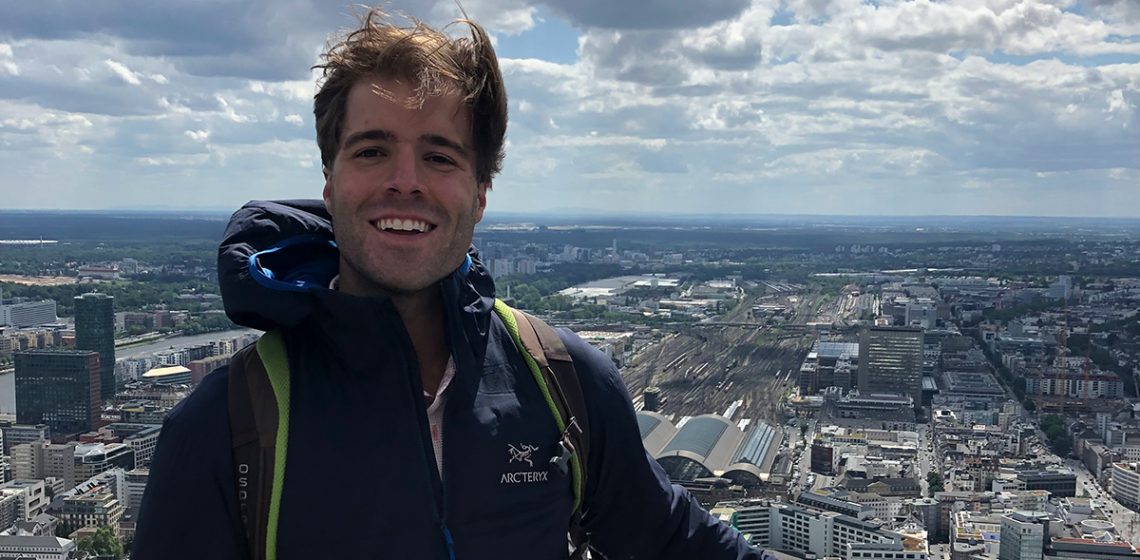 Career Paths: Patrick Wright '16, '21L
Patrick Wright '21L, from Tampa, Florida, graduated from W&L with a degree in Physics and Engineering and also studied German. Prior to returning to W&L for law school, he participated in the Congress Bundestag Youth Exchange fellowship in Germany and worked for a engineering firm in Dresden. During his 1L and 2L summers, Patrick worked for the law firm Jones Day in their Frankfurt and New York offices. He will join the firm in their New York office after graduation.
How did you find/get this position?
I worked for Jones Day my 1L summer in their Frankfurt office, thanks to Professor Miller and his contacts in Germany. I had a wonderful experience working with the firm, and I knew I wanted to try to work there after my 2L year. I was very fortunate to have faculty, like Professor Miller, help me along the way. They made it possible for me to get my foot in the door, and I was able to use my contacts I built during my first summer to assist in getting a job in New York.
What classes or experiences were useful in preparing you for your job?
I worked mostly in the firm's Financial Markets practice, so I found my Business Associations and Contracts class to be helpful. Legal Writing & Research were also extremely useful as a lot of my assignments involved doing legal research for lawyers. I found that working for the firm the summer before was a valuable experience as well. It taught me basic skills such as proper e-mailing, billing time, and using document management software.
What aspects of your work are you most looking forward to?
Since I could not do the internship in person this past year, I am most looking forward to getting to meet everyone I worked with this summer in person. I also built some good working relationships with some of the lawyers and I look forward to continuing my work with them during my first year with the firm.
Which professor(s) from law school has been the most helpful in preparing you for your next professional step?
Professor Miller was definitely the most helpful for preparing me for my internship the first summer. He helped me get the position, and we discussed the work environment in Germany and ways I could best succeed. For this past summer in New York, my experiences in Professor Seaman's Intellectual Property course and Professor Stillman's Patent Litigation practicum were very helpful with the IP-related work I was doing.
What advice would you have for prospective students interested in a similar career path to you?
I think I started out by sending as many applications as possible. I eventually learned that it was more effective to apply to fewer places, but to put more time and thought into those applications. For example, spending time getting to know the firm and even contacting lawyers working there can go a long way. Use the school's career services and alumni network as a starting point, but don't be afraid to contact people as you never know what could happen.
Looking back on your time at W&L Law, do you have a favorite memory or experience to share?
It's all been great. Each year has been its own unique experience. I loved the rigor and intensity of my 1L year. I really learned to appreciate studying the law through all of my great professors my first semester, like Professor Murchison and Professor Rendleman. This school focuses so much on preparing students for success, and I have really enjoyed developing my abilities through all of the amazing opportunities this school has to offer.