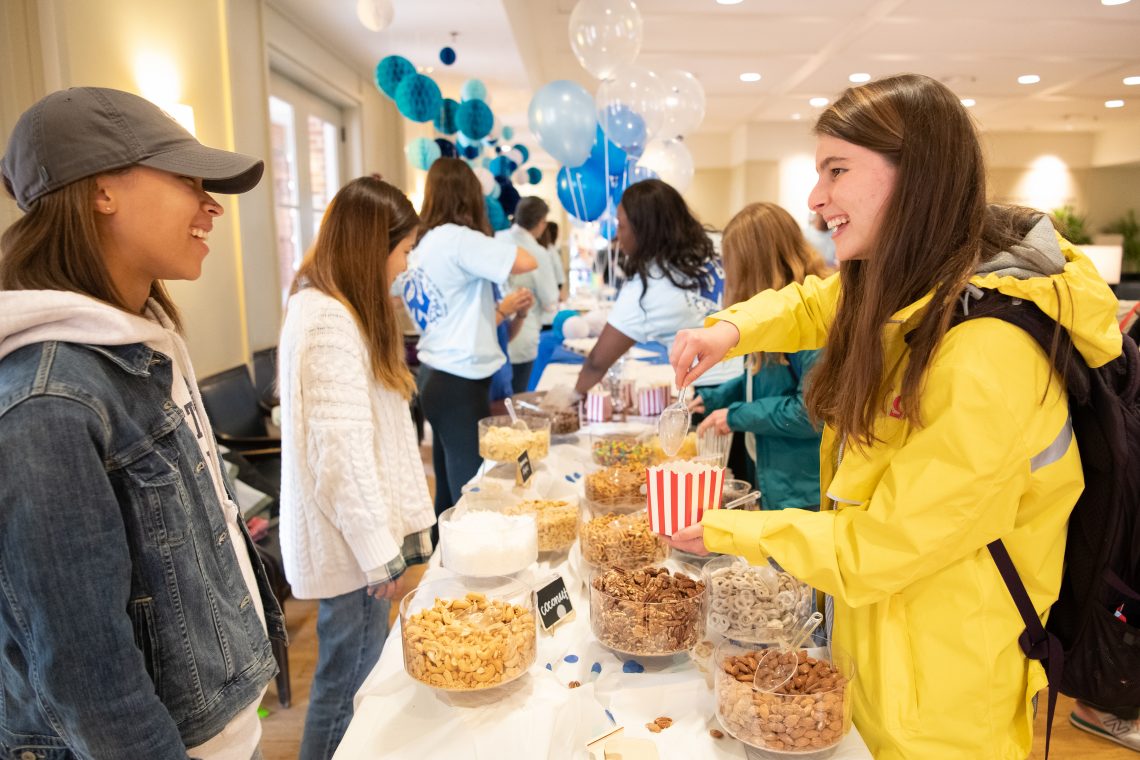 Cultivating A Community Renovations to the John W. Elrod Commons will create spaces to expand collaborations and conversations.
President John W. Elrod's vision for the Commons (completed in 2002) was for it to serve as the university's living room — a place to enhance the learning experience of the W&L community, promote social development and foster collaboration and communication.
As the university begins implementing its strategic plan, with a focus on the campus, community, curriculum and citizenship, Elrod Commons provides the perfect location for one of the main priorities — a Center for Inclusion and Engagement.
"Having a center dedicated to the Office of Inclusion and Engagement (OIE) is so important because physical belonging is just as important as mental belonging," said Ayo Ehindero '21, who participated in the planning sessions for the new center. "Having a physical space dedicated to inclusion, where people can immerse themselves, will help us as we try to foster a more inclusive campus culture."
Construction on the new center is slated for the end of the academic year and will renovate parts of the second and third levels of the Commons. The most prominent feature of the new center will be a large multipurpose room with the furniture, technology and flexibility to serve different needs.
"I am extremely excited about the large gathering space that will function as a versatile room for 'TED Talk' style lectures, student activity events and general study," said Trinity Perdue '22, another member of the planning committee. "I can see this space being frequently used by cultural clubs and various student organizations that struggle to find spaces to accommodate all of their members. It could also function as a designated space for OIE trainings and semesterly first-year orientation classes."
Office space for the OIE staff will line the hallways on either side of the multipurpose room, taking advantage of natural light and encouraging new traffic patterns. "We wanted the layout
to be inviting and functional and to bring us together more easily," said Tammy Futrell, dean for Diversity, Inclusion and Student Engagement. "We want to see students not just when they need to use us as a resource but to also get to know them through informal conversations when they are hanging out in the lobby and multipurpose room."
With offices for LGBTQ, religious and Title IX staff, among others, the center will bring many student support services under one roof. Other features include:
A sacred space for meditation and religious services
A food pantry, with refrigeration
A career closet, offering interview outfits
The third floor of the Commons, currently home to many student organizations, will be renovated to house the Office of Student Services. Its planned footprint is similar to the center's. It, too, will have a lobby and central gathering space flanked by staff offices.
While Perdue will have graduated by the time the center is complete, she noted its presence is important "for W&L because it will be a tangible statement that the Office of Inclusion and Engagement is an integral aspect of our campus and upholds the values that W&L lays out in its mission statement. The upcoming OIE center is not only essential for supporting the staff and students that currently craft our W&L community but serves as an emblem for the growth in the future community that W&L seeks to cultivate and support."
Early Support
"What is W&L doing to enhance and enrich the experience of all students in an inclusive and deliberate way?" That's the question Maurice "Moe" Cole '94 posed in 2018 to his classmates during their 25th reunion planning session.
Cole shared that, as a student of color, he felt marginalized and discriminated against on campus and in the Lexington community. He described his relationship with the university as complicated and wanted to give a voice to others who may have felt the same way but had not had a chance to speak up about their experiences.
That conversation inspired committee members to use their class gift to support the Office of Inclusion and Engagement. The class raised $785,000 toward its goal of $1 million.
Read the full story here.