Edward Adams to Deliver Endowed Professorship Lecture Adams's talk "Ozymandian Histories: Monuments, Ruins, and Landscapes of Decline in America" will be held on March 14.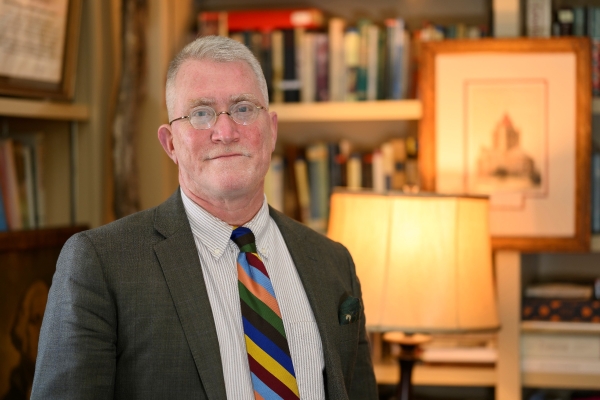 Edward Adams, professor of English, will present a public lecture to mark his appointment to the John Lucian Smith, Jr. Memorial Term Professorship at Washington and Lee University on Tuesday, March 14 at 6 p.m. in the Harte Center, room 128, located in Leyburn Library.
In his lecture, titled "Ozymandian Histories: Monuments, Ruins, and Landscapes of Decline in America," Adams will explore the theoretical study of epic decline narratives, presenting snapshots from a follow-up study to a now completed monograph on historical and fictional narratives of decline.
Modern history, and particularly American history, is rooted in the assumption that progress is history's normal, or default condition and that apocalyptic destruction is progress's antithetical twin. "Ozymandian Histories" challenges the historical and intellectual dominance of this progress/apocalypse binary and offers an alternative to the trauma it causes.
"My doctorate is in literature, but much of my scholarly work focuses upon history and historiography," Adams said. "This new project is an experiment in recounting an actual history, one showcasing my theoretical work on decline but grounded in extensive research in local archives and thus local narratives from the states of Maine and West Virginia."
Adams joined W&L's faculty in 1993, and his research interests include history and fiction, novels, epics, high culture and popular culture. He earned his bachelor's degree from Amherst College, his master's degree from the University of California, Berkeley, and his doctorate from Yale University. Adams's 2011 book, "Liberal Epic: The Victorian Practice of History from Gibbon to Churchill," won the International Society for the Study of Narrative 2012 Perkins Prize for the Best Work on Narrative Literature.
The John Lucian Smith, Jr. Memorial Term Professorship was established in 2010 with leadership gifts of Bernard C. "Ben" Grigsby II '72 and Marshall B. Miller, Jr. '71, and with the generous support of other friends of John Lucian Smith, Jr. It is a permanently endowed fund at Washington and Lee University providing support for a faculty member in the English Department or the School of Law who is judged to be excellent in teaching and in professional contributions. The award recognizes a different professor every three to five years.
If you know any W&L faculty who would be great profile subjects, tell us about them! Nominate them for a web profile.