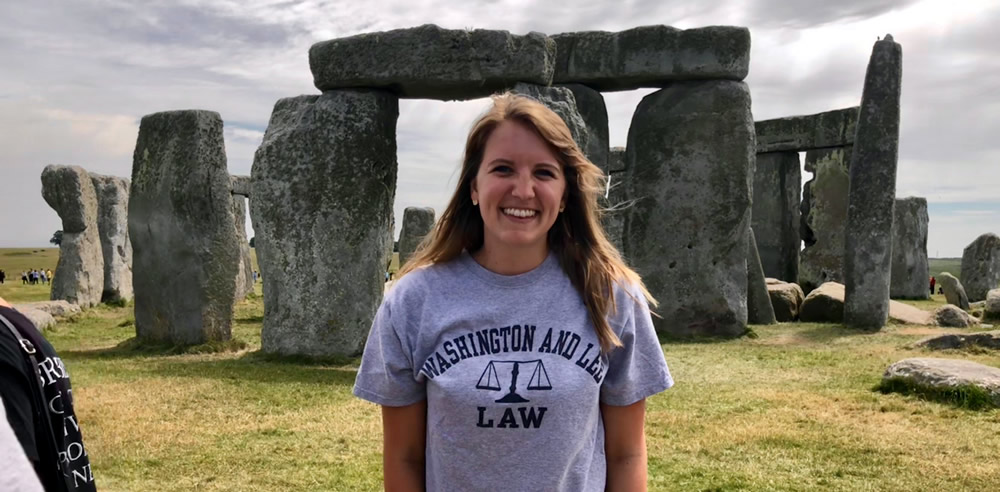 Finding Your Path Kristen Mynes '19L spent her summer in Germany with Jones Day, getting a new perspective on the law and her career plans.
Kristen L. Mynes is a Washington and Lee third-year law student. Kristen spent her summer abroad in Frankfurt, Germany. As a centrally located city, Frankfurt allowed Kristen to travel and take her W&L gear on many adventures across Europe.
This summer, I worked for Jones Day in Frankfurt, Germany. Jones Day partners with the German Law Journal at W&L Law each year to host the Transatlantic Seminar, which brings together German and American students at their Frankfurt office. As a member of the German Law Journal, I had the opportunity to partake in the Transatlantic Seminar during my spring break this year, and I was happy to return to work with the firm for the summer.
At Jones Day, I worked on projects from both the Banking, Finance & Securities practice and the Mergers & Acquisitions practice. I had never worked for a law firm before and found this experience valuable to improve my versatility as a law student. Since I truly enjoyed my contracts class during my first year, this let me exercise those skills and use them in a work environment.
I joined Jones Day without having taken many (read: any) business law courses. I prepared for the job by reading a couple "in a nutshell" books and borrowing outlines. Fortunately, my supervisors were helpful and made a point to teach me how to write documents, what certain terms meant, and how the relationships between businesses operated. I learned about a new sector of the law and tried to gain as much knowledge as possible while I was there.
Undoubtedly, the best part of my summer was my ability to travel across Europe. I spent long hours at the firm during the week but reserved my weekends for travel. Beyond that, I truly enjoyed looking at the law from a new perspective. Although I worked on international law, the Germans approach the law differently than American lawyers—and law students—do. Working in a different legal system and with lawyers who were trained differently than me was incredibly valuable because it encouraged me to evaluate legal problems in a new way going forward. The Germans are very formulaic and scientific as it regards the law, so I have tried to incorporate that into my legal analysis.
Finally, although I enjoyed my time abroad and with Jones Day, I now want to explore the other side of the law in litigation. I am now pursuing externship opportunities that reflect this interest.