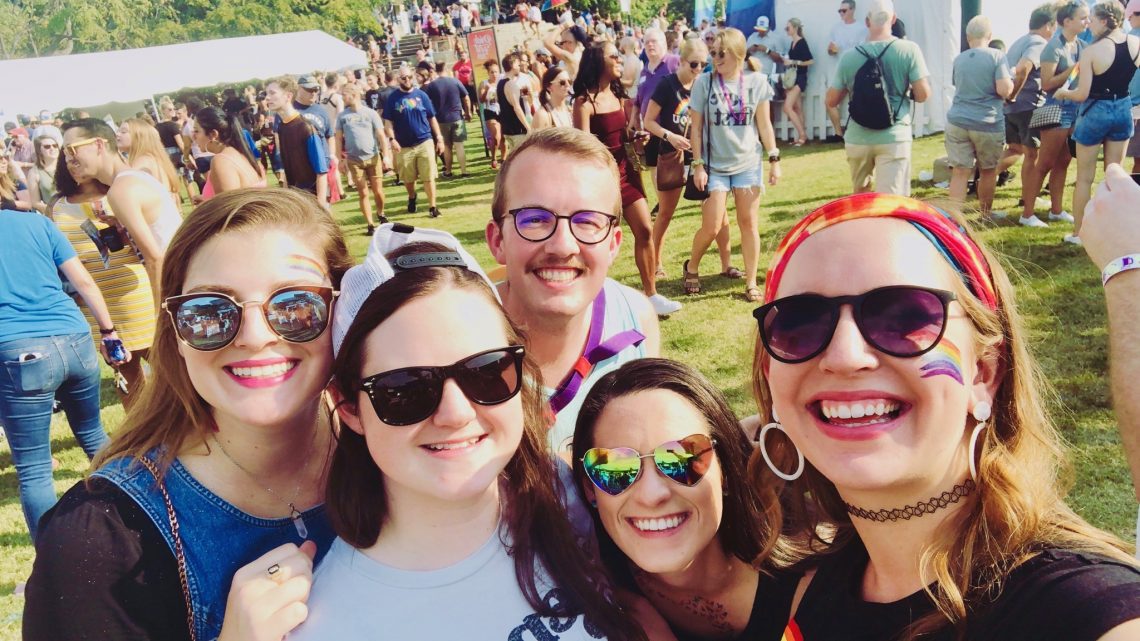 Growing OUTLaw Roy Abernathy and Evelyn Clark on W&L Law's LGBTQ organization.
President Evelyn Clark '20L and member-at-large Roy Abernathy '20L have been growing OUTLaw—W&L Law's LGBTQ organization—since they were 1Ls.
When they joined, membership was low and events were mostly academic; Clark and Abernathy perceived a need for more social gatherings and, a few years later, the organization began holding at least one each month while also striving to maintain the academic focus that they inherited.
"Evelyn and I wanted  OUTLaw to be more of a social outlet," Abernathy explained. "We wanted LGBTQ students at the law school to feel like there is a friend group, or a group of us."
They often host potlucks or movie nights, and the group also created an annual event at Fall Fest, where students can buy OUTLaw shirts and tie-dye them on the lawn at a flag-football game. Proceeds go to the Natkin fund, which provides financial support for law students pursuing charitable and civic internships. There's also weekly, informal OUTLaw Survivor watch parties on Wednesday nights.
"And we try to go to the undergrad gay events too and support their group," Clark said. She mentioned the undergrad "Equality Gala," which is happening on March 21 this year.
"It's basically a big dance and there's a drag show," Clark explained. "And what I was surprised about is how many people from the community come; it's not just students. Deans and faculty and all the gay high schoolers are there, just being themselves and having so much fun."
"[People come from] even further than the county," Abernathy added. "They come from all over Virginia."
On Tuesday, Jan. 28, OUTLaw spearheaded a diversity career panel along with a few other groups to talk to 1Ls about what it's like to apply for jobs as a diverse candidate.
OUTLaw also organizes yearly visits to the "Lavender Law," career fair, which hosts over 350 employers interested in hiring LGBTQ candidates. With around 800 students or less attending, the ratio of about two students to one employer has spelled success for many LGBTQ W&L Law students.
Clark and Abernathy, both 3Ls, found their 2L summer jobs there, which led to full-time offers at firms in D.C. At the most recent fair, four W&L law students attended and three took jobs.
"At other career fairs there are lines for employers," Abernathy said, implying that the two to one ratio at Lavender Law makes networking more relaxed and effective. Abernathy also mentioned that he found inspiration for his journal note while attending the academic portion of the fair, which focuses on a wide range of LGBTQ topics, including healthcare, housing, and marriage and adoption rights.
This semester, OUTLaw will hold more social events and at least one more academic event. Additionally, outgoing president Clark is focused on the future of the organization. She's putting together a document of "out" alumni that would be willing to be resources for students. When Clark and Abernathy graduate, they will put their names on the list.
"So every year we'll be adding at least 5 names," Abernathy said. "So it should start growing, which will also be a good resource for the Office of Career Strategy, too."
Clark and Abernathy, who is president of the Student Bar Association, agreed that one of the merits of the current group, which includes both LGBTQ students and straight allies, is that they are broadly involved. "So it's not like the gays are just running OUTLaw," Abernathy mentioned. "We're doing different things around the school, and for the 3Ls who are out, the school knows that we're gay, so it definitely shows that there's not a stigma within the student body or professors; I think for any gay student that can be a fear."