How W&L Prepared for Online Success Amid the COVID-19 outbreak, Washington and Lee University's CARPE and Academic Technologies offered expertise and resources to faculty preparing for online courses.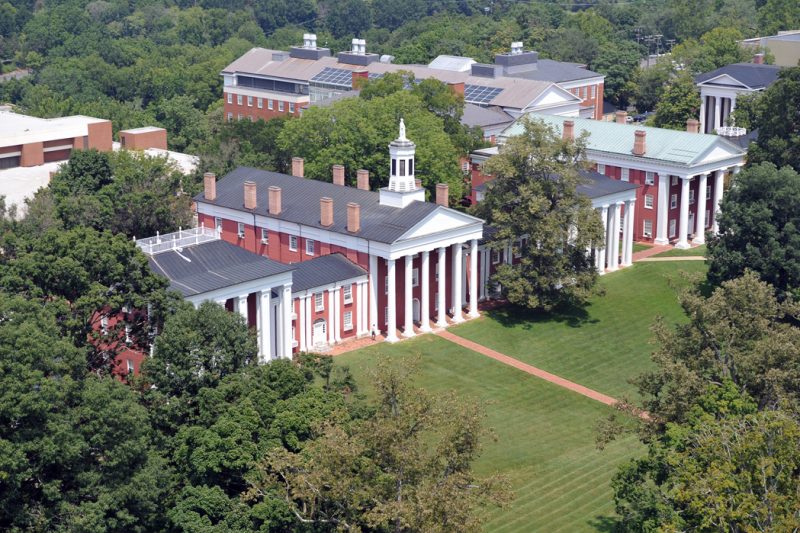 "A lot of people stepped up…It was this wonderful collaboration of people rising to the occasion."

~ Julie Knudson, director of academic technologies
A few days before Washington and Lee University announced it was closing campus because of COVID-19 and moving online for the rest of its winter term, Julie Knudson, director of academic technologies, was already making contingency plans with her team.
Paul Hanstedt, director of W&L's Center for Academic Resources and Pedagogical Excellence (CARPE), was impressed by the speed of her response. "I had just finished dinner when I found out we were moving to online instruction — that was Friday, 7 p.m. Right away, Julie and [Associate Provost] Paul Youngman and I are on email, and Julie was in the office Saturday morning."
By Monday, David Saacke, W&L's chief information officer, had expanded the university's suite of Zoom licenses to 500, and that was just the beginning.
"We looked at Canvas, we looked at Box, and WordPress, and blogging and the lecture-capture system," Knudson said. "And we asked, 'All right, what's the best way we can get people prepared?'"
Academic Technologies had been offering technological teaching tools and conducting workshops on them for years. Since W&L was suspending instruction for two weeks, they settled on gathering a series of those workshops into a boot camp on online instruction.
"A lot of people stepped up," Knudson said. "People in Academic Technologies, Classroom Technologies, Client Services. All over, people said, 'What can I help with? What classes can I do?' We had a number of faculty assist: Jeff Rahl, Sydney Bufkin, the librarians. It was this wonderful collaboration of people rising to the occasion."
Williams School professor Stephen Lind, who taught online for most of a decade and was Clemson University's assistant director of online education, conducted a workshop on best practices and creative concepts. "I was so encouraged by the ideas my colleagues were already exploring," he said. "We can provide a fantastic online learning experience for our students."
Hanstedt, who has been sending daily support emails as well as holding videoconference office hours for faculty, echoed the sentiment. "Our faculty are so smart. They're thinking about what they're doing, and they're very deliberate. In many ways they make it easy."
As CARPE's director, Hanstedt helps faculty understand what works in teaching, why it works and how to leverage their strengths. When it comes to moving online, he said, "Their strongest tool is the relationships they already have with students. It's still about them caring deeply and their students learning and being aware of that and being able to communicate back." Maintaining that kind of personal touch, he feels, is essential to delivering the instruction that distinguishes a W&L education.
"Our faculty are so smart. They're thinking about what they're doing, and they're very deliberate. In many ways they make it easy."

~ Director of CARPE Paul Hanstedt
He encouraged faculty to send out welcome emails or videos, reaching out to students to let them know they care and understand the upheaval this change has created. History professor Sarah Horowitz sent a survey to her students asking about their readiness for online courses and offered a little extra credit for class-appropriate photos of them relaxing. "I got adorable photos of them with their pets and families," she said. "My next extra credit will be to do a five-minute dance party to relieve stress and then send me the name of the song they danced to."
"Step one is reconnect," Hanstedt said. "Don't forget who you are. Use your humor or your sternness, whatever works for you in class." Mathematics professor Greg Dresden, who peppers his lectures with anecdotes about the goofiness of his children, is thinking of having his kids add sound effects and digital effects to his videos.
The collaborative problem-solving it will take to pivot online, Hanstedt emphasized, also provides an incredible learning opportunity. "Faculty can pull students into a partnership," he said, "remind them that life is complicated and that this loss of familiar, comfortable structure is sort of normal, and we can learn from this process and be better as a consequence of it."
The presence of CARPE and Academic Technologies made the online transition much easier for W&L than it could have been. "Several of the technologies and techniques I'll be using over the next month Academic Technologies introduced me to a year or two ago," said journalism professor Mark Coddington, who participated in Academic Technologies' Active Learning Fellowship Initiative in 2018. "I'm thankful that they've been eager to help faculty incorporate new technologies long before it became a necessity."
Faculty have praised Hanstedt's daily emails as well. "We're in the early days of the rollout of CARPE's functions," Lind said, "and it's already playing a vital role in supporting faculty as we make the transition online. These are true education experts, and they are an invaluable resource in a time like this."
Hanstedt and Knudson are each preparing to offer ongoing support. Hanstedt will continue his office hours and bring faculty together online to share stories of success and frustration, helping maintain the camaraderie and informal peer mentoring that ties W&L together.
In the future, Hanstedt and Knudson look forward to closer collaborations once life on campus goes back to normal. The strategic plan calls for CARPE to receive its own purpose-built space in Leyburn Library, which Academic Technologies will share.
"Paul and I work very closely together," Knudson said. "We're both very much concerned about pedagogy and making sure that students have optimal learning experiences and that professors have the information they need."
"We're all looking forward to bumping into each other in the hall multiple times a day," Hanstedt added. "The passing conversations we have a few times a week can happen more often, and those always lead to better ideas. I can't emphasize enough how lucky I am to work with Julie and her department. I've been to a lot of campuses where Academic Technologies can only talk about the tools and can't talk about why they're meaningful or why a person would want to use them. Julie and her team always have an eye on the students and how this tech can make the classroom a better place."
—
You can learn more about CARPE and read Hanstedt's daily emails to faculty here, and check out the tools Academic Technologies is recommending here.