In Memoriam: Lamar Cecil, William R. Kenan Jr. Professor of History Emeritus Cecil worked at Washington and Lee for nearly 20 years.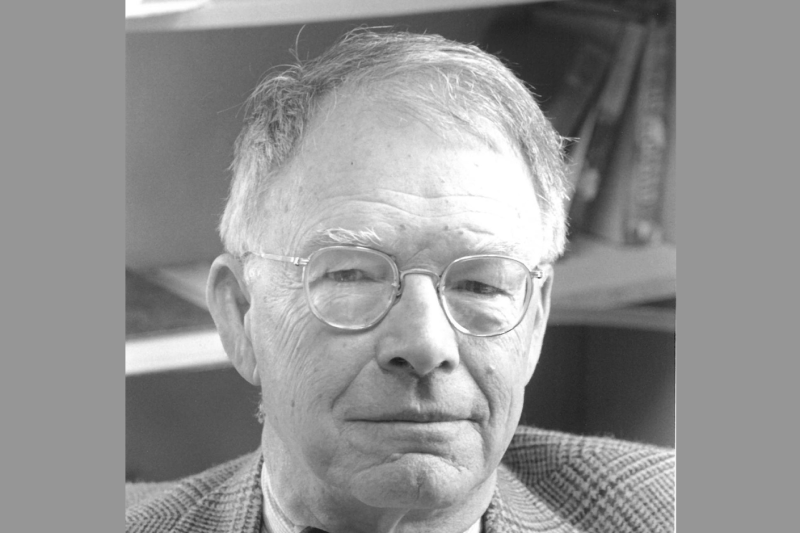 Lamar John Ryan Cecil, William R. Kenan Jr. Professor of History Emeritus, died on July 16, 2023, in Lynchburg. He was 91.
Born in Beaumont, Texas, he attended Episcopal High School in Alexandria, Virginia. He received a bachelor's degree in history from Rice Institute in 1954 and then served in the U.S. Army for two years.
In 1962, he received a Ph.D. in history from Johns Hopkins University, where he then taught for a year following graduation. He went on to teach for five years at Princeton University, followed by 14 years as a professor of history at the University of North Carolina at Chapel Hill.
In 1982, he joined the faculty at Washington and Lee University. A year later, he was named the William R. Kenan Jr. Professor of History. During his tenure at W&L, he was known as an enthusiastic and devoted mentor to students.
Cecil retired from W&L in 2000. However, he continued to teach at the university as a distinguished visiting professor of history for the 2002-2003 and 2003-2004 academic years.
He specialized in 19th-century European and German history. His primary research interests included Albert Ballin, a German shipping magnate, and Kaiser Wilhelm II, a German Emperor and King of Prussia; he wrote books on both individuals.
Of note is his two-volume biography of Kaiser Wilhelm II, published by UNC Press in two installments in 1989 and 1996. The first volume won the German Studies Association Book Prize in History and Politics.
In addition to teaching, he served the university as chair of various faculty committees, and he was active throughout his career at W&L the University's Lifelong Learning programs, lecturing in many campus Alumni Colleges and on abroad programs in Germany, France, England, Italy, Turkey, Croatia, and Russia. Below are recording links to some of his Lifelong Learning lectures:
Outside of W&L, he was president of the Historic Lexington Foundation, a board member of Lime Kiln Arts and Yellow Brick Road Day Care Center, and a member of the vestry of Robert E. Lee Episcopal Church (now Grace Episcopal Church). He was also a member of the American Historical Association.
Cecil is survived by his wife, Geri L. Cecil; his two daughters, Mary Robinson Cecil Heermance and Emma Reed Cecil Malik; a sister, Grayson Reed Cecil of Austin, Texas; and four grandchildren, Alexander and Marina Malik, and Grayson and Ruby Heermance. He is also survived by four stepchildren, Peter and Matthew Leggett, Ann Leggett, and Katherine Mabry, a 2004 graduate of Washington and Lee. His niece, Callie Burns, is a member of W&L's Class of 2011.
A memorial service for Cecil will be held on Friday, July 28, at 11 a.m. at St. Paul's Episcopal Church in Lynchburg. In lieu of flowers, donations can be made to his alma mater, Episcopal High School, or Opera on the James in Lynchburg. Cecil's obituary is published in The News-Gazette.