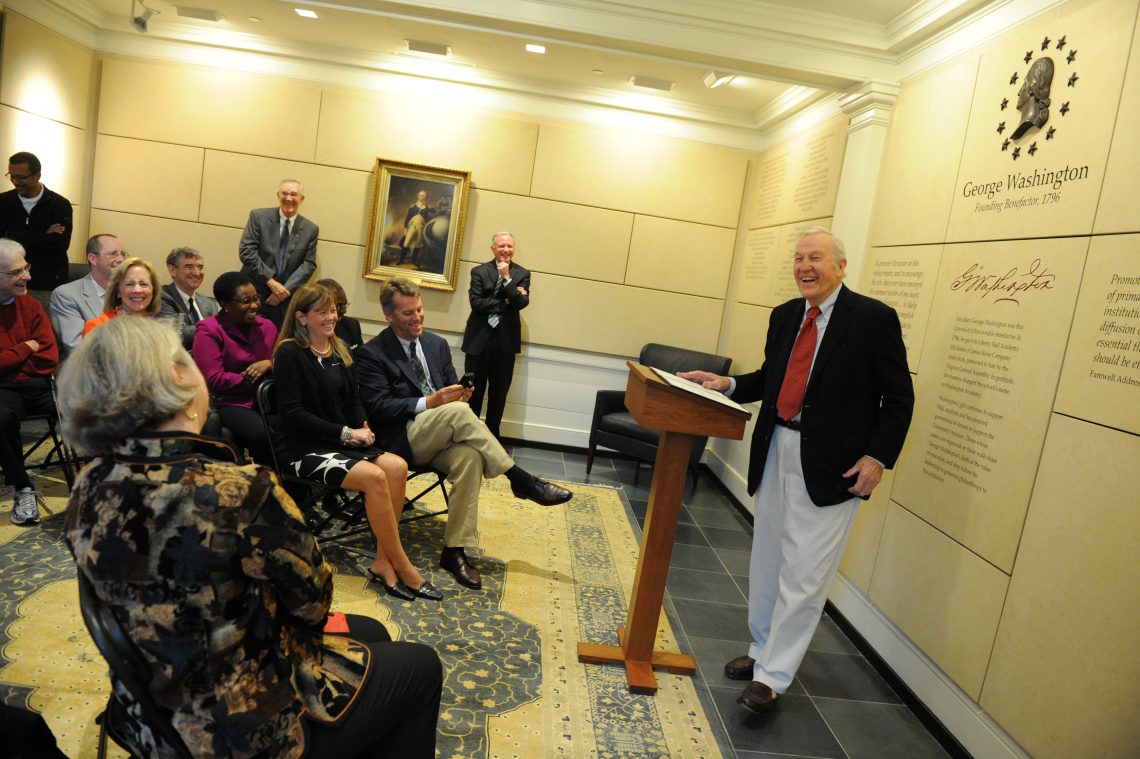 In Memoriam: Roger H. Mudd '50 The award-winning journalist covered some of the most important stories of the 20th century.
Roger Harrison Mudd '50, an award-winning journalist who endowed the Roger Mudd Center for Ethics at W&L, died March 9, 2021. He was 93.
"During his 50-year career as a journalist in print, radio and television Roger Mudd set the standard for ethical reporting. His legacy lives on at W&L, where his generous gift founded the Roger Mudd Center for Ethics," said President Will Dudley. "We will always be grateful for Roger's service to his country and to his alma mater. I will miss his wisdom, grace, and humor, and on behalf of the entire W&L community I extend condolences to his family."
Born on Feb. 9, 1928, in Washington, D.C., Mudd arrived at W&L in 1948 as a transfer student, having served in the military. He was a member of the Delta Tau Delta fraternity, the student executive committee, the Troubadours and varsity crew. He graduated with a B.A. in history.
Mudd spoke fondly of his college years in "Come Cheer for Washington and Lee: The University at 250 Years" in a chapter titled "Portrait of the W&L Gentleman at Mid Century." He said, "I remember the place with such affection, and the beauty of the place is always with you. No matter where you are, you just remember. It's imprinted in your head — the columns and the serenity of that thin ridge, and the sun and the sky, and those leaves."
After earning his M.A. in history from the University of North Carolina at Chapel Hill in 1953, Mudd began his career in Richmond, where he was a reporter for The Richmond News Leader and radio station WRNL. He then joined WTOP Radio in Washington, D.C., and covered Congress and Capitol Hill for CBS News from 1961 to 1980. At NBC, Mudd co-anchored "NBC Nightly News" and "Meet the Press," as well as its news magazines "American Almanac" and "1986." From 1987 to 1992, he was an essayist and political correspondent with the "MacNeil-Lehrer Newshour" on PBS. He taught at Princeton University and Washington and Lee from 1992 to 1996 and was also a primary anchor with The History Channel for more than 10 years.
Over the course of his distinguished career covering the Civil Rights Movement, Congress and political elections, Mudd was the recipient of the Peabody Award, the Joan Shorenstein Barone Award for Distinguished Washington Reporting and five Emmy awards. He authored a memoir, "The Place to Be: Washington, CBS, and the Glory Days of Television News."
In addition to sharing his experience with W&L students as a visiting professor, Mudd served on the Committee on the 250th Observance from 1997–1999, was a member of the journalism advisory board and was a member of the Mock Convention advisory board. He was inducted into ODK in 1966 and received a doctor of letters degree from W&L in 1976. In 2011, the university bestowed Mudd with its highest honor, the Washington Award, which recognizes distinguished leadership and service to the nation and extraordinary acts of philanthropy in support of Washington and Lee and other institutions. His name was added to the Benefactor's Wall in 2011.
In 2006, Mudd and his late wife, E.J., donated their collection of 20th-century Southern literature first editions to W&L. In 2010, the couple donated Mudd's papers, which document his successful career and contain extensive records of his connections with the university. Later that year, Mudd gave $4 million to W&L to establish the Roger Mudd Center for Ethics, which leads curricular efforts to enhance and expand the study of ethics. The center serves as a national resource for the study of ethics in contemporary life, and an endowed Roger Mudd Professorship in Ethics supports a distinguished senior scholar to direct the center.
He noted: "For 60 years I've been waiting for a chance to acknowledge Washington and Lee's gifts to me. Given the state of ethics in our current culture, this seems a fitting time to endow a center for the study of ethics, and my university is its fitting home."
Mudd was a trustee of the Virginia Foundation for Independent Colleges, with which he helped to establish its popular Ethics Bowl featuring student teams from Virginia's private colleges debating real-life cases involving ethical dilemmas. He received the Individual Philanthropy Award from the Council of Independent Colleges for his contributions to independent higher education. He also served as a trustee of the National Portrait Gallery.
He is survived by his children, Daniel Mudd P'20, Jonathan Mudd, Matthew Mudd and Maria Mudd Ruth; 14 grandchildren, including John Mudd '20; and two great-grandchildren.
The family requests that gifts in his memory be directed to the Roger Mudd Center for Ethics.