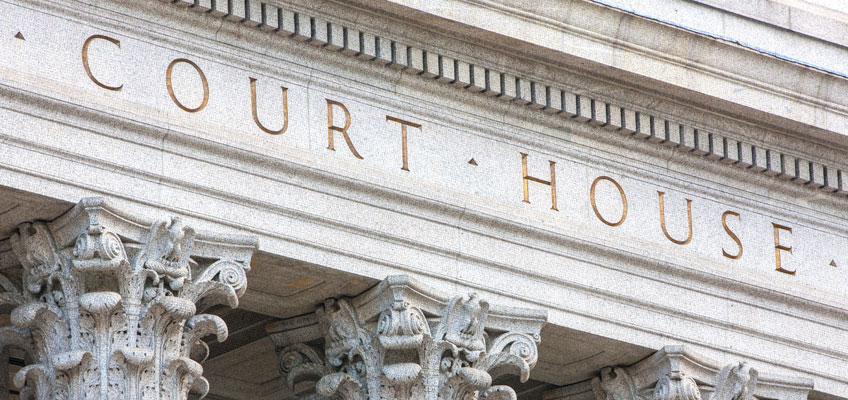 Judicial Clerkships a Top Destination for W&L Law Graduates
One of the best ways to launch a legal career is through a judicial clerkship.
These sought-after post-graduate positions give students the chance to burnish the legal research and writing skills they developed in law school by drafting memos and legal opinions for their judges. Clerks also get a close up view of the judicial thought process and to witness both good and bad advocates in action.
Kit Thomas, Law Class of 2018, is clerking for a federal district court judge in the Western District of Kentucky. She was surprised that within the first few days on the job, before she even passed the bar exam, her judge put her to work drafting an opinion and order. That level of responsibility has only grown through the year.
"I have enjoyed working closely with my judge to refine my legal writing and analysis," said Thomas. "Additionally, it has been invaluable to learn from a federal judge what kinds of legal arguments and styles are persuasive in both oral advocacy and motions practice."
Strength in clerkship placement is one reason students are attracted to W&L Law. The Law School is perennially ranked in the top 20 for federal clerkship placement and also sends a significant number of students into state clerkships. Over a quarter of the Class of 2017 went on to clerkships following graduation, with federal placement including the U.S. Court of Appeals for the Fourth and the Sixth Circuits, and federal district courts in New Mexico, Washington and West Virginia.
The clerkship rate for the Law Class of 2018 was also strong, with 20 percent heading to federal and state courts, including four students to state supreme courts. The Law Class of 2019 is similarly positioned, with 12 students, about 11 percent of the class, heading to federal clerkships and 14 students, about 13 percent of the class, slated to clerk in state courts.
Benton Morton, who will graduate this May, will clerk for U.S. Court of Federal Claims in the Office of the Special Masters. This Court adjudicates claims under the National Vaccine Injury Compensation Program.
"Clerking has been a goal of mine since my 1L year and something that I have worked towards since the beginning of law school," said Morton. "I am looking forward to being immersed in the business of the court and learning more about litigation. I am also looking forward to learning more about working with medical evidence and expert testimony, in which the court deals heavily."
W&L Law releases an official employment report 10 months after graduation in accordance with standards set by the American Bar Association. The newest report is available online and includes final job placement data in all areas for the Law Class of 2018.