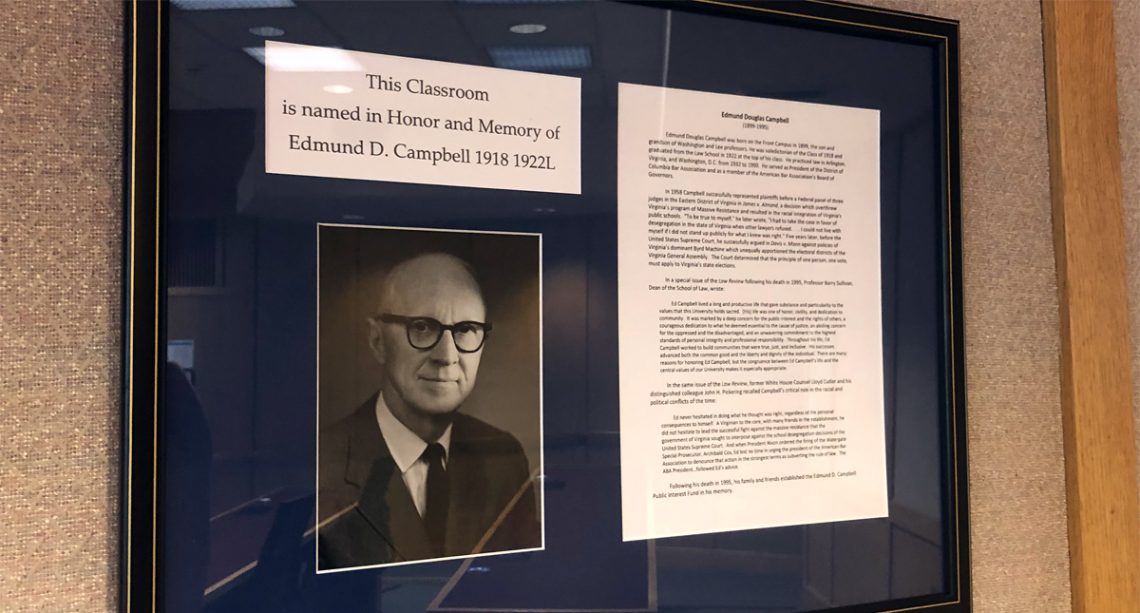 Law Classroom Named in Honor of Alumnus Edmund D. Campbell Campbell was a champion of desegregation in Virginia and worked to fight Virginia's program of massive resistance.
Washington and Lee University School of Law will name Lewis Hall's Classroom B in honor of Edmund D. Campbell, who graduated from the University in 1918 and the Law School in 1922. Campbell was a leading advocate in legal challenges to end segregation.
The dedication event will occur in a virtual format on Tuesday, April 20 at 3:00 p.m. The dedication can be viewed via Zoom. Register in advance here.
"Simply put, Edmund Campbell was a beacon of professional courage and integrity," said Dean Brant Hellwig. "He was willing to take cases challenging an entrenched societal status quo that withheld equality and justice for all. His life and career provide a tremendous example for our students, and it is fitting to have a classroom named in his honor."
Edmund Douglas Campbell (1899-1995) was born on the front campus of the University in 1899, the son and grandson of Washington and Lee professors. He was valedictorian of the Class of 1918 and graduated from the Law School in 1922 at the top of his class.  He practiced law in Arlington, Virginia, and Washington, D.C. from 1932 to 1990.  He served as President of the District of Columbia Bar Association and as a member of the American Bar Association's Board of Governors.
In 1958 Campbell successfully represented plaintiffs before a Federal panel of three judges in the Eastern District of Virginia in James v. Almond, a decision which overthrew Virginia's program of "Massive Resistance" and resulted in the racial integration of Virginia's public schools.  "To be true to myself," he later wrote, "I had to take the case in favor of desegregation in the state of Virginia when other lawyers refused….I could not live with myself if I did not stand up publicly for what I knew was right."
Five years later, before the U.S. Supreme Court, he successfully argued in Davis v. Mann against policies of Virginia's dominant "Byrd Machine," which unequally apportioned the electoral districts of the Virginia General Assembly.  The Court determined that the principle of one person, one vote, must apply to Virginia's state elections.
Following his death in 1995, his family and friends established the Edmund D. Campbell Public Interest Fund in his memory.