Leading Lives of Consequence Laura Adelman Philipson '01 and Hayley Huber '23 discuss their experiences as W&L students.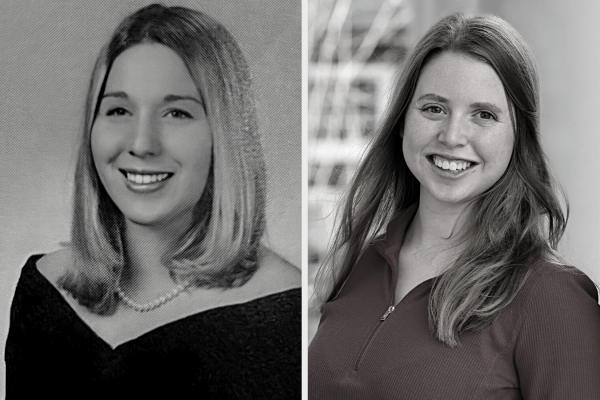 This is the final installment in a six-part series where alumni and current students have candid discussions about the similarities and differences of their time at Washington and Lee.
Why did you want to attend W&L?
Philipson: When I was in high school outside Philadelphia and it became time to research colleges, I gravitated toward several southeastern schools that caught my eye from an academic standpoint. I was focused on Georgetown and Duke, but my dad suggested we visit Washington and Lee, which he had heard wonderful things about from a close friend and colleague who was an alumnus. W&L fell geographically in the middle of my then-top choices, so we added it to our road trip of college tours. Upon arrival, I immediately fell in love with the environment and polite culture on campus. The Honor System and Speaking Tradition, coupled with the beautiful colonnade nestled in the Blue Ridge Mountains, instantaneously re-ranked my college choices and landed W&L at the top of my list. I applied to Early Decision and was so thrilled to be accepted. It remains one of the best life decisions I have made.
Huber: I chose Washington and Lee for a simple reason: community. The sense of community and trust at W&L is unparalleled in the collegiate world. Take-home, self-scheduled exams are an unthinkable luxury at other schools but the norm at W&L. Leaving your belongings unattended in public places is a surefire way to be robbed anywhere else, but not at W&L. There's a sense of safety and trust here that these examples only begin to describe. I didn't believe the students who shared these experiences with me until I visited campus for the first time in 2019. From the Speaking Tradition to the Honor System to the incredible alumni network, I saw that W&L was a special community, and I wanted in.
What was one of your most memorable experiences during your time at W&L?
Philipson: I was fortunate to take the Spring Term course Opera as a Historical Source, taught by Professor Timothy Gaylard. I'd always had an interest in classical music and opera, and it changed the way I experienced this brilliant and ancient art form while giving me a deeper appreciation of opera. It is knowledge I still draw on as my husband and I love to attend Opera Carolina productions. He has listened to me talk about this course since our college days, and it has affected his appreciation of opera as well. In a full-circle moment, when we married in the Chapel, I was fortunate to walk down the aisle to the Triumphal March from "Aida," played by Professor Gaylard. Our love of this art form has not waned, and we have been supporters and volunteers for Opera Carolina since we've lived in Charlotte, North Carolina, at one point serving as Board co-chairs.
Huber: One of my favorite memories at W&L began on a very snowy day during Winter Term my sophomore year. All year, we had been cooped up due to COVID-19 precautions but soon, it was our lucky day. It had snowed the entire night before, and campus was covered in a thick, sparkling blanket of snow. My roommates and I dressed in our warmest gear. For me, a Florida native, that meant leggings under jeans under sweatpants topped with four sweatshirts and a raincoat. We trekked to the back-campus gazebo thinking we'd be alone, but alas, there were tons of other students with snowboards, laundry baskets, garbage lids and just about anything that wouldn't sink into the snow. We spent the day rolling, sledding, jumping and tumbling around. It felt like everyone turned from stressed college students back into little kids excited to play.
What professor/coach made a lasting impression and why?
Philipson: I noticed a class during my sophomore year course selection that sounded appealing and was very lucky to be accepted to take an early offering of the History of Poverty, taught by the phenomenal Professor Harlan Beckley. Professor Beckley had just begun teaching this course, as he was building the Shepherd Program. The curriculum was eye-opening for me. Understanding — or beginning to understand — the deep roots of poverty in our country has informed the way I think, empathize and even vote. This was not the education I thought I would receive at W&L, but it was, without a doubt, the most formative, and it's the knowledge I am most grateful I learned.
Huber: Former director of Jewish Life Maggie Shapiro Haskett made a huge impact on my life and career trajectory. From the very first Friday night Shabbat dinner my first year until her last day at W&L, Maggie was there to support me spiritually, emotionally, academically and professionally. Maggie pushed me beyond my potential and helped me see my aspirations through. Because of Maggie's belief in me, I founded my own student organization (Generals Discourse), earned a seat on the Hillel undergraduate executive board and now serve on the Hillel International student cabinet. She also helped me forge relationships with other campus religious organizations and pioneer the COVID-19 care package program in 2020.
How has your W&L education helped in your career and/or life?
Philipson: All of my experiences at W&L helped inform my life as an adult. Experiencing Hillel at Washington and Lee encouraged my decision to live a Jewish life and raise a Jewish family. The courses I took influenced how I give back to my community today. The emphasis on living honestly permeates my thoughts and actions. Also, it may sound trite, but meeting my husband, Stephen, during my college years also changed the course of my life. I am so grateful for my education and experiences at Washington and Lee, but that is the one thing for which I am most grateful.
Huber: W&L's liberal arts education has inspired my interest in such a wide array of subjects and has prepared me for a life of learning. As a senior, I feel more confident in my ability to critically read, write, analyze and think in ways that set me up for success in any field. My involvement with the Women's Leadership Summit, student organization leadership, the Johnson Program, Ethics Bowl and Hillel International has given me innumerable opportunities to practice networking, professional etiquette, public speaking and speaking with higher-ups. The Honor System has instilled integrity and pride in my work that I intend to bring into the world upon graduation.
What would you tell someone who is thinking about applying to W&L today?
Philipson: Be open to all the possibilities of what an education at W&L might bring you. Come visit campus and see it for yourself. You will certainly find what you did not even know you were looking for!
Huber: If you care about high-quality education with competitive job/internship prospects, then W&L is an excellent place. But many other institutions promise these things. Studying green information systems in Iceland, filmmaking in Ghana or the chemistry of cooking in Italy are just some of the unique classes that W&L's one-of-a-kind Spring Term Abroad has to offer. I would also tell prospective students to consider which environment is most conducive to their learning. For me, W&L's small, discussion-based and writing-intensive (or problem-solving) classes are the most fulfilling and academically stimulating. One of my favorite things about W&L is that no one will ever be just one of over 100 students in a giant lecture hall.
Watch an excerpt from Laura Adelman Philipson and Hayley Huber's video interview.
If you know any W&L alumni who would be great profile subjects, tell us about them! Nominate them for a web profile.