Meet Elena Lee '25 W&L was Elena Lee's '25 first choice.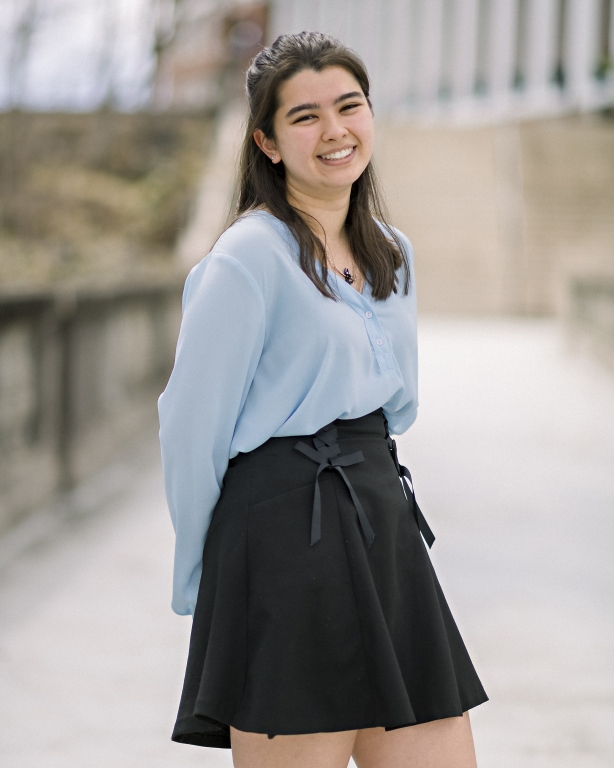 Name: Elena Lee '25
Hometown: Hummelstown, PA
Q: Why did you choose to come to W&L?
Since I was little, I knew that I wanted a chance to study abroad, and that I wanted a chance to study language while I was in school. W&L was my first choice for schools in the country because it offered an opportunity to do both of those things. W&L offers programs that I have always been interested in studying (journalism, history and studio art), and the liberal arts aspect is also a bonus.
Q: What are you most looking forward to during your time at W&L?
I think that the opportunity to study abroad is the only right answer here, but I would also say that getting involved with student organizations is something I'm really looking forward to!
Q: What has been your greatest accomplishment since arriving at W&L?
I haven't been here long, but I think that the amount of work that I have put into my musical capabilities and the University Wind Ensemble would be the thing that I am currently the proudest of.
Q: Who at W&L has been most inspiring to you so far?
If I have to pick just one, I would say that Aislinn Niimi has been the most inspiring person I've had the pleasure of knowing. She is always busy, and yet she makes so much time for clubs, activities, friends and even cooking while still staying on top of all her work. She is endlessly generous with her time and love for her friends, and I genuinely don't think that my experience thus far would be the same if it wasn't for her. Aislinn is incredible and I hope to be even just a little bit more like her.
Q: What inspires you?
I think people do. Specifically, those who are motivated and willing to put in the effort to achieve the things that they are working towards or hopeful for. I think that people who struggle, persevere and push through challenges in order to achieve their goals are incredible, and I strive to be more like those kinds of people daily.
Q: What are your hobbies/interests?
I love to take pictures of people, nature and most recently, musical instruments. Music is a big hobby of mine; I play flute/piccolo in the UWE, and you'll never catch me without earbuds and a new playlist. My academic interests include photojournalism and finding stories that are often uncovered, everything and anything about history, and literature/language.
Q: What book has made the most significant impact on your life?
"The Gift of Rain" by Tan Twan Eng. The book takes place in 1939 Penang and follows the effect WWII had on the island and its population. The motifs of courage, betrayal, friendship, family, and finding your place speak to such a deep part of my personality and my own experiences trying to find my place in a mixed nationality family. The author writes beautifully, and the story unfolds like a memory from the past, following the journey of someone who just wants to find their place in the world.
 Q: What is your favorite movie?
 "The Princess Bride"
Q: If you could have a conversation with anyone, who would it be and why?
I think I would want to talk to Swiss photographer Robert Frank, because it would be really cool to ask him where the ideas for "The Americans" came from, and what he was thinking about when he took each of the shots that appear in the book. An outsider perspective of the country through pictures is such a fascinating concept.
Q: Tell us a fun fact about yourself?
Every time I'm asked for a fun fact about myself, I forget everything that I've ever done.
But my real fact is that I have traveled to and lived in eight different countries (mostly on the other side of the world)
Q: Who would you like to see featured not in your friend group?
Cassandra Sobieski — she's just super cool and I wish I would've gotten to know her better.
Q: What is your Instagram username?
@lenalizabeth