Meet Harry Barringer '23 Barringer appreciates the learning experience he gained during his summer internship, both professionally and personally.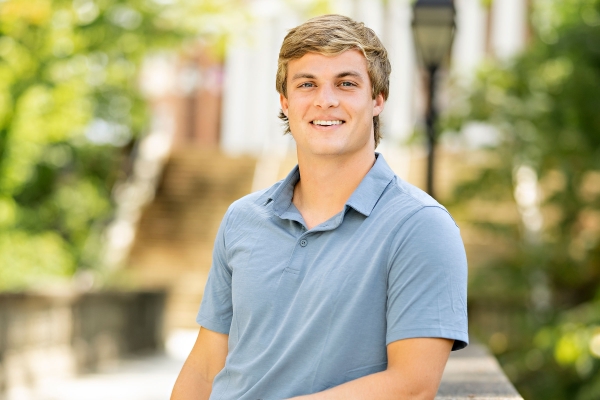 We love it when classes are in session here on campus, but the learning doesn't stop when summer starts! Summers offer unique opportunities for Washington and Lee University students to explore their interests and gain valuable professional experience, and W&L's abundant resources make it easy to find internships and research opportunities across the country and around the world.
As part of the Faces of W&L series, we caught up with W&L students about their unique summer experiences. Learn more about student summer opportunities here.
Name: Harry Barringer '23
Major: Economics
Hometown: Greenwich, Connecticut
Last summer I interned at Goldman Sach's Private Equity team in West Palm Beach, Florida. Over the course of the nine-week program, I was staffed on a variety of deals where we had to assess a potential opportunity and then come up with an investment thesis/recommendation for it. After a significant amount of diligence, we would present our recommendation to the investment committee with the accompanying PowerPoint and valuation models we'd created. Following substantial questioning by the investment committee, they would decide if the presented deal was attractive enough for approval, if more diligence was required or if it should be passed on.
Throughout this deal work, I got to do deep dives on companies and industries I didn't previously know much about, which I really enjoyed. While a lot of the work was new to me, all the interns participated in training sessions, and I was surrounded by an awesome team that would take the time to explain things to me if I ever asked for help.
West Palm Beach was a completely new city for me that I tried my best to explore and take full advantage of. Most weekends I'd surf, and I had a group of intern friends I played golf and tennis with. We checked out as many cool restaurants and bars as we could fit in with work. I even got to go scuba diving with a W&L friend that came to visit one weekend.
Last summer was an awesome learning experience for me both professionally and personally. My time management, punctuality and competency toward the work I was assigned increased significantly through the nine-week program. I had no friends or family in West Palm and was living on my own in a single apartment for the first time. My cooking skills went from zero to making different meals most days of the week, and I learned to be more on top of things such as laundry and cleaning. Being completely and solely responsible for yourself is eye-opening.
I'm thankful for the experience I had and am excited to return to West Palm Beach to begin my career after graduation.