Mindbending Productions Presents Musical "First Date" The student-run production runs from May 14-16 in Johnson Theatre on the W&L campus.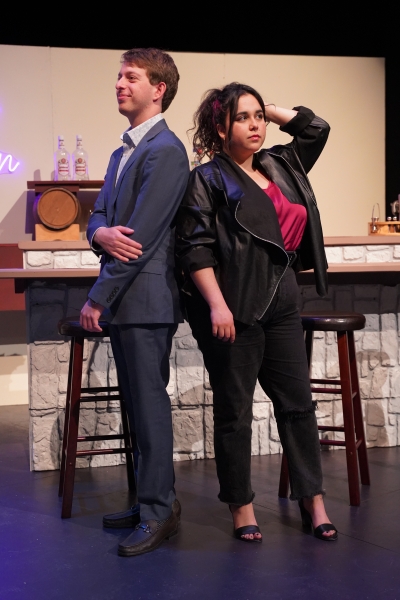 Washington and Lee University's Mindbending Productions presents their Spring Term musical, "First Date." Performances will take place on May 14-16 at 7:30 p.m. in the Johnson Theatre in the Lenfest Center for the Performing Arts.
The show is open to the public and tickets are not required. Audience members will have the opportunity to donate to Mindbending Productions, W&L's student-led theatrical troupe, before and after the show to help support the organization's future productions and initiatives.
"First Date" is a modern musical comedy that follows Aaron and Casey on a blind date and all the thoughts in their head along the way. Aaron's overprotective grandmother and Casey's manipulative ex-boyfriends are just some of the characters that will crash their attempt at a normal date. The show traces their unpredictable night in New York City as they try to determine if their first date will end in disaster or become something that will last.
Written by Austin Winsberg with music and lyrics by Alan Zachary and Michael Weiner, "First Date" focuses on the assumptions and stereotypes we make when meeting people and how we can work to overcome them. Aaron and Casey seem to be opposites on paper, but discover they are both guarded individuals looking for love and someone with whom they can start a family.
The show is directed and produced by Emily Moran '23 and choreographed by Irina Koleva '23. Leading the cast are Ana Montano Martinez '25 as Casey and Daniel Reiter '26 as Aaron. The show also features Hannah Nolton '25, Brady Madden '26, Katherine Hudson '26, Connor Lafo '26 and Dara Bage '26.
"As a senior, it has been such a joy to work on this show with my peers in every role," said Moran, who is also the co-president of Mindbending Productions. "Not only is the entire cast of the show made up of students, but most of the creative and production team are students or recent graduates as well. This gave us all the opportunity to push ourselves and grow with each other while working on the show. I am so proud of everyone who has put in so much effort these last few months to get this production up and running!"
Mindbending Productions prides itself on highlighting works written, directed and produced by students, as well as familiar classics. The organization strives to bring innovative experiences that push the community to broaden their perspectives and promotes the discovery of new talents and student involvement in a variety of artistic mediums.
"First Date" is presented by arrangement with Concord Theatricals.