Minority Student-Athletes Form New Campus Group The Perry Minority Athlete Coalition aims to boost the W&L community.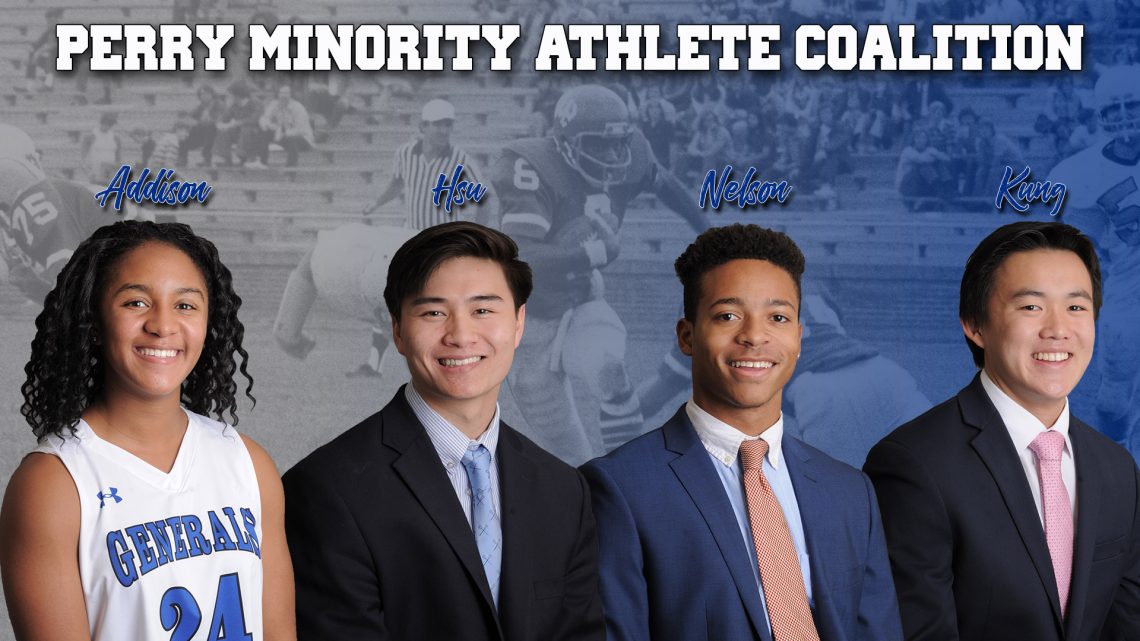 "We're here for everyone and anyone who wants to be a part of the group, no matter what."

~ Johnny Hsu '22
A new student-athlete group on the Washington and Lee University campus seeks to enhance the sense of community for minority students – and to raise awareness about those who come from diverse backgrounds.
The Perry Minority Athlete Coalition, named after W&L Athletics Hall of Famer Tony Perry '77, came together as a response to the movement for social justice that swept across the country following the death of George Floyd in Minneapolis in May.
Three men's lacrosse players – Kai Nelson '21, Johnny Hsu '22 and Danny Kung '23 – have turned a series of summer conversations into an official organization this fall. They recruited Erin Addison '22 from the women's basketball team, who eagerly accepted the invitation.
"We made a group text and just started having Zoom calls throughout the summer, just talking about what was on everyone's mind," Kung said. "It was just a safe space where everyone felt super comfortable."
The coalition has already received tremendous support from university administrators. Group leaders have met with Jan Hathorn, the Michael F. Walsh Director of Athletics, and Associate Director of Athletics Bethany Dannelly '05, who both offered funding and assistance with publicity. Women's basketball assistant coach Sarah Assante has also provided support.
Additionally, Hathorn helped to arrange a Zoom call for the group with Perry, a former football and track and field stalwart who became the first African-American inductee into the W&L Athletics Hall of Fame in 1995. Perry shared his experiences as a Black student at W&L in the 1970s.
The group doesn't want to sow any division. Instead, they hope to foster a sense of community among student-athletes from minority backgrounds – and to have open conversations with their teammates and classmates who may not be familiar with their life experiences.
Hsu expects to receive a positive response from his lacrosse teammates and other student-athletes.
"This is why this group is so important: It's just a peer-to-peer based education setting, where [other student-athletes] can hear what we actually think," he said. "As their teammates, they really do trust us; they're not going to invalidate our opinions. I think this is a great way to pave it forward, and to pave the road for future students."
Addison and Nelson will have a platform to publicize their group and its objectives right away. On Sunday, Nov. 1, they'll join men's basketball players Richie Manigault '23 and Cheick Toure '23, women's track and field athlete Katelyn Gamble '24, and recent graduate Jimmie Johnson '20 – a four-year member of the football and track and field teams who has remained on campus as an assistant football coach – on a virtual panel called R.I.S.E.: The Athlete Experience.
The event was organized by Addison's hoops teammate, Erin Hughes '21, who serves as a student ambassador for the university's Office of Inclusion and Engagement. (The R.I.S.E. acronym stands for "Representation. Inclusion. Support. Engagement.")
"Being on that panel is where I want to really get our name out," said Addison, who stressed the group's message of inclusivity. "That safe space, that community aspect of getting us all together is what I want out of [the coalition]… I want to have some enthusiasm around that."
With an expected boost from Sunday's panel, the Perry Minority Athlete Coalition hopes to build its membership. The group's leaders emphasized that the organization is open to athletes from all backgrounds – including religious minorities and the LGBTQ+ community – as well as to non-minority allies. Anyone interested in joining should email Addison, Hsu, Kung or Nelson.
And the coalition plans to start sponsoring its own events, which will be open to the entire student body.
"We really want this to be a community," Hsu said. "We're here for everyone and anyone who wants to be a part of the group, no matter what."