Modern Art Goes Pop: Selections from W&L's Art Collection at Staniar Gallery
"I imagined the exhibition would be a head-to-head of two contrasting art styles – one engaged with abstract shape and color, the other with popular culture – but when the works came to the gallery, it was striking how much they reflect and enlighten one another."
The Staniar Gallery at Washington and Lee University presents "Modern Art Goes Pop: Selections from W&L's Art Collection." The show will be on view Nov. 7 – Dec. 9.
Pop Art developed in the late 1950s when European 'New Realism,' which emphasized elements of mass culture, spread to the U.S. There, artists like Robert Indiana and Andy Warhol found inspiration in the mundane and ordinary – as Warhol said, "all the great modern things that the Abstract Expressionists tried not to notice at all." This exhibition, drawn from the University's Collection of Art and History, explores the points at which these two major 20th-century art movements intersected and diverged, as well as their continuing legacies.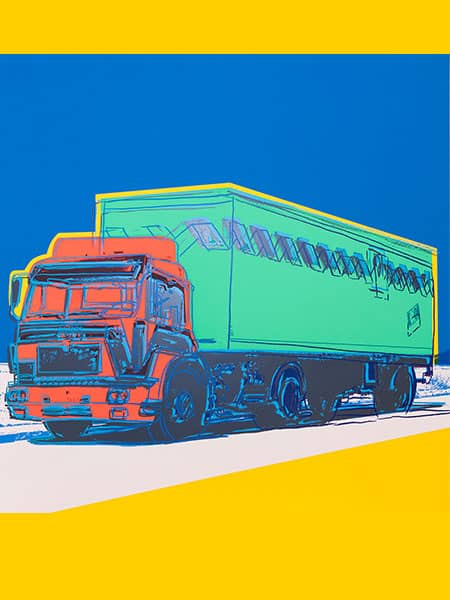 "'Modern Art Goes Pop' juxtaposes artworks from two styles that dominated American art in the 1960s and 1970s – Pop Art and hard-edged abstraction," said Elliott King, assistant professor of art history at W&L. "In addition to world-class paintings, sculptures and prints by Frank Stella, Robert Indiana, and others, we're debuting four Andy Warhol screen prints gifted to the University by the Andy Warhol Foundation for the Visual Arts."
Like earlier Abstract Expressionists, Hard-edge artists, such as Frank Stella, removed recognizable subject matter from their work, but also rejected dynamic brushstrokes in favor of mechanical precision, pattern, and bold blocks of color.
"I imagined the exhibition would be a head-to-head of two contrasting art styles – one engaged with abstract shape and color, the other with popular culture – but when the works came to the gallery, it was striking how much they reflect and enlighten one another," said King. "I looked at Warhol differently when I put him next to Stella, and vice versa."
King will deliver a lecture about the work on Nov. 16 at 5:30 p.m. in Wilson Hall's Concert Hall. The lecture will both provide historical context for the art and explore how these works play off of each other in unexpected ways.
"I expect many visitors will be surprised by the extent and caliber of works in University Collections of Art and History," said King. "The collection is an outstanding teaching resource, with pieces by Francisco Goya, Rafael Tamayo, Charles Willson Peale, Henri de Toulouse-Lautrec, and others. This exhibition gave us the opportunity to share a few highlights with students and the wider community."
The exhibition and the reception that follows are free and open to the public. Staniar Gallery is located on the second floor of Wilson Hall, in Washington and Lee's Lenfest Center for the Arts. Gallery hours are Monday through Friday, 9 a.m. to 5 p.m. For more information, please call (540) 458-8861.