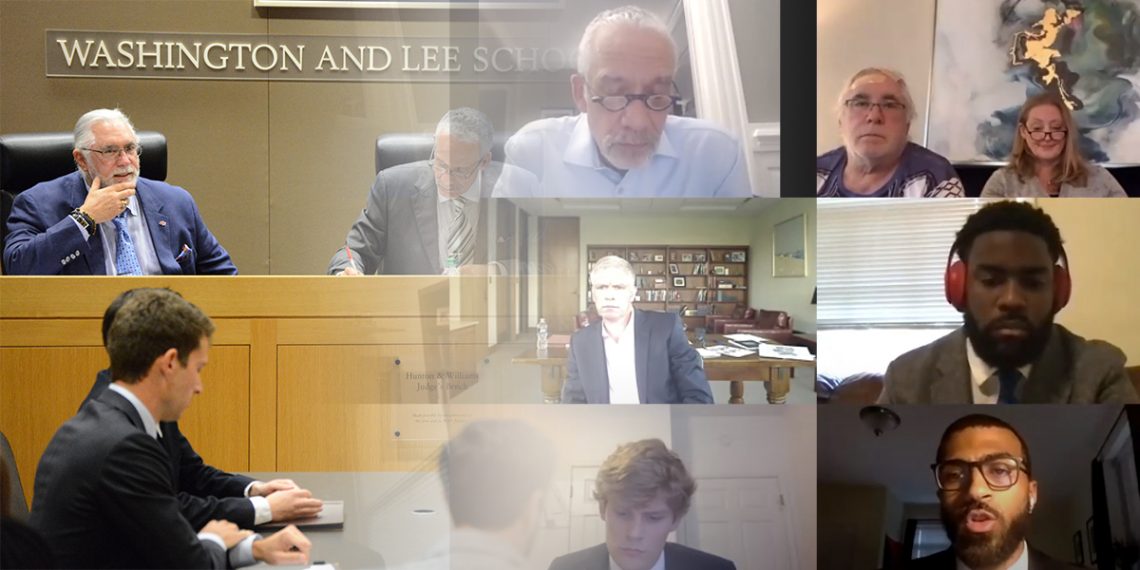 Moot Court Goes Virtual Competitors overcome format changes to gain valuable advocacy experience.
Just as legal proceedings of all kinds have gone virtual across the country this year, so too did the fall moot court competitions at W&L Law.
First up this semester was the Robert J. Grey Negotiations competition, and co-chairs Joanna Thomas '21L and Alyssa Montemayor '21L noted that there were few guidelines to follow as they planned the event.
"We had great autonomy in the decision-making process but also felt the pressures of navigating the unknown," said Thomas. "Our main considerations were ensuring participants' safety while still maintaining crucial elements of an in-person negotiation."
Many of these elements were preserved through the Zoom platform. For example, passing a note to a negotiation partner during the event was replaced with the chat function, and break out rooms were used for the traditional caucus.
Trey Smith '22L and Chris Watts '22L emerged victorious after the final round, which focused on the relationship between energy resource management and indigenous peoples. Smith and Watts agreed that Zoom is not ideal for negotiations.
"But what makes for a good negotiation—preparation and a strong rapport with your partner—still shines through on Zoom," said Smith.
One disadvantage of the virtual format was not being able to read a partner's body language, but Smith and Watts believe their strong friendship provided an advantage on that front.
"I never have to question what Trey is doing or where he is going," said Watts. "We are always on the same page."
The team's contrasting personal styles also served them in the competition. Watts takes an "on the fly" approach and favors compromise. Smith prefers greater preparation and is willing to walk away from the table.
"I not going to let him concede too much and he's not going to let me storm out of the room," said Smith. "I think that's a winning strategy for negotiations."
With the Mock Trial competition postponed to the spring due to the shortened semester, the John W. Davis Appellate Advocacy competition capped off the moot court events for the fall. Competition chairs Michael Doar '21L, Kevin Yeh '21L and Lauren Hancock '21L were pleased that few technical difficulties occurred during the competition.
"My feeling is that competitors had to overcome more distractions to argue effectively via Zoom than they would have had to in person," said Doar. "Arguing from one's home or from a classroom in the school meant competitors had to work a little harder to maintain the necessary formality."
The finals were held in the mock trial courtroom, with competitors masked and separated when not addressing the three judges on the panel, all of whom participated virtually. Russel Wade '22L won best oral advocate this year, and Noriya Shahadat '21L, the 2019 Davis winner, was runner-up. Matt Kaminer '22L and Carson Cox '22L took home the award for best brief.
Wade says he was very nervous until he began speaking, but he appreciated the moment of levity injected into the proceedings when his wife and 19-month old daughter accidentally entered the Zoom for participants and judges.
"Once you start talking and making your arguments, you forget who is watching," he said.
Wade worked as a legislative assistant to Senator Tim Kaine prior to attending law school, and other than being an interesting talking point, he sees no great advantage to that experience.
"Law school and the law are so different from the policy environment," he said. "I maybe knew a few more abbreviations coming in than my classmates, but that's it."
Wade noted that the last three winners of the appellate advocacy competition have been people of color, and he sees some irony in that considering the competition is named for John W. Davis, who argued the losing side of Brown v. Board of Education.
"Davis had a very fascinating life and an incredibly accomplished career as an appellate lawyer, but he also represents a social order that has gone by," said Wade. "It's an interesting commentary on who we value and who we choose to honor and why."
Moot Court Board chair Julia Kerr '21L gave praise to the competition administrators and participants for the success of the events.
"We really owe it to our competition chairs, who brought their A-game to the table and put in 110% to all that they were doing," said Kerr. "From interacting with competitors to getting everything completed in a timely fashion, they could not have run these competitions more effectively. The virtual format, like anything else, presents difficulties, but it is thanks to the dedication of our advisors, judges, chairs, and competitors, that we are able to keep this going as we would under normal conditions."