ODK Holds Spring Initiation For W&L Honorees W&L's Alpha Circle of ODK, the national leadership honor society, inducted seven new undergraduate members and five honorary initiates.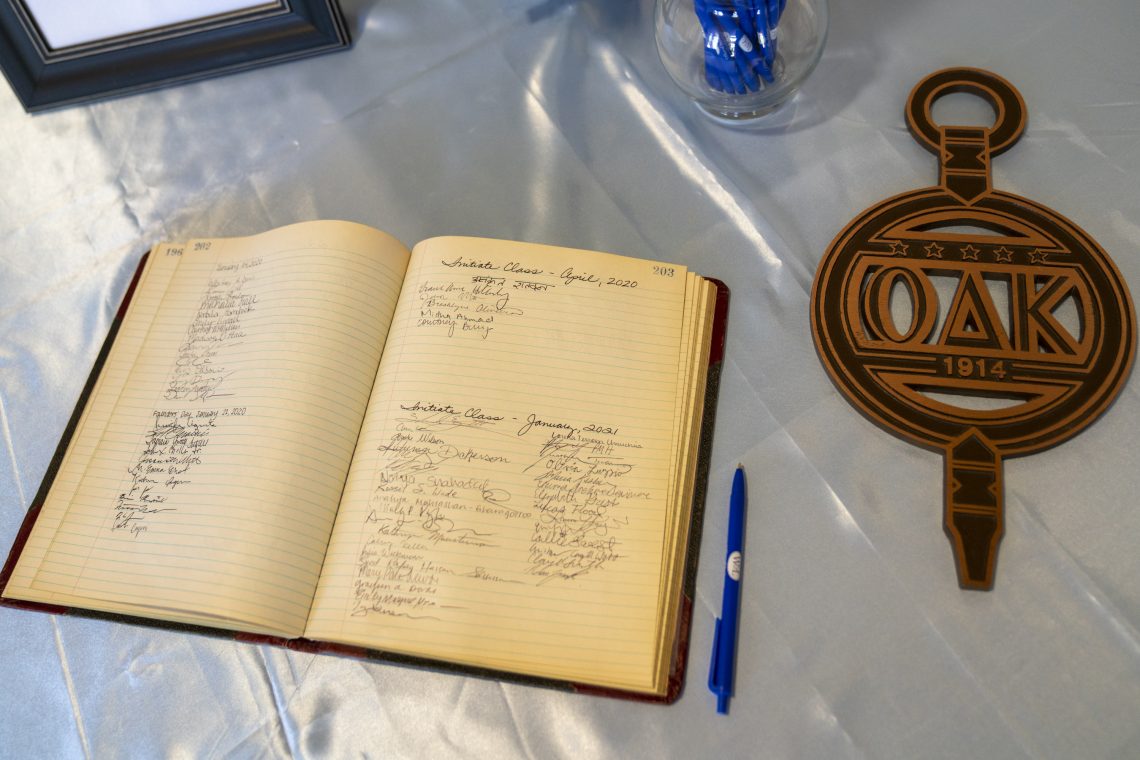 Washington and Lee University's Alpha Circle of Omicron Delta Kappa (ODK), the national leadership honor society, welcomed 12 new members in its private spring induction on campus. Among those recognized are seven new undergraduate members and five honorary initiates.
The honorary initiates are:
Dr. Thomas L. Bradbury Jr. '96 
Bradbury is an assistant professor of orthopedic surgery at Emory Orthopaedics & Spine Center in Atlanta. He started practicing at Emory in 2007. His research interests center around infections involving hip and knee replacements, which are rare but complex problems. Bradbury is researching the success rate of current treatment methods for infections caused by resistant bacteria (MRSA) and hopes to find a better way to both prevent and treat periprosthetic hip and knee infections. Bradbury is one of a small group of orthopedic surgeons in the country who are trained to perform an anterior approach hip replacement. He earned his bachelor's degree in biology at W&L, where he also played football and ran track and field. He was a social organization officer and a member of Sigma Society, Alpha Epsilon Delta and Phi Delta Theta. He is serving on his 25th reunion class committee.
Trenya Mason '05L
Mason joined W&L Law in 2015 and currently serves as the assistant dean of Law Student Affairs, where she provides management support and leadership in all areas of student life and culture and is the primary point of contact for law student-related matters. Before joining W&L Law, Mason practiced consumer bankruptcy law in Alexandria and Richmond, Virginia, serving clients in northern and central Virginia. Mason also worked overseas as a contractor for the Department of Labor's Transition Assistance Program. Her professional memberships include the Virginia State Bar, the American Bar Association and the Corporate Counsel for Women of Color. She is admitted to practice in the Virginia Supreme Court, the United States District Court for the Eastern and Western Districts of Virginia, and the United States Bankruptcy Court for the Eastern District of Virginia.
Meagan C. Miller '96 
Miller is an accomplished orchestral soloist and recitalist and a noted interpreter of new music. Her compelling stage presence, intelligently nuanced portrayals and varied repertoire have been applauded at such distinguished opera houses as the Hamburg State Opera, New National Theatre Tokyo, New York's Metropolitan Opera, Opera Monté Carlo and Théatre du Capitôle Toulouse, among others. Highlights of recent seasons include Elsa in a new production of Wagner's "Lohengrin" by Olivier Py at La Monnaie du Munt, Brussels, conducted by Alain Altinogu; and Marta in the acclaimed new production by Walter Sutcliffe of D'Albert's "Tiefland" in Toulouse; a concert in Prague Feldmarschall in a new production of "Der Rosenkavalier" in Breslau; Minnie in Puccini's "La Fanciulla Del West" in Palermo and Monte Carlo; and orchestral concerts of Strauss's Lieder and Mahler's 8th Symphony. Although Miller transferred to Juilliard after her sophomore year at W&L, she was active on campus as a member of the University Chorus, Chamber Singers, Concert Guild, Phi Eta Sigma and Chi Omega.
Dr. Anna K. Mirk '96 
Mirk is an assistant professor in the Department of Medicine, Division of General Medicine and Geriatrics, and program director for the Emory Geriatric Medicine Fellowship at Emory School of Medicine. Before joining Emory, Mirk served as an internist and geriatrician in the U.S. Army. She is board certified in internal medicine and geriatric medicine. She has been appointed assistant medical director of the Atlanta Eagle's Nest Community Living Center at the Atlanta VA Medical Center. Her area of interest involves polypharmacy and ensuring high-quality, safe medication prescribing for older adults. At the VA, she has helped implement several quality improvements and patient safety initiatives in medication reconciliation and improved discharge instructions and the hospital discharge process for veterans. She is a member of the Atlanta Region Care Transitions Work Group, which aims to improve the quality and safety of the transition process between care settings. Mirk is a graduate of the Veterans Administration VISN 7 Physician Leadership Training Program. At W&L, she earned her bachelor's degree in biology, graduating cum laude, and was a member of the indoor and outdoor track and field teams.
Stephanie Wilkerson 
Wilkinson is co-founder and co-owner of The Red Hen, an award-winning farm-to-table restaurant in Lexington, Virginia. She has founded several other small businesses, including a retail fiber arts store, a literary magazine nearing its second decade, and a downtown development organization. She holds a bachelor's degree in English literature from Dartmouth College, a doctorate in European and American religious history from the University of Virginia, and a certificate of entrepreneurship from the Goldman Sachs 10,000 Small Businesses Program at Babson College. She currently serves on the board of the Lexington Police Foundation, 50 Ways Rockbridge and the Walker Program. She lives in Lexington with her husband, Duncan Richter, a professor of philosophy at Virginia Military Institute.
Seven undergraduate students in the Class of 2022 were also tapped into ODK.
Natasha Gengler (Wilmington, Delaware) is pursuing a major in mathematics and a minor in creative writing. She is passionate about her research investigating snacking and childhood obesity in female rats. Gengler has served as president of the Pre-Health Club and president of the Multicultural Student Association. As music director of WLUR, the campus radio station, she has organized the station's music review blog, connected with music promoters and overseen the station's music logging system. Gengler is also a member of Alpha Epsilon Delta and Pi Mu Epsilon.
Eli Bradley (Nashville, Tennessee) is pursuing a major in biochemistry with a minor in music. He is a residential advisor, one of the artistic directors of Friday Underground and president of the Chanoyu Tea Society. He is an organic chemistry peer tutor and participates in organic chemistry research with Erin Gray, assistant professor of chemistry. He is also an LGBT peer counselor and a member of Phi Beta Kappa.
Mansi Tripathi (Charlottesville, Virginia) is pursuing a double major in politics and sociology and a minor in poverty and human capability studies. As a Bonner Scholar, she has spent almost three years working with Project Horizon as a volunteer, intern and now part-time employee. She is the incoming president of SPEAK, a campus club committed to educating and preventing sexual assault on college campuses and at W&L. She has led the Volunteer Venture (VV) Pre-Orientation trips for the past two years and is now the co-student coordinator of the VV program. She is involved in the Shepherd Program, serves as public relations and social media chair for Traveller, is an ambassador for the university's Office of Inclusion and Engagement and is an active member of Amnesty International. Tripathi recently became a member of Pi Sigma Alpha, a political science honor society.
Brian Stephen Wickman (Whitehouse Station, New Jersey) is pursuing a mathematics and economics double major and a German minor. He is active on campus as a member of the Traveller Steering Committee, a leader in the Residence Life program and a member of the varsity baseball team. He served as a resident assistant in 2019, the head community assistant for the Village in 2020, and is serving as the senior community assistant next academic year. Wickman is also a member of Pi Mu Epsilon, a mathematics honor society. Additionally, he was recognized with the Douglas C. Halstead Memorial Scholarship and the 2021 Greek Man of the Year Award for his work in Phi Kappa Psi.
Randolph Henderson Maxwell (Jackson, Mississippi) is pursuing a major in biology with minors in philosophy and poverty and human capabilities studies. He is the head of the Peer Counseling program and an Appalachian Adventure trip leader. A music lover, Maxwell is the worship leader for Reformed University Fellowship, a member of the University Singers choir and president of the Southern Comfort a cappella group.
Grace Pelosky (Winchester, MA) is pursuing a double major in business administration and art history. An L.K. Johnson-Rosasco scholar, Pelosky is active in the arts as co-president of the University Singers, president of General Admission and a frequent participant in university theatre. She also serves as vice president of the Xi Lambda chapter of Chi Omega and is a member of W&L Student Consulting. Pelosky is a work-study in the President's Office and as a university ambassador and interview fellow for the Office of Admissions. She is also a member of Phi Beta Kappa.
Kathryn Muensterman (Evansville, Indiana) is pursuing a major in English and a minor in medieval and renaissance studies. She currently serves as a section leader in the University Singers and vice president of Catholic Campus Ministry. She looks forward to working as a co-director of Friday Underground in fall 2021. During the academic year and summer, she has also enjoyed working with research groups in English literature and chemistry. She received the prestigious Beinecke Scholarship to help fund her graduate studies.
ODK also awarded the Rupert Latture Award, which recognizes a sophomore who has demonstrated outstanding leadership potential, to Lily Mott '23. The Leyburn Award was presented to Ryan Brink, Campus Kitchen coordinator. The Leyburn Award is given to a campus or local organization that demonstrates outstanding community service.
Omicron Delta Kappa was founded in 1914 at W&L by 15 student and faculty leaders. The founders formulated the idea that leadership of exceptional quality and versatility in college should be recognized, that representatives in all phases of college life should cooperate in worthwhile endeavors, and that outstanding students, faculty and administrators should meet on the basis of mutual interest understanding, and helpfulness. OΔK® was the first college honor society of a national scope to honor meritorious leadership and service in extracurricular activities and encourage the development of general campus citizenship.