ODK to Initiate Three Honorary, 50 Student Members at 2021 Convention New members will be inducted into the national leadership honor society at W&L's Founders Day/ODK convention, which will take place in a virtual format on Jan. 19 at 5 p.m.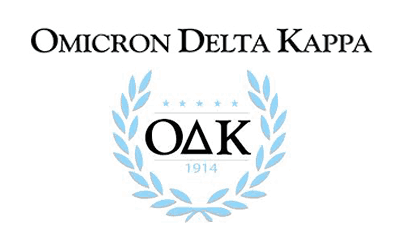 Alpha Circle of Omicron Delta Kappa, the national leadership honor society, will welcome three honorary and 50 student initiates at Washington and Lee University's annual Founders Day/ODK Convocation on Jan. 19, 2021, at 5 p.m. Because of COVID-19, the convocation this year will be held in a virtual format, but it is free and open to the public on Livestream or YouTube.
Michael Barsanti, the Edwin Wolf 2nd Director of the Library Company of Philadelphia, will deliver the keynote address at the convocation. The title of his talk is "Friendship, Franklin, and the Future of Democracy." Barsanti, the 30th person to lead the Library Company since Benjamin Franklin founded it in 1731, has had an eclectic career at the intersection of education, arts and organizational management that includes positions at the Rosenbach Museum and Library, the Pew Center for Arts & Heritage, and the Free Library of Philadelphia Foundation. He has taught arts administration at Drexel University and has served on the boards of several nonprofits, including Pig Iron Theatre Company, Independence Charter School, and the Abraham Lincoln Foundation of the Union League of Philadelphia.
This year's honorary ODK initiates are Dr. Philip D. Douglass '70, professor emeritus of applied theology at Covenant Theological Seminary; Sally Stone Richmond, vice president for admissions and financial aid at W&L; and Andrew Wright '95, director of legal policy for the Biden-Harris Transition.
Douglass joined the faculty of Covenant Theological Seminary 34 years ago after 12 years of pastoring in the Washington, D.C., area, where he planted three Presbyterian churches. In St. Louis, he has started two more Presbyterian churches and served for six years as weekend pastor of a local church while teaching full-time at the seminary. He taught "Spiritual and Ministry Formation and "Ministry Leadership," as well as electives in church planting and leadership development. He also directed the seminary's Doctor of Ministry program and served as president of the Association of DMin Directors for all seminaries in North America. For 28 years, he served on the national committee in charge of church planting for the Presbyterian Church in America, helping to initiate 1,000+ churches. His book, "What is Your Church's Personality?: Discovering and Developing the Ministry Style of Your Church," was written to help pastors and pulpit committees understand their unique church ministry style and gifts. Douglass and his wife, Rebecca, have four children and 10 grandchildren.
Richmond, who joined W&L as vice president for admissions and financial aid in 2015, has spent 25 years in education, investing in student access to—and appreciation of—liberal arts education, based on her own transformative experience at her alma mater, Davidson College. Richmond has long had a particular interest in gender studies, which impacted her undergraduate honors thesis, her graduate school mentoring work and a longitudinal research project at Episcopal High School. She enjoyed serving on both national and regional boards and committees during a nine-year stint at Occidental College, and continuing at W&L. Stone has built a strong team of admissions, aid and Johnson Program colleagues at W&L, and since her arrival, first-year classes have significantly grown in ethnic and socioeconomic diversity while maintaining high academic credentials and broad interests. Richmond and her husband, Thom, have one daughter.
Wright served as associate counsel to President Barack Obama, and before that, he was staff director and counsel to the national security subcommittee of the U.S. House Committee on Oversight and Government Reform. He has also served as assistant counsel to Vice President Al Gore in the Clinton White House, and he remained on as general counsel to Gore's transition out of office following Bush v. Gore. In private practice, Wright was a partner in the Washington office of K&L Gates; he also worked as a white-collar investigations and litigation attorney at Skadden, Arps, Slate, Meagher & Flom LLP and Jackson Kelly PLLC. He spent five years teaching constitutional law, criminal law, criminal procedure and presidential powers at Savannah Law School, and he has also taught related classes at West Virginia University College of Law and Armstrong State University. In addition, he is a founding editor of the NYU Law School national security blog, Just Security. Wright is a graduate of the University of Virginia School of Law and Washington and Lee University, where he was awarded a Harry S. Truman Scholarship for commitment to public service.
UNDERGRADUATE CLASS OF 2021:
Midha Ahmad (Islamabad, Pakistan) is pursuing a major in neuroscience with minors in creative writing and Middle Eastern and South Asia Studies (Language Emphasis). She is a residential advisor for freshmen, a member of the Dean's Advisory Board for the Office of Inclusion and Engagement (OIE), and an OIE student ambassador. Ahmad is active in peer tutoring through the Writing Center and mentoring through the Center for International Education. Ahmad served one year as co-president of the Student Association for International Learning, and as a peer counselor specializing in diversity.
Courtney Ann Berry (Charlottesville, Virginia) is pursuing a double major in psychology and strategic communication. She competes and leads as a captain of the Washington and Lee women's varsity volleyball team and was recognized as an All-American and a scholar athlete. Berry mentors her peers as a small group and worship leader for Reformed University Fellowship, and she has a passion for connecting with people as a university ambassador and a WLULEX communications team member.
Katie Sue Cones (Montgomery, Texas) is majoring in math with minors in computer science and classics. She has spent several years as a STEM fellow, becoming a leader in her lab and continuing to use those skills now as a math teaching assistant. Cones was also active in several branches of FYOC leadership, helping the organization find ways to combat the challenges of O-week in a pandemic. She now focuses most of her time to running Indie Big-Little, marketing for Friday Underground, and preparing her art for the upcoming SSA conference.
Grace Anne Holladay (Nashville, Tennessee) is majoring in biochemistry and minoring in mathematics and poverty studies. A Johnson Scholar, Holladay is active on campus as a peer counselor, an organic chemistry laboratory teaching assistant, and a Volunteer Venture pre-orientation leader. She also serves as a vice president of University Ambassadors, through which she interviews prospective students as part of the W&L admissions process. Holladay is also invested in the Lexington community, mentoring middle school girls as a Young Life leader at Lylburn Downing Middle School and serving on the College Leadership Team at Rockbridge Church. Holladay is also a member of Phi Beta Kappa and the historian of the Alpha Epsilon Delta Health Preprofessional Honor Society.
Jenna Ruby Marvet (Sunnyvale, California) is a politics major with minors in data science and digital culture and information. Marvet has served for three years on the Hillel Student Board, most recently as advancement chair, and founded W&L's chapter of charitable organization Challah for Hunger. She is a member of the Contact and Digital Humanities committees, and is a member of the Student Advisory Group to the Harassment and Sexual Misconduct Board. She participated as a state chair for Mock Convention 2020 and as engagement editor for the Ring-tum Phi, and she has organized politically in the local community. She is a member of Pi Sigma Alpha, a political science honor society.
Brooklyne Nicole Oliveira (Godley, Texas) is majoring in religion and philosophy. She was awarded grants to conduct research in modern and ancient theology and philosophy with faculty members during the 2020 summer and winter breaks. She has been involved in W&L Hillel for three years, serving on the Hillel Undergraduate Board as the Shabbat chair and speaker's co-chair for the 2018-2019 and 2020-2021 academic years, respectively. She was a member of small group fellowships before serving as a small group leader with InterVarsity Christian Fellowship. Oliveira is also a Johnson Scholar mentor.
Alankrit Shatadal (Verona, Wisconsin) is majoring in biochemistry and sociology and anthropology with a minor in poverty studies. She is on the leadership teams for Peer Counseling, Diversity Peer Counselors, Tri-Beta Biological Honor Society, Women in Technology and STEM, Rockbridge Interfaith, and the Science Society and Arts Research Convention. She is also a part of the University Singers, Alpha Epsilon Delta Pre-Health Honor Society, Kathekon Alumni Chapter Volunteers and Johnson Scholar Mentorship program, and she performs research in both biochemistry and anthropology. She has been a peer tutor for chemistry and organic chemistry as well as president of the Student Association for International Learning.
Beth Ann Townsend (Greenville, South Carolina) is double majoring in English and classics. She loves to write, and as a peer tutor, she has had the chance to share her passion for storytelling, reading, and creating and encouraging other students as they pursue academic or creative writing interests. Townsend also works with the elementary program at Rockbridge Church and has volunteered as an afterschool teacher at Waddell Elementary. She is a member of Eta Sigma Phi and serves on the leadership and nominating committee for Pi Beta Phi, where she works to ensure a bright future for young women on campus. She is a team captain for golf and a three-time Academic All-American who has also earned the ODAC Golf Scholar-Athlete of the Year award for the past two years.
Graysen Aileen Doran (Wilmette, Illinois) is a business journalism major who has been an active member of the field hockey team for four years. She is the second member of the team in program history to receive the NFHCA Scholar Distinction award. As a sophomore, she was elected to represent the Class of 2021 on the Executive Committee. Doran has also reported for the Rockbridge Report and served as one of W&L Student Consulting's project leads.
Lucas Ryan Flood (Arlington, Texas) is majoring in history and German. He has been a member of the residential life team for three years; during the 2020-21 academic year, he is head residential advisor for Gaines Hall. Flood is the 2020-2021 senior justice on the Student Judicial Council, served on the College Republicans Leadership Team, and plays on the club soccer team. He is also an active member of Rockbridge Church.
Callan Jane Garst (Boones Mill, Virginia) is majoring in math and minoring in computer science. She is an active member of InterVarsity Christian Fellowship and has held the positions of large group coordinator, leadership academy coordinator and disciple. She currently serves as small group leader. She is treasurer of the Engineering Community Development Club and the social media chair and co-founder of Outreach Link, a club focused on raising money and awareness for victims of mass shootings. Garst, who has received funding to conduct research in number theory and algebraic geometry, serves as a teaching assistant for multiple mathematics professors and as a peer tutor for introductory courses in mathematics and physics.
Patrick Marron Hofstedt (Severna Park, Maryland) is majoring in environmental studies and minoring in classics and poverty studies. A four-year member of the wrestling team, he has placed in two tournaments while wrestling for the Generals. Hofstedt has been active on the Campus Kitchen Leadership Team all four years, serving as kitchen management chair and Campus Garden/Campus Kitchen partnership coordinator. He was state chair for Wyoming in last year's Mock Convention and served as sergeant-at-arms for the Phi Kappa Psi fraternity for two years. Hofstedt also participated in the Generals Leadership Academy Training Program and was a pre-orientation trip leader for the sustainability pre-orientation trips.
Erin Elizabeth Hughes (Raleigh, North Carolina) is a cognitive and behavioral science major and double minor in poverty and human capability and women's, gender, and sexuality studies. She served as captain of the women's basketball team her junior and senior seasons and participated in Generals Leadership Academy as a sophomore. She has earned All-ODAC First Team, Defensive Player of the Year, and VaSID All-State Second Team. Hughes also serves as an ambassador for the Office of Inclusion and Engagement. In fall 2020, she hosted a panel of six minority student-athletes who shared their experiences on Washington and Lee's campus. Hughes volunteers as a tutor at Waddell Elementary School and has volunteered as an assistant basketball coach for Lylburn Downing Middle School and Rockbridge County High School.
Cabrey Lee Keller (Severna Park, Maryland) is a cognitive and behavioral science major and poverty studies minor on the pre-med track. Keller serves as a WyldLife youth group leader at Maury River Middle School and tutors through an after-school enrichment program, helping at-risk students. She has also served as a volunteer coordinator for tutoring at the middle school and as service director for her sorority, through which she organized fundraising events and the first-ever Women's Service Day with a coalition of Greek and independent women. She has been a peer counselor for the past three years, with a specialization in sexual assault and abuse and helping first-years to transition to college. Keller is active in the Outing Club and serves as a head trip leader for the Appalachian Adventure pre-orientation trip.
Maria Esther Hope Kisker (Dayton, Ohio) is an economics major with math and Chinese minors. Maria is one of the executive directors of Washington and Lee Student Consulting, for which she established an alumni mentorship program. Also interested in politics, Kisker has been the student coordinator for Washington Term, chaired the Delegates Abroad delegation for Mock Convention, and serves as a discussion leader for the Tocqueville Forum for political discourse. In addition, she acts as the music director of Jubilee, teaches fitness classes, led singing at Trinity United Methodist Church's morning services, and is an Intro to Economics tutor.
Mary Pace Lewis (Richmond, Virginia) is a European history major with minors in classics and dance. She is the current president of Washington and Lee Repertory Dance Company. In addition to choreographing original works, she has performed leading roles with the group for over three years. Lewis has served as both the chief operating officer and the head of human resources for her sorority, Kappa Alpha Theta. She has served as a student hearing advisor since her first semester at W&L. In summer 2019, she was awarded a Johnson Grant to conduct research in Pompeii, Italy, as part of the Ancient Graffiti Project. She is the recipient of numerous academic awards including the Washington Family Descendants Scholarship, the Elizabeth B. Garrett Scholarship in History, and the William F. Hirschmann Memorial Prize.
Olivia Allison Luzzio (Goshen, Kentucky) is majoring in economics and global politics. The ODAC All-Academic and All-ODAC Second Team swimmer has contributed to three ODAC Championships for the Generals. Luzzio is also active as a career fellow and university ambassador on campus, and she participated in the Generals Leadership Academy training program. She is currently pursuing an honors thesis in economics, examining the relationship between women's empowerment and environmental sustainability.
Emily Margaret Moran (Charlotte, North Carolina) is a cognitive and behavioral science major and an education minor. She was president of Kappa Kappa Gamma in 2020, serving as the event chair the year prior. She is a peer counselor for first-year students, served as a university ambassador for two years, and played the harp in the university orchestra her first year. Moran has been a member of the Child and Gender Development Research team since her first year, studying under Dr. Megan Fulcher and, for the last two years, serving as the participant coordinator and lab manager. Moran spent the summers of 2019 and 2020 as a summer research scholar, furthering her research experience with Dr. Fulcher and pioneering novel research studies. She also served as a teaching assistant for the CBSC Statistics and Research Design course.
James Minh Ricks (Newcastle, Washington) is an English major with a minor in poverty and human capability studies. He plans to attend medical school after graduation and become a primary care physician. He helped found the W&L Remote Area Medical campus chapter, which coordinates student health care volunteering, and he has worked in partnership with the Oda Foundation to research adolescent tobacco use and increase awareness and funds for interventional health care efforts in rural Nepal. He holds leadership positions in Campus Kitchen and Habitat for Humanity, and is an editor for the Vigil. He is also a tutor at the Writing Center and a Bonner Scholar.
Claire Rhodes Smith (Nashville, Tennessee) is double majoring in sociology and global politics and minoring in Middle East and South Asia Studies with a concentration in Arabic. She serves as a captain of the cross-country team, is a member of the track and field team's Diversity, Inclusion and Equity Group, and has participated in the Generals Leadership Academy. She is editor-in-chief of the W&L Political Review and is active in the Career and Professional Development Office as a career fellow, assisting students with professional documents, networking and interview preparation. She also co-leads a prayer and discussion group within the Reformed University Fellowship (RUF) Leadership Team focused on increasing inclusivity and community within RUF.
Jonathan Burnell Tucker Jr. (Katy, Texas) is a history major with a poverty and human capability studies minor. He is head of W&L's peer counseling program and is a key staff member in the W&L Outing Club. Tucker was a member of the W&L men's swim team for the 2017-2018 and 2018-2019 seasons, earning first-team all-conference athletic and academic honors both seasons. He is the recipient of the 2020 Elizabeth B. Garrett Scholarship for Excellence in the Study of History and is a current S. Cullum Owings Fellow at W&L.
Lorena Terroba Urruchua (San Antonio, Texas/ Mexico City, Mexico) is double majoring in cognitive and behavioral science and Romance languages and minoring in poverty and human capability studies. As a Bonner Leader, she has served as Souper Bowl chair and treasurer and vice president of Campus Kitchen, as well as actively volunteering at the Blue Ridge Autism and Achievement Center. Terroba led philanthropic efforts in her sorority as philanthropy chair and in Catholic Campus Ministries as community service chair. She also actively serves as a Eucharistic minister at St. Patrick's Catholic Church.
Christopher Cargill Watt (Thomasville, Georgia) is an economics major with minors in environmental studies and poverty and human capabilities. With the Shepherd Poverty Studies Program, he has served as an afterschool tutor at the Lexington Office on Youth and as a Volunteer Venture pre-orientation trip leader. On campus, Watt has served as a peer counselor on the steering committee for three years and has been recognized with the Outstanding Male Peer Counselor Award. With the Outing Club, he is actively involved as a key staff leader and as an Appalachian Adventure pre-orientation trip leader for incoming first years. He is the class of 2021 male recipient of the G. Holbrook Barber Scholarship Award. Watt is a cofounder of the University's Club Running team.
Julia Allison Wickman (Whitehouse Station, New Jersey) is a biology major with a creative writing minor. A three-time first-year resident advisor, she was recognized for extraordinary character with the Douglas C. Halstead Memorial Scholarship and serves as the head resident advisor for Graham Lees. As the peer tutoring coordinator, Wickman implemented a training curriculum, developed a website and oversaw the program's transition to CARPE. She has researched obesity for three years with Dr. Sarah Blythe, including leading a behavioral coding collaboration with Virginia Tech. Wickman serves as co-president for the Beta Beta Beta National Biological Honor Society and a mentor for the Pre-Health Club. Off-campus, she is an MCAT tutor and a crisis counselor for the National Crisis Textline. She has studied pediatrics at the University of Rochester and performed neonatology research with the University of Nebraska. Next year, Wickman will attend medical school to pursue her interest in pediatrics.
Melissa Victoria Yorio (Palm Coast, Florida) is a classics and medieval and Renaissance studies double major. She is president of the Multicultural Student Association. She has also served as the activities co-chair for the First-Year Orientation Committee after being a GroupMe Moderator for the Class of 2022. In addition to her coursework, Yorio works as a research specialist for the Ancient Graffiti Project and volunteers with the Waddell Elementary School Latin Club. Since the start of the COVID-19 pandemic, she has served her home of Flagler County, Florida, as president of Tutors for Tough Times, a free tutoring service offered to ease the burden of online schooling.
UNDERGRADUATE CLASS OF 2022:
Enuma Andrea Anekwe-Desince (Stone Mountain, Georgia) is a cognitive and behavioral science major. She's been secretary of the African Society since her sophomore year and currently serves as social chair for the Student Association of Black Unity. Anekwe-Desince helped to pioneer the Groove Calendar, serving as the head graphic designer since its inception. She is an appointed student representative to the University Committee on Inclusiveness and Campus Climate (UCICC) and was selected as a program adviser for the 2020 Advanced Immersion and Mentoring program. She belongs to the Leadership Education and Development program (LEAD) and is a research assistant in both sociology and psychology labs.
Camilla Anastasia Beeley (Durham, North Carolina) is majoring in cognitive and behavioral science with a minor in poverty and human capability studies. Beeley is on the pre-physician assistant (PA) track at W&L. She was recognized as the Most Outstanding Female Peer Counselor for the 2019-2020 academic year and is a core member of their leadership team. As part of the Pre-Health Club, Beeley is a pre-PA mentor to students interested in a medical career. She is small group leader for Reformed University Fellowship (RUF) and is a children's ministry volunteer at Rockbridge Church. Beeley is also active in the Campus Garden.
Elizabeth Brauer Grist (Lexington, Virginia) is majoring in chemistry and classics with a minor in poverty and human capability studies. An assistant head hearing advisor and junior Owings Fellow, she is also a member of Eta Sigma Phi Classics Honor Society and Alpha Epsilon Delta Health Professional Honor Society. Elizabeth is on the Reformed University Fellowship leadership team, serves on the vestry at Grace Episcopal Church in Lexington, and is a Club Running co-founder and Outing Club pre-orientation trip leader. She also is an after-school tutor for Rockbridge County High School students and volunteers at the Rockbridge Area Relief Association (RARA) food pantry.
Syed Rafay Hassan (Lahore, Pakistan) is an economics major and a mathematics minor. The head of W&L GenTech's speaker series, he also serves as an econometrics peer mentor and has coauthored empirical research on international trade with Dr. Michael Anderson. Rafay spoke at a Rockbridge Interfaith panel in 2019 and won an Outstanding Attorney Award at AMTA Regionals in 2020. He remains active in the Outing Club and volunteers at RARA. In Pakistan, he has coached debates at the Lahore Grammar High School and helped students make the national team. Rafay has also presided over the intern training program at the country's most prominent microfinance organization, Akhuwat.
Lauren Elizabeth Hoaglund (Birmingham, Alabama) is majoring in medieval and Renaissance studies and English and minoring in classics. An active member of the performing arts at Washington and Lee, Hoaglund continues to participate in the choral program and has held leading roles in six theatrical performances at Washington and Lee. She serves as one of two student representatives to the Faculty Executive Committee and as an ambassador to the Office of Inclusion and Engagement, and she is passionate about her work as a student archivist with Hillel House.
Troy James Larsen (West Chester, Pennsylvania) is a Johnson Scholar double majoring in mathematics and classics. He serves as general co-chair for the First-Year Orientation Committee and as a course facilitator for First-Year Experience 100, sits on the board for the Office of Inclusion and Engagement, and is a member of the Washington and Lee University Singers. He is also the treasurer for the Peer Counseling program and received the award for Most Outstanding Male Peer Counselor in his sophomore year. An experienced researcher, Larsen has undertaken projects in algebraic number theory, knot theory and mathematical literacy in the early Roman Empire, leading to numerous publications and regional presentations. Additionally, he has served as a university ambassador, a co-auction chair for Mock Convention, and a peer tutor in five subjects since his first year on campus.
Nolan Michael Zunk (Richmond, Virginia) is majoring in film production. A founding member of W&L's film society, Zunk is active in directing and producing films with teams of students and faculty on campus. He co-directed W&L's first feature length film, "Intimate Violence," a documentary portrait on domestic violence in partnership with Project Horizon, Lexington's domestic violence agency. Additionally, Zunk's photographic art explores themes of identity, self-expression and natural beauty.
LAW CLASS OF 2021:
Autumn Nicole Dickerson (Houston, Texas) is a member of a sub-committee of the Healthy Sexual Culture Committee (HSCC), a Zoom teaching assistant, vice president of the Disabled Law Student Association, and client counseling chair of the Moot Court Executive Board. Autumn actively mentors several students from the 2L and 1L class. Dickerson also volunteers at the Rockbridge Area Relief Association's food bank and volunteers to transcribe documents for the Smithsonian.
Eduardo Enrique Garza III (Hebbronville, Texas) is heavily involved in the community here in Lexington, from volunteering for the local Christmas parade to supporting local business and serving as an advocate for small-scale farming. Garza's leadership in the community goes beyond official roles in organizations and instead focuses on relationship-building and giving back to the people of Rockbridge County. Additionally, he has served as a leader on campus in promoting civil discourse in a time of intense division in this county and on university campuses. He is also a member of Phi Beta Kappa.
Karlo Goronja (Newport News, Virginia) is executive editor of the Washington and Lee School of Law Journal of Civil Rights and Social Justice, and serves as a first-generation student resource.
Chandler Hope Gray (Cary, North Carolina) is a recipient of the Robert O. Bentley Scholarship. She serves as a senior articles editor for the Washington and Lee Law Review, a research assistant for Professor Johanna Bond, and an executive board member of OUTLaw. Gray is also an active member of the Women Law Students Organization and the American Constitution Society. Prior to law school, she worked as a research consultant for The Lewin Group in Falls Church, Virginia. Gray graduated from Davidson College in 2015 with a bachelor's degree in political science and a concentration in medical humanities.
Aaron Russell Hardy (Richlands, Virginia) is Student Bar Association vice president for the Class of 2021; president of OutLaw, the LGBTQ+ legal affinity group; and a diversity student ambassador for the Office of Inclusion and Engagement. He has served as an LGBTQ+ campus peer counselor, student advocate for the WLU Law Faculty Diversity Equity and Inclusion Committee, and Kirgis Fellow 1L mentor, and he has held executive board positions for Phi Alpha Delta and Law School Unleashed. Hardy graduated from Radford University in 2015 with a bachelor of business administration in marketing and a bachelor of science in political science.
Corey J. Hauser (Wilkes-Barre, Pennsylvania) received a B.B.A. in finance and economics, summa cum laude, from Wilkes University in 2018. Corey serves as editor-in-chief of the Washington and Lee Law Review. His note, Federal Magistrate Court of Appeals: Whether Magistrate Judge Disposition of Section 2255 Motions Under Consent Jurisdiction Is Statutorily and Constitutionally Permissible, was published in the December 2020 issue of the Review. Hauser also served as a hearing advisor during his 1L year. Since 2012, he has volunteered as a Little League baseball umpire in his hometown.
Adenike Oluwatosin Renee Miles-Sorinmade (Boston, Massachusetts) assists the Law School's Admissions Office as a W&L Law Ambassador. She was active in many organizations holding multiple board positions. She was the fundraising and merchandising chair for Women Law Students Organization as well as the secretary the following year. She was the historian for the W&L Black Law Students Association and treasurer for the Student Coalition for Campus Change. She was also on the executive board for the W&L Pro Bono Organization.
Anahita Mohtasham-Gharagozloo (Richmond, Virginia) is the managing editor for the German Law Journal and the secretary of the Washington and Lee Chapter of the American Constitution Society. During her 2L year, she served as a co-president of the International Law Society. Outside of these responsibilities, she also serves as a mentor to women law students through WLSO, as well as the junior editors on the Journal.
Molly Payne Pugh (Norfolk, Virginia) focuses on transactional business law studies. Pugh served as a student leader on faculty selection committees, the Student Library Advisory Committee, the Law School Families Group, the Women's Law Society and the Agricultural Law Society, as well as numerous other panels focused on student success. She is also a longtime member of Phi Beta Kappa. As a resource and advisor, she frequently pulls from her prior work experience to counsel students navigating the employment search. In addition, Pugh often shares her experiences at W&L with prospective law students. Drawing support from her husband and young son, she strives to meet each member of her community openly, with love and respect.
Noriya Shahadat (Harare, Zimbabwe) is active in the Black Law Students Association (BLSA) and Women Law Students Organization's (WLSO) mentorship programs. She has served as a mentor to a handful of first-year law students for the last two years. Shahadat is also the current chair of the BLSA Community Service Committee, and she was one of the organizers of the campus-wide MLK Day of Service that was hosted in January 2019.
Kimberly Wu Shi (Houston, Texas) is the winner of the 2020 Louise A. Halper Best Note Award. She serves as editor-in-chief of the Journal of Civil Rights and Social Justice. Shi is an active advocate and representative of the school, serving as a law ambassador and an assistant in the Admissions Office. She belongs to and engages in several organizations committed to promoting the W&L legal community and the Lexington/Rockbridge community at large, including the W&L Women Law Students Organization, Phi Alpha Delta Law Fraternity (PAD), and the W&L Pro Bono Board.
Thuan Tran (Falls Church, Virginia) graduated from the University of Virginia in 2015 with a double major in cognitive science and government. He serves as a Mock Trial Competition chair, wellness ambassador for the W&L Student Bar Association, and president of education of the Antitrust and Consumer Law Society. He also runs the W&L Law BAR REVIEW Podcast. A competitive raw powerlifter, Tran is president of W&L's Strength Club and Boxing Club.
Brooke Elizabeth Wilson (Briarcliff Manor, New York) is the symposium editor for Washington and Lee's Journal of Civil Rights and Social Justice and worked to organize the journal's first virtual symposium this fall. Wilson is also president of the Environmental Law Society and a member of the Women Law Student Organization. She has performed in W&L Repertory Dance Company's spring production, taught yoga to law students during Wellness Week, and tutored chemistry at VMI.
LAW CLASS OF 2022:
Ryan Michael D'Ercole (Centreville, Virginia) serves as a Kirgis Fellow, co-mentoring 20 first-year law students. D'Ercole volunteers with the Legal Redress Committee for the Rockbridge County Chapter of the NAACP and coordinated with various local groups to register W&L students to vote. He receives much joy from participating in and serving as treasurer for OutLaw, the LGBTQ+ law student affinity group. D'Ercole is also a staff writer on the Washington and Lee Law Review, and his student note is focused on voter suppression tactics targeted at college students and how Congress can use its enforcement power to improve ballot access. He recruits new law students as a law ambassador with the Admissions Office. His brief made it to the finals for the John W. Davis Appellate Advocacy Competition.
Sabrina Matlock (Pennington, New Jersey) serves as president of the Black Law Students Association (BLSA), where she has created initiatives to increase diverse enrollment at the law school, incorporate the topic of race into class discussions, and connect current BLSA members with alumni of color to foster personal mentorship and career development. She is also a Kirgis Fellow mentor to 20 1L students. She assists with coaching the undergraduate Mock Trial Team and is competing in both the internal Washington and Lee and external BLSA mock trial competitions. She has also served as a law ambassador with the Admissions Office.
William Harold Smith III (St. John's, Antigua) is pursuing a career in business law. "Trey," as he is more commonly called, is active in diversity and inclusion efforts at W&L. He volunteers on several D&I committees to identify obstacles to W&L's diversity goals, and as treasurer of the Black Law Students Association led a successful video fundraising campaign in 2020. Smith also enjoys oral advocacy competitions: He won W&L's Robert Grey Jr. Negotiations Competition, represented W&L Law at the 2020 A.B.A. Negotiation Competition and coaches W&L's undergraduate Mock Trial Team in his spare time.
Russel Samuel Wade (Brooklyn, New York) won Best Oral Advocate at the 2020 John W. Davis Appellate Advocacy Competition and will represent W&L Law at the 2021 Philip C. Jessup International Moot Court Competition. Wade is a research assistant and an active member of the Black Law Students Association, and he mentors students from underrepresented communities interested in politics through the Tyrone Gayle Scholars Program.
Christopher Ethan Watts (Tallahassee, Florida) serves as sub-regional director of Virginia for the Mid-Atlantic Region of the Black Law Students Association (BLSA). Watts also participates in the BLSA's mentorship program, taking on several formal and informal mentees. He also assists in coaching both the BLSA and undergraduate mock trial teams.
Omicron Delta Kappa Society, the national leadership honor society, was founded at Washington and Lee University on Dec. 3, 1914. A group of 15 students and faculty members established the society to recognize and encourage leadership at the collegiate level. The founders created the ODK Idea, the concept that individuals representing all phases of collegiate life should collaborate with faculty and others to support the campus and community. ODK's mission is to honor and develop leaders; encourage collaboration among students, faculty, staff and alumni; and promote ODK's ideals of scholarship, service, integrity, character and fellowship on college and university campuses throughout North America.