Polish Ambassador, Senator to Talk at W&L In their discussion, the duo will address "Transatlantic relations between Poland and the United States."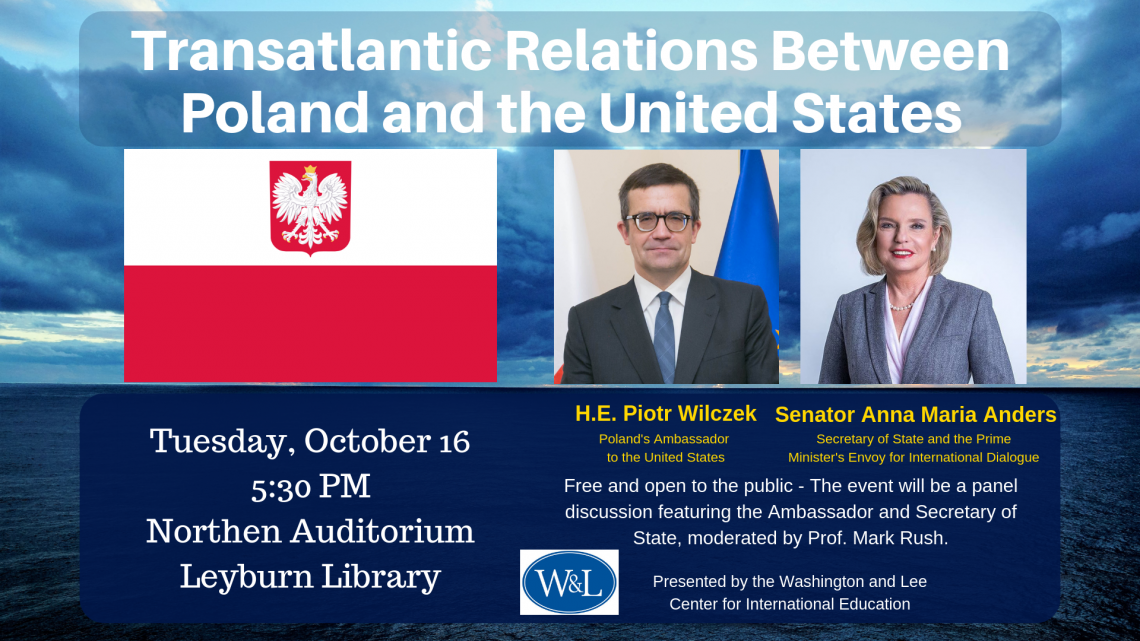 Piotr Wilczek, ambassador of Poland to the United States, and Anna Maria Anders, Polish senator and secretary of state plenipotentiary for international dialogue, will participate in a panel discussion at Washington and Lee University on Oct. 16 at 5:30 p.m. in Northen Auditorium.
In their discussion, moderated by Mark Rush, W&L's Waxberg Professor of Politics and Law and director of the Center for International Education, the duo will address "Transatlantic relations between Poland and the United States." The event is free and open to the public.
"For decades, Poland was considered a model case of a successful transition from communism to democracy and market economy," said Krzysztof Jasiewicz, William P. Ames Jr. Professor of Sociology. "In the recent years, however, actions of the current government all but eradicated this favorable assessment, and many (at home and abroad) do not consider Poland a liberal democracy anymore. Within the European Union, from a leader, Poland has become an outcast, with the state of her democracy under scrutiny of the European Court of Justice. The visit of Wilczek to W&L creates for our students and faculty an opportunity to learn more about these troubling developments."
Wilczek is a literary scholar, historian, writer and translator. He graduated in 1986 from the University of Silesia in Katowice, where he also received his Ph.D. (1992). Recruited by his alma mater, he remained there until 2008 as a professor and faculty dean. His interests include comparative literature, philology and intellectual history. In 2006, he received the title of professor of the humanities from the president of the Republic of Poland.
Anders graduated from Bristol University in the U.K. with an honors degree in modern languages. She also earned a master's degree from Boston University in the United States. After graduation, she worked in the UNESCO Press Office in Paris (1978–1979), as well as in the oil and real estate industries. Anders has been secretary of state at the Chancellery of the Prime Minister as the prime minister's plenipotentiary for international dialogue since 2016.
"The visit by Wilczek and Anders comes at an important time in Poland's history as well as world politics," said Mark Rush. "In 2018, Poland celebrates 100 years of its 'rebirth' at the end of the First World War in 1918. Situated in the middle of Europe and the eastern part of the European Union, Poland has always played an important role in geopolitics as well as in contemporary E.U. affairs."
This visit is presented by the Washington and Lee Center for International Education.