Popping Online Coco Ellis Howe '16 and Tani Greenspan '16 created a successful online art gallery in the middle of a pandemic.
"We love this, but why do we love it, and will our audience be in love? What about this piece is so amazing?"

~Tani Greenspan '16
On the morning of Nov. 12, 2020, Coco Ellis Howe '16 and Tani Greenspan '16, along with an inventory of carefully curated artwork, a TV tracking their web traffic and a whole lot of coffee and snacks, were crammed into a 10 by 10-foot room in the home of Howe and her husband, Jonathan '14. They were about to launch their online art gallery, The Poppy Society, and they weren't sure what to expect.
Following a whirlwind month of business planning, web design and digital marketing, they had been up all night preparing with Bentley Boldt '16, who now consults for the business. When they clicked the launch button, "We didn't know if it would be crickets or if it would be craziness," Howe said. "I would say it leaned more towards craziness."
"Coco had the site traffic up to show where everyone was around the country that was looking at us," Greenspan added. "And even that was just so staggering — how many people had heard about it and were excited to be on there right at 10 a.m."
That first day, they sold close to $8,000 of art. By the end of February, they had sold nearly $100,000.
Howe and Greenspan met in Professor Amanda Bower's advertising class as seniors. Though both were Williams School majors and veterans of Professor Jeff Shay's popular entrepreneurship course, they didn't connect until Greenspan relocated to Howe's hometown of New Orleans in 2019.
"We have such a big support network and so many people we know," said Greenspan, a New York native who moved to be with her boyfriend, Jack Koch '16, as he prepares for medical school. "It was just a seamless transition into living down here."
Howe and Greenspan struck up a friendship as part of a social group of young alumni who met regularly. When the COVID-19 pandemic hit, they were laid off from their jobs in software and event planning, respectively, and began exploring their next moves. On an October walk with Boldt near their homes — just blocks apart in New Orleans' Garden District — they found it.
"We saw all of these art galleries that were closed," Howe said. "Restaurants and stores were able to pivot and do take.out or go online." Art galleries, however, seemed to have shut down completely. "It was really sad. Especially in New Orleans, where there's so much culture, it was striking to me."
Howe didn't know much about art, but she had the software skills to design the website an online art gallery would need. Greenspan, an art history major, missed the marketing she'd done in previous jobs, and had the art training to curate a gallery. Boldt, who manages two retail stores in New Orleans, contributed her expertise with logistics.
"We were a perfect blend," Howe said.
The team reached out to contacts in the W&L network and poured themselves into all-night work sessions. Cameron Farley '16, an accountant, provided tax advice. Jessie Whelan Drennan P'15, '18 became one of their first artists. Through several iterations of their business plan, they honed Howe's vision for their market — young people like them, who might feel uncomfortable and outpriced in a high-end gallery but wanted something more personal and upmarket than an Etsy store — and Greenspan's ability to work with artists.
In curating the gallery, Greenspan and Howe used the skills Greenspan learned in her art history classes — how to examine a piece of art through multiple critical lenses and analyze it more formally than just, "I love the look of this."
"It's interesting balancing what we love and asking ourselves, 'Okay, we love this, but why do we love it, and will our audience be in love? What about this piece is so amazing?'" Greenspan said. "It's really important for us to be able to explain why we chose certain pieces."
For their initial offerings, they signed artists they already knew to short-term consignment contracts. Since then, artists have approached them and asked to participate, and they've now shifted to a model of three-month initial contracts, followed by yearlong ones for popular artists. They represent over 20 artists and are looking to expand, figuring out how to scale up without losing the personal touch that makes them stand out.
Given the trials of the past year, Howe and Greenspan are grateful for The Poppy Society and for the help they've had creating it. "Being able to build it from the ground up," Greenspan said, "has just been so rewarding during a time where I felt like I was just treading water."
"I feel lucky that I have the background in software development," Howe added, "and also extremely lucky that I had Tani and Bentley by my side. Being able to go from a dark place in COVID to growing this company, proving to myself and to other people that we can create something that's profitable, that's been just incredible."
If you know any W&L alumni who would be great profile subjects, tell us about them! Nominate them for a web profile.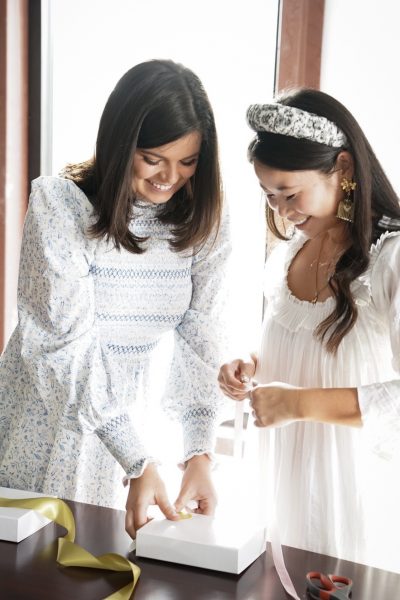 Trials and Truimphs
What's been unexpectedly hard?
T: Shipping logistics is something that neither of us really have a background in, and you don't want to ship something and have it get bent or damaged. That was a big learning curve.
C: I didn't realize how hard it was to start a business in terms of documentation, filings with the state and taxes. Even coming from W&L and an entrepreneurship background, I had a tough time learning all of it. Knowing that so many others do it as well was really eye-opening to me.
What's been the most satisfying?
T: The number of people that we see on Instagram saving things for later or sharing it with people — just the traction that some of these pieces are getting has been incredibly validating.
C: Being a platform for these artists is so inspiring. We've talked to artists who have said, "You know, my parents wanted me to go into banking, and I went into art. They didn't believe in me. But now that y'all are selling my work and I'm making income from this, I'm able to do this full-time. And now they believe I'm an artist."