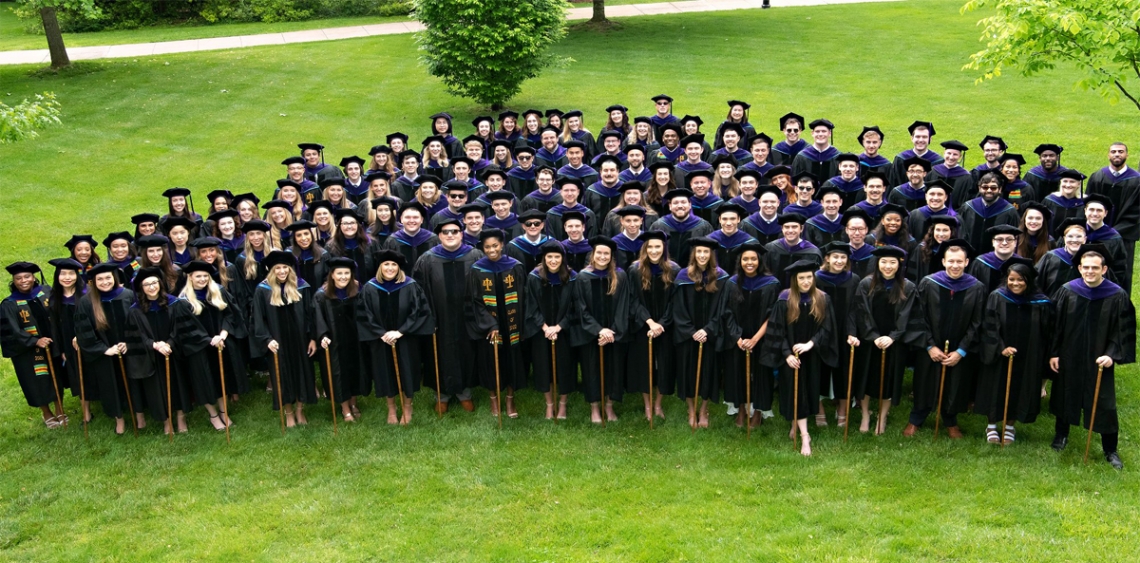 School of Law Honors Graduates at 2022 Commencement Ceremony The Washington and Lee University School of Law celebrated its 167th commencement on Friday, May 13, awarding 119 juris doctor degrees.
The Washington and Lee University School of Law celebrated its 167th commencement on Friday, May 13, awarding 119 juris doctor degrees.
Related: Event Video | Photo Gallery
A few short rain showers fell during the event, which was otherwise marked by a strong sense of joy and accomplishment. The ceremony returned to the Colonnade lawn for the first time since the onset of COVID-19, and the impact of the pandemic on the graduating class loomed large in remarks by the official speakers.
"It has been three long years since we have been able to gather in our traditional fashion for this ceremony, and the sight does wonders for the soul," said President Will Dudley as he welcomed students and family members.
"The experience of the class of '22 has been historic," he said. "Your time in law school has been like none before it. Yet you also share much with the law graduates who have preceded you. W&L has shaped you, as individuals and as a class. Together you have studied, argued, and developed the habits of mind that characterize good lawyers. You have made lasting friendships that will give you pleasure and support wherever you may go."
Michelle Drumbl, Interim Dean of the Law School, followed President Dudley to the podium. She too addressed the ways in which the graduating class was impacted by the pandemic, but also how they overcame its challenges. Reflecting on the remarks made during the annual "50 Days to Graduation" celebration that occurred earlier in the semester, Dean Drumbl recalled how students spoke of their deep friendships and how they supported each other through difficult times and celebrated each other's accomplishments.
"What struck me that night — and strikes me today as I look out at you — is that despite all the curveballs life threw at you over the last three years, you really did have a typical W&L Law experience," she said.
This slideshow requires JavaScript.
After the graduates were awarded their degrees, President Dudley introduced Lizanne Thomas '82L as this year's commencement speaker. A member of the University's Board of Trustees, Thomas is the chair of corporate governance practice and Partner-in-Charge of the Southern U.S. Region for the law firm of Jones Day in Atlanta. While her roots are as an M&A lawyer, Ms. Thomas practices, teaches, and lives corporate governance. She participates in about 100 board meetings per year as counsel to a number of public companies and represents special committees in control and conflict transactions, as well as in internal investigations. In 2016 she was named one of the country's top 100 directors by the National Association of Corporate Directors.
Thomas distilled in her remarks the wisdom of her many years as a governance lawyer, helping the graduates to see that they already possessed the tools to be successful in legal practice—as she put it, "the how" rather than "the what." She spoke about how grit, curiosity, resilience, optimism, and gratitude can be employed for success in their professional endeavors. In doing so, Thomas conveyed the special nature of what it means to be a W&L graduate and how that special background has impacted her life.
"Almost every good thing in my professional and personal life ties in some way back to W&L — from my first job to clients, to mentors, to my husband, to cherished friends. And I am standing here today because in some small way I want to express my gratitude to those who went before all of us and made this happy day possible — for me and for you," said Thomas.
Following Thomas's remarks, third-year class officers Matthew Newton and Courtney Blinn presented Thomas with a walking stick, traditionally given to students at the awards ceremony preceding graduation. The walking stick, or cane, originated in the 1920's as a way to distinguish third-year law students on campus. At that time, only two years of law school were required, and the walking stick served as a way to reward and honor those students who stayed for a third year.
Graduation festivities began Thursday with the annual awards ceremony, which was held in Evans Dining Hall. Five students graduated summa cum laude, 25 graduated magna cum laude, and 11 graduated cum laude. 12 students were named to Order of the Coif, an honorary scholastic society that encourages excellence in legal education. A list of honors and awards appears below.
The Student Bar Association Teacher of the Year and Staff Member of the Year award were also presented at the awards ceremony. Brandon Hasbrouck was named Teacher of the Year, and Alegra Steck won the staff award.
Special honors at Friday's awards ceremony went to the following students:
Phillip S. Harmon – John W. Davis Prize for Law (highest cumulative grade point average)
James Thomas Dwyer IV – American Bankruptcy Institute Medal (excellence in study of bankruptcy law)
Hayden J. Driscoll – Roy L. Steinheimer Jr. Commercial Law Award (excellence in Commercial Law)
Carson Alexander Cox – Virginia Trial Lawyers Association Award (effective trial advocacy)
Raven Cha'nel Burks – A. H. McLeod-Ross Malone Oral Advocacy Award (distinction in oral advocacy)
Anna Renee Schroer and Timothy Wang – Frederic L. Kirgis Jr. International Law Award (excellence in international law)
Sheldon Victoria Ekirch – Virginia Bar Family Law Section Award (excellence in the area of family law)
Ryan Michael D'Ercole and Elena Schiefele – Barry Sullivan Constitutional Law Award (excellence in constitutional law)
Andrew C. Dagen and Katrina Pepper Jedamski – James W. H. Stewart Tax Law Award (excellence in tax law)
Jacob B. Lichtenstein and Angelo A. Pavone – Thomas Carl Damewood Evidence Award (excellence in the area of evidence)
Laurel Dawn Rodewald and Claire Lindsay Williams – Criminal Law Award (excellence in courses of criminal law)
Alissa N. Garufi – Business Law Award (excellence in courses of business law)
Luis F. Inarra Rojas – Administrative Law Award (excellence in courses of administrative law)
Christopher Swope – Clinical Legal Education Association Award (outstanding clinic student)
Evanthea Hammer – Clinical Legal Education Association Outstanding Externship Award (outstanding externship student)
William H. Smith III – Charles V. Laughlin Award (outstanding contribution to moot court program)
Emma R. Burri – Student Bar Association President Award (recognition for services as President of the Student Bar Association)
Evanthea Hammer and Clair Elizabeth Welch – The Washington and Lee School of Law Women's Law Award (outstanding contribution to women in the law)
Senuri Tharindhi Rauf – Calhoun Bond University Service Award (significant contribution to the University community)
Sabrina Matlock, Lauren R. Roberston, and Christopher E. Watts, – Randall P. Bezanson Award (outstanding contribution to diversity in the life of the Law School community)
Emma R. Burri, Hannah E. Coffman Polk, Matthew David Kaminer, and Alyssa M. Mathews – Professionalism and Service Award (significant contribution of public service in the community)
Summa Cum Laude
Timothy J. Benedict
Jonathan Arthur D'Orazio
Phillip S. Harmon
Alexandra E. Hoyt
Katrina Pepper Jedamski
Magna Cum Laude
Jacquelyn Kelsey Arnold
Joshua M. Berland
Jaime Elizabeth Bloxom
Sarah Ashworth Childs
Carson Alexander Cox
Ryan Michael D'Ercole
Hayden J. Driscoll
Alissa N. Garufi
Richard Howard Gilliland III
Selena Kishan Govan
Evanthea Hammer
Matthew David Kaminer
Jacob B. Lichtenstein
Rosa Elizabeth Nielsen
Angelo A. Pavone
Nathaniel P. Reynolds
Lauren R. Robertson
Elena Schiefele
Emily Ann Silkowski
Brittany Lynn Smith
Harrison J. Tanzola
Halley Irene Townsend
William A. Truban III
Jiacong Wang
Claire Lindsay Williams
Cum Laude
Zahra Asadi
Patricia Brooke Baird
Taylor A. Christensen
Elizabeth Kristine Hudson
Luis F. Inarra Rojas
Scott Bradford Ingram
Nathan Andrew Jacob
Jordan S. Miceli
Senuri Tharindhi Rauf
Laurel Dawn Rodewald
Christopher Swope
Order of the Coif
Timothy J. Benedict
Jonathan Arthur D'Orazio
Richard Howard Gilliland III
Phillip S. Harmon
Alexandra E. Hoyt
Katrina Pepper Jedamski
Jacob B. Lichtenstein
Rosa Elizabeth Nielsen
Lauren R. Robertson
Elena Schiefele
Harrison J. Tanzola
Claire Lindsay Williams