SEAL to Sponsor First Annual Washington and Lee Campus-Wide Garage Sale Students, faculty and staff are encouraged to sell unwanted items and donate any unsold items to benefit local nonprofit organizations.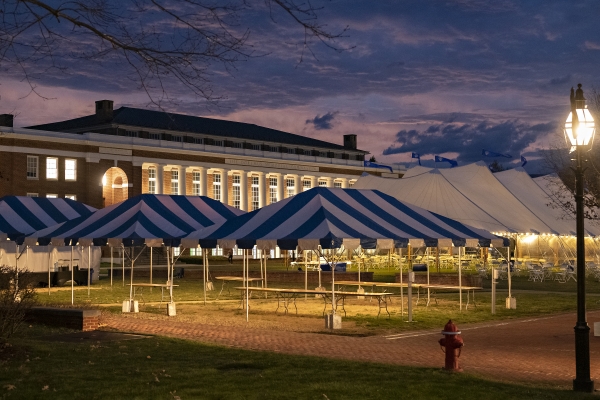 The Student Environmental Action League (SEAL) will be hosting a campus-wide garage sale on Wednesday, May 10 from noon-5 p.m. on Canaan Green. The sales and purchases will be limited to members of the Washington and Lee community and unsold items may be donated to support local nonprofit organizations. Those attending the event can enjoy free tacos courtesy of SEAL, the Student Association for International Learning (SAIL), Student Activities and the Environmental Studies program. The Taqueria Tres Veces Feliz food truck will be serving from noon-3 p.m.
"The idea for the garage sale came about as I thought about all the items I saw being thrown out at the end of the school year as students moved out," said Jensen Rocha '23. "I wanted a way to help make these items available to people who could use them and a garage sale seemed like the perfect way to incentivize students to bring their items to a specific place instead of throwing them out."
The concept of community members reusing unwanted items and donating unsold products to benefit the local community aligned perfectly with SEAL's mission to create a circular economy. Rocha reached out to Allie Stankewich '23 and the two worked with SEAL to bring the event to life.
"We need to think about the materials that come in and out of our campus and how they impact the planet," said Rocha. "Moving toward a more circular economy means reducing preventable waste that would end up in landfills, extending the lifetime of materials, and providing more financially accessible items to members of our community. All of these are part of W&Ls broader impact."
Sellers will be charged a $5 fee to reserve their spot on Canaan Green and will keep 100% of the profits generated. The fee supports the setup of the event, while any unused funds will be donated to Boxerwood, a nonprofit that provides award-winning environmental education programs to the local community. SEAL will collect any unwanted and unsold items to support additional local nonprofits such as the W&L Office of Inclusion and Engagement, Habitat for Humanity, Project Horizon and W&L Exchange.
Sellers are required to complete the sign-up form by Wednesday, May 3. Students who are currently abroad may still participate by completing the form. If planning to sell as part of a group, please make sure to include the names of each individual seller.