Seeing Students Through Uncertain Times Washington and Lee University's Student Affairs staff worked tirelessly to support students through the COVID-19 pandemic and the move to virtual instruction.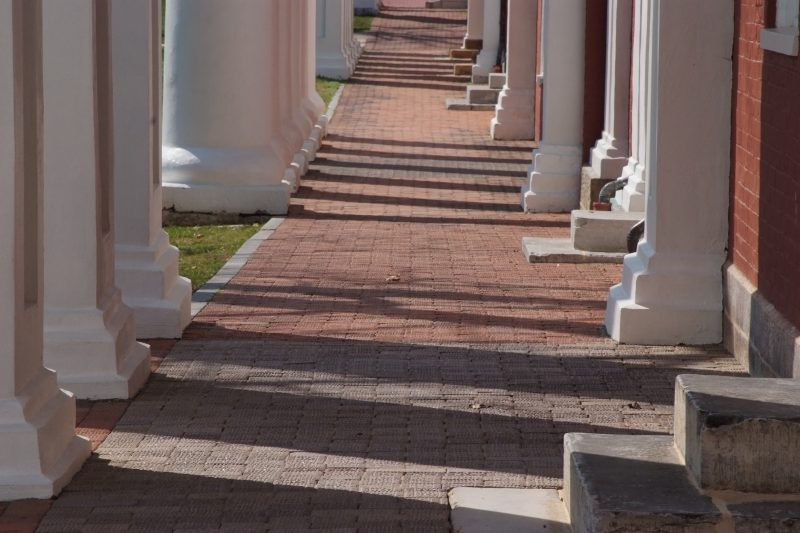 "Student Affairs has been amazing about staying connected, supporting each other and really thinking about ways to support students and just do an amazing job from the top down."

~ Kelsey Goodwin, Student Activities director
On a typical day in the Office of Student Affairs at Washington and Lee University, the halls in Elrod Commons are alive with students stopping by to grab a piece of chocolate and chat with staff members about everything from successes in the classroom to challenges at home. That's just one of the reasons everything felt surreal during the two-and-a-half months the university suspended in-person instruction.
"So much of what we do is interacting with students in our office and on the hall and going to their meetings and events, so it's just not the same," said Sidney Evans, vice president and dean for Student Affairs.
What didn't change, however, was the team's dedication to helping those students. Whether they were driving them to the airport or guiding them through the switch to virtual instruction, the Student Affairs staff — comprised of class deans, Student Life, Public Safety, Student Health and Counseling, Residential Life, Inclusion and Engagement, Student Activities, and Career and Professional Development — worked tirelessly to support the student body through the end of the academic year, and their effort continues into the summer.
"I've had to make the staff make time for themselves, frankly," Evans said. "Students have been their number-one concern throughout this pandemic. They have been amazing."
Dr. Jane Horton, director of Student Health and Counseling, first began to have concerns about COVID-19 around February break, when faculty and students were traveling in areas, such as Italy, where case numbers were increasing significantly. In the whirlwind of meetings that took place as the situation escalated, Horton stayed up to date on public health guidelines and provided daily updates and advice to the president, Evans and other administrators involved in making decisions about university operations.
Horton's main sources of information included the Virginia Department of Health, Carilion Stonewall Jackson Hospital and the Rockbridge Area Health Center. She also kept up with CDC recommendations and compared notes with other members of the American College Health Association, even using W&L as a small-campus case study for a recent presentation to the ACHA.
After the campus closed and classes moved to to virtual instruction on March 12, Student Affairs staff reacted quickly to help students with the unexpected transition. The university supplied more than 1,000 boxes for students to pack their belongings, and Public Safety staff coordinated transportation for students, in some cases renting vehicles and driving them to airports and other travel hubs. Class deans, consulting with staff across the university, arranged financial assistance for students who couldn't get home because of limitations such as expensive, last-minute airline tickets.
"The resident advisors and community assistants were also amazing," Evans said. "They were working that whole time helping students and letting us know about issues and concerns, all while themselves having to pack up and leave."
More than two dozen students, mostly international students unable to return home because of travel restrictions, were invited to stay on campus. They were housed in the Woods Creek West apartment building, with plenty of space for social distancing. Dining Services quickly pivoted from serving in the Marketplace to take-out only, then to a pre-order and pick-up system, one of many adaptations that took place as the situation grew more serious and state guidance changed.
"One of the key concerns all the way through this is that we are all sharing information, but that information is changing almost daily," Horton said. "It feels like a gathering tsunami, with more and more information coming more and more quickly over the past couple of months."
While assisting students with the move-out, Student Health and Counseling staff scrambled to ensure continuity of care for patients. Even before the campus closed, they switched all appointments to virtual ones, and as students went home, they helped them transition to telehealth and teletherapy services. In some cases, because practitioner licensure may not extend across state borders, they set up patients with providers closer to home.
Although physical health concerns have been the primary focus during the COVID pandemic, Horton said the impact on mental health must also be addressed.
"In general, people are experiencing anxiety about health and a loss of social support, or limitations related to that," she said. "For a number of students, switching to a virtual learning environment can lead to stress and anxiety. There are also a number of students who have stressful home situations that can cause conflict."
Megan Hobbs, associate dean of students, has been impressed by students' fortitude through the crisis, but she hopes they know that Student Affairs is there to help. "I think it's no surprise that our students really take to heart completing big challenges on their own," she said. "In some way, they feel motivated by not needing to ask for help, but there are times I would say that's not a good thing, and right now, I want students who need help and have concerns to reach out."
Horton and Ethan Kipnes, Public Safety director, said tabletop exercises and emergency drills, such as last year's full-scale active-shooter drill, came in very handy as they approached the current crisis. Those mock crises required close cooperation and communication among university departments and with local emergency management personnel, as well as lots of discussion and analysis.
"I think when you are able to think about those things and sit down and communicate with other folks — having to work through those tabletop discussions — it definitely puts you in a better place," Kipnes said. "It provides more facetime and professional interaction with folks you would not interact with on a day-to-day basis. Everybody understands and appreciates that any emergency situation is very quickly going to be beyond the capabilities of a single area."
Kipnes and his staff are essential, so even though campus is closed — in some cases, especially since it is closed — Public Safety employees have to be physically present and able to respond in person. When it rained heavily for days in May, officers were the only ones around to notice minor flooding in multiple buildings. Kipnes said that besides helping students, his number-one priority is keeping his staff healthy, so they have stocked up on masks, gloves and eye protection. Because officers share vehicles and equipment, they also have instituted stricter cleaning policies.
"There is not a lot of activity on campus now, but my staff is still here having to deal with folks and remain in good spirits, stay focused and self-motivated," Kipnes said. "They're staying out there and looking out for the university, because they certainly haven't been able to hunker down at home and get away from all the concerns."
Like Horton, Kipnes and Evans keep in close contact with local emergency management personnel, including folks in law enforcement, fire and rescue, public schools and nursing homes, as well as Lexington and Rockbridge County representatives. "It is really a coordinated effort between all of the stakeholders that are impacted by this issue," Kipnes said.
In addition to emergency response, Student Affairs staff have continued to support some extra-curricular activities that make life more engaging for students. That has included working with religious organizations, keeping the campus food pantry stocked to alleviate food insecurity for students who remain on campus or in Lexington, and offering help to job seekers through the Office of Career and Professional Development.
Kelsey Goodwin, director of student activities, said it was important to bring students together in any way possible after campus closed. The spring is usually packed with large-scale events at W&L, including Fancy Dress and the Equality Gala, but all of that had to be canceled.
"We have a lot of really cool, longstanding campus traditions that happen in the spring, and I think everybody was really sad that they didn't get to do these things they had been looking forward to," she said. "While this is a generation that is very comfortable in the digital world, there are still things about this that are very isolating for them. Our students are very social, and they love to be together."
Goodwin worked with student leaders to offer new events that brought students together from afar. Those included Netflix screening parties, virtual cooking demonstrations led by students and staff, an online book club called Totally Booked, and live Friday night sessions with Friday Underground. Her weekly newsletter keeps the student body informed about those events, as well as sorority and fraternity fundraisers, virtual museum galleries and upcoming leadership opportunities.
"I'm choosing to take this as a creative challenge," Goodwin said. "You have to look at it like that if you want to stay focused and connected." She said it helps to work on a great team. "Student Affairs has been amazing about staying connected, supporting each other and really thinking about ways to support students and just do an amazing job from the top down."
Now that seniors have received their degrees in a virtual conferral ceremony, it might seem that the Student Affairs staff can sit back and take a deep breath. Instead, as part of the contingency planning task force, the group is spending the summer gearing up for whatever the fall might bring.
Members of the staff are also participating in working groups and sub-groups that are examining a plethora of questions about the academic, enrollment, employment and financial implications of the outbreak. Horton said the most important message for the W&L community is that each person will play an important role in protecting the group.
"What we do as individuals and the choices we make have a direct impact on other people and the community as a whole," Horton said. "One individual who chooses to not follow the public health guidance for masking, hand washing and social distancing could create a significant outbreak on campus, and that is going to impact a lot of people – including people who may be at a significantly higher risk for disease. One person with no symptoms is all it takes to create an outbreak in our community."