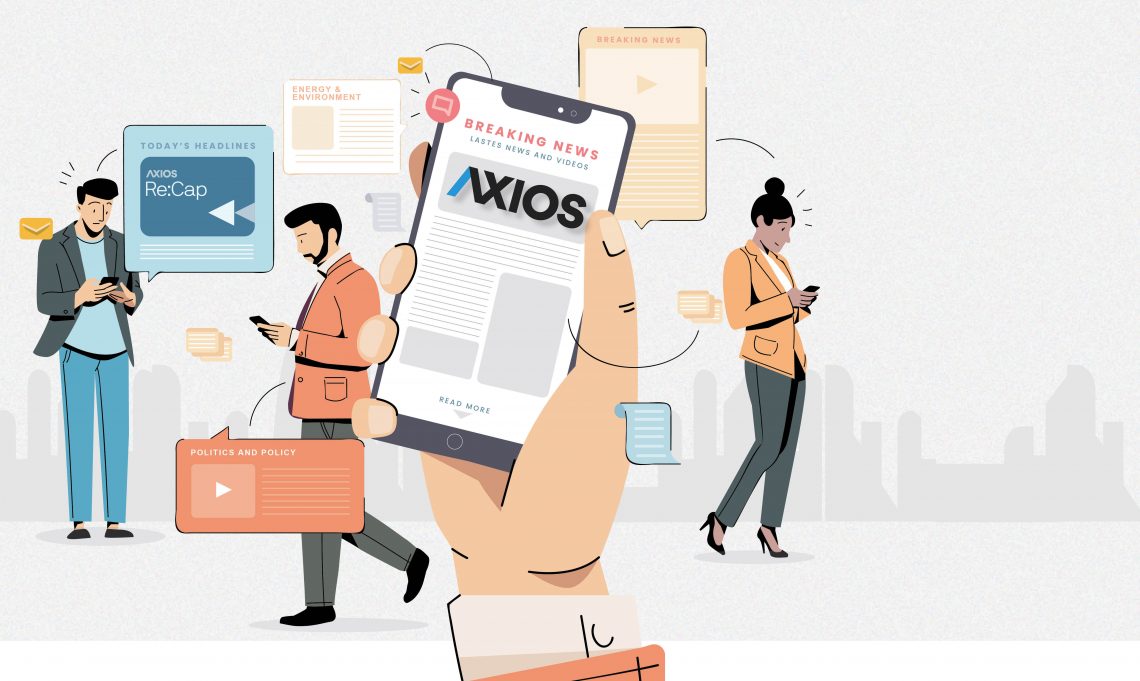 Smarter, Faster In a shifting media landscape, Ted Williams '07 and Mike Allen '86 are focused on reigniting local journalism through a new business venture.
Mike Allen '86 and Ted Williams '07 were deep into due diligence details when they finally made the connection.
Axios, the media company Allen co-founded in 2016, was finalizing its purchase of Charlotte Agenda, the media company Williams co-founded in 2015, dotting the I's and crossing the T's in a Zoom conference call (where else?) last fall.
Allen got off Zoom, Googled Williams, and phoned him. "Ted," he said, "we have the Colonnade in common."
Entrepreneurial Instincts
As it turns out, Allen and Williams have more than the Colonnade in common. They also share shrewd entrepreneurial instincts and a clear-eyed view of the shifting media landscape.
Allen, a politics and journalism double major, started his 35-year career in a traditional manner. He was a general assignment reporter for the Fredericksburg Free-Lance Star and the Richmond Times-Dispatch before he moved up to the New York Times followed by stints at The Washington Post, Time magazine and Politico. Along the way, he gained increasing national celebrity, and Williams said he knew Mike Allen as a "media star" rather than a fellow W&L alum. As chief political reporter at Politico, Allen wrote Playbook, a daily early-morning email newsletter that became a must-read in Washington, earning him the title of "The Man The White House Wakes Up To." In 2016, he and two Politico colleagues, Jim VandeHei and Roy Schwartz, created Axios, the news website Allen once described as providing what you need to know when you sit down to breakfast with your smart friends.
Williams, a business administration major, took a different path. Resisting the siren song of investment banking, he was drawn to the creative side of business. Although he studied on the second floor of Reid Hall, Williams never did take a journalism class. His first job was on the business side of media with an online health company, The Health Central Network, in Washington, D.C. He relocated to Charlotte in 2010 and held several technology-related jobs before joining The Charlotte Observer as director of digital strategy and new initiatives in 2013. During the next two years as he appraised the plight of local media, Williams thought he might have some answers to the growing challenges. He took $50,000 from his own savings to establish Charlotte Agenda, a digital news site that was laser-focused on the local community and filled with useful content.
"To say that Ted is from a different student generation than I am is a significant understatement," said Allen. "But what we share is a passion for journalism that makes people smarter, faster."
Audience First
"Smarter, faster" is a central tenet in the Axios brand. Each edition of Allen's daily email newsletter, "Axios AM," (a successor to his popular Politico Playbook) displays the trademarked phrase "Smart Brevity" and includes a word count and an estimated reading time — e.g., 971 words, 4 minutes. Axios now features almost two dozen industry-specific newsletters, plus two daily podcasts and a documentary news series on HBO.
Charlotte Agenda had been online for two years when Axios launched, and Williams' creation had become a go-to local news source. Columbia Journalism Review devoted an article to Charlotte Agenda in June 2018, and the Poynter Institute hailed the site as "one of the brightest lights in local journalism." The New York Times reported that Charlotte Agenda's revenues grew from $1.3 million in 2017 to $2.2 million in 2019, with a profit margin over 30%. It also had 55,000 newsletter subscribers and 235,000 followers on Instagram.
"I've always enjoyed media as a way to bring people together," Williams said. "One fun thing about local media is that you get to see the impact of creating media that helps people make smarter decisions and connect with their neighbors. It gives them a sense of place."
Allen and his co-founders at Axios had been mulling the possibility of taking their "Smarter, Faster" model local. And Charlotte Agenda was precisely what they had envisioned.
"It was meant to be," Allen said. "What Ted built brilliantly with the Charlotte Agenda sums up the first two words of the Axios manifesto: 'Audience First.' We always look through that lens to create a great audience experience."
Charlotte Agenda became the first ingredient in Axios Local, a new series of sites that currently includes Tampa, Denver, Minneapolis and Des Moines. Williams is the general manager of the entire enterprise, "Ted's Empires," as Allen terms it. Williams and Allen said these local products aren't meant to compete with local media but are designed to help people there connect.
"As Jim VandeHei, our CEO, says, 'We come in peace.' We're eager to lift up our journalistic colleagues in those markets, and the Axios Local newsletters are a fantastic way to bring attention to some of the incredible journalism that's being done in those communities," Allen said.
Building Trust
Are Axios and Axios Local the future of media?
"Whatever the future is, this is an exciting time to try to build what a modern blueprint for local media looks like and that makes economic sense," said Williams. "One thing that's so important in local media is being more focused on the business model than in the past. People have to understand that model and then say, OK, given the model, how ambitious can journalism be? Otherwise, you get in an untenable economic situation. As much as journalism has changed with the addition of these electronic tools, I think it's the business of media that has changed more dramatically."
Axios placed high value on the model that Williams built in Charlotte; the price tag was said to be "close to $5 million." Not bad considering Williams and VandeHei, then Axios' general manager, negotiated the deal in 15 minutes over the phone. "Jim was going through TSA. We hammered out a deal outline, then took our time to make sure the culture made sense," Williams said. "I'd never sold a business, so I don't know if that's the typical way it's done. But it was interesting. And fun."
Allen and Williams recognize the enormous challenge media have in gaining the trust of today's news consumers. Trust is in short supply everywhere. "People have lost trust in institutions, and that very much includes media — in some cases for quite deserved reasons," Allen said. "At Axios, we take a clinical approach to our coverage. We don't cozy up to people, and we don't sucker punch people. Our ambition is to illuminate all sides. We have good sources, and we hold all sides accountable. If you can live that hour to hour, it's a vital step in building trust."
Williams emphasized there are no shortcuts. "You build a relationship with people over time," he said. "You earn trust over years. Developing a media brand requires delivering value consistently."
In the midst of a transformative, disruptive media environment, when everything is changing how people consume information and about how information is gathered and delivered, Williams and Allen are dedicated to the Axios proposition of making people smarter, faster.
If you know any W&L alumni who would be great profile subjects, tell us about them! Nominate them for a web profile.