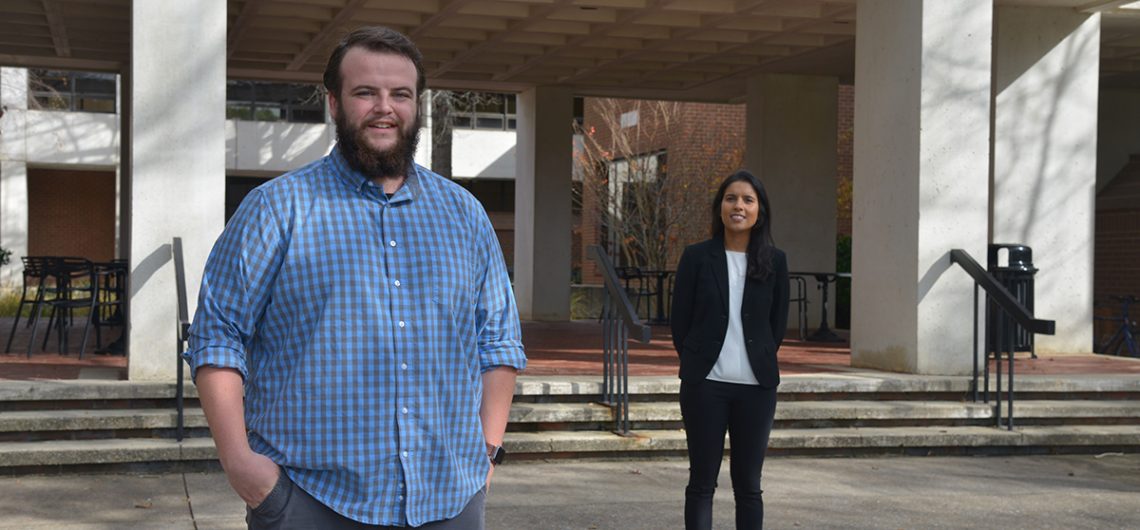 Teach For America Prepares Students for the Challenges of Law School Nam Kang '21L and Nate Reynolds '22L reflect on how their experience with Teach for America is guiding their time in law school and beyond.
Working for Teach For America put the challenges of law school in perspective for Nam Kang '21L and Nate Reynolds '22L.
"I think having come from TFA, it just gave me a platform for reality," Kang said. "I'm more of an advocate for change and social policy because of that experience."
Kang was placed with third graders in Williamsburg, Brooklyn, and Reynolds went to Indiana to teach seventh grade math. Both said that, compared to their two years teaching, law school can seem easy at times.
"The problems that I was dealing with as a teacher—it felt like they had very real consequences," Reynolds said. "If I mess up in law school, though, the stakes feel a little more trivial, because it only effects me."
Among other things, Kang remembered being responsible for the safety of dozens of third graders on the subway going toward Grand Central, and concluded that TFA "is the hardest thing I've done."
That's because, at the same time that she was teaching—usually from seven in the morning to five in the afternoon—Kang attended night school to get her masters' in teaching.
She felt lucky to have been placed at a robust charter school, though, one that parents fought to get their kids into, which was well-funded and well-known. During her two years with TFA, Kang's school was featured prominently in the New York Times numerous times.
In Williamsburg, which is generally thought of as a hip, well-off part of Brooklyn, Kang taught, "students who were coming from the Bronx homeless shelter and students whose parents owned Porsches."
In many ways, for Kang and Reynolds, this was the hardest part. Teaching a range of students, many of them from unstable backgrounds, could be frustrating Reynolds said, especially when the help you can offer is limited to the classroom.
"The level of emotional drain that comes with it—I've had really hard days and weeks and months in law school, but it doesn't compare to when you have a student that you deeply care about, and there are things happening in their lives that are beyond anything in your control," he said.
Because so many of his students had transient lifestyles, Reynolds found that building strong relationships with them was essential—it was the foundation that could allow for learning. At his school, there was a 50% population turnover during the course of the year. Often, his students were all at different levels of ability even though they ostensibly gathered every day to be instructed in seventh grade math.
"In a 7th grade classroom, I could have one kid that's on a 7th grade math level, 6 kids on 6th grade math level, the majority on a fifth grade math level, and some even on a second or third grade math level."
In order to teach students with such vast differences in preparedness, he decided to break his classroom to groups according to ability, and they would rotate through different activities, with each getting some guided instruction from the teacher.
Kang said that she had joined TFA with an interest in going to law school one day and concentrating in law education and policy. But over the course of her time teaching she realized that "the entire system needs an overhaul."
"If you want to address education reform, you need to start with housing reform," she explained.
Although Kang is working at a firm in D.C. after graduation, she is still interested in addressing the "root problems," sometime in the future. Kang considers her time grappling with TFA's concerns as eye-opening and key to her training as a lawyer.
"Every lawyer should at least have some base line about social justice and politics in our country."
Reynolds added that coming out of TFA influenced his decision to choose W&L Law. Because teaching is a community-oriented practice, he was attracted to W&L Law as a community-oriented school. He maintains a strong interest in education and public interest jobs.
"If you go through TFA, it's impossible to not be changed by the experience," he said. "TFA opens your eyes to a large broader world, but it also instills in your values and beliefs that you should be doing something, trying to help or better the world in some way. The question is: how should you do that?"